RIVA Festival wireless loudspeaker
[Alan Sircom]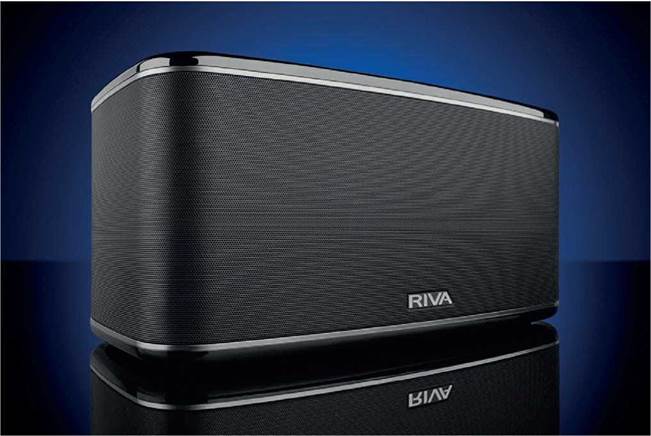 Riva has had a phenomenal success rate. In a remarkably short time, the company has had hit after hit, first with its highly portable Turbo models and now with its models in the WAND system, such as the Arena. The Festival is the company's biggest model to date. It's also the first that doesn't support a battery, either built-in as standard or as an add-on option.
Like the Arena before it, the Festival is part of Riva's WAND system, although the subwoofer suggested to accompany both products never materialised. The only option for the Festival now is a pedestal stand. Not that it's necessary; the Riva Festival is a large loudspeaker perfectly designed for non-audiophile set-ups on tabletops and furniture. Its wide, curved style and top panel controls don't lend themselves to sitting on a pedestal (it looks top- heavy). However, unlike many of its contemporaries, it has passive radiators firing to the rear (the drive units 'proper' fire to the front and sides of the speaker). This means it is best used slightly away from the wall and free from side-wall distractions and interactions. It's not a free-space design, however, and can benefit from some boundary reinforcement. The installation process does not include any room correction or adjustment.
Like the other models from the brand, the Festival uses Riva's patented Trillium DSP system to create a stereo sound from a single loudspeaker. And, like the Arena, the Festival can play music files of support up to 24bit, 192kHz resolution. Festival has an inbuilt Chromecast device and an 'away' mode, allowing a multiple network of loudspeakers without an available Wi-Fi network.
Chromecast also allows you to access the WAND devices through a range of different options. If you have a smartphone, through one of about a dozen apps. If you have an Android phone, make that about two dozen apps. But basically, the concept is the same; download Google Home and Riva's WAND apps, connect the speaker to your Wi-Fi network using Google Home apps, the Festival will automatically update its software (should it need to), and then either 'cast' music to the speaker, or use AirPlay, or Spotify Connect to create your musical library. You can't connect the Festival to a home music network unless you route that music through a Chromecast compatible app. I'd go further; don't even think about using the Festival unless you are willing to join one of the compatible music provider services: Spotify. Riva recommends an initial three-hour run in before playing music at higher volumes, and this is probably a good idea. Not that the sound will necessarily improve over the three hours, but it means if anything shakes loose, it's likely to do that in those first few hours, and it's best to do that at sub­cone-frying levels.
7Review earns Amazon affiliate commissions from qualifying purchases. You can support the site directly via Paypal donations ☕. Thank you!
Should not buy anything from AudioAffair.
See also TOP 10 Subwoofers
Unlike our test of the Arena, we actively asked for a pair of Festivals. We used a pair of these for two simple reasons. We wanted to see how well they group and how well they work in a multi-zone capacity. The simple answer is 'stupidly easily'. OK, no matter how idiot-proof a thing is, the world has a remarkable way of making a better-quality idiot, but you'd have to actively hit the Festival with sticks to unhinge it here. Use Google Home to name your speakers ('Lounge' or 'Kitchen' is probably better than 'Barry,' 'Mr Frisky,' or even 'Cthulhu'), then group them in the same app. You can also change their basic profile, to 'Power Mode' for bigger rooms' or as dedicated left and right channel loudspeakers.
The clever – make that extremely clever – trick here are the options it keeps open. Buying two of them isn't just designed to make a more extended stereo but is ideal for filling either a house or a large room with sound. And the seamless part of that really is brilliant. You can walk from loudspeaker to loudspeaker with no changes in phase or delay. Nothing. Nada. If I was 'speccing' a sound system for a bar or a restaurant, that was designed to be driven wirelessly through the Google Home app, this would be a fine option. You can even unhook one from your Wi-Fi system and use it as its local WAND network. Unlike the smaller model, there is no battery component and so Summer time beach fun is beyond the Festival unless your beach comes with plug sockets or a generator, but as a transportable audio device, the Festival is always minutes away from a party if there is mains power around. And Festival's latest upgrade makes that party so much more hearty.
With the rise of Google Assistant, you can now talk to your phone and tell it what music to play, and it will automatically route that music to the Festival. For Apple die-hards, abandoning Siri for Google Assistant is like being unfaithful, but even they might conclude that their need for Apple opprobrium should be set aside in this case. Yes, if you use it for every track you play, people around you are going to get fed up with your constant "OK Google…" comments, and it is prone to being hijacked by someone determined to play back-to-back Captain and Tennille songs, but let's not mess around here. You can talk to Spotify through your phone and get it to play the music you want, and then play it on the Festival. That's almost magic.
If the technology is starry-eyed, then so is the sound in context. Like many products in this issue, we need to be somewhat distanced between what is ultimately possible as opposed to what is physically possible given the nature of the device. That in some respects shapes the sound and the type of music you will play through this kind of system. Normally, that would be the audiophile death knell, but the words 'lighten up' start pulsing here. You are probably never going to play some happy hardcore or tropical house or some ironic K-Pop through a pair of traditional loudspeakers, and you will probably never play 'Keith Don't Go' through the Festivals. We're quits.
The sound, however, does not need to apologise for itself in context, as it makes a very decent, extremely fun sound. It's not the last word in deep bass or midband clarity, especially when comparing this to a full-range audiophile loudspeaker. On the other hand, trying to extract this kind of wide-ranging performance from a conventional set of loudspeakers would be functionally imposible at the price. Speaking of stereo, the two speakers used in stereo mode work reasonably well. The wide stereo-from-every-driver Trillium concept does make a single speaker sound like a stereo pair, but using a pair of Festivals in stereo doesn't quite gel in the same way. It's as if they try too hard to deliver stereo and instead create a huge but diffuse sound. Some may like this, but it lacks the cohesiveness of more mainstream speakers. Two speakers are more than justified, however, because they have more than just stereo to offer, and their ability to play time-coherent sound around a room without delay or phase issues is truly remarkable.
Riva faces some very stiff competition (some of it in this issue) but the 500lb gorilla in the room is how it works compared to Sonos:Play models. In terms of functionality and app-support, Sonos wins hands down (but it wins hands down against almost any audio brand). Musically, however, five seconds with the Festival and the Sonos gets put away. There is so much more expression, dynamics, and clarity to the Festival! Whether that's enough to win over those tens of thousands of Sonos users, or converts a slew of prospective Sonos buyers, only time (and Sonos' massive advertising budget) will tell.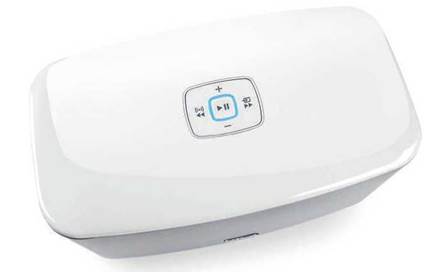 TECHNICAL SPECIFICATIONS
Type: Compact Bluetooth/Google Chromecast speaker system Driver complement: three tweeters, three bass drivers, and four passive radiators
Inputs: aptX Bluetooth input, built-in Chromecast, 3.5mm stereo analogue input, USB, DNLA compliant Wi-Fi
Audio Codecs supported: MP3, ALAC, APE, FLAC, FLAC HD, HLS, WMA Streaming, RTSP and PCM/WAV High resolution audio: to 24bit, 192kHz precision
Remote Control apps: Riva WAND smartphone apps are available free of charge from the App Store and from Google Play Amplifier power: 200W Battery Life: 20+ hours at 75dB, playing time varies with listening levels Dimensions (HxWxD):
365mm x 200mm x 180mm Weight: 6.44kg
These are deceptively clever loudspeaker boxes. There's so much the Riva Festival can deliver alongside really good music, that it might surprise you just how a small loudspeaker with buttons on the top can make a sound that big. Now that you can talk to the Festival via Google, the Festival has the potential to become the go­to speaker choice for all manner of listeners disenfranchised by technolgy. Yes, you need to know how to access Google Home from your phone, but on the other hand, who cares? When Festival rocks, it really rocks!
Vebos floor stand Riva Festival white set en optimal experience in every room - Allows you to place your Riva Festival exactly where you want it - Two years warranty
out of stock
as of March 25, 2023 9:51 am
Features
YOUR Riva Festival DESERVES THE BEST - Every Riva Festival needs a Vebos floor stand to experience the best in any room in your home
Riva Festival - Suitable for: Riva Festival, Floor stand - Bespoke design for Riva Festival
PLACE IT EVERYWHERE - Allows you to place your Riva Festival exactly where you want it
MADE IN HOLLAND - heavy recycled steel with beautiful powder coat finish
EASY TO MOUNT - mount this floor stand quick and easy in any room with the included mounting
Vebos floor stand Riva Festival set en optimal experience in every room - Allows you to place your Riva Festival exactly where you want it - Two years warranty
out of stock
as of March 25, 2023 9:51 am
Features
YOUR Riva Festival DESERVES THE BEST - Every Riva Festival needs a Vebos floor stand to experience the best in any room in your home
Riva Festival - Suitable for: Riva Festival, Floor stand - Bespoke design for Riva Festival
PLACE IT EVERYWHERE - Allows you to place your Riva Festival exactly where you want it
MADE IN HOLLAND - heavy recycled steel with beautiful powder coat finish
EASY TO MOUNT - mount this floor stand quick and easy in any room with the included mounting