Bigger tablet, smaller price
We previously tested RCA's 7in Mercury tablet, which didn't impress us with its build quality or performance, but certainly made an impression. If anything, this model is even more ambitious. It's a full-size 10.1in tablet, complete with a magnetically attached keyboard. That's less than Apple or Samsung will charge you just for a keyboard, before you spend several hundred quid on their tablet. And while the 7in Mercury has a meagre 8GB of storage, the Saturn comes with 32GB – the same as those big-brand rivals.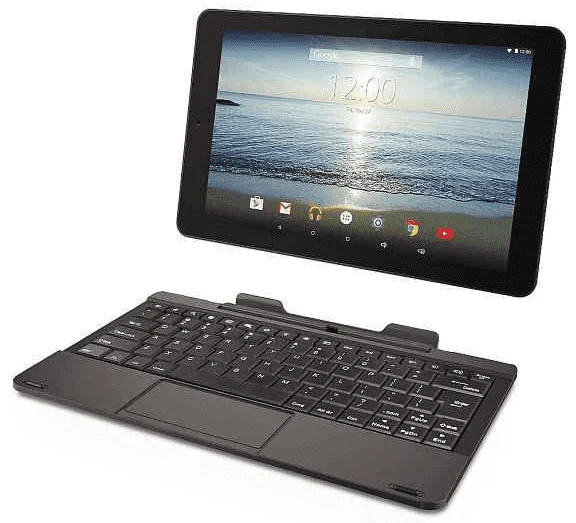 The keys wobble as you type, which is a recipe for errors
And there's more. This tablet doesn't compete directly with Microsoft's Surface Pro – because the Surface Pro runs Windows 10, while the Saturn runs Android. But its keyboard shares a Surface Pro feature that Apple and Samsung lack – a touchpad. Most Android apps – being designed for a touchscreen – don't have any obvious need for mouse-cursor control, but it's an interesting addition that could minimize the fingerprints on your screen – particularly if you use office apps rather than games.
While other clip-on keyboards use membrane (flat-panel) designs, giving very little travel or clickiness, this one has something more like proper keys, albeit in the modern flat-tile design. The springed switches beneath the keys aren't great quality, though, so they wobble as you type, and they're not quite full size. All of which is a recipe for typing errors. You do get function keys for Android controls, though, and keys like Enter and Shift get a decent amount of space, while the cursor keys aren't the ultra-small ones you sometimes find.
Unusually, it has a full-size USB port, which comes in addition to the micro USB and microSD card slot. The fact that there's room for this should tip you off as to the Saturn's chunky dimensions. It's more than a centimetre thick, and that's tripled when the keyboard is attached. At over a kilo, it weighs about as much as some 13.3in laptops, which is remarkable when you consider the difference in screen size. At least the plastic case is more robust than the Mercury's, and it has a camera on the back and the front, though they are only two-megapixel units.
The screen, however, is the biggest compromise. At 1280×800 pixels (one-third that of an iPad), it can play 720p HD films, but with poor contrast and only a rough semblance of the intended colors. If you want a device for showing off your photos and videos, this isn't it. Performance is a similar story.
The processor is in a different league (down) from the iPad. It's just capable of web browsing and not keen on switching back and forth between apps. You may remember we used to recommend Tesco's smaller Hudl 2, which cost about the same. When it was launched three years ago, the Hudl 2 got more than twice the Saturn's scores in our tests. At just under five hours, battery life was half what we'd expect from a full-price tablet.
7Review earns Amazon affiliate commissions from qualifying purchases. You can support the site directly via Paypal donations ☕. Thank you!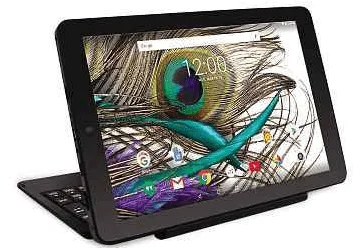 But this isn't a full-price tablet, and if you want a low-cost option with versatile features for tasks where picture quality isn't critical, this is a unique deal. Not only is it bigger than Amazon's budget Fire tablets, which lack the keyboard, but it runs full Android 6.0 with the Google Play store. At more than Argos' keyboardless Alba 10 Inch Tablet, which has half the storage, it's better value.
SPECIFICATIONS
1.3GHz quad-core processor • 1GB memory • 32GB storage • 10.1in 1280×800-pixel screen 2-megapixel front camera • 2-megapixel rear camera • 802.11n Wi-Fi • Bluetooth 4.0 • USB 2.0 port • micro USB port • MicroSD slot • Android 6.0 174x284x26mm (HxWxD) • 1.02kg • One-year warranty
VERDICT:
Nothing about this tablet is ideal, but a lot is better than you could reasonably expect at this price
ALTERNATIVE:
Acer Iconia Tab 10
With a decent more-than-Full HD screen, this is a faster and better tablet, but much pricier and lacks a keyboard
RCA by Venturer Saturn 10 Pro Review
Nothing about this tablet is ideal, but a lot is better than you could reasonably expect at this price
Add your review