Razer Blade Stealth review
Razer Blade Stealth
A higher class of ultrabook
The Razer Blade Stealth is one of our favourite ultrabooks, and it's only getting better with age. In the middle of 2017, the formerly 12.5-inch laptop moved up to a larger, 13.3-inch display, putting it on an equal footing with other notebooks in its category, and this latest version sports Intel's latest, 8th-generation Kaby Lake Refresh processors, helping it deliver its best ever performance.
Price and availability
Starting at around, the Razer Blade Stealth is more expensive than it has ever been, but that's partially thanks to its elevated specs. Each of the models in the range rocks a quad-core Intel Core i7 processor with integrated Intel UHD graphics, a QHD+ (3,200×1,800) resolution display, 16GB of RAM and a 256GB SSD.
Compare that to the asking price of an equally well-equipped Dell XPS 13, and the Stealth looks like a bargain. Outside the US, the Dell XPS 13 also only comes with 8GB of memory when teamed with the Intel Core i7/256GB SKU.
If you elect to double your storage capacity (an option our review unit offers) the Blade Stealth further hones its more affordable edge over its competitors.
Design
Despite the increase in screen size, the 13.3-inch Razer Blade Stealth is no larger than its 12.5-inch predecessor, maintaining most of its original dimensions at 321x206x 13.8mm. The Kaby Lake Refresh update also bumps up the weight from 1.33kg to 1.35kg – this is likely due to the additional cooling needed for the new CPUs.
Aside from the screen bezels, the biggest aesthetic change Razer has introduced is the new gunmetal finish. Synonymous with its name, the Stealth has always been the Razer's most understated laptop. The new colour adds to that quality.
Gone too are the RGB keyboard and light-up lid logo. Instead, the gunmetal version features a simpler white backlight on the keys. Meanwhile, the 'tone-on-tone' printed triskelion symbol is actually hard to miss unless you're turning the laptop from side to side, like one of those old holographic prints.
The result is a professional-looking Razer ultrabook design. However, its off-grey paint job still sets itself apart from the pack of black rectangles in the room. If you'd rather have RGB lighting and a jet-black look, the regular version of the Stealth is also available.
As with previous generations, the Blade Stealth comes with potently powerful speakers and a large, tactile keyboard. What has changed this year is that Razer has upgraded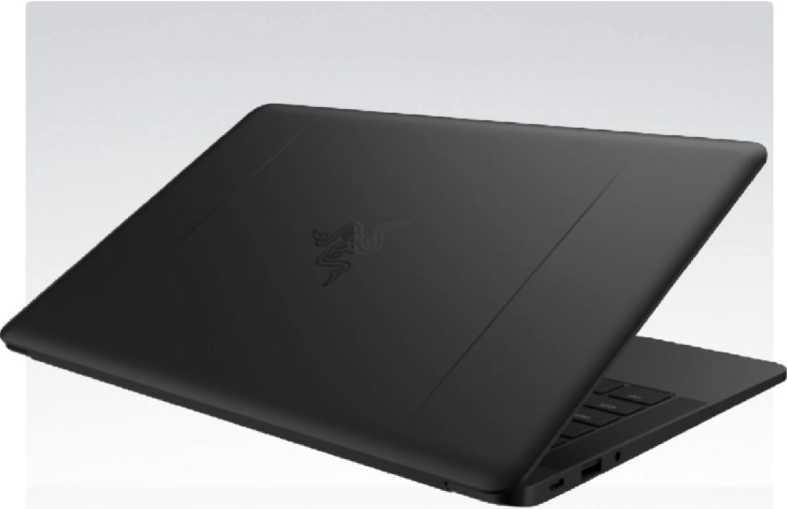 KEY FEATURES
Razer Blade Stealth
Supplier www.razer.com Processor 1.8GHz Intel Core i7-8550U (quad-core, 8MB cache, up to 4GHz) Graphics Intel UHD Graphics 620 Memory 16GB DDR3 (2,133MHz) Display 13.3-inch, QHD+ (3,200 x 1,800) IGZO display
Storage 512GB SSD (M.2 PCIe) Connectivity Killer Wireless-AC; Bluetooth 4.1; 2x USB 3.0 Type-A; 1x Thunderbolt 3 (USB Type-C); HDMI 2.0; 1x headset jack Camera 720p Weight 1.35kg
Dimensions 321x206x13.8mm
its ultrabook with a Windows Precision Touchpad.
We didn't have many complaints with the trackpads on previous models, but the direct-from- Microsoft drivers offer even better tracking and multi-touch gesture recognition. So, we'll take the improvement on the laptop's pointing device even if we felt it wasn't absolutely necessary.
Performance
It's remarkable that Razer has squeezed in a bigger display without making the laptop any larger. It's done this by reducing the size of the bezels on all sides by 50 percent, making them barely more than a centimeter wide.
On top of the added screen real estate, the Razer Blade Stealth features a sharper 3,200×1,800- resolution panel that's sits above the previous default 2,560×1,440 display. Unfortunately, there's no option of getting a 4K display on this ultrabook other than going with the older, 12.5-inch model.
To our eye, the QHD+ screen on the latest Razer Blade Stealth resolves plenty of detail as is, and we don't really miss having an Ultra HD resolution on a screen this small. The new display also boasts 100 percent sRGB colour coverage
"What's most surprising are the graphical enhancements that Intel UHD Graphics brings"
and up to 400 nits of brightness.
We can confirm that the screen is much brighter now, outshining even rays of sunlight streaking through our office windows. Razer's IGZO displays have never lacked in color rendition, and the added color depth helps the screen resolve more distinct shades.
Quad-core Kaby Lake Refresh processors have helped the Razer Blade Stealth make a huge leap in performance. While it's a given that more cores usually lead to better performance, its benchmark numbers are impressive. For starters, the 8th-generation Intel processors deliver a more than 75 percent increase in multi-core performance compared to 7th-gen Kaby Lake. This in turn leads to correspondingly higher scores in Cinebench and PCMark 8.
What's most surprising are the graphical enhancements that Intel UHD Graphics brings, going by the four percent to nine percent improvement in its 3DMark scores.
You can fire up Overwatch on the Razer Blade Stealth for a smoother gaming experience with higher frames per second, but you'll still be relegated to playing the game at awfully low settings. And that pretty much goes for most games you try to play on this ultra book.
Battery
While we're seeing performance improve year-over-year, the Blade Stealth's battery life has also taken a hit with every iteration. The latest version ran our movie playback battery test for five hours and nine minutes, which was shorter than the five hours and 25 minutes of the previous model – and that was already down from the five hours and 44 minutes result we saw from the 12.5-inch 2016 version.
The blame for these battery life decreases are the larger, sharper screen and the new quad-core processor. The Blade Stealth also lags behind its peers for longevity: the Dell XPS 13 lasted for a remarkable 10 hours and 29 minutes. Of course, it features a lower-resolution screen.
Summary
With its 13.3-inch screen and 8th-generation Intel processors, the Razer Blade Stealth has matured into the ultrabook we always wanted. The larger display and the half-sized bezels make this laptop more attractive, while the brighter screen and Windows Precision Touchpad addressed our other, smaller, qualms from last year.
Aside from its battery life, the Razer Blade Stealth is on a par with other similarly-specced ultrabooks. For a reasonable price, it's as well-equipped, and performs as well as, most premium offerings from Dell, Lenovo or HP.
With its vibrant display and excellent performance, this is an ultrabook for everyone.
Verdict
4/5