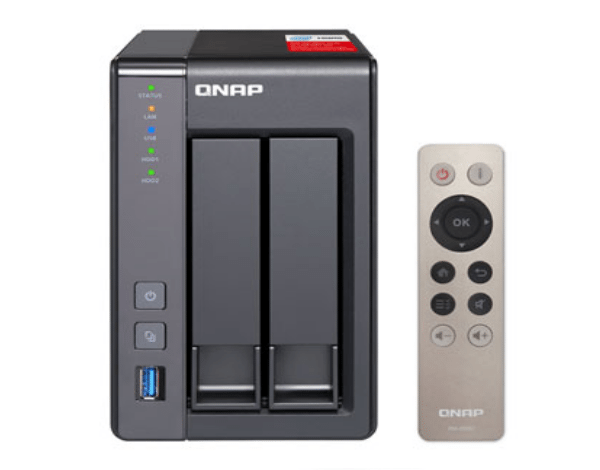 At first glance, the TS-251+ looks a heck of a lot like the Synology DS-216+. They're both dual-bay NAS devices, both specialise in video transcoding, and both are aimed at the SOHO market. Setting up the two devices is almost identical – simply slot a drive into each of the two bays, power it up and away you go. However, the QNAP isn't tool-less, as each drive must first be screwed into its tray – it's no biggie, but worth mentioning. Once that's done, power up the TS-251+ and then point your browser to start.qnap.com, and from here you'll be prompted to download the QNAP Qfinder Pro software, which is basically identical to Synology's Assistant. It's basically a small app that will search your network for the NAS, and then initialise the drives if necessary.Once you've logged in, the interface is remarkably similar to the Synology, right down to the name of the various media servers, Photo Station, Music Station and Video Station. While the layout of each of these isn't quite as intuitive as Synology's, their response in cataloguing content is noticeably faster. This is likely due to the more powerful hardware used within the TS-251+. Rather than the twincore CPU used in the Synology, QNAP has gone for a quad core Celeron with a maximum speed of 2.42GHz, and this makes a real difference when sorting and transcoding content. It also comes with a minimum of 2GB of memory, which can be upgraded to 8GB for even faster performance. However, it doesn't support the BTFRS file system, though when you see our performance figures you'll see why that's not such an issue.

There's an extra USB 3.0 port as well, delivering two in total, while another two USB 2.0 ports round out the external storage options. But where this thing really differs is in the inclusion of a HDMI output. Combine this with a mouse and keyboard, and it's possible to run this box offline as a PC, running Windows, Linux, Unix and Android-based VMs. There's even a remote control included so you can hook this directly up to your TV and use it as a streaming media PC.
As expected, there's no PLEX support (according to Synology, PLEX doesn't work on any NAS, which seems rather strange to us). However, the powerful hardware within makes transcoding super smooth, even more so than the Synology. Like the Synology, transcoding can be done either in real-time or offline, allowing you to ready your movie collection for remote streaming whenever you're about to leave the house.
The other huge difference here is the inclusion of twin Gigabit Ethernet ports, which effectively doubles the maximum read and write speed when multiple devices are accessing the NAS, whereas the Synology unit only has one. We measured a whopping 221MB/sec read speed on the TS-251+ while using twin Western Digital 4TB Red WD40EFRX drives in RAID 1 mode, more than double that of the Synology. This makes it especially suitable for larger environments where many more devices will be accessing the NAS. Having said that, we think this is probably overkill for the average home, unless that home happens to be four housemates all working in IT.
So in terms of hardware and performance, the TS-251+ obviously has the advantage. We're still not quite as impressed in the interface – even though it appears to basically mirror Synology's, it's not quite as polished. However, when it comes to sheer performance and extra hardware features, the QNAP leads by a long way.