Despite what he sang in his song Helpless ("there is a town in North Ontario, with dream comfort memory to spare…"), Neil Young's home town of Omemee is very much in South Ontario. In fact, it's less than 100km from PSB's base in Pickering, which in Canadian terms is basically next door. Read our PSB Alpha iQ Review.
Simon Lucas
The abbreviation 'PSB' stands for 'Paul and Sue Barton' – and over fifty years since he established the company, Paul Barton remains the company's chief designer. The Alpha iQ is the latest of Paul's designs to emerge from Pickering, South Ontario. While he hasn't altered his company's philosophy of providing "high-performance solutions at a reasonable cost", Paul is more than willing to embrace any and all technologies that will allow him to do so. »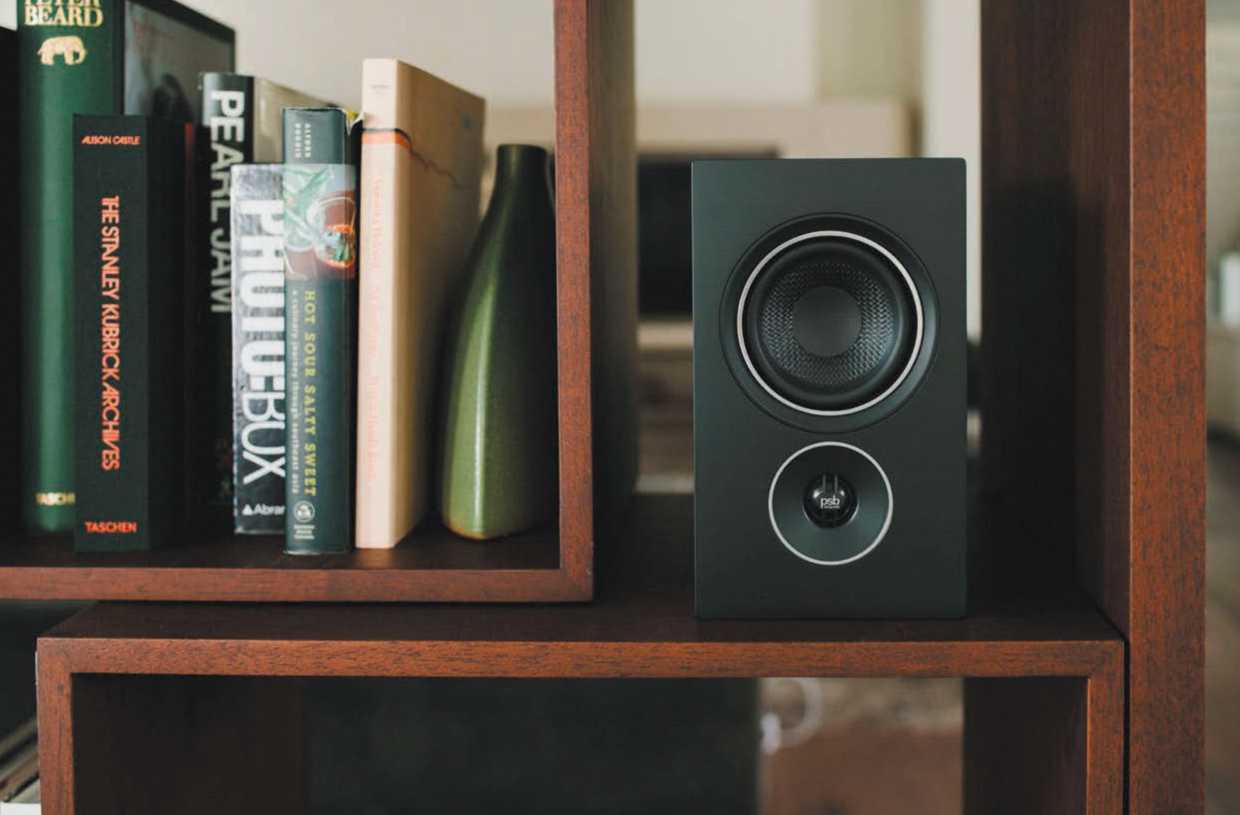 The Alpha iQ has plenty of right-angles and pointy corners, but it's properly put together and actually even mildly tactile.
» So the Alpha iQ is that most modern of hi-fi propositions: a pair of powered loudspeakers with wireless streaming capability as well as a number of physical inputs. And its convenience credentials are only enhanced by the fact that each speaker is, at just 25 x 15 x 19cm (HxWxD), very helpfully compact.
Each cabinet is constructed mostly from MDF, with the rear baffle made of aluminium and the front baffle aluminium with MDF on top. Each features a 19mm aluminium dome tweeter with neodymium magnet and ferrofluid cooling, below a 102mm polypropylene mid/bass driver with steel basket and rubber surround, and each is home to 90 watts of Class D amplification. Each tweeter is powered by 30 of those watts, while each mid/bass driver gets the other 60. And each cabinet features an active DSP-based crossover between its two drivers, along with 24bit/192kHz digital-to-analogue conversion.

No latency
Each cabinet features a rear-firing bass reflex port, and the aluminium rear baffle is also home to a mains power connection via a figure-of-eight mains lead. The connection between the two is wireless – PSB claims no latency or interference in the wireless connection in any 'averagesized' home (and the Canadian Paradigm applies to the word 'average' here). The Alpha iQ should, therefore, be happy enough no matter where you choose to place it – in fact, part of the reasoning behind positioning the tweeter below the mid/bass driver concerns optimising the speakers' performance if they're positioned high up (or you're sitting low down).
7Review earns Amazon affiliate commissions from qualifying purchases. You can support the site directly via Paypal donations ☕. Thank you!
See also TOP 10 Subwoofers
Mind you, it's worth bearing in mind that you'll lose access to the touch controls positioned on the primary speaker's top surface if they're sited up high. The 'primary' speaker is the one doing most of the heavy lifting where functionality is concerned, you see – here's where all the wireless and physical connectivity is contained.
Wireless connectivity includes Wi-Fi, Bluetooth with aptX HD codec compatibility, Apple AirPlay 2, Spotify Connect and TIDAL Connect. In addition, the Alpha iQ is a BluOS-enabled product – so the BluOS control app offers the ability to integrate as many of your favourite music streaming services as you're prepared to pay for, as well as giving access to the entire planet's internet radio stations. Because the Alpha iQ has full MQA decoding and rendering capability, you can enjoy Radio Paradise's MQA-encoded content (as well as TIDAL's, obviously). And if you fancy using your self-contained system with headphones, the iQ Alpha is a Bluetooth transmitter as well as a receiver.
Physical connectivity, meanwhile, extends to an Ethernet socket, a USB-A slot (control of USB drives is available in the BluOS app), an analogue 3.5mm input, a digital optical socket and a pair of stereo RCA connections leading to a moving-magnet phono stage. And by way of an encore, there's an HDMI eARC socket – so you can easily make a significant upgrade to the sound you've been tolerating from your TV all this time.
The standard of build and finish is well up to standard -the Alpha iQ has plenty of right-angles and pointy corners, but it's properly put together and actually even mildly tactile. There are no grilles here, which seems like no kind of loss at all to me – the 'PSB' logo on the waveguide ahead of the »
»tweeter is as decorative as the overall look is understated. Currently Alpha iQ is available in matt white and matt black finishes, although I had a sneaky peek at some rather more assertive colourways at CES in Las Vegas in January this year – they should be available sooner rather than later.
Despite the self-contained nature of this system – all you need is some mains power and a smartphone, and away you go – it's possible to make it the centre of a quite expansive system. So for the purposes of this test, it finds itself playing host to a Clearaudio Concept turntable (via the phono input), a Rega Apollo CD player (into the digital optical socket), a Cowon Plenue D3 portable music player (into the analogue input) and a Philips 48OLED806 (into the HDMI socket). In addition, an Apple iPhone 14 Pro takes care of BluOS operation and TIDAL Connect action, while a Nothing Phone (1) uses its aptX HD compatibility to make a Bluetooth connection. The size of the Alpha iQ almost invites you to put it on a shelf – but I'm trying to do the right thing here, and so each speaker is supported by a Soundstyle Z2 stand.
Impressive and welcome
What's initially most impressive (and welcome) about the way the Alpha iQ performs is the level of consistency it summons across each of its inputs, whether wired or wireless. The sound it delivers isn't utterly identical, of course, but the overall signature has admirable commonality – and that's when dealing with (among many other sources) a heavyweight vinyl reissue of Mogwai's Come On Die Young [Chemikal Underground], a CD of Madvillain's Madvillany [Stones Throw], a TIDAL Masters stream of Nina Simone's Broadway-Blues-Ballads [Philips] or a Disney+ -derived stream of Martin McDonagh's The Banshees of Inisherin [Searchlight].
In every circumstance, the PSB is an upfront and energetic listen. Low frequencies are perhaps just a little forward (in the name of 'excitement', no doubt), but they're properly controlled where attack and decay is concerned, carry plenty of detail regarding texture and timbre, and despite their assertive nature are rapid enough to a) keep up the momentum and b) allow decent rhythmic expression. The opposite end of the frequency range is a little more circumspect and a little less assertive – but there's nevertheless plenty of bite and shine to treble sounds, as well as similarly enjoyable levels of detail both broad and fine. In between, the Alpha iQ communicate in the manner of a garden-fence gossip – no detail, no matter how fine, eludes it, and vocalists get more than enough space to make their intentions and emotional condition absolutely plain. As a consequence, the Nina Simone recording sounds as eloquent and characterful as ever.
In fact, the sensation of 'space' is one of the true and unarguable strengths of the PSB system. The soundstage it summons is out of all proportion to the size of the speakers from which it emanates, and it's properly organised and arranged. Elbow-room is significant, even in dense recordings or Madvillain-style cut-and-paste collages, and it makes for an informative and easy-to-follow listen. It doesn't do any harm that the system is so tonality consistent, either – there's an impression of unity and singularity from the top to the frequency range. Yes, the lowest frequencies are keen, no matter how far from a rear wall you attempt to keep those bass reflex ports – but they do at least sound of a piece with the rest of the frequency information.
This is quite an intense-sounding system, even when it's playing at lower levels – and there's a definite lack of out-and-out dynamic headroom to its sound. Real volume dealers like Mogwai are made to sound quite loud even when they're playing quietly, and the PSB doesn't leave itself much room to manoeuvre when the band crank up the vehemence. But of greater concern and significance is the arbitrary nature of the control app – during the course of my testing it thought nothing of switching inputs (from 'analog' [sic] to 'Bluetooth', most commonly) entirely of its own volition.
Ultimately, though, the PSB Alpha iQ gets more than enough right to make overlooking its little wrongs simple enough. If it's convenience you crave, but are unwilling to make too many concessions where a) performance and b) your initial outlay are concerned, it's a small and perfectly formed option.
Technical specifications
Type Bass-reflex loudspeaker system with integrated amplification, dsp, and wireless connectivity
Driver complement 102mm polypropylene mid/bass; 19mm aluminium dome tweeter
Amplification power (w)/type 180/Class D
Frequency response 64Hz-20kHz
Crossover frequencies:
Inputs HDMI eARC; digital optical; 3.5mm analogue; MM phono; ethernet; USB-A
Wireless inputs wi-fi; Bluetooth aptX HD; BluOS; Apple AirPlay 2; Spotify Connect; TIDAL Connect
Outputs subwoofer
Digital audio sample rates 24bit/192kHz
File types AAC; AIFF; ALAC; DSD; FLAC; MP3; MP4; OGG; WAV; WMA; MQA
Dimensions (hwd, cm) 25 x 15 x 19
Weight (kg) 3.7
Finishes matte black; matte white
Manufacturer PSB
www.psbspeakers.com +1 (905) 8316555
UK distributor Sevenoaks Sound & Vision
www.ssav.com +44 (0)1732 740944
PSB Alpha iQ Streaming Powered Speakers with BluOS - Black
as of December 5, 2023 2:48 pm
PSB Alpha iQ Streaming Powered Speakers with BluOS - White
as of December 5, 2023 2:48 pm