There's something special about a tower speaker that takes two people to carry up a flight of stairs. High-end audio prizes size and weight, and in some cases that preference is borderline fetishistic, but for a tower speaker mass plays a real role, given the delicate balance of physical motion and stasis inherent in a box with vibrating cones. Big, honking, heavy, solid towers feel like they'll sound good, and the new Polk L600 does not disappoint in that regard. Read our Polk Legend L600 Review.
Drew Kalbach
The L600 is a part of Polk's latest top-of-the-line Legend series. It's a four-way tower with a wide-open bass port at the bottom, which I'll talk more about in a second. Each tow­er weighs 77.8 pounds and is absolutely solid. Rapping a knuckle against the side produces barely a dull thunk, and the wide base makes this an extremely sturdy prod­uct—there's no chance my toddler's going to tip it over. Each speaker includes a 1″ Pinnacle ring-radiator tweeter, a 5.25″ Turbine cone for the midrange, and two 7″ mid/ woofers. My review pair was matte black, but the L600 also comes in brown walnut. I par­ticularly appreciate the feet— they were designed for both hardwood floors and carpets. They're adjustable and I was able to get them perfectly lev­el with very little effort, plus the soft tips provide a bit of isolation. At the opposite end of the tower from the base, at the very tippy-top, there is a strange, screwed-in rectangle that's not noticeable unless you're looking for it. That's where the L900 height mod­ule for Dolby Atmos can be installed, but that's an optional accessory not reviewed here.
Claimed frequency re­sponse is 28Hz to 50kHz, and I'll say that lower num­ber sounded very accurate in my listening room—though I'm getting ahead of myself again. Nominal impedance is around 4 ohms with a rat­ed 86dB sensitivity, so these are going to be moderate­ly difficult to drive, which I confirmed in my listening. A small and gentle tube amp's not going to power these Polks to a satisfying level, so keep that in mind—Polk recommends 100Wpc. My Parasound HINT 6 puts out 160Wpc, and while that was plenty, I did feel that more would've been even better. I listened briefly using the NuPrime AMG STA in monoblock mode, which put out a very solid 300Wpc, and all that glorious power really made the L600 sing. My rec­ommendation is to aim for higher wattage where possi­ble, and to keep the sensitivity and low impedance in mind when matching equipment.
Big, honking, heavy, solid towers feel like they'll sound good, and the new Polk L600 does not disappoint in that regard.
Finally, that bass. I grew up in a world devoid of bass: scratchy, tinny, pathetic little white iPod earbuds were the norm, and you had to crank them to ear-bleeding levels just to hear anything in the low end. Experiencing real bass is still a revelation for me, and I felt that body-shak­ing physicality with the L600s. It's really impossible to write about the L600s without mentioning their massive bass port—the entire back bottom of the enclosure is cut out, making the speaker look as though it's floating. Inside the port is a cone that's pointed at the top and flares toward the bottom. Polk claims its "enhanced Power Port" elim­inates noise and "chuff," and lowers distortion for a cleaner air transition and a smoother, louder low end. Now, I can't say for sure whether Polk suc­ceeded in all that, but I can say without a doubt that the L600s have a massive amount of floor-shaking low end.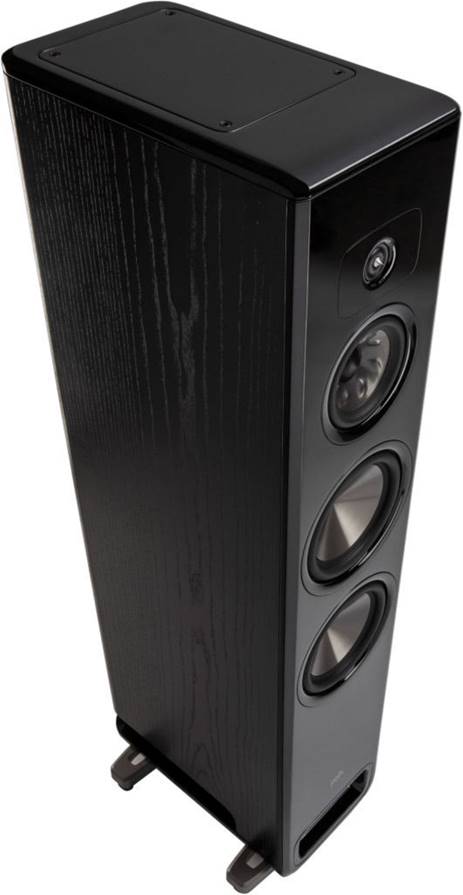 Honestly, despite what I wrote above, I'm not necessarily a bass head, but I do like my kick drums to approximate that chest-thumping feel you get during a live performance, and the L600s got the closest to that in my listening room that I've experienced so far. Even compared to my GoldenEar Triton Three Plus, which includes an active bass sub, the L600s dig down shockingly deep, and are similar or even slightly heavier than the Golden Ears. Whether that's because of the port design, I can't really say—but they sound very, very good. If you're looking for bass and don't want a sub, the L600s might be perfect.
Diving into listening, then, these review notes were written with my HINT6 as the primary amplifier. I started with Emma-Jean Thackray's new album Yellow streamed via Qobuz in 44.1kHz/24-bit. Overall the album sound­ed massive, with multiple instruments playing at break­neck speed, and synths and drums slamming in and out together. The L600s kept all these disparate sounds and voices separate yet still cohe­sive. In "Say Something," the singing, chanting voices were never overwhelmed by the big aggressive percussion, which spoke to the L600's quali­ty midrange. The squealing synth line remained discreet and never got shrill, which in the past was always possible when the volume was cranked and the top end got ringing.
7Review earns Amazon affiliate commissions from qualifying purchases. You can support the site directly via Paypal donations ☕. Thank you!
See also TOP 10 Subwoofers
specs
Driver complement: 1″ Pinnacle ring-radiator tweeter, 5.25″ Turbine cone midrange, 2x 7″ mid/woofers
Loading: Power Port Bass, vented
Frequency response: 28Hz-50kHz
Impedance: 4 ohms
Sensitivity: 86dB
Midrange/woofer crossover frequency: 410Hz
Tweeter/midrange crossover frequency: 2.9kHz
Dimensions: 12.96″ x 46.69″ x 15.9″
Weight: 77.8 lbs. each
POLK AUDIO
5541 Fermi Court
Carlsbad, CA 92008
(800) 377-7655
The L600s have a pleasant midrange and a shiny upper end, and all that for a reasonable price. Highly recommended with no reservations.
Bass was solid and hefty throughout Yellow, but it was the voices that drew me in and kept me listening. The midrange had a nice, buttery smoothness, and female vo­cals were dialed in just right. Bass can overwhelm delicate midrange harmonics if it is out of control and wooly, but the L600 wasn't bloat­ed at all, while still retaining that surprising physical heft. Deep brass instruments in particular sounded fantas­tic. The L600s were equal­ly good when Yellow turned huge and orchestral, or when it went for smaller, more tra­ditional jazz-band sonics, such as on the track "About That." The spacious, more free-sounding jam was still tightly controlled, and each instrument floated in its own section within the soundstage. Overall, I found the L600s were surprisingly accurate. On Spiral, the new release from the duo Nicolas Jaar and Dave Harrington's band Dark­side, "Libertybell" opened with a smooth, tight groove, and bass came off heavy but restrained. Rhythm was on point and never lagged or felt overwhelmed by the low end. Jaar's signature vocals were centered and smooth, but not lost in the relatively cluttered composition. In general, Spi­ral had a fresh, trippy, psych­rock sound mixed with break beats, and the repetitive mo­tifs could come off flat and uninspired if not reproduced with heft and a touch of fi­nesse. Fortunately, the L600s were up to the task, while maintaining upper-level sub­tlety throughout. On the latter part of "Libertybell," Harrington plays a very high and fast solo, and it never resolved into screeching or discomfort, with just the right amount of sparkle on the finish.
In general, Spiral was a great example of how versatile the L600s could be. The al­bum features midrange vocals, some high, droning guitar and synth work, and tight, deep drumming. It could sound like a mud­dy mess through less resolving speakers, but the L600s kept each instrument in its place, even when there were multiple layers and sounds all dropped on top of each other. I found this part of the review difficult to write, because I kept forgetting I had to pay attention to the little details—I wanted to get lost in the music. Another reviewing cliche, but very true in this case. The "soundscape" of Spiral invites the listener to vanish within its vast, seemingly infinite depth. The L600s were up to that task, with weight down low and a good bit of shine up top, and lots of pleasant listening in between. Tracks like "Inside is Out Here" begged for volume, and I was more than happy to turn it up and let that echoing mix of voice, drum, guitar, and droning noise crescendo into a massive waterfall of sonic heaven.
I ended my listening with a couple of jazz titles. First, the reissue of Cat by Hiroshi Su­zuki. It was a funky, trombone-heavy banger from start to finish, in particular the track "Walk Tall," which features a blistering sax solo from Takeru Muraoka. The solo was big and bold with the right amount of reverb and succinct attacks and decays. Drums were killer, especially those deep kicks and massive fills. When the trombone took over later in the track, it had the right amount of grit on those low, throaty blows, and bellowed the way a big brass instrument should. Through­out this raucous, breezy jam, the bass line re­mained centered and nicely fleshed-out, nev­er getting subsumed within the noisy horns.
Next up was the Music Matters Jazz version of Art Blakey and the Jazz Messenger's Indestructible. I find myself coming back to the opening track "The Egyptian" all the time for a masterclass in jazz compo­sition. The way the horns play off each other was gorgeous—Fuller gets the first solo while Shorter's sax plays a re­peating motif beneath him. This mix of upper and lower lines worked extreme­ly well through the L600s, and Fuller's trombone had the right amount of grit and grime without getting too shrill or distorted. Meanwhile, Blakey's drums were intense and suitably Blakey-esque: big, bold, and constant. His fills sound­ed on point, and his rhythm remained dead center. "The Egyptian" is one of my favorite Jazz Messengers tracks, and I've listened to it through every pair of speakers I've had in my listening room. With the Polks it sounded as fresh as it did the first time it blew me away. The sheer weight of the L600s, their cease­less low end, their effortless bass lines
helped fill out the song and give it an entirely different dimension that was lacking with smaller bookshelf speak­ers. I heard details from Workman that I missed in other listens—for a variety of reasons, but chiefly due to the L600s digging down deep. I walked away from that listening sessions greatly pleased.
My time with the Polk L600 speakers was well spent. I found myself rifling through my horrifyingly disorganized vinyl collection to pull out gems I hadn't listened to in months. More often than not, the L600s were a match for what­ever I threw at them: hip hop, bluegrass, prog rock, classical, and a whole lot more jazz.
If you're looking for bass without a sub, the L600s would likely be more than adequate, but they aren't just for bass-heads. The L600s have a pleasant midrange and a shiny upper end, and all that for a reasonable price. Highly rec­ommended with no reservations.
Best Polk Legend L600 prices in the US ?

$

599.00
1 used from $479.97
5 new from $599.00
in stock


$

1,749.00
1 used from $1,449.00
5 new from $1,749.00
in stock

Best Polk Legend L600 prices ?
MORE DEALS

See also TOP 10 Subwoofers