Portable charger with style
Powerful batteries and slim phones share an asymmetrical relationship. Superslim featherlight flagship smartphones usually feature weak batteries which usually last for a day or less. They need to be charged frequently, sometimes a couple of times or more a day. In such scenarios, power banks are a boon.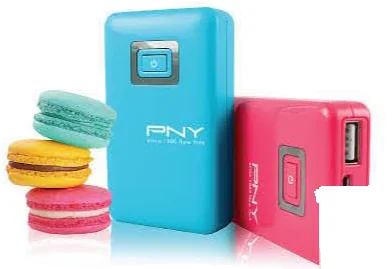 PNY has launched several devices in this category and we have reviewed a few earlier. The PNY PowerBank C51 is the brand's latest offering.
The PowerBank C51 comes in a white blister pack, including a printed manual and a couple of USB to Micro USB cables. Focused towards fashion conscious customers, the C51 is available in chic colours like pistachio green and baby pink.
About the size of a tiny smartphone, this battery measures just 86.0×53.0x19.0mm and weighs 122gm. It's a good fit in a pocket or small travel bag. To give a premium feel, PNY has used a rubbery texture on the exterior. On the top front, the C51 has a squarish button for charging. Two USB and one micro USB ports sit on the top. The micro USB is used to charge the battery while the USB ports charge devices. You can charge two devices simultaneously. Using micro USB to charge is advantageous as you don't need to carry a dedicated charger — your mobile phone charger or data cable can double up.
To test the battery, we connected two devices simultaneously, BlackBerry Z30 and Sony Xperia Z1. As the combination of two batteries (2880mAh of Z30 and 3000mAh of Xperia Z1) exceeds the C51's battery life (5200mAh), it couldn't charge either device completely. After full draining, we found both batteries charged over 70 percent — which gives an impressive usage of 16 plus hours. The battery can charge connected devices while simultaneously charging itself. A full charge takes around three and half hours.
PNY PowerBank C51 offers a 5200mAh battery at Rs 1,900 (approximate online price at the time of review). If you carry more gadgets, you may want to opt for a higher capacity battery like the 80A or P-104.