Mark Craven marvels at the do-it-all attitude of this sub-£, feature-packed AV receiver. Read our PIONEER VSX-934 Review.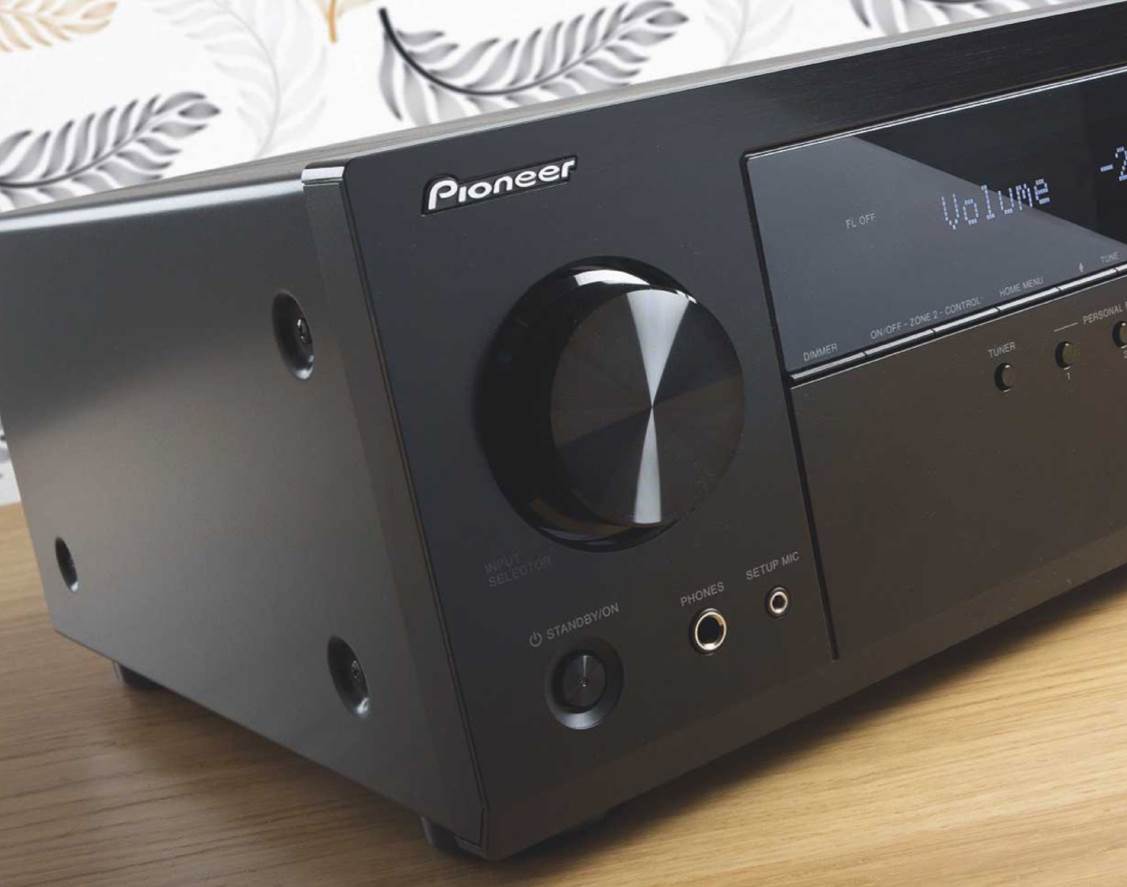 By now I shouldn't be astonished by the lengthy spec lists of affordable AVRs, but this Pioneer still elicits a double-take. In bang-for-buck terms, the VSX-934 seems irresistible.
Av Info
Product: Affordable seven-channel Atmos/DTS:X AVR
POSITION: Lower mid-range, below Pioneer's LX-branded models
PEERS: Denon AVR-X1600H; Yamaha RX-V685
A seven-channel model, it aims to please movie fans with Dolby Atmos and DTS:X support (and their associated upmixers) via 5.1.2 setups. Power is rated at an improbable 160W per channel, via a 6 ohm, single-channel measurement with 10% THD. You can expect that to drop considerably into 8 ohm loads with all channels driven and minimal distortion, which is probably why Pioneer doesn't quote such a figure.
7Review earns Amazon affiliate commissions from qualifying purchases. You can support the site directly via Paypal donations ☕. Thank you!
The VSX-934 has tricks up its sleeve for music lovers, too. There's hi-res file playback over a network or the receiver's front and rear USB ports, plus streaming audio integration – TuneIn radio is joined by Tidal, Spotify, Deezer and Amazon Music support. Two of the AVR's channels can be used to feed a second stereo zone, or a line-level output sent to powered speakers. There's also an MM phono input for turntable owners.
Multiroom audio provision is a bit more controversial.
As with last year's VSX-933 (see HCC #292) there's no unifying system in place here (such as Denon's HEOS or Yamaha's MusicCast). Supported standards instead are DTS Play-Fi, FlareConnect, Sonos and – via a future firmware update – Apple AirPlay 2. For UK consumers, the latter two will probably be the most relevant.
Brand basics
Pioneer's home theatre hardware division is now under the ownership of Denon and Marantz umbrella corp Sound United. It's conceivable, therefore, that next year we might see some obvious changes to its receiver design and feature set. This 2019 model, however, feels very much like a continuation of the Pioneer norm. Room EQ, for example, is still governed by Pioneer's proprietary MCACC system, not the Audyssey implementation favoured by its new stablemates.
On this model, MCACC is rather basic, but that probably won't bother end users. Higher-spec Pioneer receivers ship with MCACC Pro, which carries a greater level of adjustment, particularly when it comes to subwoofer optimisation. Here, the test tone process (accompanied by neat onscreen graphics) measures speaker distances, then sets levels, crossover and EQ. Of course, it's recommended you instigate it (it only supports one measurement position, so doesn't take long), and – this doesn't always happen with entry-level EQs – its speaker distance measurements were pleasingly accurate in my room. Yet, as with the VSX-933, the pre/post room optimisation differences weren't night and day. And I still felt the need to manually tweak subwoofer and Atmos speaker levels to get a preferred balance.
Styling is familiar too. The VSX-934 looks much like any previous Pioneer budget AVR, with its typical twin knobs- plus-central display approach. Then again, practically every receiver from any brand ploughs a similar furrow.
Connectivity is not as extensive as some of the competition. HDMI inputs are 'limited', as it were, to six, while Denon's AVR-X2600H (admittedly a bit more expensive) turns heads with eight. You'll probably only need four, though. All HDMI connections (there are also two outputs) support 4K HDR passthrough, including HDR and REC.2020 colour.
Pioneer's handset is a continuation of the redesigned zapper of last year, which thankfully put an end to the brand's history of overcomplicated handsets for budget receivers. The key tweak this year is a softening of its edges and buttonry. It feels a bit more contemporary.
Also contemporary is Pioneer's remote app, which paired instantaneously with the receiver and has a polished, uncluttered feel. Use this to access your streaming music >
1. The AVR packs a full-size headphone output next to its MCACC mic input
2. The remote has large volume keys and easy access to subwoofer level

subscriptions, but keep the remote close for simpler control when it's movie night movie night. The AVR's onscreen menus, meanwhile, are also sharp and user-friendly, except the pop-up AV Adjust tool, which is painfully low-res and needs updating (and, yes, I said this last year…).
Class warfare
Pioneer terms its amplifier technology 'Direct Energy'. Confusingly, this term is also used for its Class D-based SC-LX901, SC-LX801 and SC-LX701 models, and the slimline VSX-S520D. Here, though, a more traditional Class AB design is employed.
Tech talk aside, the amplification lives up to its name, with an energetic delivery and a decent amount of power on tap. Connected to a Focal Sib Evo Dolby Atmos 5.1.2 package, I found the combination enjoyable.
John Wick: Chapter 3 – Parabellum (Ultra HD Blu-ray) gives the VSX-934 plenty to do. A lot of it involving guns. The receiver laps up the Atmos bullet bonanza, proving quick to act and able to steer effects with poise. As Wick and Sofia shoot every bad guy in Casablanca, I felt cocooned within the onscreen ultra-violence.
The AVR (after a firmware update that should have arrived by the time you read this) will offer Dolby's Atmos Height Virtualizer post-processing to, it's claimed, create a height effect without the need for dedicated overhead speakers. For buyers of sub-£ AVRs, this might make sense, as there aren't many Atmos packages around that feel commensurate to the VSX-934's price tag.
Many, I suspect, will use this machine for traditional 5.1, so I removed the Focal's upfiring drivers from the equation. The DTS-HD MA 5.1 soundstage of The Town (Ultra HD Blu-ray) still felt immersive, MCACC effectively balancing the tough-guy dialogue with the Boston city ambience. When Doug (Ben Affleck) and Jem (Jeremy Renner) head out for some retribution ('We're gonna hurt some people'), the VSX-934 evokes the quiet tension in the scene.
Blade Runner 2049 (Sky Cinema) poses it a bit more of a problem, as Hans Zimmer's bass rich score and the strong LFE track did sound a bit overblown and unruly at times. It's as if Pioneer has tuned the receiver to be boisterous, which isn't necessarily a bad thing, but a more accomplished EQ system would likely result in a tighter performance.
More fun can be had from streamed music. Pioneer doesn't go in for a plethora of genre/venue-specific post-processing modes (the choices are Classical, Rock/ Pop and Unplugged) but that's of no concern. The same full-steam-ahead approach it shows with film mixes is good for upbeat tracks and electronica, and the Extended Stereo and Extended Mono modes bring your other speakers into play without any enjoyment-robbing pseudo surround pretensions. Digital file playback includes 192kHz/24-bit ALAC, AIFF, FLAC and WAV – plus 5.6MHz DSD – but again I'm not sure if this receiver's target audience will lap up this functionality.
Your first AVR?
So who might buy the VSX-934? Certainly not anyone who bought the VSX-933 or other budget model in the last year or so. But while this doesn't introduce anything really new (although future firmware will), debut AVR shoppers or those kitting out a second room system should give it consideration. It's well featured, easy to use and punchy
SPECIFICATIONS
DOLBY ATMOS: Yes DTS:X: Yes THX: No MULTICHANNEL INPUT: No MULTICHANNEL PRE-OUT: No MULTICHANNEL OUTPUT (CLAIMED): 7 x 160W (into 6 ohms) MULTIROOM: Yes. Second zone plus Flare Connect, DTS Play-Fi AV INPUTS: 1 x digital optical audio input; 1 x coaxial audio input; 4 x analogue inputs HDMI: Yes. 6 x inputs; 2 x outputs COMPONENT VIDEO: No VIDEO UPSCALING: Yes DIMENSIONS: 435(w) x 173(h) x 370.5(d)mm WEIGHT: 9.6kg
FEATURES: Ethernet; dual-band Wi-Fi; Bluetooth; Pioneer Remote App; MCACC Auto EQ; 2 x subwoofer pre-outs; Apple AirPlay 2 (via future firmware); MM phono input; headphone output; USB input; AKM AK4458 384kHz/32-bit DAC; 192 kHz/24-bit ALAC, AIFF, FLAC, WAV playback over network/USB; Works With Sonos; Spotify; Tidal; TuneIn; Amazon Music
PARTNER WITH
JOHN WICK: CHAPTER 3 – PARABELLUM This third outing for Keanu Reeves' brutally efficient hitman dazzles on Ultra HD Blu-ray via vibrant imagery and an aggressive, detailed Dolby Atmos soundtrack. See p84 for more.
Verdict
Best PIONEER VSX-934 prices in the US ?
Best PIONEER VSX-934 prices ?
MORE DEALS

3. Video inputs are stripped back to just HDMI