Superb sound tuning means Philips' FB1 one-box audio solution puts in a performance that makes its price tag look like a steal. And the feature set ain't bad either, says Mark Craven. Read our PHILIPS FIDELIO FB1 Review.
CALL ME EASILY impressed, but it was within minutes of getting Philips' Fidelio FBI soundbar up and running that I'd decided I was smitten. Not by its audio performance -at least, not at that point – but by the illuminated ring light that surrounds its two upfiring Dolby Atmos drivers. This light doesn't have to be on all the time (that could get annoying) but it's a clever, bonus design effect that I like.

av info
Single-box Dolby Atmos/DTS:X soundbar
Premium Philips model, to be joined by optional sub and wireless rears
Sonos Arc; Bluesound Pulse 2i; B&W Panorama 3
Other aspects of the Fidelio FBI's aesthetic are equally appealing. This is a fairly large device, measuring the now de rigueur 1.2m wide to partner largescreen TVs, but it wears its size well. Rounded corners on the cabinet give it an air of class, as does the Muirhead leather trim that separates top, front and side panels. The perforated metal grilles also feel robust, but do raise one slight niggle – by having to shine through this, rather than a soft-fabric cover, Philips' text display, located on the right side of the 'bar, can be hard to see at times.
The FBI is probably in little danger of being confused with Philips' previous Fidelio B1 soundbar (HCC #275), because that was a compact 'nano cinema' design for discreet setups, but does make me wonder what the F stands for this time around. Whatever it is, you'll see it later this year on the FS1 and FW1, wireless surround speakers and wireless subwoofer respectively. Alongside the FBI bar, these form a new audio ecosystem, making use of the DTS Play-Fi platform to improve interoperability. Spend more than the £ of the FBI and you can get an all-encompassing multichannel setup. And, yes, the wireless speakers also rock some slick illumination.
It's all quite ambitious, and Philips has nailed the design language so these F series models appear closely related. I'm not convinced that adding extra bits of kit to a new soundbar is the way most buyers want to go, particularly when rivals Samsung and LG sell full systems out of the box. I'm also not convinced the FBI really needs a partnering subwoofer, but more on that later.
In its standalone guise, the FBI claims a 5.1.2 channel count (and '7.1.2' soundstage), using 15 drivers running off a rated 310W of amplification. Height details are handled by the aforementioned upfirers, while LFE comes from a central in-built 'subwoofer' enclosure featuring dual drivers. Arranged along the front are three D'Appolito-style arrays for the LCR channels, and the side of the bar then hides full-range surround units.
Whether or not HDMI inputs (in addition to an ARC connection) are warranted on a soundbar is something of a hot topic around the AV watercooler. Speak to some brands and they'll tell you that anything above a certain price point (around £ say) simply has to have them or will appear underspecified. Then chat to Bowers & Wilkins about its Panorama 3 (HCC #332) and it'll tell you that buyers these days only need a connection to their TV. Philips is obviously in the former camp, endowing the FBI with a dedicated HDMI input as well as eARC, plus DTS:X decoding to boot. This makes it a good option for those with a 4K disc player. Other connections are optical and USB (which supports MP3, WAV and FLAC file playback), plus Bluetooth and Wi-FI.
7Review earns Amazon affiliate commissions from qualifying purchases. You can support the site directly via Paypal donations ☕. Thank you!
See also TOP 10 Soundbars & Soundbases
DTS Play-Fi provides the backbone of Philips Sound app, bringing with it streaming service integration (Tidal, Amazon Music, Spotify, Qobuz, Deezer and a 'net radio client included); playback of network stored music (with hi-res support); and multiroom potential with other Play-Fi products. It's pretty slick, with a quick setup process and the welcome addition of hi-res tags for music services.
Once this has been used to get the FB1 on your network, a second app, Philips Fine Tune, enables smartphone control of master volume; EQ selection (including a custom mode with sliders for seven frequency bands from 150Hz to 10kHz); surround mode choice (upmix, standard or Surround Al); and level tweaks of the bar's 5.1 channels. Again, this is a nice addition to the soundbar user experience, particularly as managing some of these settings using the supplied remote and LCD display is tricksy.
On the subject of the FBI's handset, this is an exercise in minimalism, with the volume control not even labelled as such, and just a smattering of icon buttons.
The soundbar is supplied with a small stand-up mic that connects via 3.5mm. This is for an auto calibration routine that wasn't tested as it hadn't yet been enabled by firmware update. It will be ready now, though.
Even without room optimisation, the FBI surprised me with just how good it sounded considering the price. Underpinning everything is a bass performance I don't remember ever hearing from a single-box speaker selling for less than a grand.
The 'bar's two dedicated bass drivers and array of full-range units don't create the genuinely deep lows you'd get from an external subwoofer, but sound absolutely spot on with everything else. Bass is well integrated with the rest of the soundfield, has a pure tone and plenty of detail, and is brilliantly speedy too. The rapid-fire sound design of Sonic The Hedgehog (Sky Cinema) is full of tight, thumpy effects and rich extended swells. Switch to music and the enjoyment remains; drum 'n' bass track Chubrub, by Ed Rush and Optical (Tidal) snaps and slams from the FBI, while the kick drums of Rush's Tom Sawyer (Tidal Master) have resonance and a full-bodied feel.
According to the accompanying Fine Tune app, the soundbar's height drivers are at their max output by default, so I wasn't able to pump them up. I can imagine some wanting a more aggressive Atmos experience from this once piece, but Philips seem happy to trade overt effects delivery for a more considered, surprisingly nuanced surround sound performance.
Sky One comedy Breeders (highly recommended) doesn't seem like a natural bedfellow for object audio,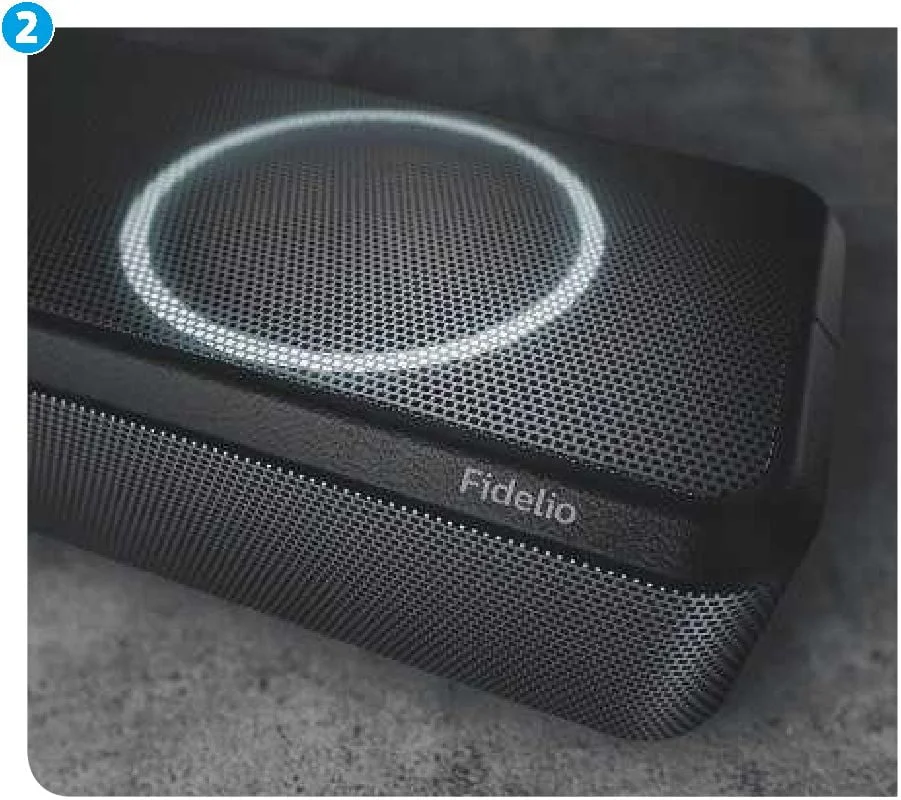 2. Illumination around height drivers can be set to On, Off or Auto – the latter activating it for ten seconds when an Atmos signal is detected
1. The 'bar has 15 drivers in total, including two woofers in an internal, rear-ported enclosure
being primarily dialogue-based. But taking its Atmos bitstream over ARC, the FBI unearths plenty of subtle ambience in its locations, resulting in a thoroughly immersive listen. Meanwhile, the native Atmos of Venom: Let There Be Carnage (4K BD) lets the 'bar show off a lot more, providing convincing panning effects, a wide front soundstage and a general feeling of scale as Venom jumps and climbs building in pursuit of human brains.
The scene later in the movie where Venom and Carnage have a ding dong in the church was thrilling. That excellent bass handling and sprightly mid and treble presentation made for a dramatic, cinematic listen – with notably rich, smooth handling of the musical score – that fit the onscreen action perfectly. The Movie preset works as advertised – it's tuned to impress. There's also the Surround Al setting, which tangibly boosts the bar's surround/height dispersion, but at the expense of that lovely cohesive sound performance.
There are only minor niggles to report. Streaming music from the Sounds app was sometimes glitchy, the handset, as said, is a bit unintuitive, and the bar's claimed '7.1.2' soundfield never (obviously) approaches that of a genuine separates system – for that you would need to add the FS1 speakers.
I don't think many will want to, though. Like its Sonos Arc and B&W Panorama 3 rivals (which this 'bar undercuts in price), I'd consider the Fidelio FB1 to be first and foremost a single-box solution. It certainly has the performance chops for it, while the design is sultry and the two apps are genuinely useful.
Plus it has light-up drivers!
DRIVEUNITS: 2 x full-range upfirers; 2 x full-range side-firing surrounds; 6 x mid-range (L/C/R); 3 x tweeter (L/C/R); 2 x 3.5in woofers ONBOARD POWER (CLAIMED): 310W (RMS, 1% THD) CONNECTIONS: 1 x HDMI input; 1 x HDMI eARC connection; optical digital audio input; USB DOLBY ATMOS/DTS:X: Yes/Yes SEPARATE SUBWOOFER: No. Optional REMOTE CONTROL: Yes DIMENSIONS: l,200(w) x 73(h)x120(d)mm WEIGHT:7.2kg
FEATURES: Bluetooth v5.0; dual-band Wi-Fi; DTS Play-Fi; Chromecast; Spotify Connect; Works with Alexa, Apple AirPlay 2 and Google Assistant; USB file playback; 40Hz-20kHz claimed frequency response; IMAX Enhanced; auto-calibration; lip-sync adjustment; 4K/60, HDR10+ and Dolby Vision passthrough; Upmix and Al surround modes; Movie, Music, Voice, Stadium and Custom presets; Fine Tune app
TESTED WITH
VENOM: LET THERE BE CARNAGE: This brisk, humour-laden sequel probably classes as a guilty pleasure – star Tom Hardy (for once speaking in his normal voice) leans into the insanity of the setup, with fine support from Woody Harrelson, Stephen Graham, and the CGI symbiote. Atmos audio is exclusive to the 4K BD, and it's superb.
£ www.philips.co.uk
Philips Fidelio B1 Review
This soundbar is a genuine head-turner from Philips. Audio performance is exceptional, and it's well-featured too. At this price, it becomes the one to beat.
Add your review
Best Philips Fidelio B1 prices in the US ?

Immerse in sublime surround sound right out of the box. This Fidelio soundbar lets sound flow above and around you for a thrilling experience. Plus you can connect to other Fidelio components to build your perfect home-theater sound.
$

629.95

$1,003.26
in stock

Best Philips Fidelio B1 prices ?
MORE DEALS

See also TOP 10 Soundbars & Soundbases