Philips Fidelio B1 Review
This nano soundbar/sub duo can handle a 5.1 signal and is designed to fit in anywhere. Read our Philips Fidelio B1 Review.
DESCRIBED AS A 'nano cinema speaker', the B1 wants to deliver a big sound from a small box. It does so by enlisting the help of a wireless subwoofer and something called microbeam technology.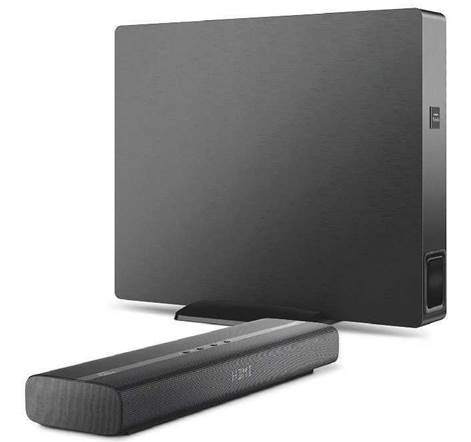 You may like also:
Basically it works like this: inside the B1 are four racetrack drivers – two on the sides and two in the middle – arranged in a cross-firing configuration. Meanwhile, two top-mounted soft dome tweeters fire high frequencies through a waveguide with eighteen holes of increasing diameters to create a 'virtual array' of tweeters.
The result, apparently, is a 180-degree soundstage with a wide sweet spot. And because the drivers are divided up into fronts, surrounds and a centre, you get 5.1-channel sound, too, made possible by six 20W amps and a Dolby Digital decoder.
The remarkable thing is that all this tech is packed into one of the smallest, cutest soundbars I've clapped eyes on. Narrower than most Blu-ray decks and just 115mm deep, it commands very little space on a TV shelf and would make an ideal audio solution for a bedroom.
Build quality is gorgeous, with an aluminium grille that curves around the sides, black cloth panels and robust silver buttons on top. A large LED display on the front shows the selected input clearly, which can be dimmed if it gets distracting.
The B1 comes with a versatile 200W wireless subwoofer designed for vertical or horizontal use to suit your room layout.
It's well-built and finished in matt black, while on the inside it features a racetrack driver design tuned via dual bass ports.
Connections include an HDMI v1.4 input and output, which means – annoyingly – that UHD Blu-ray passthrough is off the menu. Optical input, a 3.5mm minijack and USB port complete the lineup – the latter allowing you to play MP3, WMA and AAC from thumb drives. A lack of Wi-Fi means built-in Bluetooth (with aptX support) is your only wireless streaming option.
Sound modes include Virtual Surround (Movie), Music, Voice and Night. Dedicated bass, treble and audio sync adjustments on the terrific remote help you fine-tune further.
Bouncing around
After blasting a selection of movies, I was pleasantly surprised by the B1's loud, expansive sound. The microbeam tech really works, bouncing waves off the walls to create an immersive soundstage. There's a palpable sense of height, and although it can't be described as surround sound the field is fairly wide – remarkable given the B1's dimensions.
The beauty is that its tonality doesn't alter much as you change position, which means you don't have to stay in one place to get the very best performance.
Effects are zapped into the room with plenty of energy and dialogue is consistently audible. There isn't an abundance of fine detail, but the crisp treble gives soundtracks an open feel.
But sadly there are problems with the B1's sonics. It has a hard edge that can be quite unpleasant during boisterous scenes with lots of loud, high-pitched effects. Turning up the volume exacerbates the problem.
I also found the sub to be boomy and overpowering, no matter how much I tweaked. Sub and soundbar never felt totally unified, which kept pulling me out of the movie.
These problems affect music playback too. Vocals have a nasal quality and basslines sound muddy. There isn't enough punch or rhythmic flair to get the head nodding.
These issues (and legacy HDMI hookup) overshadow a well-built and innovative soundbar. The microbeam tech works and its compact size is ideal for use in tight spaces.
SPECIFICATIONS
DRIVE UNITS: 6 x racetrack drivers AMPLIFICATION (CLAIMED): 320W CONNECTIONS: HDMI 1.4 input and output (ARC); optical digital audio input; 3.5mm analogue input; USB DOLBY TRUEHD/DTS-HD MA: No/No SEPARATE SUB: Yes REMOTE CONTROL: Yes DIMENSIONS: 408(w) x 56(h) x 115(d)mm WEIGHT: 7.56kg
FEATURES: Microbeam technology; Dolby Digital/DTS decoding; treble/bass control; audio sync; Auto Volume Leveller; Virtual Surround Sound; aptX Bluetooth; Virtual Surround (Movie), Music, Voice and Night modes; 5.1-channel output
Powerful sound in a compact form; the microbeam technology delivers truly immersive sound
Slim wireless subwoofer for vertical & horizontal placement that ensures deep, powerful bass
5.1 channel sound output with powerful 320W sound output
Usually dispatched within 1-2 business days
Last update was on: June 22, 2019 6:26 am
Powerful sound in a compact form; the microbeam technology delivers truly immersive sound
Slim wireless subwoofer for vertical & horizontal placement that ensures deep, powerful bass
5.1 channel sound output with powerful 320W sound output
Bluetooth (aptX and AAC) for wireless music streaming
Included in the box: B1 Fidelio Soundbar and Wireless Subwoofer, 2 x AAA Batteries, Power cord, Remote Control, Safety & Legal Leaflet, Trademarks Sheet, User Manual, World Wide Warranty leaflet