Panasonic's connections with the filmmaking world have yielded stunning results, reckons John Archer. Read our PANASONIC TX-65FZ802 Review.
We're used to hearing TV brands state that their aim is to deliver images that look as close as possible to how their creators intended – but none have been as vocal as Panasonic. And this ambition was boosted when the brand introduced its first OLED screens (beginning in 2016), propelled by the fact that many post-production houses use professional-grade OLED displays to create their movie masters.
PRODUCT: 65in 4K OLED TV with HDR10+ support
POSITION: Step down from the FZ952 series
PEERS: LG OLED65C8; Sony KD-65AF8; Panasonic TX-65FZ952
In fact, so good were Panasonic's first OLED TVs that some studios now use them as their large screen mastering monitors. Buy the 65FZ802 TV I'm looking at here, in other words, and you could end up watching your content on more or less the same display that it was actually created on. And you can't get much more accurate than that. (It's also THX certified, indicating that it's passed THX's roster of performance tests).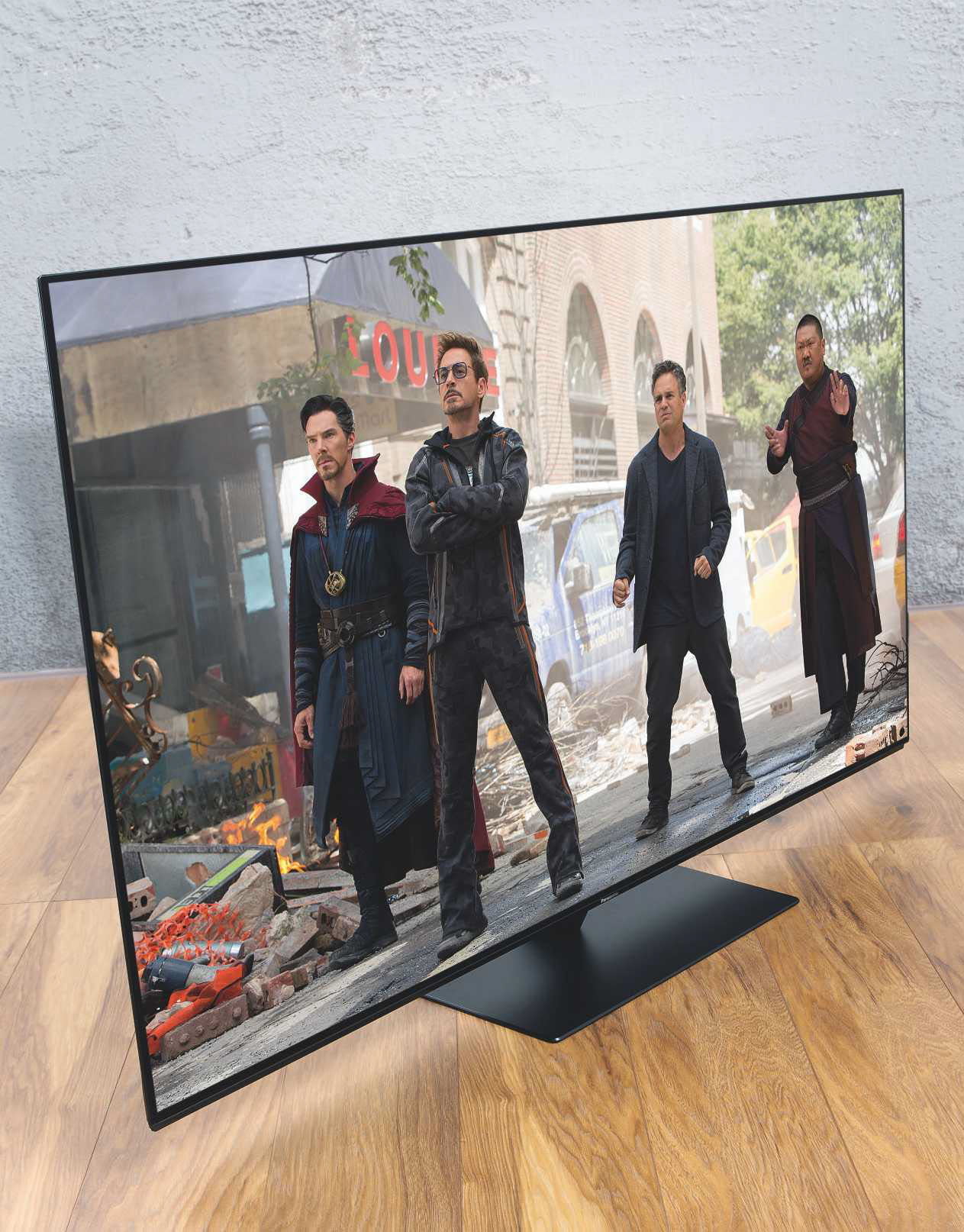 7Review earns Amazon affiliate commissions from qualifying purchases. You can support the site directly via Paypal donations ☕. Thank you!
See also TOP Televisions
and The best OLED TV deals 2022: get an awesome OLED at the lowest price
Before I get into how this quest for accuracy plays out in the 65FZ802's pictures, I'll clear up how it differs from the excellent FZ952 model.
In picture terms there's no difference at all; both sets use the same core (2018) OLED panels, and the same new HCX processing chip.
The FZ952 models (65in, 55in), however, get a built-in Technics-designed soundbar (called Dynamic Blade) while the FZ802s (again, 65in and 55in) do not. The FZ952's design is more elegant and uses premium materials.
That's not to say, though, that the 65FZ802 is ugly.
On the contrary, it's rather fetching, with crisp, clean lines and a (mostly) super-slim rear.
PANASONIC TX-65FZ802 Review: Colour, contrast and detail
So does this TV live up to its picture performance promise? Absolutely. Feed it a source (4K if you can) and you get to see more of those infinite subtleties of colour, contrast and detail that video masterers agonise over than you do on arguably any other TV released to date.
During the shots on the command deck of S.H.I.E.L.D.'s 'flying aircraft carrier' in the new 4K Blu-ray of Avengers Assemble, for instance, subtle details in the dark corners of the room, which tend to be crushed out of the picture with other displays, are readily apparent.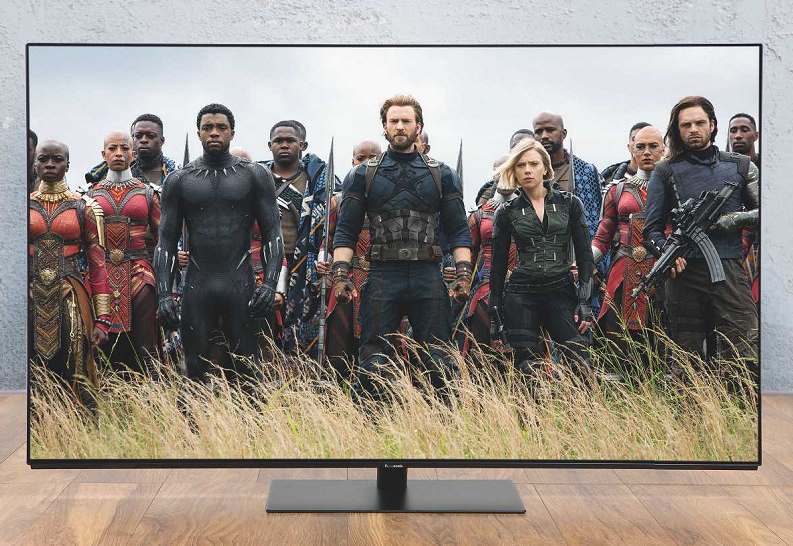 The same is true during the night-time fight between Thor, Captain America and Iron Man. While many TVs show this scrap appearing against a backdrop of almost solid blackness, on the 65FZ802 you can pick out background details that give the image a much more authentic look, plus a better sense of depth and scale.
Meanwhile, as the Avengers fight their climactic battle across New York, this Panasonic reveals subtleties of detail in their costumes, and the greys and browns of the city's architecture, that make every shot look more immediate and real. This sort of colour finesse also adds to a picture's three-dimensional, full-of-depth feel.
And with this flick it enhances the sense of scale that Joss Whedon was so keen to capture for the first Avengers film (as he explains in the movie's commentary track).
Credit for this naturalistic colour-handling lies with Panasonic's revised HCX picture processor, which, we're told, has been refined after consultation with the Hollywood filmmaking community. There's a gorgeous balance and natural toning to the FZ802's colour palette. Skin tones, in particular, stand out from the crowd courtesy of more minute tonal shifts and complete freedom from the slight orange or yellow push that can afflict flesh on less able HDR screens.
The range of colours the TV can express is also a sight to behold. A new 'dynamic' LUT (Look Up Table) system employed by Panasonic's 2019 OLEDs checks an image against its database every 100ms, resulting in an improvement in colour detail and finesse versus Panasonic's previous OLED models. The 65FZ802 can hit essentially 100 per cent of the DCI colour range used by digital cinemas, and seen as the current 'target' for HDR TV.
PANASONIC TX-65FZ802 Review: Dark star
The potent processing here helps engineer exquisite black levels, too. OLED is, of course, rightly lauded versus LCD TV technology for its ability to deliver beautifully
1. There's a 55in model available too.
2. The premium remote of the FZ952 is replaced by a more standard design
deep black tones, but the 65FZ802 goes beyond this by delivering more natural 'light gradations' and near-black subtlety than we're accustomed to seeing from OLED screens.
I was also relieved to notice during shots that contain a lot of 'just-above-black' picture information, such as the commercial airline cockpit sequence near the start of American Made on 4K Blu-ray, that the vertical banding which was quite noticeable on Panasonic's previous OLED TVs has disappeared for its 2018 models.
This prowess with black levels makes the 65FZ802 more tolerant of different picture settings than, say, LG's latest OLED screens.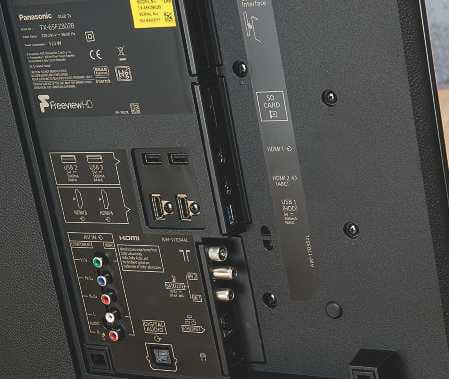 Also, more importantly, it means that very dark scenes on the 65FZ802 look less prone to artefacts and noise and, as a result, more consistently immersive. More like, in other words, they would have been designed to look on a pro-grade mastering monitor.
'HDR peaks are gratifyingly explosive and vibrant, while leaving the TV's rich black levels undisturbed'
PANASONIC TX-65FZ802 Review: Brighter than before
My main complaint about Panasonic's previous-generation OLED models was that they weren't very bright. However, on the 65FZ802 I measured a 785-nit luminance on a 10 percent HDR window. This isn't quite as much as the 810-820 nits LG is getting out of its 2018 OLED TVs, but it's a big improvement on Panasonic's OLED predecessors.
And Sony's OLED TVs, come to that.
This has a noticeable impact on performance with the FZ802 capturing the beautiful dynamics of the Avengers movie's new HDR grade. Exterior daylight sequences, such as those on the deck of the S.H.I.E.L.D. ship, enjoy a much more satisfying average brightness level. Bright HDR peaks, meanwhile, such as Iron Man's lasers or the blue glow of the Tesseract, are gratifyingly explosive and vibrant, while leaving the TV's rich black levels completely undisturbed.
While images aren't as aggressively sharp and detailed as those of some rival models – most notably Samsung's flagship LCD sets – the subtlety of the set's light and colour control never leaves you in a moment's doubt that you're looking at a native 4K display. This is especially apparent, of course, when you're watching a native 4K source, although the set is also very accomplished at upscaling HD material to its 4K pixel count.
The TV's motion processing helps it retain good levels of sharpness during busy scenes and sporting events.
There is, though, one odd weakness of the Intelligent Frame Creation motion compensation suite: some distracting stuttering during zooms in and out of the picture. Fortunately, these types of camera movement are much rarer than vertical or horizontal pans, which the 65FZ802 copes with admirably.
With standard dynamic range sources this Panasonic looks impeccable, and turns out to be a highly engaging gaming monitor, too. I measured input lag (the time it takes to render image data) at just 15ms while using Panasonic's Game picture preset – which is about as low as a premium TV is going to get.
Just bear in mind that since this is an OLED screen, there's the possibility of bright, static image elements, such as game health bars or maps, gradually leaving a permanent trace of themselves behind if you don't give the screen chance to refresh itself regularly.
PANASONIC TX-65FZ802 Review: Audio avenger
The meaty soundbar of the FZ952 series may have gone, but the 65FZ802 accompanies its excellent pictures with impressively potent audio. The svelte frame conceals a 40W speaker system that can go loud without becoming harsh, delivers a decent amount of bass, projects Avengers Assemble's robust soundtrack well beyond the TV's physical boundaries, and even manages to include an element of verticality into the mix. Though for the avoidance of doubt, it doesn't join LG's OLED TVs in supporting Dolby Atmos decoding.
So what of the set's limitations? Well, there are some, but none that do much to dampen my enthusiasm.
While remaining a stellar performer, the 65FZ802 is simply not as bright or vibrantly coloured as LG's latest OLED sets. Yet it compensates for this with more finesse in its handling of dark picture areas and colour tones.
It also gets nowhere near as bright with HDR content as many LCD TVs, limiting its ability to deliver that trademark 'daylight' look with bright, exterior HDR images. But, of course, it comfortably beats those LCD rivals with its black level response, and contrast-rich shots still have a vibrancy about them, courtesy of its pixel-level luminance control.
The TV also frustrates a little with its connections; it only makes two of its four HDMI inputs able to take full bandwidth 18Gb feeds. The other two could not, as a result, retain HDR playback when asked to handle the 60Hz 4K HDR Blu-ray of Billy Lynn's Long Half-Time Walk. This is a feature shared across rival TVs, though, and arguably of little importance if the TV is to be partnered with an AV receiver.
A final point to consider is the 65FZ802's lack of support for Dolby Vision HDR – a format embraced by competitor OLED models from Sony and LG. This may seem an odd omission from a TV intent on delivering the content creators' intention. Panasonic has long argued, however, that it backs its own processing over Dolby Vision's provision of extra scene-by-scene image data.
What's more, the 65FZ802 does support the HDR10+ system, which also uses 'dynamic metadata' to provide extra scene-by-scene information (without the need for Dolby's license fee…). Yet while there are already countless Dolby Vision sources in the market, only Amazon Video currently offers HDR10+ support. 20th Century Fox is promising to launch HDR10+ 4K Blu-rays in the coming months.
Please don't let any of the 65FZ802's limitations put you off. Its pros far outweigh its cons, and with its price and performance both taken into account, it's perhaps the most home cinema-friendly OLED TV released to date.
It hasn't got a Dynamic Blade soundbar, but has a dynamism of its own
PANASONIC TX-65FZ802 Review: VERDICT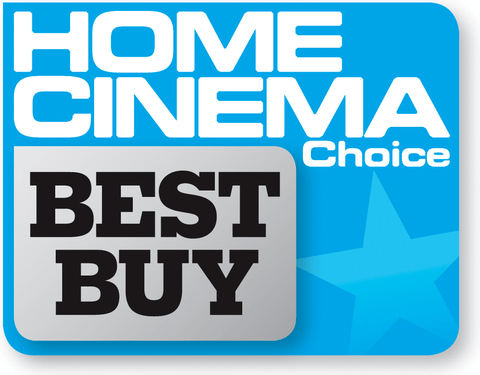 Recommended
PANASONIC TX-65FZ802 Review
While there are punchier OLED performers out there, the 65FZ802's finesse and accuracy makes it a real home cinema dream machine.
Add your review
PANASONIC TX-65FZ802 Review: Specifications
3D: No 4K: Yes. 3,840 x 2,160 HDR: Yes. HDR10; HDR10+; HLG TUNER: Yes. Freeview HD; Freesat HD CONNECTIONS: 4 x HDMI inputs; 3 x USB ports; SD card slot; component video input; headphone jack; Ethernet; optical digital audio output SOUND (CLAIMED): 40W BRIGHTNESS (CLAIMED): N/A CONTRAST RATIO (CLAIMED): 'Ultimate' DIMENSIONS (OFFSTAND): 1,449(w) x 837(h) x 62(d)mm WEIGHT (OFF STAND): 28kg
FEATURES: Built-in Wi-Fi; Bluetooth; DLNA; USB multimedia playback; SD card multimedia playback; HCX processing engine; THX certification; Ultra Bright panel with Absolute Black filter; ISF mode; Panasonic TV Remote App
PANASONIC TX-65FZ802 Review: PARTNER WITH
AVENGERS ASSEMBLE:
While John Archer's 4K platter was a US import, Disney has now brought this 2012 superhero smash-hit to UHD BD in the UK (as well as …Age of Ultron). Fingers crossed it's uncut this time…
3. Panasonic's HCX processor uses a dynamic LUT to boost colour handling
4. As expected, the set features four HDMI inputs, all HDCP 2.2/4K-enabled
5. The TV slots easily onto its central pedestal stand