Panasonic sets the bar high with a do-it-all mid-ranger that has a penchant for popcorn, says Steve May. Read our PANASONIC TX-58HX800 Review.
Panasonic's multi-talented, mid-range HX800 LED LCD could be the screen home cinephiles have been clamouring for. Offering a feature specification and picture characteristics more becoming panels twice the price, it's a tempting proposition if Dolby Vision HDR and a blistering gaming performance are big on your want list.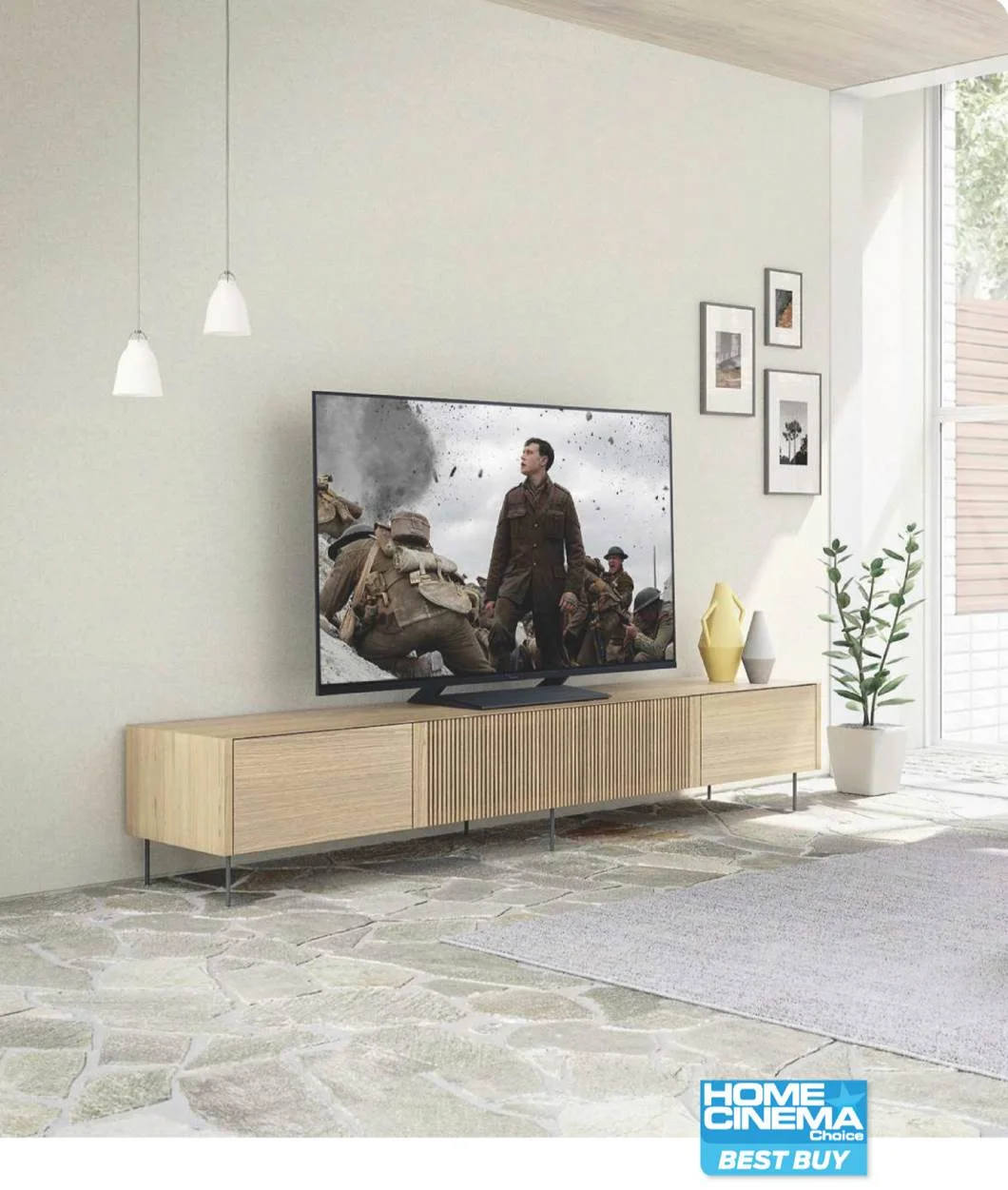 INFO
58in 4K LED LCD with multi-HDR
Below Panasonic's HX900 and HX940 models
Philips 55OLED754; Sony KD-55XH8096
Hot on the heels of last year's best-selling GX800 [see HCC #302 for our review of the TX-50GX800], the HX800 continues to offer universal dynamic HDR support, both Dolby Vision and HDR10+, as well as Dolby Atmos audio and an updated smart platform.
7Review earns Amazon affiliate commissions from qualifying purchases. You can support the site directly via Paypal donations ☕. Thank you!
See also TOP Televisions
and The best OLED TV deals 2022: get an awesome OLED at the lowest price
Our review sample was the 58in version, which for many will seem a manageable sweet spot in terms of size and price. The HX800 is also available in 40in, 50in and 65in screen sizes.
This is Panasonic's entry-level multi-HDR offering, positioned below the HX900 and top-of-the-line HX940. If you consult Mr Google, you'll also find an HX820 in the wild which looks nigh on identical. This is actually a variant of the HX800 exclusive to specific retailers, without any technical differences.
The more expensive HX900 model builds on the feature specification of the HX800, but adds HDR Cinema Display, which claims to deliver increased brightness. The range-topping HX940 series adds Local Dimming Intelligent Pro, said to mimic the operation of thousands of virtual local dimming zones to improve contrast and achieve deeper blacks.
Anyway, back to the telly at hand…
Style guru
The TX-58HX800 makes a fine first impression for a mid-tier TV. Edge-lit rather than full-array and astonishingly thin for much of its bodywork, it's afforded a genuinely minimalistic styling; interior designers will love it. I particularly like the way the panel sits on top of, rather than within, the surrounding bezel.
As with its predecessor, the screen installs on a central pedestal stand, so is easy enough to place on AV furniture.
As befits its price point, there are only three HDMI ports on offer (one of which supports ARC – but not eARC), in addition to component AV, digital optical audio output, and two USBs. The set comes with a Freeview Play tuner, but there's no satellite tuner option at all.

Dual-band Wi-Fi is standard, along with Bluetooth to support both streaming from a smartphone and headphone pairing for personal listening.
The set is supplied with a standard IR Panasonic zapper (rather than a touchpad), distinguished only by dedicated Netflix and Freeview Play buttons.
Smart functionality falls to Panasonic's My Home Screen platform, now up to its fifth iteration. The interface still consists initially of a trio of buttons, so looks a little unexciting, but is intuitive and highly customisable. All very family-friendly, it's a doodle to add to the 'Devices', 'Apps' and 'Live TV' icons with any streaming service or connected device.
The Devices tab lists connected hardware players and networked media servers and NAS drives. If you have AV files on a Twonky or Plex media server you should have no problems playing them back.
Thanks to Panasonic's Freeview Play integration, there's a solid lineup of catch-up TV players too, alongside UKTV Play, CBS Catchup and Horror Bites. Smart home credibility comes via Google Assistant and Amazon Alexa support. There's also a decent selection of streaming services – Netflix, Amazon Prime Video, Rakuten TV, Britbox, Xumo and YouTube – although new kid on the block Disney+ is noticeable by its absence.
Colour co-ordinated
Last year's GX800 was a cracking-value panel, so expectations for this replacement are high – and the TX-58HX800 just about gets everything right when it comes to image quality. First and foremost, its pictures are unequivocally filmic. I'll attribute this to the involvement of Hollywood colourist Stefan Sonnenfeld, whose recent work can be seen on Bad Boys For Life and The Lion King, and who has been lending his artful eye to Panasonic's TV tuning process for a number of seasons. Unsurprisingly, the set has a tonal balance that just looks natural, even on the basic Normal image preset.
1. Panasonic's remote control is unflashy but easy to use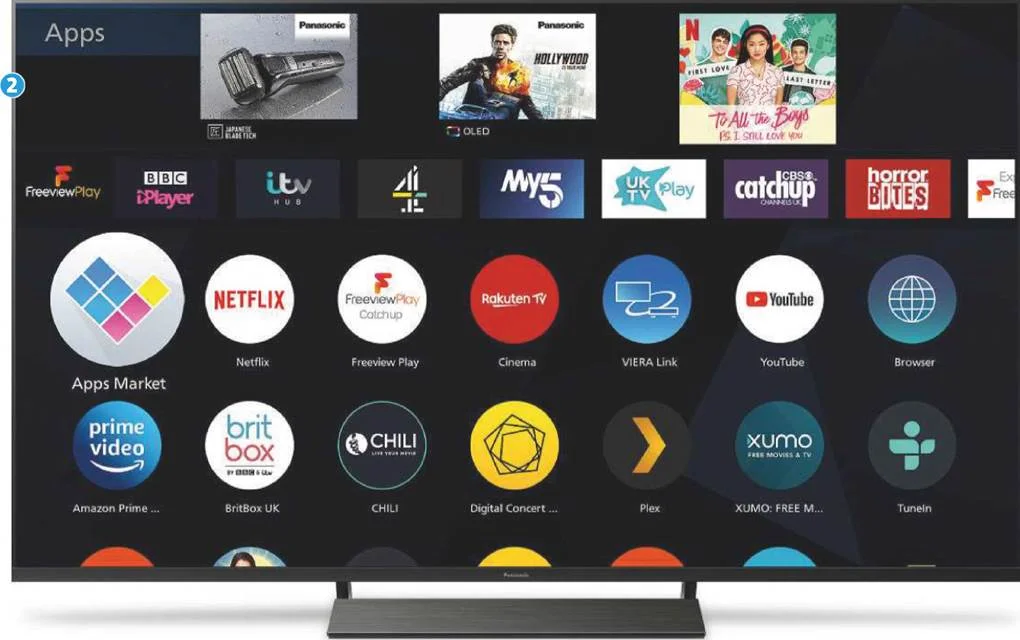 Picture modes are Dynamic, Normal, Cinema, True Cinema, Custom and Sport. All are well judged and achieve close to what you'd expect. For most programmes, I'd suggest Normal mode strikes the best balance. Predictably, Cinema is generally too dim to enthusiastically recommend for all environments. A better option when it comes to movies is True Cinema, which adds a homely punch to the picture.
The TX-58HX800 utilises the same HCX image processor seen on its predecessor, rather than the HCX Pro iteration of its costlier stablemates. It may not be blessed with the latest AI smarts but it's still able to find detail and believable nuance in any grade of source. And despite the TV's wafer thinness, screen uniformity from its edge LED system is generally good.
There's a lushness to the TX-58HX800's imagery which belies its price. A re-run of The Grand Tour (Amazon Prime, 4K HDR) really gives the Panasonic an opportunity to shine. An escapade across Morocco for Clarkson and Co, graded for maximum warmth, provides a stunning showcase for the set's colour fidelity. Hues are deep and rich. LCD LED screens often have a problem depicting red, but there's no orangey tint here. Even the TV's ambient light sensor – a technology I'm not usually an advocate of – proves effective at maintaining colour depth during quite high levels of room light.
The level of detail in this UHD image is often jaw­dropping. James May's facial grimaces are depicted with disturbing precision.
As noted, Dolby Vision comes as standard. Comparing Dolby Vision Vivid, Dolby Vision Bright and Dolby Vision Dark proves an interesting exercise, not least because Dolby Vision Vivid actually looks pretty good. Yet ultimately it's the Bright setting which proves the most consistent crowd-pleaser.
Choose your poison
Of course, the provision of multi-HDR means you've got all bases covered. There's Dolby Vision for Netflix and Blu-ray, HDR10+ for Amazon Prime and HLG for Sky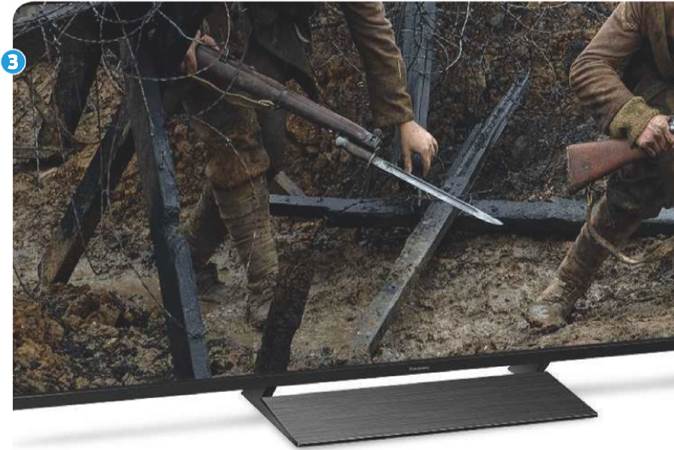 UHD. And if you're a photography whiz, there's also HLG Photo, a standard supported on a selection of Panasonic's upmarket stills cameras.
The set's HDR performance follows that of the GX800. It's not super-bright, and doesn't hit the kind of peak brightness figures typically boasted by Samsung's QLED models, or the Sony XH9505 tested in this issue [see p40], but the provision of Dolby Vision, as well as HDR10+, allows
'This Panasonic's pictures are unequivocally filmic. It has a tonal balance that just looks natural'
it to outperform what the bare numbers suggest (I measured peak HDR brightness approaching 450 nits, using the Dynamic image preset). Dolby's dynamic metadata technology specifically helps mid-brightness screens to prevent unnecessary tone mapping.
The TV's HDR sparkle is particularly noticeable during the opening cityscape pans of John Wick: Chapter 3 – Parahelium (4K Blu-ray). This nearly 60-incher creates room for the specular highlights to breathe, inviting you to drink it all in.
Swapping to the Normal image mode sees a slight drop in peak brightness, but not so much as the Cinema mode.
Although I probably wouldn't shortlist the TX- 58HX800 for bright-room viewing, it comes into its own when movies are watched with a level of low ambient light. At this point the HX800 almost starts to look like an OLED TV (deep blacks not withstanding). Contrast is consistently good, given assistance from local dimming technology, and there's a richness to its pictures which is beguiling. Generally it makes sense to keep the set's HDR Auto Brightness feature activated, and the HDR Brightness Enhancer set to around 7 or 8.
While obviously at its best with 4K HDR, the screen still looks slick – and sharp – with HD SDR sources, thanks to its high average picture level and naturalistic colour handling. Regular Blu-ray collections are in safe hands.
Joy for joystick junkies
Gamers will be particularly impressed with the set's performance. I measured input lag at just 10.2ms (1080/60) in Game mode, which is superb. If you play in Normal mode, with all the usual picture enhancements turned on, image latency falls to 140ms. Not that this should happen. While the screen keeps its HDMI playbook squarely on v2.0, there is the provision of Auto Low Latency Mode. Commonly associated with the 2.1 suite of HDMI features, this automatically triggers Game mode when a compatible device is connected.
Unlike the brand's 2020 OLED models, Filmmaker Mode isn't provided here, but motion handling is highly creditable. Panasonic's Intelligent Frame Creation (IFC) processing (as with its predecessor, the HX800 is rated at 1600Hz BMR) works best when at a Minimum level. Step up to Mid or Max and motion artefacts become more obvious. For movies, there's still an argument to turn

interpolation off completely, even though that'll incur some panning judder.
In Min mode, Intelligent Frame Creation doesn't introduce punitive motion artefacts, but retains picture clarity. The opening 20-minute car chase in Michael Bay's actioner 6 Underground (Netflix) is furious and chaotic, as a variety of vehicles hightail it around famous Roman monuments and cobbled streets, but the action is never unclear or smudgy. It looks a bit soapy, but the added clarity from IFC actually makes this interminably long action sequence quite watchable.
Given how physically slight the TX-58HX800 is you wouldn't expect it to deliver heavyweight sound, but for everyday use, the 2 x 10W stereo sound system is perfectly adequate. The good news is that the TV is Dolby Atmos compatible, meaning you can shunt the immersive format from streaming services like Netflix over HDMI into a compatible soundbar or AV receiver.
Impressive upgrade
The TX-58HX800 is an LED thinscreen that seems to think it's an OLED (obviously it was raised in captivity with OLED parents and has plasma grandparents), and that's a wonderful thing. A superb match for UHD streaming services, Blu-ray and premium pay TV, with an extensive cast of features, not least multi-HDR support, Dolby Atmos audio and well- defined smart functionality, it'll appeal to buyers looking for an upgrade that won't break the bank.
It misses out on some feature bells-and-whistles, but if blockbuster thrills are your bag, it's Hollywood-tuned and its images come highly recommended
VERDICT
Highly Recommended
PANASONIC TX-58HX800 Review
This mid-range LED TV combines lush colours with super detail, and multi-HDR support. If you can't stretch to an OLED it's probably the next best thing.
Add your review
Best PANASONIC TX-58HX800 prices ?
MORE DEALS

See also TOP Televisions
and The best OLED TV deals 2022: get an awesome OLED at the lowest price
2. Freeview Play ensures a full suite of UK catch-up TV apps
3. A central stand means this 58-incher should sit nicely on your AV cabinet
4. The TV bulks out a little at the bottom, but is generally slim
SPECIFICATIONS
4K: Yes. 3,840 x 2,160 HDR: Yes. HDR10; HDR10+; Dolby Vision; HLG; HLG Photo TUNER: Yes. Freeview Play CONNECTIONS: 3 x HDMI inputs; 2 x USB inputs; composite/AV input; digital optical audio output; headphone output
SOUND (CLAIMED: 2 x 10W BRIGHTNESS (CLAIMED): N/A CONTRAST RATIO (CLAIMED): N/A DIMENSIONS (OFF STAND): 1,297(w) x 759(h) x 65(d)mm WEIGHT (OFF STAND): 23kg
FEATURES: Built-in Wi-Fi; USB multimedia playback; HCX processing engine;
Dolby Atmos audio support; My Home Screen v5.0 smart portal; Ethernet; Wi-Fi; Bluetooth; Vivid, Bright and Dark Dolby Vision modes; Works with Alexa; Works with Google Assistant; Auto Low Latency Mode
PARTNER WITH
PANASONIC DP-UB450: The entry point in Panasonic's 4K player range for Dolby Vision and HDR10+ disc support now sells at around £. Features include dual HDMI outputs, high-res audio file playback and a compact 32cm chassis.