Panasonic's Professional Edition OLED panel gets an IQ upgrade and the result is dazzling, says Steve May. Read our PANASONIC TX-55HZ2000 Review.
AV INFO
'Professional Edition' 4K OLED TV with Dolby Atmos
The pinnacle of Panasonic's 2020 OLED range
PEERS: Samsung QE55Q95T; Philips 55OLED935
There's never been a better time to invest in premium home theatre, now that multiplex screens have lost their silvery allure and cinema concessions now come with a side order of anxiety. Stepping up your AV game is the only sensible solution, and Panasonic's flagship HZ2000 is perhaps the ultimate flatscreen upgrade. Okay, it's not 8K, but for the movie sources of the here and now, it's unbeatable.
This first-class flatscreen is the culmination of years of R&D development by the Japanese major that has pushed LG Display's OLED panel technology to a point where performance is nigh-on indistinguishable from a mastering monitor in a Hollywood grading suite. Bolt on a convincing Dolby Atmos sound system, complete with upfiring drivers, and you get a complete package.
Built for blockbusters
We've hauled the TX-55HZ2000 onto our test bench. This 55-incher is priced at a premium – a good chunk more expensive than its same-sized OLED rivals. The TV is also available in 65in guise.
7Review earns Amazon affiliate commissions from qualifying purchases. You can support the site directly via Paypal donations ☕. Thank you!
See also TOP Televisions
and The best OLED TV deals 2022: get an awesome OLED at the lowest price
Design and build are predictably superb. Like the GZ2000 before it [see HCC #305], the HZ2000 is minimalist and classy. A black micro-bezel blends seamlessly with the forward-facing speaker system that runs beneath, and the screens sits flush on a central, squared pedestal for a rock-solid foundation.
The TV promises a blockbuster film performance, but despite the impressive specification there are caveats. This screen doesn't tick every box, and for some it's definitely not going to hit the spot.
As with other Panasonic OLED offerings, it boasts universal HDR compatibility, so as well as Dolby Vision support, there's HDR10+, plus regular HDR10 and broadcast HLG.
It's also Dolby Vision IQ enabled. This updated iteration takes advantage of the light sensor built into the TV to assess room lighting levels, enabling it to automatically adjust and optimise pictures accordingly.
Such optimisation is also present, under the moniker Intelligent Sensing, with Filmmaker Mode, the standardised cinema preset devised by the UHD Alliance. Much like Dolby Vision IQ, Panasonic's Intelligent Sensing reacts to ambient light, aiming to make the Filmmaker Mode setting better suited to viewing conditions.

1. Panasonic's remote has a metallic brushed finish and is backlit for home theatre use
2. The HZ2000 uses the brand's 'Professional Edition' OLED panel
The TV comes with four HDMI inputs, one of which supports eARC. All can handle 4K 60fps sources, but there's no support for 4K 120fps, the video output promised by PlayStation 5 and Xbox Series X consoles.
Admittedly, it's not yet clear just how much support there will be for high-frame-rate gaming. I'd imagine the standard output for PS5 and Xbox Series X titles will actually be 4K 60fps. But to not even have the option of 120fps will be enough to dissuade game-centric buyers from shortlisting this set. There's no Variable Refresh Rate support either, but you do get Auto Low Latency Mode functionality.
And it's not game over entirely for the HZ2000.
With Game mode engaged, input lag measures 21.8ms, which is a reasonable (if not best-in-class) performance.
As you might expect, the smart platform employed here is Panasonic's My Home Screen, now in its fifth iteration. This actually takes a different approach to Samsung's Tizen, LG's WebOS and the Android TV OS favoured by Sony and Philips. There's no app-laden bar to browse, or Android's fullscreen rails to explore. Instead it offers a customisable user experience that won't frighten technophobes.
Panasonic has given My Home Screen something of a refresh this year, downsizing its onscreen shortcut buttons, and popping them bottom left rather than central, but operation remains straightforward.
The onboard Freeview Play tuner means catch-up TV choice is extensive – all the mainstream players are here, including BBC iPlayer, All 4, ITV Hub, My5, and UKTV Play. The choice of subscription streaming apps includes Netflix, Amazon Prime Video, Rakuten, YouTube, Britbox and Chili, but there's no Disney Plus (Panasonic really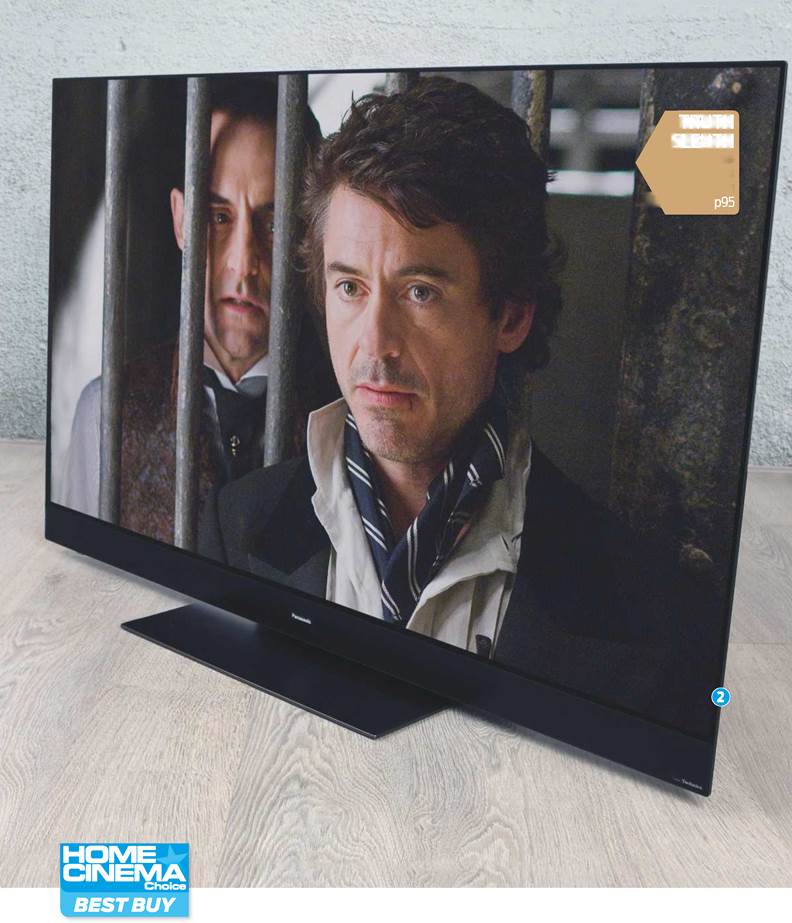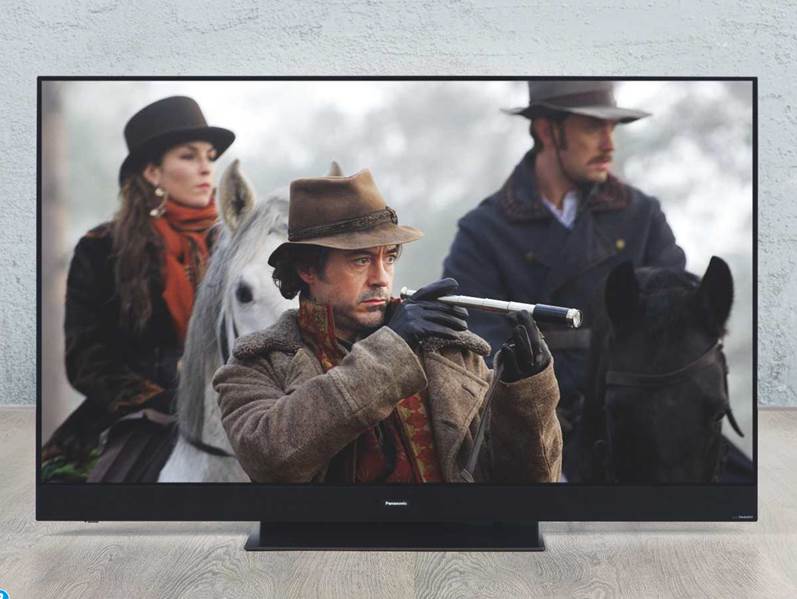 should sort that out). The TV also works with Google Assistant and Amazon Alexa connected devices.
Master OLED = master of movies
When it comes to picture performance, the 55HZ2000 knocks the ball out of the park.
Panasonic's endeavours to squeeze every ounce of performance from standard OLED panel technology pay dividends. This 'Professional Edition' Master OLED display adopts heat management techniques devised for plasma screens to manage dissipation, which in turn, says Panasonic, has allowed its engineers to push the average picture level (APL) up by as much as 30 per cent.
Just to be clear, this doesn't mean an exaggerated level of HDR brightness, but it does translate to slightly brighter OLED imagery overall, with excellent colour accuracy. There's no unforced zing in its visuals. Landscapes, VFX and skin tones all look plumped, rather than flat.
While you won't see an obvious difference between the picture quality on this year's HZ2000 compared to the
'Panasonic's TX-55HZ2000 offers the sort of image quality that's certain to dazzle home cinephiles'
previous GZ2000, there are differences in performance where content is impacted by Dolby Vision IQ and Filmmaker Mode.
The key is the aforementioned ambient light control, which enhances HDR images by making subtle differences in low-level shadow detail more visible without boosting brightness.
HDR grading on The Witcher (Netflix) often makes darker sequences look foggy, but with Dolby Vision IQ the action is more clearly defined, without impacting the visual aesthetic of the show.
Detail also gets a lift courtesy of Panasonic's HCX Pro image processor. Refining an already accomplished image engine, this does a remarkable job upscaling regular HD as well as maximising native 4K. Streaming HD and regular Blu-rays enjoy a little more visual snap. Colour rendition is superb, with subtle gradations.
Meanwhile, native 4K presentations are exemplary. 4K SDR, as seen routinely on pay TV services, benefits from the high APL Panasonic has engineered, while the wide contrast aids the sense of image depth.
The 55HZ2000's HDR performance sits in the upper echelons of OLED displays. I measured HDR peak brightness at more than 900 nits, which is enough to showcase atmospheric lighting and allow specular reflections and pin-point light sources to glint with intensity.
Just as importantly, the set does a first-class job with near blacks and shadow detail. The dark balaclavas worn by the Animal Liberation Front in Okja (Netflix) are replete with texture and detail; they almost look a little itchy.
It's this subtlety where the HZ2000 edges ahead of close rivals, delivering that filmic quality which the company has strived so hard to perfect.
The HZ2000 is ready for calibrators, and is certified a 'CalMAN Ready' display for use with CalMAN software (and supports the latter's auto calibration tool). For casual users it offers the typical selection of picture presets; pleasingly, all of these have appeal. Even the Dynamic mode is inviting, as – remarkably – when the HZ2000 over-saturates colours, hues don't seem egregious.
The picture remains entirely palatable.
Dolby Vision IQ quickly became my preferred viewing option for all Dolby Vision content. By contrast, Filmmaker Mode with non-4K material looks a bit too murky; it's a better option with 4K HDR sources.
For everyday viewing, Panasonic's Normal image preset remains the best choice, as it strikes a fine overall balance.
Motion handling is provided by IFC (Intelligent Frame Creation) and is actually pretty good. IFC works well to maintain clarity during fast-moving action, and is well suited to sports. There's a Black Frame insertion option, which significantly reduces blur, but in turn overly darkens the image. It's the sort of setting that measures well, but in the real world proves an uncomfortable watch.
Technics tuning
Sonically, the HZ2000 stands out from the crowd. While there's no shortage of flatscreens that offer Dolby Atmos audio via HDMI, few offer anything like an immersive listening experience from their onboard speaker complement. This TV is different.
That forward-facing speaker, tuned by Technics, handles left/centre/right duties, and is clean, crisp and dynamic.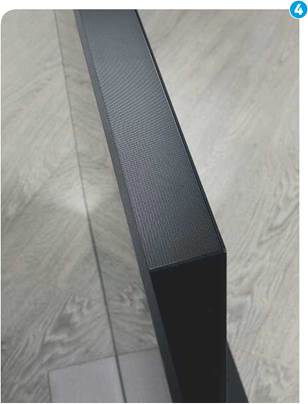 On the rear of the set are the height drivers, which cast audio to the ceiling that then bounces down to create a sense of overhead involvement.
Panasonic Space Tune is a simple setup optimiser that allows you to manually set wall and ceiling height, and checks your viewing orientation, whether it be square-on or looking up. If you don't like what it does, you can always switch it off.
The resulting 140W soundstage is wide, high and directional. But it's not just about making a big noise. There's a tangible sense of size and space to locations, drawing you in to what you're watching.
It's consistently entertaining with Dolby Atmos-encoded movies, if you can live without genuine rear surround sound. More telling is the lack of deep bass. The TV doesn't ship with a wireless subwoofer (although you can add one as an optional extra), and while it acknowledges the .1 LFE channel in a film mix, it grumbles politely rather than drop deep.
Bright star
The TX-55HZ2000 offers the sort of image quality that's certain to dazzle home cinephiles. Its pictures are supremely well balanced, with excellent HDR handling and a colour authenticity that's often mesmerising.
And it ships with a sound system that genuinely hints at Dolby Atmos immersion (obviously, we would still advocate a full-blown home theatre sound system).
Unfortunately, this isn't a screen that will suit forward­looking gamers. It's hampered by an HDMI provision handed down from last year's GZ2000. If you want 120fps support from a flagship Panasonic OLED, it's probably best to come back next year.
But if premium home cinema is your goal, then the HZ2000 is a bona fide blockbuster
Verdict
Highly Recommended
PANASONIC TX-55HZ2000 Review
The addition of Dolby Vision IQ gives this reference ­grade 4K OLED a welcome boost. Awesome sound, strong smarts and the most cinematic picture in town. A class-leader.
Add your review
|
Read reviews and comments
Best PANASONIC TX-55HZ2000 prices ?
MORE DEALS

See also TOP Televisions
and The best OLED TV deals 2022: get an awesome OLED at the lowest price
SPECIFICATIONS
4K: Yes HDR: Yes. HDR10; HDR10+; Dolby Vision; HLG; HDR Photo TUNER: Yes. Freeview HD (Freeview Play)/satellite HD CONNECTIONS: 4 x HDMI inputs; 3 x USB; optical digital audio output; component/composite video input; Ethernet; headphone/sub output SOUND (CLAIMED): 140W (2 x 40W, plus 3 x 20W) BRIGHTNESS (CLAIMED): N/A CONTRAST RATIO (CLAIMED): 'Ultimate Contrast' DIMENSIONS (OFF STAND): 1,225(w) x 761(h) x 78(d)mm WEIGHT (OFF STAND): 26.5kg
FEATURES: HCX Pro Intelligent processor; built-in Wi-Fi; Bluetooth; My Home Screen v5.0 smart platform; Filmmaker Mode; Netflix Calibrated Mode; Dolby Vision IQ; Auto Low Latency mode; USB and network media playback; eARC
PARTNER WITH
PANASONIC DP-UB9000:
Launched in 2019, but still the brand's top-flight disc-spinner, the UB9000 handles Dolby Vision and HDR10+ 4K platters, and comes wrapped in a lush, full-width chassis.
3. An ambient light sensor allows Dolby Vision IQ to optimise Dolby Vision playback
4. The top of the TV's bezel integrates upfiring Atmos drivers