Optoma's conventional 4K projector might lack the allure of its UST siblings, but a laser engine, flexible setup and punchy performance mean it's still a bright buy, says Steve May. Read our Optoma UHZ50 Review.
WE'VE SEEN PROJECTORS adopt a variety of form factors of late, from UST models to Samsung's novel portable Freestyle. Optoma's UHZ50 is a more traditional beamer, but it's no less exciting.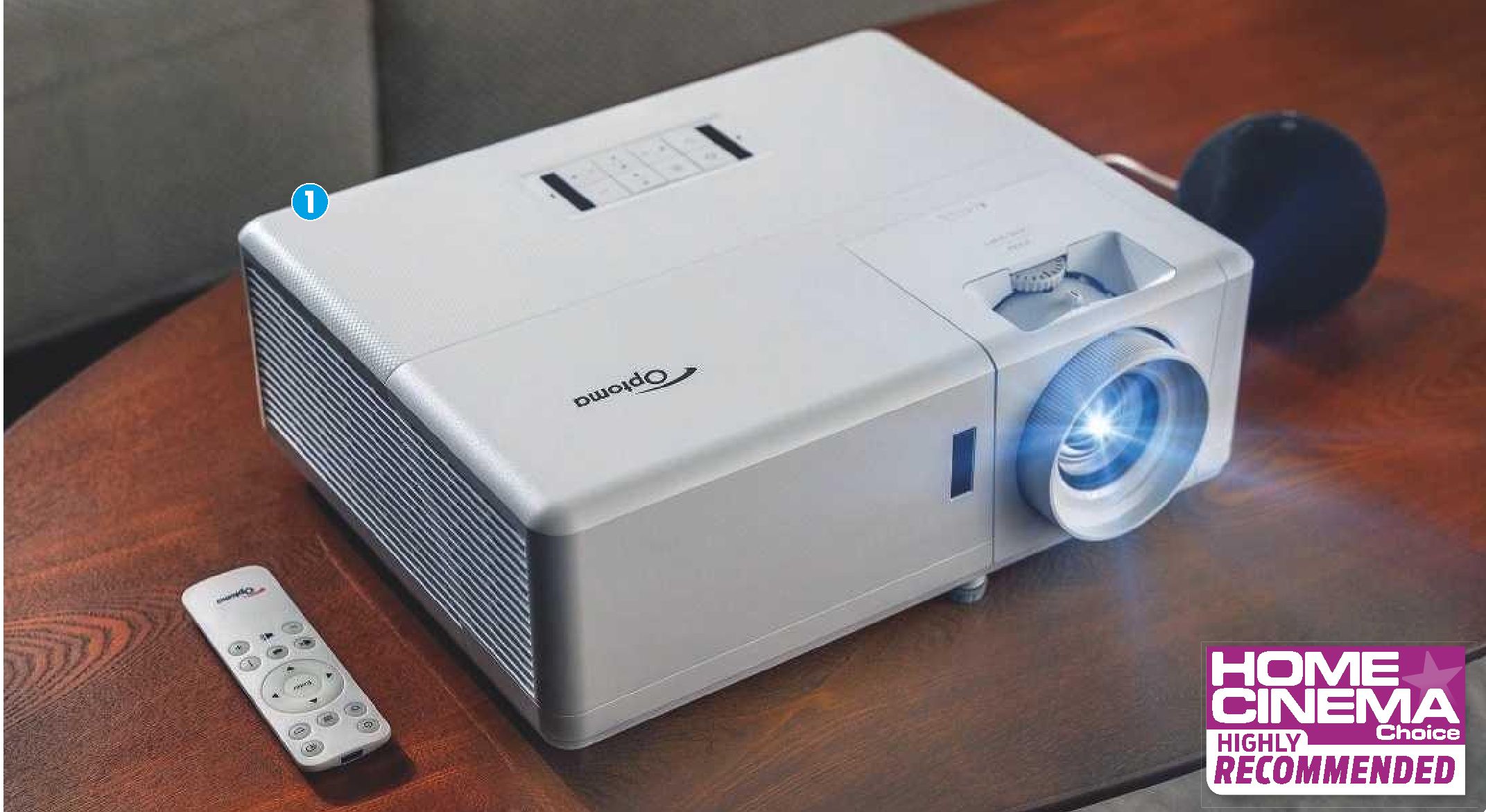 av info
4K DLP projector with laser light source
Mid-range Optoma model, below the UHZ65 series
Xgimi Aura
; LG BU60PST
www.optoma.co.uk
A 4K DLP laser model with HDR support, it's both compact enough to be brought out for movie or gaming sessions (it boasts a 240Hz 1080p gaming mode), and smart enough for a permanent ceiling installation in a living room. At £ it's definitely not a budget model, and its build quality is commensurately high.
Specifications are on point, and include some niceties that rival UST beamers ignore. One of these, obviously, is the projector's 1.3x optical zoom. This, plus focus, is manually operated via a standard dial and lever combo, and combined with the UHZ50's lens gives a 1.21-1.59:1 throw ratio. A 100in diagonal image can be projected from a distance between 2.6m and 3.5m approx.
The rear-panel connections bank is well stocked, and includes three HDMI ports, one of which is eARC/ARC enabled, plus optical digital and 3.5mm analogue audio outputs. For system builders who want to sync the projector to an electric screen, there's also a 12V trigger, as well as RS-232. The UHZ50 works with Google Assistant, offering voice control if required, plus supports IFTTT (If This Then That), which uses applets to trigger events – so you might programme the projector to power on when you dim lighting.
An Ethernet port provides a wired network connection, but the unit is also bundled with a Wi-Fi dongle, which occupies one of two user-accessible USB slots on the rear. You can also take advantage of USB power to drive an HDMI media streaming stick, such as an Amazon Fire TV device or Roku model.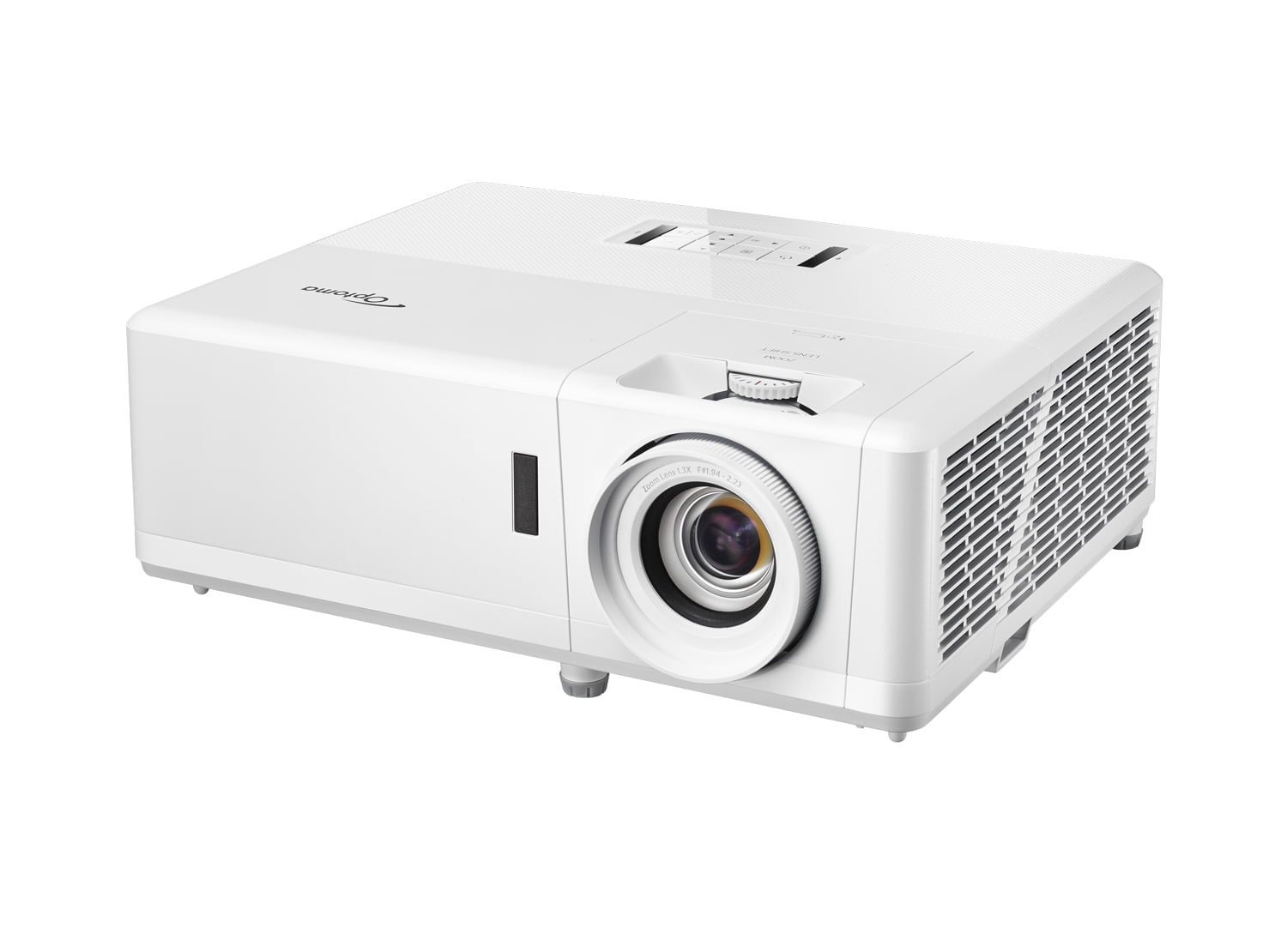 Optoma also offers a built-in media player, in case you have any shows on USB stick that you want to play. Another alternative is the Android-derived Marketplace app, which brings access to the likes of Netflix and Spotify but is generally limited.
7Review earns Amazon affiliate commissions from qualifying purchases. You can support the site directly via Paypal donations ☕. Thank you!
RECOMMENDED VIDEOS FOR YOU...
See also TOP 15 projectors
If you're projecting onto a wall rather than a dedicated movie screen, the UHZ50 has a variable 'Wall Color' setting which aims to colour-compensate if the surface is not pure white. There are six options available -blackboard, light yellow, light green, light blue, pink and grey. For an uneven wall surface there's a Geometric Correction menu, including auto keystone correction.
Vertical lens shift and adjustable feet provide real-world image alignment.
As you might expect, the built-in sound system on this projector is perfunctory, its little stereo speakers sounding brittle. Some will plan on using this for convenience, but the UHZ50 is best coupled with an external sound system managing your source components. Just remember the PJ is only compatible with a standard stereo feed, not Dolby Digital. When it receives the latter it presents nothing more than a digital burble. Configure your sources correctly!
Crucially, this laser PJ, which claims a 3,000 Lumens light output, is bright enough to use in a room with moderate ambient light. This makes it a good choice when it comes to sports and gaming, where black room conditions are generally not desirable.
Of course, in a light-controlled space like a home theatre, this Optoma really shines. There's terrific visual snap to its imagery, and the traditional DLP trait of razorsharp clarity is gloriously evident on a run through of Zack Snyder's Justice League (Sky Cinema, 4K HDR). The level of detail is profound; Steppenwolf's glittering, rippling scales are beautifully delineated.
With Sky Q as a source, the UHZ50 locks to its HLG picture mode. Presets available when you're not watching an HDR source include Cinema, HDR simulation, Game, Reference, Bright and User. Peak HDR highlights are
'There's terrific visual snap to its imagery, and the DLP trait of razor-sharp clarity is gloriously evident'
handled with restrained grace, as the projector doesn't try to force brightness at the expense of the rest of the image. HDR playback on projectors is a different kettle of fish from flatscreens, as they don't offer pixel-level control. Instead they 'manage' brightness levels for appropriate pop.
When the boom tube lifts Steppenwolf away from the Amazonian charge, after he's acquired the Mother Box, the UHZ50 does a reasonable job following the contrast grade. Unfortunately, in HLG mode operational noise also increases, so there's a price to be paid for any wow factor.
Fan noise is also evident in Game and Bright image modes – the projector drops to its quietest with Reference. Overall, I found the Cinema setting to be the best default for most content, as it combines good colour vibrancy with systemic snap and contrast.
Here, images are pleasingly dynamic, and black level performance is surprisingly good. There's a real sense of depth to the picture, with black movie bars coming across as a deep shade of grey. The UHZ50 may not go full dark, but it's convincing enough, and this trait is a boon when it comes to definition and subtle textures.
Consider Hindi actioner RRR (Netflix, 4K HDR), in which the nuances in the clothing are brilliantly depicted. Leathers and tweeds are almost tangible. The film also boasts spectacular photography, and the UHZ50 does a flawless job bringing its dusty, warm vistas to the screen.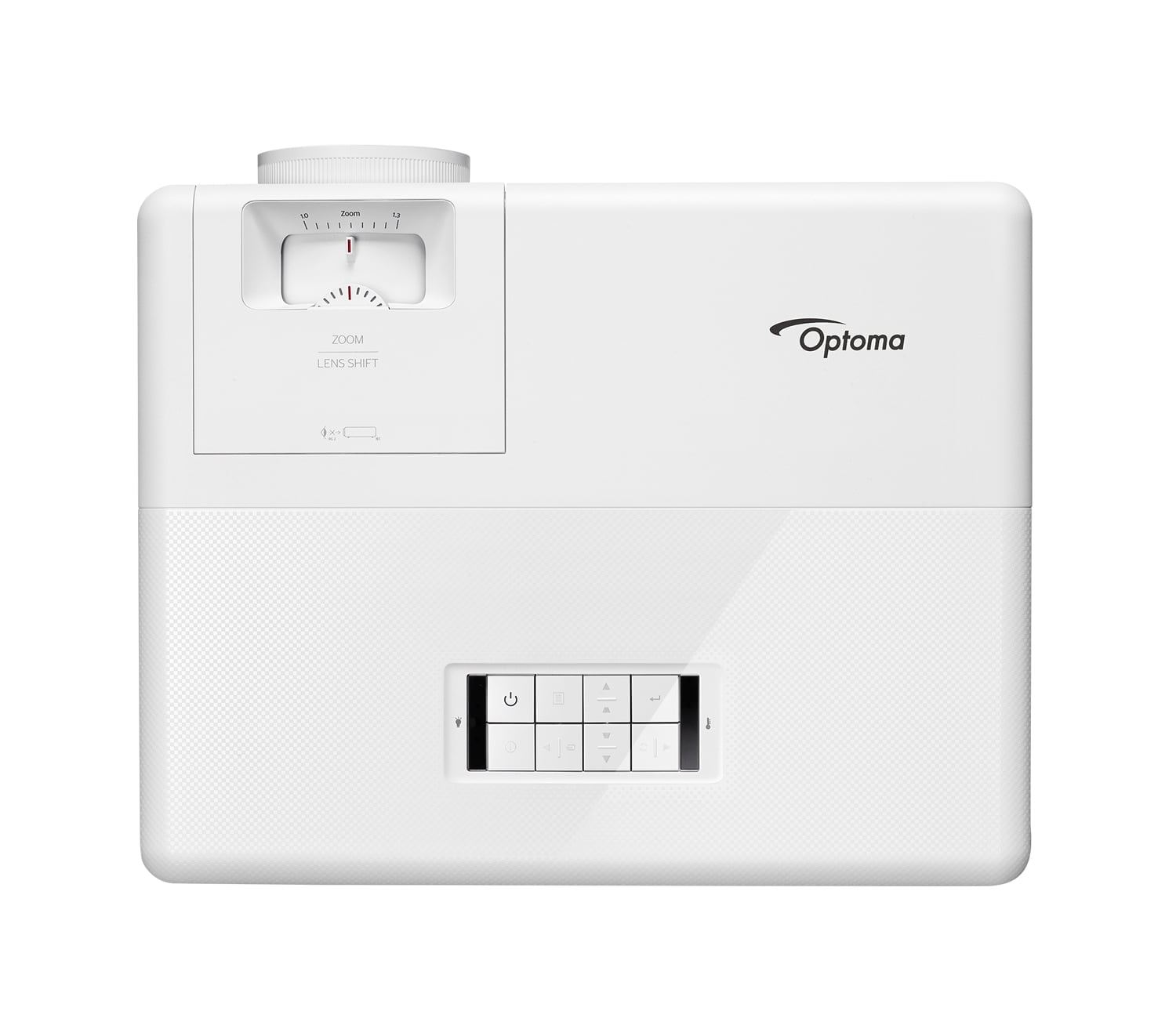 Colour handling is to the REC.709 standard, and with that bright laser in tow the CG animation Star Trek Prodigy (Nickelodeon) proves to be a riot of strong hues, the purple skin of Dal R'El looking particularly rich. Colour management menus cater to an ISF calibration.
Single-chip DLP projectors can exhibit rainbow flashes during scenes of high contrast. I did spot a few, but really didn't find it irksome. Some people are more susceptible to it than others, of course.
While DLP's mirror flipping isn't native 4K, it's difficult to argue with the sheer clarity on screen. Prehistoric Planet, a 4K presentation on Apple TV+, is monstrously appealing. The show's photo-realistic dinosaurs are mesmerising in their detail; as a coastal tyrannosaurus blinks in the sun, the image looks convincingly UHD. The hues of the preceding undersea scenes, specifically deep blues and translucent jellyfish, allow the UHZ50 to show off smooth, largely band-free pictures.
Overall, Optoma's UHZ50 is a potent 4K HDR projector, bright enough for daytime use, and wonderfully punchy in bat cave conditions. Console owners can count on low latency, while contrast and colour fidelity should delight film fans. Highly recommended.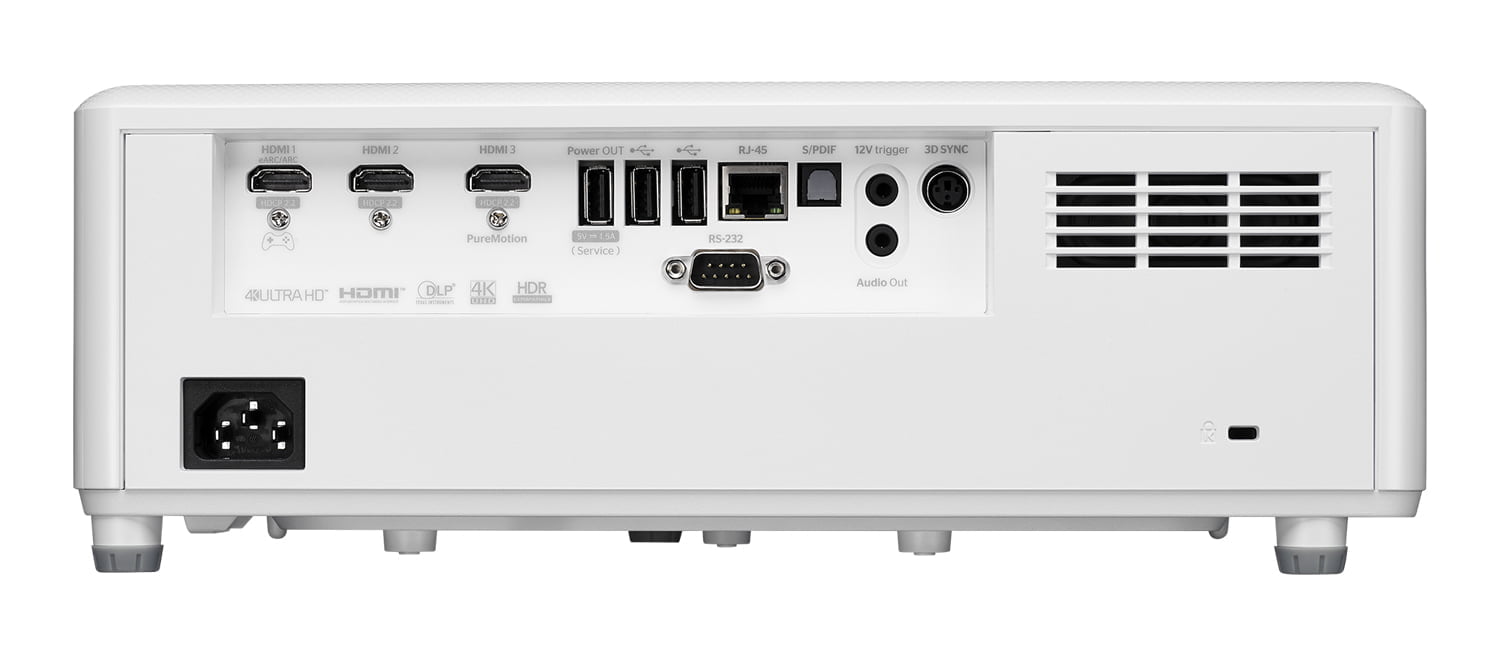 Laser projectors are a huge upgrade over DLP and LCD, with better colour reproduction, stronger contrast, higher brightness over time, and much easier maintenance than their lamp-based cousins. Laser projectors are also stupidly expensive, at least in terms of initial investment, though Optoma is doing its best to correct the disparity with the UHZ50. The company reckons this entry-level 4K beamer – which, admittedly, is still only entry-level if you happen to find the extra £ it costs compared to the DLP-based UHD38 down the back of the sofa – will endure up to 30,000 hours, can output 3,000 lumens and, neatly in terms of powers of ten, can stretch its image out to 300 inches. Latency and input lag is remarkably low at 4.2ms for 1080p gaming, and it can go as fast as 240Hz.
Almost (almost) cheap enough that we might consider it.
Recommended
Optoma UHZ50 Review
This versatile laser projector is great with movies and sport, and doesn't need a man cave to impress with its sharp, dynamic imagery. Competition from UST rivals, though.
Add your review
Best Optoma UHZ50 prices in the US ?

$

2,798.00

$2,799.00
3 used from $1,927.51
10 new from $2,798.00
in stock


$

4,698.00
3 new from $4,698.00
in stock

Best Optoma UHZ50 prices in the UK ?

£

3,066.13
2 new from £3,066.13
in stock

MORE DEALS

See also TOP 15 projectors
| | |
| --- | --- |
| 3K | Yes. DLP active shutter (glasses optional) |
| 4K | Yes. 3,840 x 2,160 via DLP mirror-flashing tech |
| HDR | Yes. HDR10; |
| HLG CONNECTIONS | 3 x HDMI inputs; digital optical audio output; 3.5mm audio output; 3 x USB; Ethernet; 12V trigger; RS-232 |
| BRIGHTNESS (CLAIMED) | 3,000 Lumens |
| CONTRAST (CLAIMED) | 2,500,000:1 |
| ZOOM | 1.3x |
| DIMENSIONS | 337(w)xl26(h)x265(d)mm |
| WEIGHT | 4.8kg |
| FEATURES | DLP single-chip laser projector; 10W built-in audio; claimed lamp life 30,000 hours; claimed fan noise 29dB max; ISF, Cinema, HDR, HDR Sim, Game, Reference and Bright picture presets; 1.21:1-1.59:1 throw ratio; vertical lens shift (+10%); PureMotion motion processing; 240Hz 1080p Gaming mode; Works with Google Assistant; Wi-Fi dongle; HDMI eARC |
RRR: Big-budget historical Hindi action drama RRR (Rise, Roar, Revolt) was a box office sensation in India, thanks to its mix of local star power and epic scale. The cinematography is tailor-made for bigscreen viewing, with sweeping landscapes, jawdropping VFX and fast-moving action scenes. Stream it on Netflix.