The classy king of AIO liquid cooling
All-in-ones like this are undeniably the future of processor cooling. They've come a long way over the last six years, from leaky, haphazard, nightmare-installation water blocks, to smooth, easy-to-mount, effective, bomb-proof pieces of equipment. So, what on earth could you do to make these things any better than they already are? After all, they've sported RGB lighting since the Corsair H100i days, and apart from improving fan design, and beefing up the thickness of the radiator, there's little, as far as we know, that can be done regarding performance gains.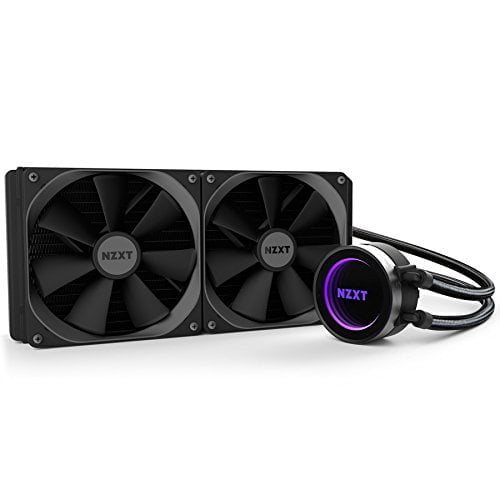 So, appearance is the easier option to improve. But when you consider the size of the footprint you have to work on, what can you do to reinvigorate the looks department? What can you do to make people stop and think, "I really want that!" Well, if aesthetic redesign is the name of the game, there's no company better capable of capturing the hearts and minds of the prosumer audience than NZXT. Off the back of a phenomenal few years of launches, including the S310 Elite, the NZXT Manta, and the HA40, when it comes to clean, slick-looking designs, NZXT has truly knocked Corsair off its perch.
Right then. The Kraken X62, NZXT's second iteration of its prestigious 280mm AIO cooler. Being one of the first to bring a full-fat 280mm liquid cooler to market, this second generation improves upon the first, not necessarily with any advancements in cooling technologies, but with aesthetic improvements in the water block. All of NZXT's second-generation coolers come featuring an infinity mirror on the CPU block itself, and on the outside of that is situated a fully RGB light ring, with an RGB NZXT logo in the middle, and one of the most advanced RGB controllers we've encountered. Pulsing, rainbow waves, ripple effects, color-switching, or simply static, there's a true cornucopia of lighting profiles embedded into NZXT's free CAM software, making this the best-looking AIO we've ever seen.
Installation hasn't changed at all from the previous generation, and follows the usual fanfare associated with most mainstream AIO liquid coolers developed by Asetek. A simple plastic backplate slots through an Intel Z270 motherboard, followed by the four correct-length screws on the other side to lock it into place. Then it's just a case of placing the water block down, threading the other end of the screws through the holes on the block, and securing with the thumb screws. Job done. This new gen of Kraken comes with two additional cables that need to be installed on the block, one with the pump header and an additional four fan headers, and one micro-USB to internal USB to be plugged in and installed into the motherboard. This allows NZXT's CAM software to control fan profiles and LED lighting, and give you realtime feedback on other system resources.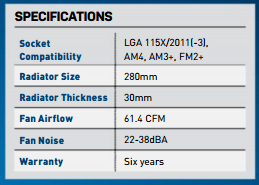 Overall performance is similar, if not identical, to the previous generation of Kraken cooler. We saw a temperature variance of 1-2 C in most scenarios. However, that's well within margin of error and variances in air temperature. NZXT's new fan designs are also pretty slick. There's nothing fancy, in terms of RGB lighting, or anything out of the ordinary, and the max noise does peak up to 38dBA— which, for a 140mm fan, is pretty crazy. However, they do keep the AIO well chilled, and can be replaced with NZXT's RGB Aer fans if so desired.
7Review earns Amazon affiliate commissions from qualifying purchases. You can support the site directly via Paypal donations ☕. Thank you!
Ultimately, the Kraken X62 is a well-crafted, beautifully stunning 280mm AIO. Yep, there may be cheaper AlOs out there, but we can tell you right now that you won't find one better looking or more complementary to any system, -zak storey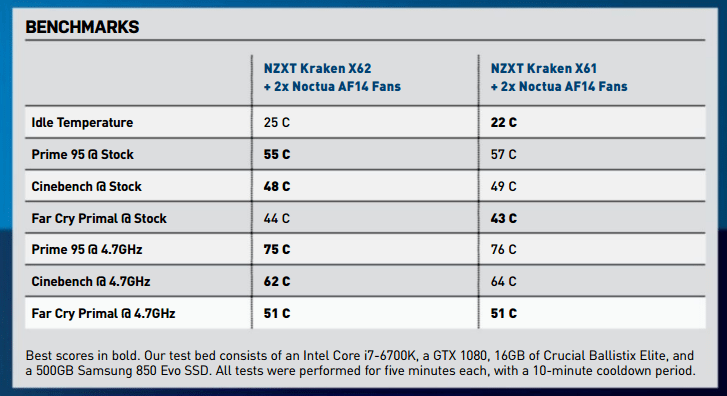 NZXT Kraken X62
Aesthetically stunning; solid cooling potential; reasonable price; good stock fans; decent warranty.
squid A lot of cable to manage; protective cover hard to spot.
Oh, why can't we get this lit up in our photo shoot?