Nintendo Labo Variety Kit Review – The Switch has re-established Nintendo as the video-game company for family fun.
It connects to a TV, but can also be undocked and carried around, giving you a tablet-like screen to play on and proper joysticks to twiddle.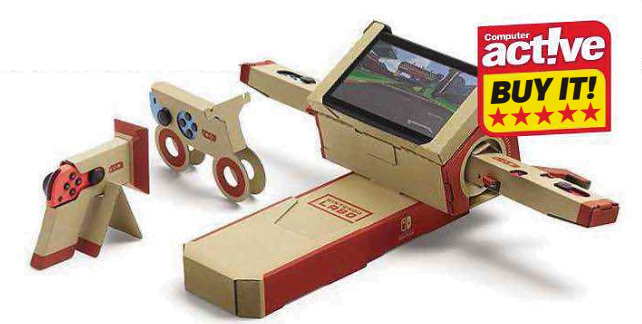 Labo takes the whole thing even further with a set of cardboard models that integrate with the Switch's detachable Joy-Con controllers to create the kind of smart toys that kids (of all ages, from eight to 80) could previously only dream of.
There are two initial Toy-Con sets: the Variety Kit, with five desktop-size models, and the Robot Kit. The latter creates a full-size backpack attached by strings to arm and leg sensors so you can stomp around in real life controlling a giant robot on the screen.
Constructing each Toy-Con is part of the fun and a challenge, potentially taking a couple of hours apiece. If you're thinking about getting Labo to share with the grandkids, rest assured that the instructions will see you through. There's also a growing YouTube channel with tips and tutorials.
7Review earns Amazon affiliate commissions from qualifying purchases. You can support the site directly via Paypal donations ☕. Thank you!
The piano, remote-control car, motorbike, house and fishing rod each have their own activities. House is the most enigmatic, supplied with three tools that you insert to feed a virtual monster that lives inside. Motorbike is a pair of handlebars that you can use to race around tracks. You can scan your own tracks, drawn on paper, into the game. The RC Car uses vibrating Joy-Cons instead of wheels to scuttle around under your control.
Exploring further reveals that Toy-Cons can interact, producing new on-screen objects and environments. When you're ready to go further still, the Toy-Con Garage lets you set actions – for example, make one Joy-Con vibrate when you shake another – to create your own activities, maybe even with your own DIY toys. All they need is places to slot in the Joy-Cons.

VERDICT:
An innovative idea brilliantly realised, Labo is a must-have for every Switch owner and another reason to buy one
5/5
ALTERNATIVE:
Labo Robot Kit
For kids seven and up, this backpack and visor puts you in the action and makes gaming physical
SPECIFICATIONS
Set of five cardboard toys • Requires Nintendo Switch • Recommended for ages three and over • Includes strings, eyelets, rubber bands • No glue or cutting required