Jamie Biesemans wonders if this flagship nine-channel model points the way forward for AVR design. Read our NAD T 778 Review.
NAD receiver gets in touch
Nine-channel AV receiver with Dirac Live
POSITION: NAD's premium AVR model, above the T 758 v3
PEERS: Denon AVC-X6700H; Arcam AVR20
NAD's new T 778 features a large touchscreen display, mirroring the design of its two-channel M10 and M33 amplifiers. It's a standout feature, suited to a world dominated by smartphones.
7Review earns Amazon affiliate commissions from qualifying purchases. You can support the site directly via Paypal donations ☕. Thank you!
But does it actually make this 9.1 AVR any better?
The T 778 is very much one of the NAD new breed, featuring the same holy trinity of features you'll find on its flagship stereo products: the aforementioned touchscreen control, plus Dirac Live EQ and BluOS streaming. This all explains its hefty £ price tag; this isn't a receiver for the casual movie buff looking for a quick surround fix.
As you'd expect the T 778 is fully compatible with Dolby Atmos and DTS:X to 7.1.2 and 5.1.4 (although there's no IMAX Enhanced support). It can also cater to 7.1.4 arrays, outputting the processed signal for those additional two channels to an external power amp via phono pre-out.
Users will likely appreciate the receiver's clean rear panel. There are no legacy video connections here, reducing
1. Stream music to the T 778 and the front panel will display album artwork and playback info
2. Dirac Live EQ is onboard, but if you want the 'Full' version it's an upgrade
complexity, just five HDMI inputs and two outputs.
Only one of these outputs supports 4K, which is a potential deal-breaker for twin-screen systems. With that in mind, it's not a major surprise that the T 778 doesn't offer HDMI 2.1, making it theoretically less capable and unsuited to future 8K and 4K/120 sources. Equally theoretically NAD could solve this by offering a plug-in module with HDMI 2.1 inputs, as the receiver follows the same futureproof Modular Design Construction ethos as other NAD hardware. There's no confirmation on such a thing being in the works, though.
In addition to multiple analogue audio connections, there's a slew of IR and trigger terminals, next to IP control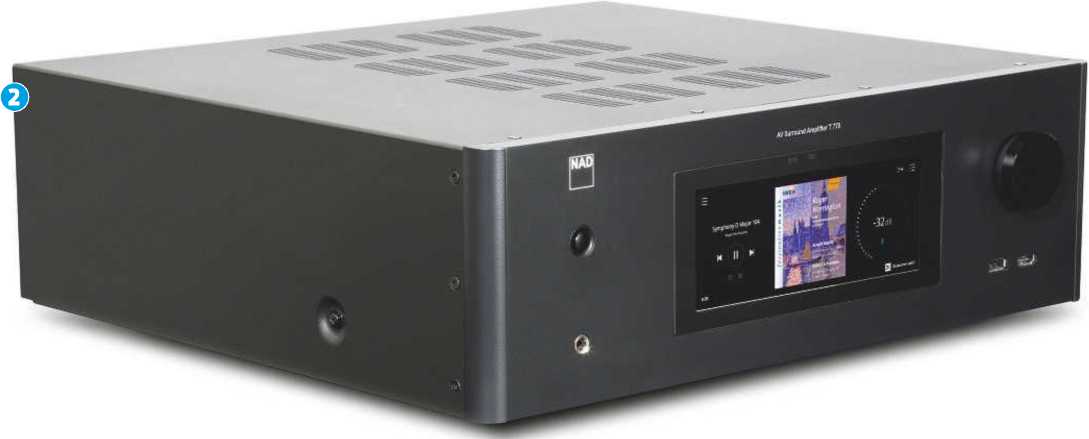 and a RS-232 port, catering to the professional installer.
It's rack mountable too.
Screen of dreams?
Virtually every AV receiver on the market is covered by a mass of buttons and knobs. Occasionally they might be lurking behind a front cover, but in the end there's no escaping them. It's refreshing, then, to see the T 778's front panel only featuring a volume dial and power switch, plus a large, colour TFT touchscreen.
Even if NAD was only using this screen to show playback information and cover art, it would be a nice feature. But another advantage is that it simplifies usage by only showing the controls you need at a particular moment. Gone are the many buttons, most of which you'll never touch; instead you see virtual controls fitting the context. That may sound abstract, but it makes using the T 778 an uncomplicated affair – even while it doesn't lack options to fine-tune your surround setup. In fact, some formerly tricksy tasks become easy, such as renaming a source, where a virtual keyboard pops up on the screen.
So, adding a touchpanel is a smart move and makes a typically complex-seeming device less daunting to the smartphone-loving types out there. But at the same time, I do wonder how many people actually ever control their receiver through the front panel. If you prefer to fiddle around with the settings while seated, you'll use the remote and the onscreen interface. This is a fine alternative, although the remote handset supplied with my test unit was infuriatingly sluggish at times.
App control is available through the BluOS app, which you'll download to stream music from a wide array of services, or your own files. BluOS, developed by NAD's mothership, the Lenbrook Group, has grown into a mature platform, offering many streaming options (including AirPlay 2 and Roon) and multiroom capabilities. Do note, though, that BluOS integration with the T 778 is a bit of an afterthought, both in terms of hardware (you need to plug in a USB dongle) and software (you can't stream connected physical sources to another zone).
NAD, like fellow surround sound marques Arcam and Rotel, has embraced Dirac EQ. As discussed in previous AVR reviews (see HCC #313 for the Arcam AVR30), this is superb software, skilful at correcting acoustic issues and impressively flexible. The latest 3.0 iteration allows you to create filters with the bundled microphone and the Dirac >
app on a mobile device (for a less accurate result) or with a calibrated mic and Dirac on your laptop/PC (for optimum results). The T 778 offers three slots for Dirac corrections, which is handy for tinkerers that want to create and compare their own target curves. I won't get into the argument about the benefit of correcting frequencies above the 500Hz limit that the version of Dirac here offers, but it feels a bit weird you don't get the full Dirac Live version on a receiver at this price (it's an optional upgrade).
When it comes to power, the T 778 is NAD's first AV receiver based on its new Hybrid Digital topology, built upon Hypex Class D modules. Power ratings don't look particularly exciting, but the Canadian brand is at pains to point out its 9 x 85W claim is with every channel driven across the 20Hz-20kHz frequency range and with a distortion lower than 0.08% THD. And in practice the T 778 clearly has the power on tap to drive relatively demanding speakers.
Pedal to the metal
All AV receivers have streaming and music options, yet most are still heavily focused on home theatre duties.
This BluOS-equipped NAD feels more versatile, featuring, for example, an EARS mode which uses the centre channel very effectively to broaden out a stereo soundstage.
Movie-wise, the T 778 steps up to the plate with the Dolby Atmos mix of Ford vs Ferrari (4K Blu-ray) through my DALI Rubicon-based 5.1.4 setup. It sounds energetic, yet controlled and cohesive too. An especially thrilling sequence sees British driver Ken Miles pushing a GT40 prototype to its limits, resulting in fading brakes. The sound of squealing tires is positioned with delightful accuracy, traversing around the track (and my listening room).
This scene is interspersed with shots of a terse telephone call, a huge difference in dynamics that the T 778 handles deftly. Later, when Carroll Shelby convinces the rotund Ford president to 'see what 9 million dollars feels like,' the high-octane sequence that follows finds the NAD putting its foot to the floor. Panned effects come clear and fast, the engine roars and every gear shift has a forthright clunk. When Henry Ford II starts crying when the car comes to rest, it's hard not to madly giggle along.
Although the positioning of Atmos sound details was superb in Ford vs Ferrari, I did notice rear surround channels not perfectly integrated while spinning Alfonso Cuaron's Gravity (Diamond Luxe Edition Blu-ray). Just after the destruction of the shuttle, when Sandra Bullock is hurtling

through space and the camera shifts to a first-person perspective, to heighten the sense of immersion her voice moves to the rear channels – here it lost its definition. After looking into it, I realised the culprit was a tweaked Dirac correction gone wrong. Be warned: there's definitely potential for messing up once you start playing around with target curves of individual speakers…
That's the paradox of NAD's T 778. The touchscreen display and slick BluOS streaming make it very consumer-friendly, but beneath the gloss it's still a cinematic-sounding AVR receiver suited to enthusiasts. The HDMI specification isn't bang up-to-date, and there more affordable rivals that offer extra onboard amp channels, but this should be on your shortlist if you want an AV all-rounder with some advanced skills
VERDICT
NAD T 778 Review
A refreshing new take on AV receiver design when it comes to the user interface, and packed with useful features including Dirac Live. A commendable performer too.
Add your review
Best NAD T 778 prices in the US ?

The T 778 represents NADs unwavering philosophy of real-world performance, simplicity of operation, and future upgradability. Only NAD offers Modular Design Construction(MDC), their proven method for preventing premature obsolescence. Dolby Atmos and DTS Master Audio combine with Dirac Live room...

Best NAD T 778 prices ?
MORE DEALS

3. NAD's Modular Design Construction means the T778 has 'slot' space for future hardware upgrades
SPECIFICATIONS
DOLBY ATMOS: Yes DTS:X: Yes IMAX ENHANCED: No POWER OUTPUT (CLAIMED):
9 x 85W (4 ohm, 20Hz-20kHz, all channels driven) MULTICHANNEL INPUT:
No MULTICHANNEL OUTPUT: Yes. 11.2 MULTIROOM: Yes. Zone 2 plus BluOS AV INPUTS: 4 x digital audio (2 x optical and 2 x coaxial); 2 x stereo phono HDMI: Yes. 6 x inputs; 2 x outputs VIDEO UPSCALING: No. COMPONENT VIDEO: No DIMENSIONS: 435(w) x 140(h) x 430(d)mm WEIGHT: 12.1kg
ALSO FEATURING: Dirac Live calibration (20Hz-500Hz, upgradable to Full); BluOS multiroom/hi-res music streaming with control app; full-colour touchscreen control panel; Amazon Alexa and Google Assistant Skills; Roon endpoint; dual subwoofer outputs; Ethernet; 2 x USB inputs; headphone output; five configurable AV presets; Enhanced Stereo mode; MDC (Modular Design Construction)
PARTNER WITH
NAD C 268: £750 gets you NAD's two-channel power amp, a suggested partner for the T 778 to make use of its 7.1.4 audio processing. This 'Classic Series' Class D stereo slab claims a 2 x 80W output, or up to 300W when used in bridged mode as a mono amp.