Ed Selley admires the power and control of this moody-looking seven-channel AV receiver. Read our NAD T 777 V3 Review.
NAD is entering the 3D audio premium AVR market with its T 777 V3. As the name suggests, this is the latest revision to the 777 platform. However, changes are significant enough that it could have been marketed as an all-new model and I wouldn't have felt aggrieved.
At its core, the T 777 V3 is a seven-channel design. These channels can be allocated as 7.1 or 5.1.2, with support for Dolby Atmos at the time of review and DTS:X compatibility in the pipeline.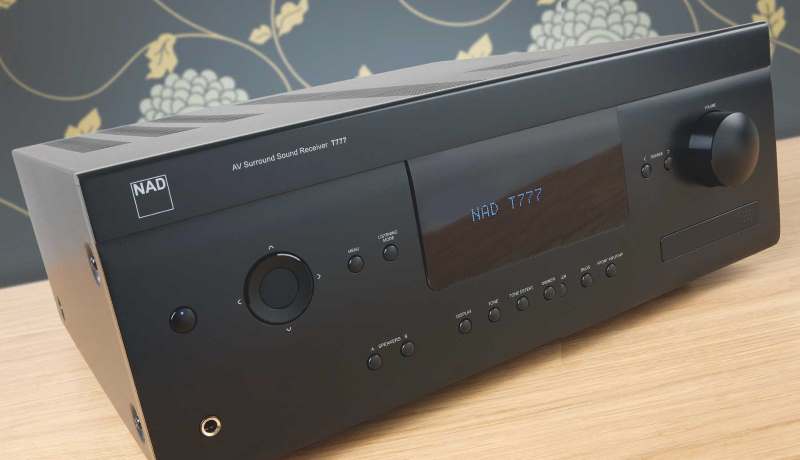 You may also like:
Of course, these days any premium AVR limiting its user to just seven channels is going to get some odd looks, so it's no surprise to see the T 777 V3 featuring phono pre outs for 5.2.4, 7.2.2 and 7.2.4 support via external power amplifiers – products that NAD itself is well known for.
7Review earns Amazon affiliate commissions from qualifying purchases. You can support the site directly via Paypal donations ☕. Thank you!
Decoding is via six HDMI connections (one of which is on the front panel). All support 4K passthrough with HDCP 2.2 and HDR10. As with DTS:X, compatibility with Dolby Vision and HDR10+ formats is in the works via a firmware update. The HDMI inputs join to two outputs.
The amplification of the T 777 V3 is rated at 80W per channel which, notionally at least, puts it behind most rivals. The wrinkle to this is that NAD quotes the 80W figure as all channels driven into 8 ohms at a low distortion of 0.08% THD. In reality, the T 777 V3 is probably better endowed than much of the competition.
While NAD's high-end Masters Series amps use Hypex's nCore Class D amplification, the T 777 features a Class AB output stage, connected to a toroidal power supply and NAD's 'PowerDrive' circuit, which the company says allows for 'very high dynamic power' while keeping distortion low.
A row of cooling fans are fitted to the underside of the receiver but these have either not kicked in during testing or are impressively silent in use. Indeed, NAD says its fan circuit has a neat trick, cutting out during a quiet scene in a movie to stop the sound of gushing air upsetting the ambience.
PRODUCT: 7-channel Dirac EQ AVR with 11-channel processing
Position: Below NAD's Masters Series, above the T 758 V3 receiver
PEERS: Arcam AVR550; Anthem MRX 720
Compared to rivals that have nine, 11 or even 13 channels of onboard power, the T 777 V3 is going to be more expensive to run in 'full fat' mode. But even if you are only planning a smaller configuration, the lure here is of better-quality amplification.
There's another lure, actually. A big revision to the specification for this V3 model is the removal of the old Audyssey EQ system and the introduction of Dirac Live. Well, sort of. As standard, the T 777 V3 comes with Dirac Live LE, which performs analysis between 20Hz and 500Hz (where most room nodes are likely to lurk). You can upgrade to the full Dirac Live suite and gain correction between 20Hz and 20kHz. NAD supplies a calibration microphone and setup software with some useful prompts.
Another aspect of the receiver's specification that is noteworthy is support for Bluesound's excellent BluOS system (Bluesound and NAD both being brands under the Lenbrook umbrella). BluOS allows for UPnP streaming, internet radio and access to pretty much any streaming service you can think of (and some you can't). It also permits input, volume and basic settings adjustment of the T 777 V3. One criticism, however, is that the BluOS module isn't built into the chassis, but is instead on a slightly ungainly looking USB dongle.
This can at least be hidden out of sight. Whether you'll want to hide the receiver itself is open to debate. In true NAD form, it is another grey box but I find myself rather liking it. The front panel layout is logical and the build quality is first-rate. You also get an excellent multifunction backlit remote which makes control simple; one feature it has that's hugely useful is the ability to adjust the centre, surround and subwoofer levels on the fly, which can give muffled dialogue a quick boost without reverting to the settings menu.
If you're a masochist, you can use a smaller 'convenience' handset instead, which is as dreadful here as it is on a number of other NAD devices.
Taking everything in its stride
Initially running without any Dirac correction, there are some aspects of the T 777 V3's performance that are rather more familiar to the two-channel side of my life than the AV one. Ask me to find one word to sum up to this AVR's performance and it would be 'unflappable.'
This is an exceptionally even-handed and controlled performer. It manages to unpick even the densest multichannel soundmix without any apparent struggle.
The aural insanity of the first beach assault in Edge of Tomorrow (Blu-ray) is conveyed with an immaculate sense of order and effects placement. Some rivals are able to convey a little more ballistic energy, but they often sound ragged by comparison.
In a 5.1.2 Dolby Atmos configuration, the T 777 V3 brings this same effortless control to Mad Max: Fury Road (Blu-ray). The detail retrieval it manages as a matter of course is seriously impressive, and thanks to there being pretty much nothing in the way of distortion from the onboard amplification, you can wind the levels right up with only the potential rage of your neighbours to contend with. This makes it even easier to enjoy the finer subtleties of the soundtrack, like the outrageous noise that Immortan Joe's Gigahorse makes during the chase through the canyon. And the advantage of the NAD's masterful approach to effects placement is that
1. The AVR's design is best described as 'understated'…
2. NAD's backlit remote is brilliantly easy to use
it is no less effective when viewing things that are not quite as anarchic. The newsroom sequence in journo drama Christine (Blu-ray) is relayed with genuine realism and an ear for detail, again allowing you to slip into the movie without distraction.
All this control and cohesion means, ironically, that the impact of the Dirac optimisation isn't as night-and-day as you might expect. Running the software helped to even out a 40Hz room peak in my setup, and a slight dip in the 200Hz region, and further improves the sense of soundstage handling and refinement. Yet an important aspect of Dirac is that applying it doesn't affect the basic character of your speakers or rob them of any of their sense of energy.
The 'RoomFeel' Target EQ curve that NAD supplies with the LE software is worth investigating. Through my Elipson speakers, there was an increase to the sense of 'body' in the performance. You might construe this as adding warmth, but it doesn't adversely affect the impressive speed and dynamics that the T 777 V3 has in spades.
With a larger set of speakers that interact with a room more vigorously, or an 11-channel array with all those extra reflections to take care of, I imagine that both Dirac and the target curve will have a greater effect on the performance, and impart more of a character shift than has been the case with my audition.
Tying up the T 777 V3's apparent desire to be all things to all people, it's no slouch musically either. Listening to a hi-res FLAC of David Byrne's American Utopia on Qobuz sees this receiver deliver a performance that is light on its feet and wickedly entertaining. This receiver is more musical than its gruff exterior might have you believe.
Potently powerful
Choosing the T 777 V3 is a balancing act of features versus ability. For the same money, you can have more channels onboard, more inputs and be good to go with DTS:X – the NAD does currently feel slightly like a work in progress. But put into action, this premium seven-channel AVR is easy to live with day-to-day, potently powerful and will drop neatly into most rooms thanks to its advanced onboard room optimisation. It warrants being on any shortlist at the price
SPECIFICATIONS
DOLBY ATMOS: Yes DTS:X: No (but promised via future firmware) THX: No MULTICHANNEL INPUT: Yes. 7.1-channel MULTICHANNEL PRE-OUT: Yes. H.2 phono MULTICHANNEL OUTPUT (CLAIMED): 7 x 80W (into 8 ohms) MULTIROOM: Yes. Zone 2, 3 and 4 AV INPUTS: 4 x digital audio (2 x optical and 2 x coaxial) HDMI: Yes. 6 x inputs; 2 x outputs COMPONENT VIDEO: No VIDEO UPSCALING: No DIMENSIONS: 435(w) x 425(d) x 172(h)mm WEIGHT: 20.5kg
FEATURES: MDC Modular Construction enables future hardware updates; Wi-Fi; Bluetooth; Ethernet; USB input; RS-232; 12V trigger in/out; Dirac Live LE EQ/room optimisation (upgradable to Dirac Live) with supplied mic; BluOS integration (via dongle) for hi-res streaming, multiroom integration and app control; intelligent cooling fans; HDCP 2.2; Class AB amplification
PARTNER WITH
PSB IMAGINE XA: For Atmos upfiring speakers, NAD's sister-brand PSB sells these dual-driver modules. We rate them a solid combination of value and performance – the per pair price means adding a quartet isn't too prohibitive.
3. For the T 777 V3, NAD replaces Audyssey EQ with Dirac
4. A lack of legacy video inputs makes this back-plate look a little sparse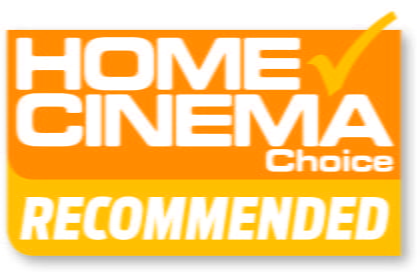 Verdict
Recommended
NAD T 777 V3 Review
Superb sound quality and slick usability should put this seven-channel AVR on your radar, although the current lack of DTS:X decoding might be a deal-breaker.
Add your review
Best NAD T 777 V3 prices ?
MORE DEALS