NAD hasn't forged its enviable reputation by selling turntables, but maybe things are about to change with this latest offering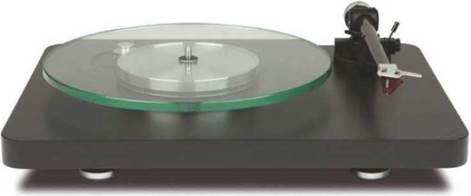 Details
PRODUCT NAD C 588
ORIGIN Austria
TYPE Belt-drive turntable
WEIGHT 9.2kg
7Review earns Amazon affiliate commissions from qualifying purchases. You can support the site directly via Paypal donations ☕. Thank you!
See also TOP 15 turntables
DIMENSIONS (WxHxD) 435 x125 x 340mm
FEATURES
33 & 45rpm
Carbon fibre tonearm
Ortofon 2M Red MM cartridge
Glass platter
DISTRIBUTOR Sevenoaks Sound & Vision Ltd.
TELEPHONE 01732740944
WEBSITE nadelectronics.com
In sight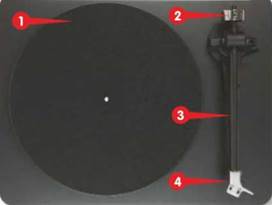 10mm-thick glass platter
Counterweight
9in carbon fibre tonearm
Ortofon2M Red MM cartridge
rom the many NAD turntables over the years, one stands out. The early eighties 5120 had the style and sound to duke it out with the best of its rivals. It was made by a Czech company subsequently bought out and later known as Pro-Ject. If not quite history repeating itself, the fact that the C 588 is built by Pro-Ject does have a certain satisfying symmetry.
And the C 588 is undoubtedly NAD'S best effort to date – a two-speed, belt-driven design based around a rigid MDF matt-black plinth with classy radiused corners, sitting on four, pointed metal feet that NAD claims provide "tuned isolation".
Set into the plinth is a precision AC motor, driven by a proprietary control circuit that takes in a 15V DC supply from a wall-wart PSU and generates a stable and smooth AC signal to drive the motor. Only one frequency is generated and so speed change involves moving the belt manually. You can even swap the pulley to achieve a 78rpm option. On top of the alloy sub-platter sits a 10mm-thick glass platter with its own felt mat.
The tonearm is based around a conventional dual-pivoted bearing assembly, with a carbon fibre arm tube terminating in a fixed headshell. A screw near the bearing housing can be loosened to allow the arm to be rotated to set azimuth, and the whole affair can be raised and lowered to fine tune the VTA. The C 588 comes pre-fitted with an Ortofon 2M Red moving-magnet cartridge.
Sound quality
The C 588's presentational style is big boned and punchy, unabashedly bold and full blooded – and ever so slightly opaque. If you value hear-through transparency and want to appreciate the merest nuance and tiniest detail, the NAD falls a little short. It's a full English breakfast kind of turntable, not a forensically fussy eater. But its enthusiasm and essential musicality go a long way and, crucially, it understands the difference between performance and mechanically going through the motions.
Take Missing. Such a familiar tune yet the NAD gives it extra kick and colour that, while not strictly neutral, makes it chug along in a deeper groove. This is a good-time, foot-tapping turntable. Oscar and Herbie are doing their thing with palpable gusto that's impossible not to be swept up in. Even if the C 588 isn't the last word in low-level resolution, it's quite something for a turntable in such a modest price bracket. The duelling piano and guitar have real impact and immediacy and the music flows with infectious pace and verve.
The thudding bass licks that underpin Susan's House are appropriately dense and dynamic, too, while the memorable repeated burst of Brace Hornsby-style piano (actually a Gladys Knight sample) has an appealing warmth and resonance that contributes to the quirky charm of the track. The fundamentals feel just right.
If there is a criticism, and it's a small one, it's that Boz Scaggs singing Rock And Stick isn't quite the triumph that it is on some of the other decks in the group, with the shimmering instrumental arrangement subtly stymied by that aforementioned opacity. But, by and large, however, the NAD C 588 rocks
NAD C 588 Review
NAD'S best- ever turntable delivers a very musical bang for your buck
PROS
Robust punchy, musical sound
bold design
CONS
Lacks a little transparency and finesse
Add your review
Best NAD C 588 prices in the US ?
Best NAD C 588 prices in the UK ?
MORE DEALS

See also TOP 15 turntables