It's a new generation of AMD GPUs and this AIB from MSI is certainly worth some attention
The new Polaris GPUs have been out for some weeks now and though the RX480 commanded initial interest, it's the RX470 that many find more interesting now. Here, we have one from MSI – the RX470 Gaming X 8GB.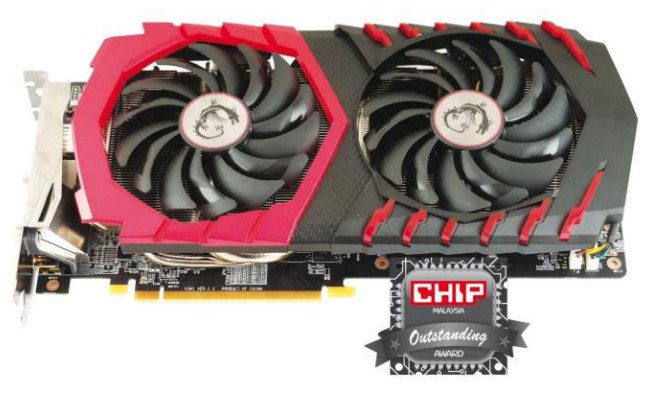 Like many of the more recent MSI graphics cards, the RX470 Gaming X 8GB uses the latest version of the Twin Frozr cooling solution. It comes with two of MSI's patented TORX 2.0 fans and a semi-opaque shroud, which allows the LED glow to shine through. While it might seem bulky at first, the card's 276mm length (just under 11 inches) should fit inside most PC chassis, even those that have large drive cages. Unfortunately, there's no backplate on this RX470 offering despite it being a more premium 8GB version. It did result in the card flexing when installed, but the weight of the card is distributed quite well, so the flexing was minimal. In terms of input options, this dual-slot card has a dual-link DVI, two HDMI 2.0b, and two DisplayPort 1.4 ports.
A single 8-pin connector is required to power the RX470 Gaming X 8GB. The card's TDP is rated at 120W and draws up to about 130W of power from the power supply. This makes it a great option for multi-GPU setups even with lower wattage power supplies. On the other hand, it does limit how much the card can be overclocked, since the single 8-pin connector restricts the amount of maximum power it can draw out.
The temperature of the card ranged from a low idle of 37-degrees Celsius to an average of 68-degrees Celsius when on load, with it more than able of running at its max factory default clock speed and even slightly overclocked without thermal throttling. In addition, the GPU operates relatively quiet even during load and has the fans deactivated when it's idle.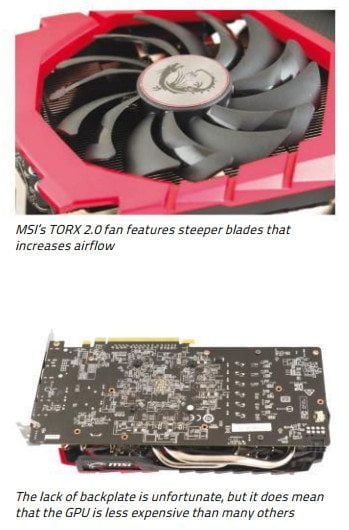 Performance on the RX470 Gaming X 8GB is quite impressive. It's able to run many of the latest games like Rise of the Tomb Raider, on very high settings with a frame rate ranging from 50 to 60 FPS. For reference, it performs slightly lower than NVIDIA's GTX980 and outstrips the AMD Radeon R9 380X. This makes the card an excellent choice for 1080p gaming, yet it's also significantly cheaper when compared to the two cards mentioned when they were first launched.
7Review earns Amazon affiliate commissions from qualifying purchases. You can support the site directly via Paypal donations ☕. Thank you!
+ Quiet Low temperatures
+ No backplate Limited overdocking
Verdict
Cheaper and lighter, yet delivers near comparable performance to the RX 480.
MSI's 8GB version of the RX470 presents an enticing choice for those who are hunting for a new GPU for 1080p gaming
GPU: AMD RX470
Memory: 8GB GDDR5
Clockspeed: 1,206 MHz, 1,228 MHz (boost)
Ports: 1x DVI, 2x HDMI, 2x DisplayPort
Slot Size: Dual-Slot
Other: 32 Compute Units, 256-bit interface, 4.9 TFLOPS
Dimensions: 276 x 140 x 37 mm
Recommended
MSI Radeon RX470 Gaming X 8GB Review
Cheaper and lighter, yet delivers near comparable performance to the RX 480.
Add your review