Genuine desktop performance in a portable package? That'll be the MSI Titan Pro. Nvidia's awesome GTX 1080 graphics presented in a portable package
There's mobile graphics. And then there's proper gaming graphics. For a taste of the latter in a portable package, look no further than MSI's new GT73VR Titan Pro. It's a beefy 17-inch portable with Nvidia's stupid-quick GeForce GTX 1080 graphics.
The point is that it really is a GTX 1080 chip. Over the years, both Nvidia and its main rival, AMD, haven't always played it straight with their laptop graphics chips. All too often, the mobile version of a given GPU wasn't quite what it seemed. But not this time. This is no GTX 1060 with a lick of paint. It's the real 2,560-CUDA-core deal.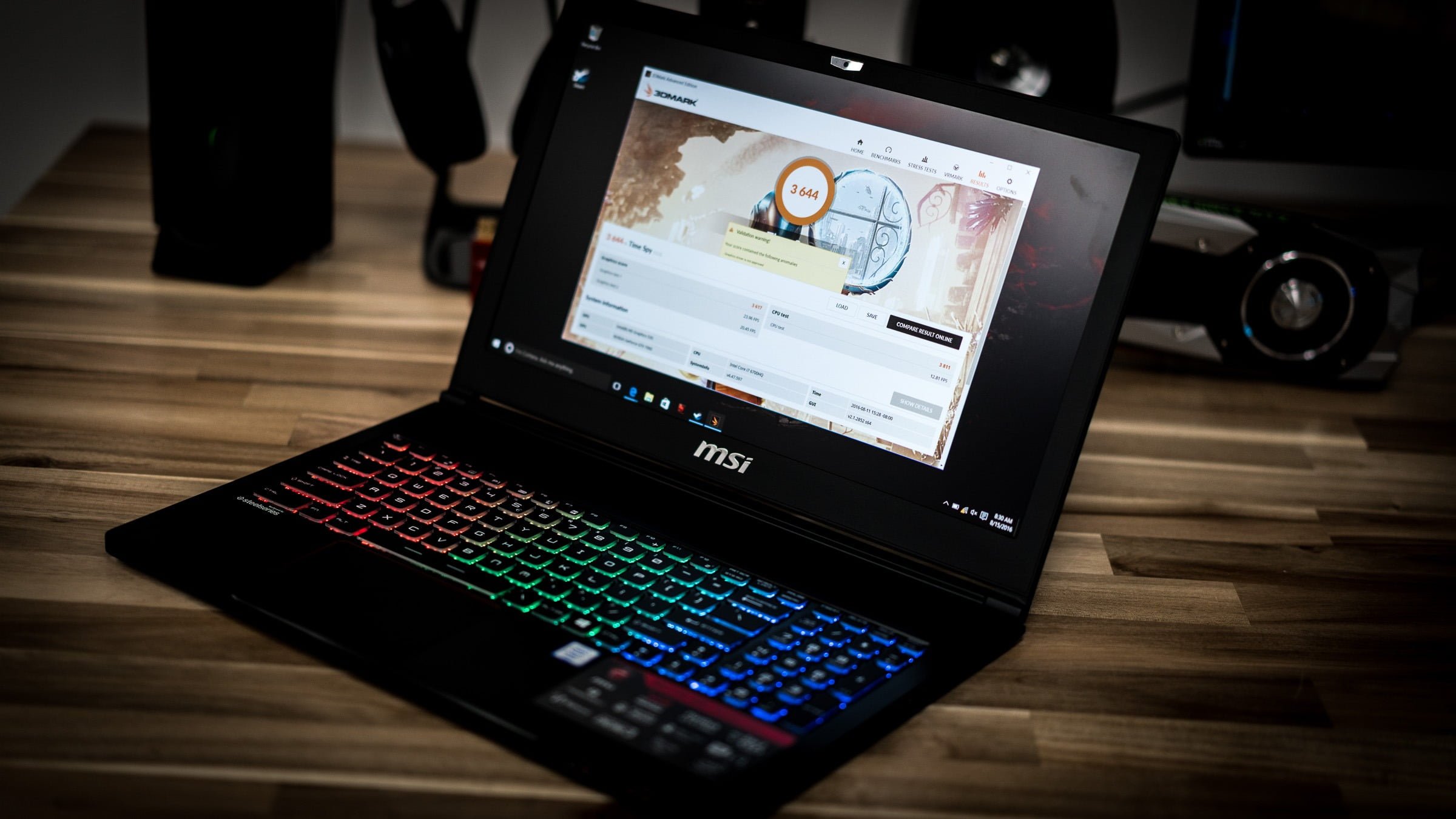 That GeForce GTX 1080 GPU is just the beginning of what is an epic feature set. There's a quad-core Intel Core-i7 6820HK CPU, which clocks in at 2.7GHz nominal and 3.6GHz Turbo. Next up, MSI has stuffed in a pair of 256GB Samsung PCIe SSDs running in RAID 0, plus a 1TB 7,200rpm magnetic drive, and a preposterous 32GB of RAM.
Then there's support for 120Hz refresh on the 1080p panel (a 4K panel is available optionally), a backlit keyboard from SteelSeries, and a veritable plethora of ports. The Titan Pro also uses the MXM format for that GTX 1080 GPU, which MSI says allows for a change or repair to your GPU when needed. MSI also says this feature is not intended for end-users to change the GPU themselves. But, let's put it this way: With most laptops, you have zero chance of upgrading the GPU down the road; with this thing, you at least have half a chance.
The Titan Pro has some serious cooling, too, speakers from Dynaudio, and countless other detail enhancements, including low-lag Ethernet for super-fast ping. On paper, then, it's absolutely killer. In the flesh, or rather metal and plastic, it looks pretty lethal, too. Style-wise, it's a typical gaming laptop, which makes it either suitably aggressive ora little adolescent, depending on your preference. At just over eight and a half pounds, it's transportable, rather than slip-into-your-manbag portable.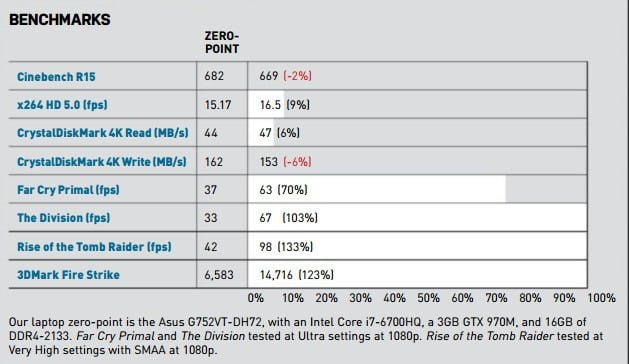 The SteelSeries keyboard certainly adds a little color and a stable input platform, though it's worth noting that the soft tactility of the keystroke is nothing like a mechanical desktop keyboard. The 17.3-inch 1080p display, meanwhile, is something of a mixed bag. In broad terms, the rendering is gorgeously smooth, thanks to that 120Hz ability. The colors and contrast are also reasonable. But the viewing angles are merely mediocre. MSI doesn't reveal the panel type, but our seasoned eyes suggest it's a TN panel.
FLYING HIGH
But what of the most important question: performance? Put simply, this thing flies. The quad-core Intel CPU is a known quantity, of course, but those Samsung SSDs in RAID 0 absolutely scream, pumping out GB/s of raw bandwidth, even if the 4K random access is less spectacular. But what you really want to know is whether that GTX 1080 GPU delivers. In a word, yup. The specs, including core and memory clocks, are almost identical to a full desktop GTX 1080. You probably wouldn't be able to tell the difference in gameplay.
Factor in the modest 1080p display resolution, and the Titan Pro makes absolute mincemeat of our gaming benchmarks. It tears through Rise of Tomb Raider at high detail at 98fps, and knocks out over 60fps in Tom Clancy's The Division. Even Far Cry Primal, set to full reheat, hits a heady frame rate of 67. Heck, you even get around three hours of real-world web browsing battery life, which isn't bad for this kind of beast.
Set against all that are three provisos. First is the aforementioned girth— this is a massive machine. Second is the build quality. Like pretty much all laptops in this class, the plastic chassis is underwhelming. Finally, there's the price. Suffice to say, it ain't cheap. But if it's maximum gaming performance in a somewhat portable package you want, it might just be worth it. -jeremy laird
Specifications
Processor Intel Core-i7 6820HK Graphics Nvidia GeForce GTX 1080 8GB RAM 32GB Resolution 1920×1080 Display Type 17.3-inch TN Storage 2x 256GB PCIe SSD, 1TB 7,200rpm HDD Connectivity 5x USB 3, ac Wi-Fi, Gb LAN, Thunderbolt, HDMI, DisplayPort Dimensions 16.9 x 11.3 x 0.9-1.1 inches Weight 8.6lb Warranty One year
MSI GT73VR Titan Pro
Nvidia's awesome GTX 1080 graphics presented in a portable package
PROS
Stunning graphics performance; massive feature set; some possibility of future graphics upgrades.
CONS
Pricey; mediocre build quality; not particularly portable; kicks out plenty of heat and noise.