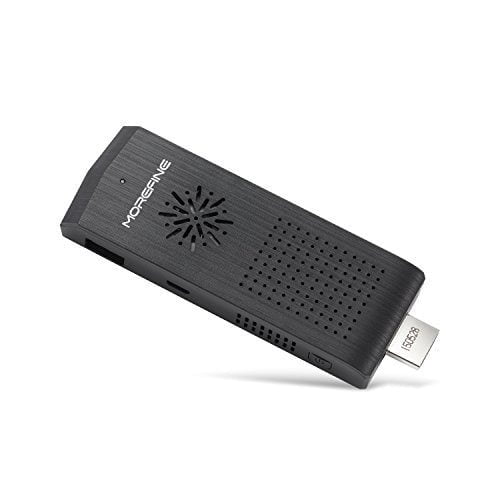 Chinese gadget producers start to get US and European users' attention more and more. By producing gadgets that not only resemble the ones that wear a big name on the side, but sometimes even overcome their technical performances and hardware configurations, Chinese IT products managed to steal an important share from big brands like Intel.
The Morefine M1 implements a similar idea with its other Chinese competitor, the PIPO X9, only it managed to introduce two OSs in a Finger PC (a Mini PC that has the shape of a stick). Actually, it may be the first Finger PC to implement two of the most popular Operating Systems in the world.
Users must be careful when purchasing one of these Mini PCs as they are released in two versions of color: black and white. This happened because the white version only has Windows 8.1 and the black version is the only one with a dual boot featuring both Windows 10 (with license) and Android 4.4. So be careful what color you order as there's more than a difference of tones.
Also, one of the most encountered problems with these devices is support. Because the producer is Chinese and new in the market, you can't be sure that they will offer prolonged support for their device. This is actually something that only big brands offer, and this is one of the reasons their products are more expensive. So, if you do buy one of these, you will have to rely mostly on information found online, posted by other users.
Just like with the MEEGOPAD T02 and the Tronsmart Draco H3, this device is delivered with a power adapter, a MicroUSB cable, and an HDMI extension for places where the stick is too big to be plugged in directly. You will also find a user manual, but the setup process is pretty straight forward: you connect the power adapter to the stick, plug the stick in the TV and wait for it to boot.
The design is pretty cute but it is clear from the beginning that the producer didn't take too much time considering lines and angles. Otherwise the stick is light and small and has a few vents that help the built-in fan to work at maximum of efficiency.
7Review earns Amazon affiliate commissions from qualifying purchases. You can support the site directly via Paypal donations ☕. Thank you!
The standard dimensions of this Finger PC are 101mm in length, 37.5mm in width, 12.9mm in height.
This TV Box and Mini PC with dual OS is powered by an Intel Atom TMZ3735F processor that can run at 1.33 GHz. The working memory or the RAM memory has a capacity of 2GB DDR3L and there is an extra storage space of 32GB. This is plenty to offer the necessary resources for videos, small games, pictures, and office files. The main advantage with this great stick is portability.
The port offer is quite wide considering the size of this device. Thus there is the HDMI port, a MicroSD slot for more memory, and 2 USB 2.0. These are enough for adding some peripherals and some extra storage space when needed.
A connection with the device can be realized via Bluetooth 4.0 or via WiFi 802.22a/b/g/n if you're not in range for the Bluetooth.
As mentioned before, the Morefine M1 runs two different OSs, the Microsoft 10 with license and Android 4.4. The user chooses at boot which system to run and, according to users' feedback both systems are behaving exemplary. Each system has unlimited access to its own app store so users can create a fantastic experience either way.
The duality of software is what makes this Finger PC versatile as users can choose Microsoft 10 for office related activities and Android 4.4 for fun and games. And it's all stuffed in a stick that can be easily plugged out and put in the pocket!
A small and light product100% portabilityAccess to two amazing OSVersatility and help in combining fun and workAffordable priceThe design is a bit cheapLong time support may be a problemUsers must acquire a keyboard and a mouse
The Morefine M1 may not be as popular as the Intel Compute Stick.  The hardware configuration is quite good and the fast WiFi connection ensures users that they'll have a fantastic experience.
MoreFine One Plus CPU: Intel Atom TMZ3735F; Intel Bay Trail-T Quad Core (4C/4T) Processor 2.4G/5G Dual Band WiFi,Stronger Signal, Bluetooth 4.0 Fully compatible with HDMI port supported device ,also called Smart TV Box