MONITOR AUDIO HAS unveiled the seventh generation of its Silver Series loudspeakers, which were first introduced back in 1999. These comprise the Silver 50 7G and Silver 100 7G bookshelf/standmounts; Silver 200 7G, Silver 300 7G and Silver 500 7G floorstanders; and home cinema separates in the shape of the Silver C250 7G centre speaker, Silver FX 7G rears and the Dolby Atmos-enabled Silver AMS 7G.
The British company explains that the new generation features a fresh: "contemporary design in a choice of five high-quality finishes, numerous acoustic innovations and a model lineup extensive enough to cater for every music and home cinema requirement." The choice of finishes in question include: "deeply lustrous high-gloss black lacquer, equally distinctive satin white or a choice of three real-wood veneers: Ash, Natural Walnut and Black Oak".
Monitor Audio's new C-CAM gold dome tweeter design features a Uniform Dispersion Waveguide II for what it's claiming is: "the most lifelike, convincing treble reproduction". The new RST II midrange and mid/bass drivers feature a more rigid profile than before, with a new hexagonal dimpled structure: "that's just one indicator of the changes to the cone and geometry structure that result in smooth, low-distortion sound".
Every seventh generation Silver Series loudspeaker features new driver trims, minimising the appearance of the driver surround and every floorstander comes supplied with outrigger feet with spun metal trims, developed for stability on carpeted or hard floors. There are also new magnetic grilles with a premium-grade weave.
Silver service for Atmos
Reborn in seventh-generation guise, and pilfering technology ideas from the brand's Gold Series, Monitor Audio's new Silver 7G loudspeaker range includes a Dolby Atmosenabled upfiring speaker. Designed to sit snugly atop the Silver 300 7G floorstander (pictured), or mounted on a wall, the Silver AMS features a new RST II midbass and C-CAM 'gold' dome tweeter – drivers shared across an eight-model lineup that includes dedicated centre and surround FX units.
Review: Mark Craven
7Review earns Amazon affiliate commissions from qualifying purchases. You can support the site directly via Paypal donations ☕. Thank you!
See also TOP 10 Subwoofers
RECOMMENDED VIDEOS FOR YOU...
Lab: Paul Miller

By now, there's surely not an audiophile alive who doesn't know that Monitor Audio's Platinum loudspeaker series is its pinnacle, and that as you move down through Gold, Silver and Bronze the prices become friendlier and the technology trickles. Silver – a range that's been rolling for over 20 years – represents the sweet spot in this hierarchy, and, says the UK company, is its most popular series. Judging from the performance, build quality and elegant design of the Silver 500 7G, I can't imagine this popularity waning.
The '7G' suffix is important, as it denotes this three-way floorstander is from Monitor Audio's fresh-from-the-factory seventh generation lineup that launched in August. The Silver 6G models [HFN Mar '18] are discontinued but the naming conventions have been retained, so the Silver 500 7G is a direct replacement for the Silver 500 6G.
It's the largest and costliest speaker in the series, joined by slimmer floorstanders (the Silver 300 and '200) and standmount/bookshelf models (the Silver 100 and '50). All feature upgrades to drivers, crossover, and cabinet/finish, so while this is another case of evolution not revolution, there's still more going on than meets the eye.
STRUCTURAL ENGINEERING
The woofers and midrange debut the mkII versions of Monitor Audio's Rigid Surface Technology (RST) drivers. These feature C-CAM using a new aluminium alloy to improve tensile strength, and a hexagonal dimpled profile derived from the RDT (Rigid Driver Technology) units in the company's Gold 5G stable [see PM's boxout, p51]. The RST II units also sport updates to the driver surrounds, plus a switch from ferrite to neodymium on the midrange magnet and a wider diameter voice-coil for the woofers.
Interestingly, while the C-CAM bass drivers are again 200mm (including the surrounds), Monitor Audio has downsized the Silver 500 7G's mid from '4in' to '3in' (actually a 76mm cone with 100mm chassis) in pursuit of improved directivity and better extension/integration with the loudspeaker's gold dome C-CAM tweeter. This high-frequency unit is also a new concoction, benefiting from a ring magnet, rear-vented surround, and patterned grille optimised to work with its second-generation Uniform Dispersion Waveguide.
All of the Silver 500 7G's driver assemblies are mounted to the cabinet via a bolt-through connection, which provides further rigidity to the internally braced, twin rear-ported MDF enclosures.
ON TREND
Inside there's also a new crossover, which the brand says was designed concurrently with the Silver 500 7G's drivers, one project informing the other. Ceramic resistors, polypropylene and polyester capacitors, and air-core and steel-core inductors are used across an optimised three-way (800Hz/2.7kHz) network.
These floorstanders are rather imposing. If you want a loudspeaker that will fit neatly in a small/mid-sized room, investigate the Silver 200 or 300 models, as these use 156mm woofers and so don't have this cabinet's 23cm girth. The Silver 500 7G enclosure is deep too (33cm), and once Monitor Audio's new – and smart – moulded ABS outriggers are attached you'll have lost a lot of floorspace.
It's useful, then, that the new styling of this seventh generation is right on trend. Monitor Audio describes it as 'crisp-edged', but that sells it short. There are no curved faces, but corners are smooth and the finish of our 'High Gloss Black' and 'Satin White' samples was spectacular. There are three other colourways to choose from: Black Oak, Natural Walnut and Ash variants that dress the cabinet in real wood veneers. The last of those is intended to evoke the 'Scandinavian look', so ABBA fans should hunt it down.

TO BOLDLY GO
My most recent experience with the Monitor Audio 'house sound' was the sixth-generation Bronze 200 floorstander [HFN Jun '21]. Like the fool that I am, I wondered how much similarity I would detect between that loudspeaker and the Silver 500 7G, before realising that there's not just a circa-£ price difference, but a huge however-you-measure-it gap in the sound quality.
This speaker makes far more of an impact than does its entry-level brethren – its sound is bigger, bolder and more mature, and it has the ability to disappear from your mind when listening to music. With the right material, it engineers a wide, deep and seamless soundstage. The 50-litre cabinet and dual woofers delivers authentic, room-filling bass that melds with an evocative midband performance. It's a knockout.
'Its ticket price looks like an absolute steal'
'There Will Come A Time' [Monsters Exist; ACP Recordings ACPCD1804, 44.1kHz/24-bit] is one of electronic duo Orbital's oddest yet most involving tracks. Some of it is par for the course – fluid synthetic orchestration, effects panned across the stereo spread – but it's joined by a spoken word narration by science boffin Professor Brian Cox. His is a voice I know well, and the way the Silver 500 7G positioned him dead-centre, a floating presence dispensing words of wisdom while behind him keyboards flanged and drums thumped, was almost hypnotic.
Key here was the Silver 500 7G's scale. Sometimes with smaller floorstanders I find myself leaning in; with this pair I was leaning back, letting everything wash over me. Even a more down to earth track such as REM's 'Houston' from Accelerate [Warner Bros 9362-49874-1] benefited from the speaker's air-shifting output. And while this isn't a slick recording, due to a purposefully pressurised studio process, it sounded far more considered than I remembered, as the Silver 500 7G revealed both the detail in the percussion and in Michael Stipe's vocal, while giving its cello notes impressive timbral bite.
'Ai Du', from Ali Farka Toure and Ry Cooder's collaborative album Talking Timbuktu [World Circuit WCD 040] approached the honesty and intimacy of a live performance, and Monitor Audio's floorstander put on a show that made its ticket price look like an absolute steal. This jazz/blues fusion runs the gamut from buoyant basslines and calabash drums to a shimmering mandolin and vibrato viola, as its seven players vie for soundstage space. The separation and texture given to all its constituent parts was superb.

Generally speaking, the Silver 500 7G's high frequencies are crisp, clear and airy. There's some lack of sweetness, and I noted an occasional tendency for them to slip into bright, sharp territory depending on the recording. The high-fret bends during the guitar solo in The Marshall Tucker Band's 'Can't You See' [Tidal Hi-Fi download] appeared to find a place that the speaker's C-CAM tweeter didn't really agree with. Elsewhere, however, the loudspeaker's warm, enveloping voicing is sure to please its mid-budget audience.
Time spent positioning the Silver 500 7G reaps rewards. My pairing imaged very well – I didn't find them fussy regards toe-in to get them focused, and even when sat off-axis I still felt invited to the party. Yet the dual bass drivers' output requires some management. These speakers have considerable low-end reach and impressive stop-start ability, but site them too near boundary walls and these admirable traits can suffer. Four foam bungs are provided for the bass-reflex system, giving flexibility over tuning, and with the speakers positioned 45cm from my wall, I found using them on the lower HiVe port tightened up the LF.
COME FLY WITH ME
However you arrive at an optimal set-up, once there you're in for a treat. Spin 'La Grange' from ZZ Top's Tres Hombres [Warner Records; 96kHz/24-bit] and the Silver 500 7G locks into the crunch of Billy Gibbons' guitar and the boogie swagger of the rhythm section. Quite partial to the Top, I cranked this track up. PM's Lab report [opposite] reveals a high sensitivity and an impedance that is broadly untroublesome, which in the real world appears to translate into a speaker that needs little more than a tickle to play loud. With power behind him, Gibbons' guitar solo flew, and I was in seventh heaven.
AUDIO FILE
Floorstanding three-way loudspeaker
Made by: Monitor Audio Ltd, Rayleigh, Essex
Supplied by: Monitor Audio Ltd
Telephone: 01268 740580
Web: www.monitoraudio.com
DRIVING HISTORY
Monitor Audio has pursued the ideal of very light, stiff drivers since the R852MD standmount with its alloy tweeter in 1985, followed by the 'gold dome' in 1986 and the ceramic sandwich mid/bass driver that appeared in the Studio 10 in 1989. The first of what we would recognise as MA's C-CAM (Ceramic-Coated Aluminium/Magnesium) drivers appeared in the Studio 20 in 1991. Marking this 30th anniversary, the latest C-CAM and RST II (Rigid Surface Technology) drivers in Monitor Audio's Silver 7G series are the result of 'trickledown' from the previous 5th-gen Gold series. The dimples that serve to enhance both the physical structure and moderate the resonant behaviour of the RST II bass and bass/mid cones are hexagonal, rather than circular, in shape here. The alloy itself has been changed to offer greater tolerance of the increased forces during moments of high excursion, maintaining performance at even higher levels without increasing the mass or thickness of the cone. The 'C-CAM' component refers to both the alloy and oxide coating used across all its drivers, including the gold-coloured 25mm tweeter. For the latter, this brings exceptional stiffness that, almost inevitably, yields a vigorous breakup mode outside the audioband, here at 31kHz [see Lab Report, p53]. PM
LAB REPORT
MONITOR AUDIO SILVER 500 7G
Measured at the average listening height (just below the C-CAM tweeter) the '7G' Silver 500's response is remarkably flat and even [see Graph 1, below] with an exceptionally low ±1.0dB error from 200Hz-15kHz, the –9dB/24kHz treble dip increasing this to ±3.8dB across the wider 200Hz-20kHz span. The HF response limit of 22.6kHz (–6dB/10kHz) is set by this 'dip' although this is only the prelude to the +10.6dB resonance of the hard dome at 30.9kHz [pink shaded area, Graph 1 and also see Graph 2]. Pair matching is also exceptional at 0.4dB (200Hz-10kHz) and 0.6dB (200Hz-20kHz) while the grille adds a circa –2.5dB disruption between 4-9kHz [blue trace, Graph 1]. The two 200mm (160mm effective diameter) bass drivers operate over a 55-425Hz/–6dB bandwidth and the rear-facing ports, both tuned to 35Hz, maintain the low freq. reach to a diffraction-corrected 34Hz (–6dB re. 200Hz). Incidentally the lower woofer and port both have a 'cleaner' output.
As importantly, while MA has engineered a response that's both flat and uniform, it's also achieved its high rated 90.5dB sensitivity at 90.2dB/1kHz (and 90.3dB re. 500Hz-8kHz) combined with low 0.1-0.2% midband distortion (re. 90dB SPL) without imposing an especially punishing load on the partnering amplifier. Strictly speaking the Silver 500 presents a 5ohm nominal load (it's rated at a harsher 4.1ohm) with an impedance minimum of 4.2ohm/164Hz and a further dip to 4.25ohm/2.35kHz, both instances with negligible impedance phase. Similarly, the maximum, modest swings in phase angle of +31o/–45o both occur at >8ohm impedance. PM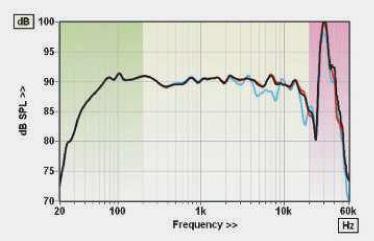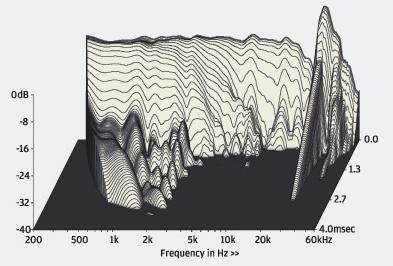 SPECIFICATIONS
Sensitivity (SPL/1m/2.83V – 1kHz/Mean/IEC) 90.2dB / 90.3dB / 87.8dB
Impedance modulus: minimum & maximum (20Hz–20kHz) 4.2ohm @ 164Hz 21.4ohm @ 19Hz
Impedance phase: minimum & maximum (20Hz–20kHz) –45o @ 79Hz +31o @ 48Hz
Pair matching/Resp. error (200Hz–20kHz) 0.6dB/ ±3.8dB/±3.9dB
LF/HF extension (–6dB ref 200Hz/10kHz) 34Hz / 22.7kHz/22.5kHz
THD 100Hz/1kHz/10kHz (for 90dB SPL/1m) 0.4% / 0.12% / 0.45%
Dimensions (HWD w/feet) / Weight (each) 1095x319x389mm / 23kg
VERDICT
EISA FLOORSTANDING LOUDSPEAKERS 2021-2022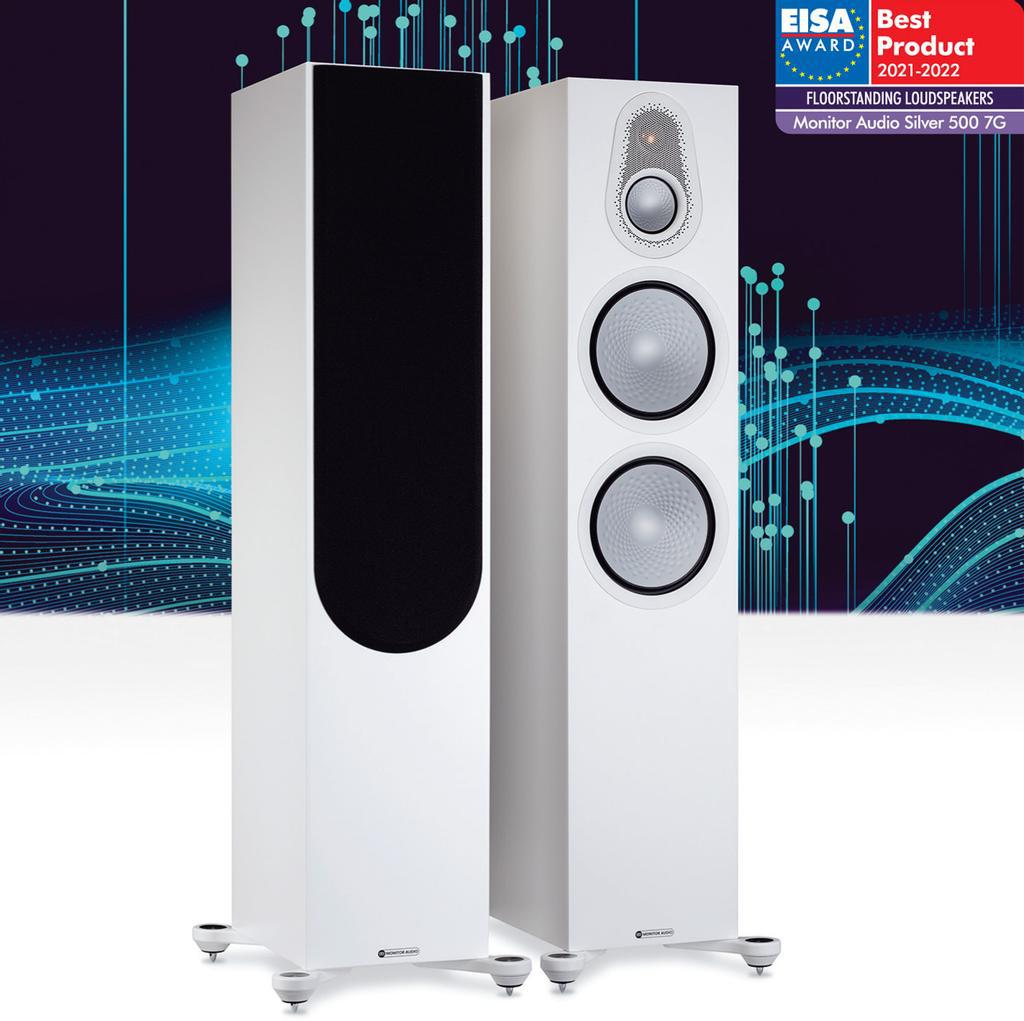 The seventh generation of Monitor Audio's Silver Series incorporates a wide range of acoustic innovations, all on show in the magnificent floorstanding flagship of the range, the Silver 500 7G. The C-CAM metal/ceramic tweeter has a new motor and housing, for cleaner, sweeter treble, while the RST II midrange and bass drivers are fashioned from an improved ceramic-coated alloy for greater stiffness. Add in a refined crossover and a beautifully-finished enclosure, into which the drivers are fixed with boltthrough mountings, and you have a speaker as adept with the finest detail as it is developing a massive, powerful view of the music.
Highly Recommended
MONITOR AUDIO SILVER 500 7G Review
Monitor Audio's big-boned Silver series floorstander gets off to a strong start thanks to a smart aesthetic and wallet-friendly pricing, and its appeal only grows when the music begins. The 500 7G's sound is large scale, full-range and peppered with detail, and it seems to expend no effort at all when asked to play loud. Audition at your peril, because once you've heard a pair, you'll want to buy them!
Add your review
Best MONITOR AUDIO SILVER 500 7G prices in the US ?


Best MONITOR AUDIO SILVER 500 7G prices ?
MORE DEALS

See also TOP 10 Subwoofers
Specifications
| | |
| --- | --- |
| Product Name | Monitor Audio Silver 500 7g Floorstanding Speaker, Walnut / Each |
| Enclosure | Bass Reflex |
| Finish | MDF/Wood veneer |
| Tweeter | Hard-Dome |
| Tweeter Size (inches) | 1 |
| Midrange Size (inches) | 3 |
| Woofer Size (inches) | 8 |
| Woofer Composition | C-CAM RST II |
| Woofer Surround | Rubber |
| Built-in Powered Sub | No |
| Dolby Atmos Drivers | No |
| Connector Type | Binding post |
| Bi-amp Inputs | Yes |
| Power Range | 80-250 |
| Frequency Response | 27-35k Hz |
| Sensitivity | 90.5 dB |
| Impedance (Ohms) | 8 |
| Height (inches) | 42-11/16 |
| Width (inches) | 12-11/16 |
| Depth (inches) | 15-7/16 |
| frequency response | 27-35,000 Hz (-6dB) |
| impedance | 8 ohms |
| recommended amplifier power | 80-250 watts RMS |
Making Audio More Human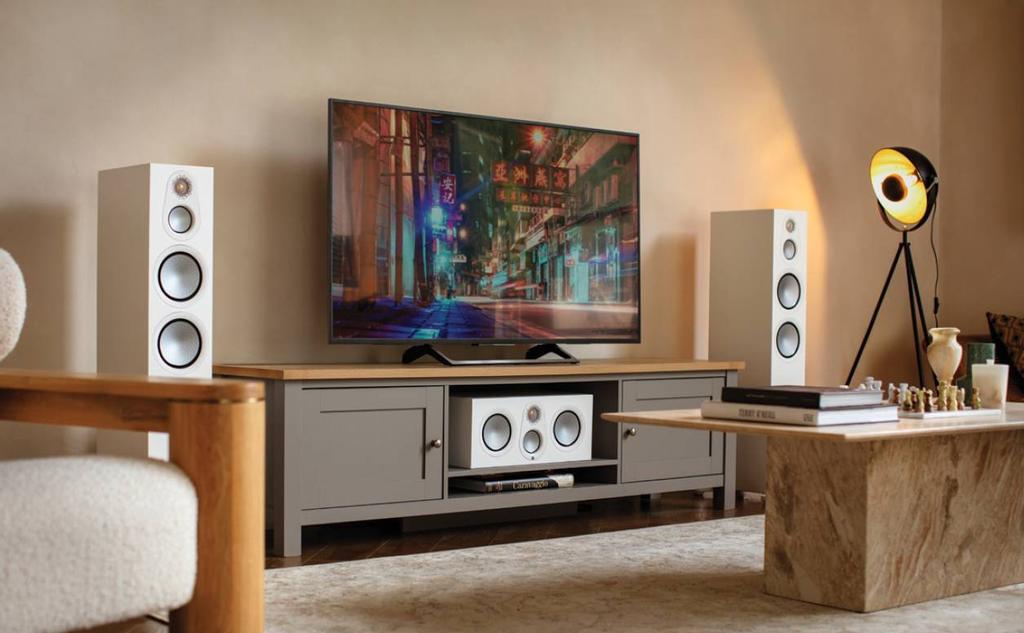 Whether you're an expert or a beginner in the world of audio, Monitor Audio is a brand that encourages you to set the bar high, and then help you to reach it. They have an abundance of technical knowledge and are big on the nerdy little details that make great sound possible.
For this hi-fi audio brand, however, phenomenal audio is more than the sum of its parts. It's about the finest metals and craftsmanship, as well as the warmth – the flesh and blood of the listener and the connection. That's why, Monitor Audio's mission is to make audio human.
Leading up to its 50-year anniversary, Monitor Audio has introduced the 7th generation of its award-winning and critically acclaimed Silver Series, which embodies the company's decades of audio expertise. Thanks to a choice of real-wood veneers or beautifully painted and finished cabinets, these speakers have a refined, understated look – the perfect counterpoint to their bold, powerful sound.
Improvements in the 7th Generation of Silver
Several new improvements have been made in the 7th generation of Silver. A new C-CAM Gold Dome Tweeter design features a completely new magnet structure, rear chamber design and surround, and also takes Monitor Audio's Uniform Dispersion Waveguide technology and further refines it. A new aluminum alloy has been selected for the Rigid Surface Technology II (RST II) drivers, which improves the tensile strength of the cone while maintaining all the benefits of C-CAM technology. Building on the work conducted for the Gold 5G range, Monitor Audio has developed a new mid-range that follows the same design objectives, to improve directivity through the use of a compact design and to maximise the bandwidth of the driver to allow a smooth crossover with the tweeter.
Some other improvements made for the 7th generation of Silver include a new 66mm cone with 100mm chassis, enhanced bookshelf speakers, improved home cinema capabilities which include the addition of the Silver AMS Dolby Atmos module (a first for the series), new crossover design, new cabinet design including two new finishes (Natural Walnut and Ash), and new Damped Concentric Mode (DCM) technology, which produces a more accurate time response from the speaker and delivers higher performance from the complete system.
With the class-leading performance of the new Silver Series through Monitor Audio's latest metal coned drivers and technological innovations, the music you love is more precise, with less distortion than ever. So even with the volume pumped right up, the sound you hear couldn't be clearer.
As the world continues to evolve with new technologies and ideas, Monitor Audio is evolving with it. The Silver Series is only the most recent chapter from the story of the nearly 50-year-old brand that strives for excellence through innovation and unparalleled sound quality to deliver solutions that serve every application, style, and budget.
Monitor Audio was founded in Cambridge, England, in 1972, by Mo Iqbal and his team of engineers, who worked out of a small factory assembling loudspeakers by hand. They began by creating traditional loudspeaker designs, which would soon evolve into some of the most unique solutions within the industry by the mid-1980s when the company would introduce its first generation of metal drivers and tweeters called C-CAM (Ceramic-Coated Aluminum Magnesium).
Originally developed by the aerospace industry for jet engine components, C-CAM drivers and tweeters offer advantages over traditional drivers as its properties are ideal for loudspeaker cones, being extremely rigid yet light enough to yield high overall efficiency. C-CAM cones have a much higher resistance to bending and stress and therefore exhibit much greater control and fidelity over their entire operating range. They also feature a significant decrease in audible distortion compared with other materials. C-CAM shares an audible consistency, producing a smooth transition of frequencies and a sense of realism and cohesion in the soundstage.
Today, by consistently refining and applying their technologies, Monitor Audio has become an expert in developing metal dome drivers and tweeters. Metal is not the easiest material to shape, which is why many companies choose paper or plastic. However, when treated correctly, metal has the ability to producing more life-like sound.
Transcending into Custom
Monitor Audio dealers around the globe wanted a broader range of solutions that would feature trickle-down technology from the company's Bronze, Silver, Gold, and Platinum Series speakers. Lifestyle and custom installation speakers were the natural progression for the British manufacturer.
Monitor Audio's Lifestyle ranges are comprised of smaller satellite speakers, wall-mountable speakers, and soundbars. Using the same C-CAM driver and tweeter technology that Monitor Audio is known for, the lifestyle ranges are slim and more compact than traditional box speakers, which make them ideal for rooms or applications where space is limited.
Monitor Audio's Custom Installation speaker range started off small, only to rise and become a huge collection of solutions across multiple performance levels. Today, Monitor Audio has nearly 70 different custom speakers ranging from $ each to $ each (USD), which include in-ceiling and in-wall models, subwoofers, and all-weather models.
Just two years ago, Monitor Audio took their custom range a step further and introduced a line of installation amplifiers that work seamlessly with their range of custom speakers. The installation amplifiers are built to do more and use less space and are backed by a five-year warranty.
The range is comprised of six models – three standard distribution amplifiers and three connected amplifiers.
The distribution amplifiers feature full connectivity with simple wired voltage trigger or signal sense and the connected amplifiers feature more complex DSP and IP control, offering wider flexibility and integration. Using the "Connect" IP interface, a web application that can be accessed by any device with a web browser, the installer can set features and fine tune audio performance remotely from the amplifier location. Through training, Monitor Audio dealers are in a position to maximize the performance capabilities of the connected amps and in turn the Monitor Audio system.
The IMS-4 Streamer
Featuring BluOS technology, the IMS-4 music streamer can stream four different sources to four separate zones, and its BluOS Controller app offers complete flexibility, including streaming from music services, easy access to music libraries, and voice control through a smart device.
Accessed through the app, or one of the many supported integrated control systems including Crestron, Control4, and RTI, multiple IMS-4 music streamers can be integrated with other BluOS devices to provide up to 64 zones of music, with each zone able to play together in perfect sync or play different streams to separate zones. And, BluOS allows streaming of lossless music up to 24-bit/192kHz to every room in a home network.
The IMS-4 can deliver millions of Master Quality Authenticated (MQA) recordings, providing a high performance, seamless music experience anywhere in the home.
"The IMS-4 is an exciting new addition to our extensive range of industry-leading custom installation solutions," said Michael Hedges, Monitor Audio's technical director. "I am sure our customers will love its ease of installation, flexibility and powerful performance."
With the slimline IMS-4 Music Streamer, Monitor Audio offers an exceptional source for custom home audio projects that will complement their range of installation amplifiers and custom speakers as part of their ever-growing portfolio of high performance solutions.