Monitor Audio's CP-IW460X promises premium cabinet speaker performance from a discreet in-wall design. Richard Stevenson gets out the jigsaw to investigate. Read our MONITOR AUDIO CP-IW460X Review.
Full-range in-wall loudspeaker
POSITION: Flagship of the Controlled Performance line
PEERS: KEF Ci3160RL-THX; Speakercraft Profile AIM Cinema Five; DALI Phantom S-180
THERE IS NO denying that in-wall and in-ceiling speakers make for the slickest-looking home cinema room. Yet 'affordable' in-walls have rarely delivered the sonic Oscars of a big-box traditional loudspeaker package.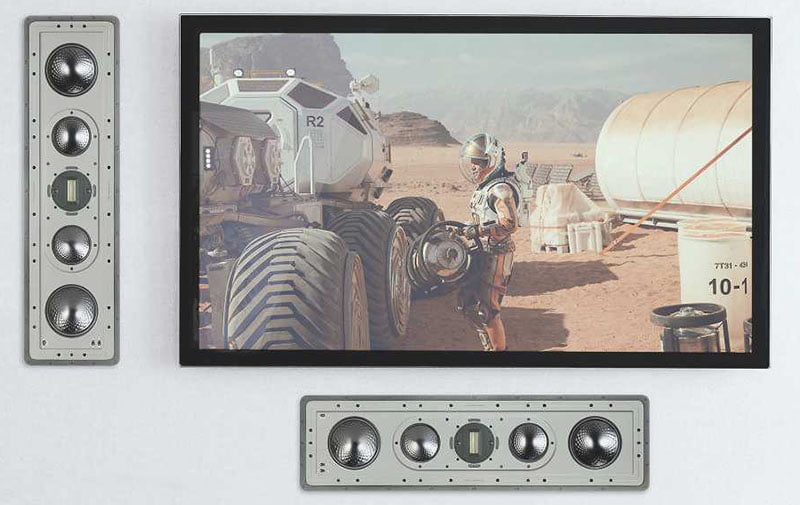 You may also like:
7Review earns Amazon affiliate commissions from qualifying purchases. You can support the site directly via Paypal donations ☕. Thank you!
See also TOP 10 Subwoofers
Monitor Audio's Controlled Performance in-wall loudspeaker line aims to change all that, and the imposing flagship model tested here – while an obvious LCR choice – is suitable for all channels, save perhaps Atmos overheads, with a flush-fit and paintable grille that makes it all but disappear into your room. While I would hesitate to call the CP-IW460X, even remotely affordable, its less fancy sibling, the CP-IW260X, is also less fiscally painful at a pop.
So what's the difference? The CP-IW460X gets a whole bunch of tech derived from MA's Platinum series speakers, including a C-CAM (Ceramic-Coated Magnesium/Aluminium) ribbon tweeter, C-CAM drivers with RST (Rigid Surface Technology) dimpled cones, and a top-drawer crossover.
The step-down CP model features smooth, continuous- profile driver cones, a more traditional 25mm gold dome tweeter and an acronym inferiority complex.
Key to both models is the large, sealed polymer enclosure with die-cast aluminium front baffle. That is a speaker cabinet to you and me, making the CP series very much 'proper' speakers that can be mounted flush into your walls. The sealed cabinet design eliminates the vagaries of how the drivers interact with the void behind the wall, leading to a much more predictable sound.
The driver lineup is two 6.5in woofers and two 4in midrange units, set either side of the central tweeter. Mounted vertically, this D'Appolito configuration gives a wide and smooth dispersion pattern, ideal for delivering surround sound across multiple seating positions. The ribbon tweeter pod can be rotated through 90 degrees, allowing the speaker to be installed horizontally.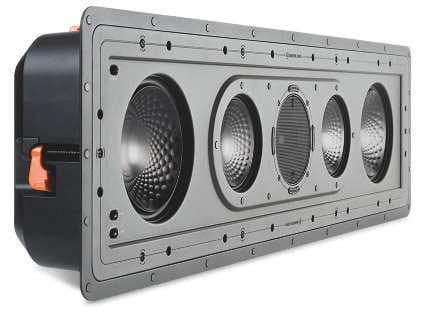 The CP-IW460X's high 89dB sensitivity and 150W power handling afford it claimed peak volumes to over 110dB per speaker, while LF response is rated down to 50Hz. Switches on the baffle give you +1dB/0/-1dB trims on both the high-frequency and mid-frequency response.
A Boundary Gain Compensation switch is also there to peg back low frequencies. If you have neighbours, that is going to be very useful.
MONITOR AUDIO CP-IW460X Review: Paint it black – if you want
The speaker comes supplied with a trim-less magnetic grille. It's in a white finish, but you can brush over with whatever shade you like, allowing you to match the colour of your room or get artistic. Of course, you have to install them first.
Each cabinet weighs in at over 12kg and requires a wall cut-out of 878mm x 228mm. That is a mighty big hole and poorly supported plasterboard probably isn't going to cut it as a solid baffle. You can use MA's optional WB12 pre-construction bracket to firm up a plasterboard mounting, but if you are after the ultimate performance you want a solid surface. Building a false wall is the way ahead.
I popped up a false wall using 50mm x 100mm timber and 12mm ply-wood with finishing plasterboard layered over the top. Such a design is cheap and effective, and even my limited DIY skills managed to create a great foundation for the speaker. More good news is that these models only require 102mm mounting depth from the wall surface, so your false wall won't need to shrink your room dimensions too much.
The speaker is supplied with a cut-out template, complete with guide lines to where each driver will be. Given the wide horizontal dispersion and limited vertical output, make sure the tweeters of any CP-IW460X installed vertically are at about ear-height when seated.
Assuming you haven't cut through water pipes, electricity cables or your speaker wires and are looking at a large rectangular opening, fitting the CP-IW460X is remarkably easy. It has 10 dog-leg clamps that turn out and lock behind the surface as they are tightened up.
If you need to remove them (maybe you forgot to hookup the speaker cables to the spring binding posts…) unscrew the lugs cautiously. Go too far and the plastic clip will drop off and be forever lost in the dim recesses of your wall cavity.
MONITOR AUDIO CP-IW460X Review: Here comes Dino
In full flight, the CP-IW460X is energetic and exciting, and punches home midrange effects like few other in-walls models I've heard. The sealed cabinet design is a triumph and MA's premium driver lineup delivers true audiophile-quality sound.
Jurassic World (Blu-ray) is given suitably dinosaur-like scale; feisty, bitey and imposing.
You are never going to get fear- inducing bass from dino-footsteps but the MAs have a big signature even without a subwoofer. Despite the film being mind-bogglingly predictable (spoiler alert: the dinosaurs start eating people) and lacking Spielberg's magic, these immersive loudspeakers keep the whole thing moving along at a pace, and make the puddle-shallow characters vaguely relatable.
That ribbon tweeter is as smooth as silk, giving female voices in particular an excellent sense of realism. Even with lines as idiotic as 'Corporate thought genetic modification would add the wow factor,' Claire (Bryce Dallas Howard) sounds engaging and believable – certainly more believable than most of the rest of the movie. Orientated horizontally for centre channel duties, the CP-IW460X keeps dialogue snapped tightly to the screen, but voices do loose some projection and authority as you move left or right from the hot seat.
For a relatively compact sealed cabinet, the CP- IW460X's bass is remarkably well extended. It doesn't get down to around the 50Hz mark as Monitor Audio's specification suggests, but it does hit tight and hard from 70Hz up, which is easy subwoofer-integration territory.
The bass boost from in-wall installation is notable and nicely evens up what could have otherwise been a slightly forward overall balance. Maybe leave that BDC switch set to off and ignore the neighbours' complaints.
I experimented with the other trim switches but quickly found the limited +/- 1dB controls made very little sonic difference during movie playback. The CP-IW460X's up-front sound has great projection into the room, and -1dB on HF and MF did nothing to dampen that enthusiasm. In a small room, where you are close to the speakers, this mid/high delivery might prove a little too much.
Yet give them at least 2-3m from your seating position and the D'Appolito array never fails to impress with its dynamic and engaging stance.
That balance might suggest the MAs are dedicated to all-action blockbusters, but not so. Stepping back to 2009's Moon on Blu-ray, these speakers don't shy away from eking out intense ambience and small details in almost every one of Sam Bell's actions. From gently opened kitchen cupboards to Sam's stilted dialogue with the service rover, the sound is authentic and cohesive.
MONITOR AUDIO CP-IW460X Review: Engaging experience
If you want all-but-invisible surround sound speakers without compromising performance, Monitor Audio's CP-IW460X should be up there on your audition list.
For a five-channel system and over for seven, they are not exactly cheap, but that isn't an outrageous price for such high-performance in-wall models. The brand's loudspeaker know-how shines through in the design and an impressively detailed and engaging surround sound experience
VERDICT Monitor Audio CP-IW460X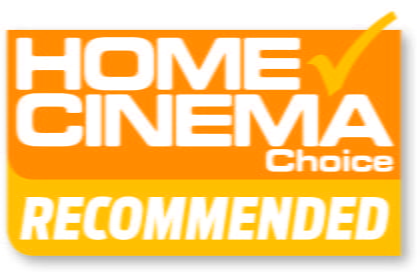 Recommended
MONITOR AUDIO CP-IW460X Review
The CP-IW460X is a large, easy-to-install sealed cabinet in-wall speaker with punchy bass and smooth ribbon tweeter that delivers an energetic, up-front sound.
Add your review
MONITOR AUDIO CP-IW460X Review: SPECIFICATIONS
DRIVE UNITS: 2 x 6.5in C-CAM/RST bass drivers; 2 x 4in C-CAM/RST midrange drivers; 1 x C-CAM ribbon tweeter ENCLOSURE: Sealed in-wall with die-cast aluminium baffle FREQUENCY RESPONSE (CLAIMED): 50Hz-60kHz SENSITIVITY (CLAIMED): 89dB POWER HANDLING (CLAIMED): 150W DIMENSIONS: 257(w) x 907(h) x 105(d)mm WEIGHT: 12.9kg
FEATURES: 10 x Tri-Grip dog-leg fixings; 90-degree rotating tweeter pod; vertical or horizontal placement; D'Appolito driver configuration; Boundary Gain Compensation switch; +1dB/-1dB trim for HF and MF; cut-out template; flush-fit magnetic paintable grille
MONITOR AUDIO CP-IW460X Review: PARTNER WITH
MONITOR AUDIO CP-WT380:
Looking for something a little smaller for surround channel duties? This two-way in-wall CP model uses an RST bass driver and gold dome tweeter, and the same Tri-Grip mounting system as its bigger brother.
I. When using the speaker as a centre channel, the ribbon tweeter can rotate 90 degrees
2. The speakers mount to a fairly shallow depth of 102mm