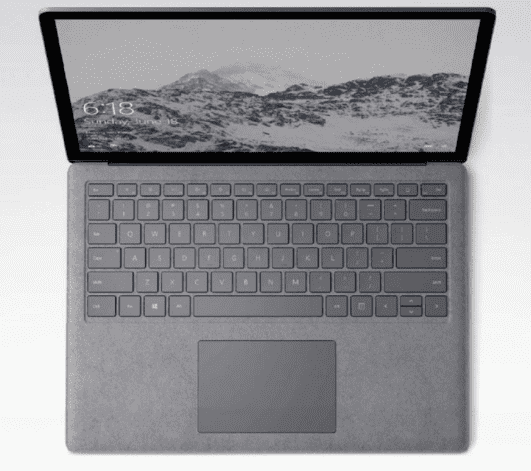 Microsoft's most direct shot at the MacBook yet
The one Surface product that fans have been clamoring over for years, a straight up Surface Laptop, is finally here. But, in taking design cues from both the Surface Pro and Surface Book lines, Microsoft has set lofty expectations for its first dedicated laptop device.
The Surface Laptop clearly aims to chip at the MacBook and MacBook Air models that dominate college campuses practically worldwide. In fact, Microsoft claims that its cheaper (and larger) Surface Laptop can last far longer on a charge than Apple's 12-inch MacBook: 14.5 hours.
However, every Surface Laptop shipped will come with Windows 10 S installed, Microsoft's new version of Windows 10 that only accepts app installs downloaded from the Windows Store.
With the ability to switch from Windows 10 S to the 100% open Windows 10 Pro if you miss the chance in 2017 for free, should you need an app outside of the Windows Store that badly (spoiler: you probably will).
7Review earns Amazon affiliate commissions from qualifying purchases. You can support the site directly via Paypal donations ☕. Thank you!
Regardless, at that price, can Microsoft garner enough interest from college students (or more likely their parents), who are often already strapped from the cost of going into higher education? Design Clearly, part of Microsoft's plan is to lure students and other users in with an incredibly gorgeous, and potentially trendsetting, design.
The 13.5-inch Surface Laptop may very well be Microsoft's most attractive computing product yet.
With four colors to choose from – Burgundy, Platinum, Cobalt Blue and Graphite Gold – there's bound to be one that appeals to you.
A full aluminium lid and base wrap the laptop in much the same way it does a Surface Book, but ditches the aluminium in the keyboard deck for an Alcantara fabric that surrounds every plastic key and meets with the aluminium base in a seemingly airtight seal.
The fabric, according to Microsoft, is imported from Italy and laser cut to fit every Surface Laptop. Now, while many of the design elements are the same – the 13.5-inch (2,256 x 1,504) PixelSense touch display, the smooth glass coated Precision touchpad, the chrome logo centered on the aluminium lid – we're told that the Surface Laptop shares very few parts with other Surface models.
That much is obvious in the nature of the felt used for this keyboard deck compared with what Microsoft uses in its Type Covers. The material used here is smoother and more plush, and we're told it's spill resistant.
Plus, the additional height afforded by this traditional laptop design allowed Microsoft to equip the keyboard with 1.5mm of travel, and the difference in typing between that and the Surface Pro 4 is night and day. Finally, Microsoft devised a speaker system beneath the keyboard that radiates sound through the spaces between the keys and the keyboard deck.
The result isn't much better audio than you'd find in a MacBook Air, perhaps a bit fuller, but at least it's consistently in an uninterrupted position. Naturally, the audio gets muffled when you are busy typing, but since the sound radiates throughout the laptop base, there isn't a major loss in audio detail.
That leaves the side of the Surface Laptop's base to house Microsoft's proprietary power and docking port found on other Surface devices, as well as a USB 3.0 and Mini DisplayPort, not to mention an audio jack. If you're already asking, "where's the USB-C port?" we've already been there.
Microsoft tells us that it intends for its own port to handle concerns of connectivity expansion via the Surface Connect port and its Surface Dock, while refraining from alienating customers who have yet to completely update to USB-C.
That doesn't explain why the Surface Laptop is equipped with USB 3.0, not USB 3.1, since you're missing out on some major data transfer speed improvements there.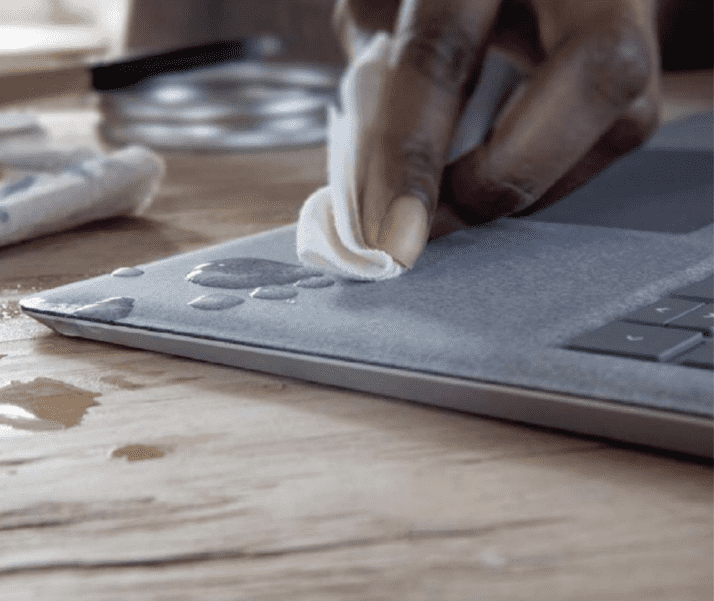 Performance and battery Microsoft can pack the Surface Laptop with the latest Intel Core i5 or Core i7 Kaby Lake processors, up to 512GB of PCIe solid-state storage and as much as 16GB of RAM.
The Surface Laptop's incredible, potentially trend-setting design cannot go unnoticed
That's a powerful laptop on paper, likely stronger than either the MacBook Air or the 12-inch MacBook, while rising above even the latest 13-inch MacBook Pro, which uses Skylake processors. As for how Microsoft fits that kind of power in a laptop just 14.48mm thin, a brand new, proprietary vapor chamber cooling system helps. The system changes the physical state of the heat as it's taken in through the center of a fan vent in the rear of the laptop base and spits it out of the sides of that same vent.
While we obviously weren't able to stress-test the Surface Laptop, we were able to test out how it feels to use. For starters, at just 1.25kg, this thing is super light, which is impressive considering it's a 13.5-inch, Gorilla Glass 3 touchscreen you're looking at.
Microsoft chalks this up to, in part, the thinnest LCD touch module ever used in a laptop design. This, in turn, helps the lid to lift with just one finger. However, perhaps the hinge design needs refinement. While you can open the display with just a finger, that slightness in the hinge is felt when the screen bounces with every tap of the touchscreen. It's the very reason we question the inclusion of touchscreens in traditional laptops to begin with. Microsoft hasn't found a better solution here.
That said, typing on the keyboard is the best time we've had doing such on a Surface product yet, and the portability of the whole thing is right up there with Apple's best.
As for battery life, Microsoft is, again, claiming 14.5 hours on a single charge. Microsoft later clarified for us that this number was achieved via local video playback with all radios but WiFi disabled.
That testing environment sounds very similar to how we test for battery life, so you should see battery life results close to this. If so, then the Surface Laptop will be very tough to beat.
Summary The Surface Laptop's incredible, potentially trendsetting design cannot go unnoticed. This is a laptop that appears to outclass the MacBook Air and 12-inch MacBook – and possibly even the 13-inch MacBook Pro – for hundreds less.
Save for a questionable platform versus pricing decision, the Surface Laptop has all the makings of yet another winning piece of hardware from Microsoft. Q Incredible design inside and out is hampered by a questionable platform choice for the price.
Microsoft Surface Laptop Specifications

Supplier www.microsoft.com
Operating system Windows 10 S
Processor Intel Core i5
Storage 128GB
RAM 4GB
Graphics Intel HD 620
Connectivity 801.11ac Wi-Fi; Bluetooth 4.0 LE; 1x USB 3.0 port; 1x headset jack; 1x mini DisplayPort; 1x 3.5mm AV socket; 1x Surface Connect port
Weight 1.25kg
Screen size 13.5-inch
Display resolution 2,256 x 1,504 pixels