Microsoft admits turning off rival antivirus software
Microsoft has admitted that it does disable some antivirus software made by other companies, but claims it's because they won't work properly on Windows 10, and that they want to limit competition from rivals.
The company was responding to an anti-competition lawsuit filed by Kaspersky in the EU that alleges Microsoft "fiercely promotes" its own Windows Defender security software above rival alternatives.
Writing in a blog post, Microsoft's Partner Director Rob Lefferts said that a "small number" of security programs – around five per cent – are incompatible with Windows 10. It therefore added a feature to the recent Creators Update that prompts the user to install a new version.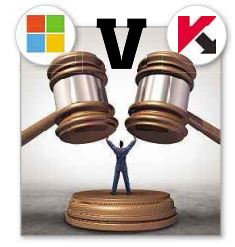 However, he acknowledged that in doing so Microsoft also disables some parts of the antivirus.
Lefferts added that Microsoft works with all antivirus companies "to specify which versions of their software are compatible and where to direct customers after updating". Although Lefferts doesn't mention Kaspersky, his comments can be read as a rebuttal to the Russian company's claim that Microsoft doesn't give it enough time to test whether its software works with Windows. Eugene Kaspersky, founder of the company, explained the reasons behind the lawsuit in a blog post in June. He accused Microsoft of deliberately confusing users by casting doubt on the effectiveness of antivirus software made by other companies.
As well as these "underhand tactics", he even claimed that Microsoft's support staff tell users having problems to uninstall antivirus software.
Microsoft says that before Kaspersky filed the lawsuit it tried to arrange a meeting with the company to "better understand their concerns".
It will be keen to avoid another expensive anti-competition trial, having been fined €561m in 2013 for promoting its Internet Explorer browser over others, such as Google's Chrome and Mozilla's Firefox.