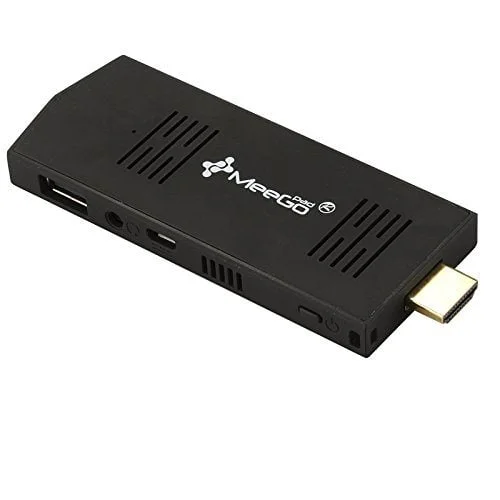 The Meegopad T02 is an improved version of this stick and it brings higher speeds due to added vents and new features in order to keep up with their main competitor, Intel. Basically, the Meegopad T02 is a stick (considering the outer aspect) that has the power of a Mini PC and may be used as a TV Box. This makes this product quite difficult to categorize, just like its Chinese competitor, the PIPO X9.
Unlike Pipo X9, the Meegopad runs only one OS (Windows 10), and offers an increased level of portability. Because it is so small, this device can be easily unplugged and put in a pocket somewhere in order to take your files, movies and games with you when you leave home. That's pretty cool, right?
Before choosing the cheaper stick, users should know that the Meegopad T02 support is not as good as their main competitor's. You will receive an answer from the producer in case of a major malfunction, but for simple issues, you might find more information online, from other users.
The package is pretty standard and contains all the necessary items a user needs to plug the stick in and run it. Thus, you will receive the stick, 1 power adapter, 1 USB cable that can be used to connect peripherals or a USB hub, 1 HMDI adapter in case you want to plug it in a TV or monitor that doesn't support HMDI.
The design is standard for this type of devices and the material used is specially created to radiate heat away from the processor (the device has no fan). Being so small, the stick can be easily hidden behind the TV or simply left on a counter where it's more comfortable.
It also has the necessary ports to add a keyboard and mouse in order to control it (it is recommended to choose a USB keyboard over a Bluetooth one).
7Review earns Amazon affiliate commissions from qualifying purchases. You can support the site directly via Paypal donations ☕. Thank you!
This device may seem small, but it packs quite a bit of power. For example, the processor is an Intel Atom Z3735F Bay Trail (Quad Core) that can run up to 1.33 GHz of speed (on Turbo mode it can reach 1.83 GHz). The memory is supported by 2GB of DDR3L RAM and it also has 32GB eMMC of storage space necessary for running the OS and storing files.
The GPU is an Intel HD Graphic that supports high resolution videos, thus offering an increased user experience. The device also has two full-size USB 2.0 ports that allows users to connect standard devices like keyboard and mouse, audio out, 1 HDMI port, 1 MicroUSB 2.0.
Considering connectivity options, the stick offers two possibilities: WiFi 802.11b/g/n and Bluetooth 4.0.
The Meegopad T02 runs on Windows 10 (activated with Bing) and the software is not any different from what you would have on a laptop or a desktop PC. Users will be able to see the classic Windows interface with My Computer, Recycle Bin and Internet Explorer. You will definitely see the stick is moving a bit slower (pages will take a bit more to load) but it is expected given the fact that more advanced components are bigger.
The fact that we're dealing with an extra small Mini PC is also experienced during gaming. The Meegopad T02 is not capable of running high-end games, but it will play small games with low to medium resolution nicely. Users will be able to watch high resolution videos, but the device won't render well 4k (as an example).
Highly portableAffordableWindows 10 activated with BingMany connection possibilitiesSlower than a PCNo fan so it may overheatLow gaming experience
The Meegopad T02 is definitely an improved version of the Meegopad 1, but it is still a stick with the power of a Mini PC. This means users will be able to tell the difference in performance and speed, but they will still be able to enjoy great portability and experience.
Windows 10 Intel Atom Z3735F Quad Core 1.33GHz/.83GHz Intel HD Graphics DDR3L 2GB eMMC 32GB 802.11b/g/n Bluetooth 4.0 HDMI