Flagship of the ElectroMotion series, this hybrid electrostatic promises a taste of the range-topping Masterpiece loudspeakers at a more wallet-friendly price
Review: Mark Craven. Lab: Paul Miller
| | |
| --- | --- |
| | Two-way hybrid electrostatic floorstanding loudspeaker |
| Made by | MartinLogan, Lawrence, KS, US |
| Supplied by | The Professional Monitor Company Ltd, UK |
| Telephone | 01767 686300 |
| Web | www.martinlogan.com;www.pmc-speakers.com |

The hi-fi market is replete with loudspeakers that look a little 'different', but few are as eye­catching as an electrostatic design where music appears to be coming almost from thin air. MartinLogan, the Kansas-based company established in the early 1980s, is one of the technology's best-known advocates. It began life with a 'static model, and even though its range has expanded since into conventional box­type speaker territory, its mantra remains 'wherever possible, we go electrostatic'.
With the ElectroMotion series, it also 'goes' affordable. The EM-ESL X tested here sells for £ (there's also the option of the smaller EM-ESL) and when compared to the company's Masterpiece stable, where pricing extends from the Classic ESL to the Neolith [ HFN Jul '16], this seems something of a bargain.
That impression doesn't wane when you lay eyes on it. A floorstanding model standing 1.5m on pre-fitted feet, the EM- ESL X will likely tower over your listening seat – although maybe 'over' isn't the right word, as the XStat panel, a 12-micron- thick film diaphragm sandwiched between two perforated steel stators, leans back slightly. This rake is intended to channel the speaker's limited vertical dispersion, targeting energy at the listening position and reducing off-floor refi ections.
YOU'VE BEEN FRAMED
MartinLogan's XStat panel is curved, an engineering tweak the manufacturer says enables an optimal 30o horizontal dispersion. It's then housed in an aluminium composite AirFrame enclosure that maintains panel rigidity, while maximising 'playable surface area'. This enclosure joins to the speaker's lower cabinet, which has a front baffle that continues the angle of the electrostatic transducer, and a rear that angles the opposite way [see inset picture, p61 ]. The result is an unusual overall aesthetic – I rather like it, even though the EM-ESL X's front and rear grilles aren't a great match for the cabinet's gloss black finish.
7Review earns Amazon affiliate commissions from qualifying purchases. You can support the site directly via Paypal donations ☕. Thank you!
See also TOP 10 Subwoofers
'These frantic rhythms and riffs were crystal clear'
SHINING A LIGHT
Behind these grilles are 200mm woofers, completing the speaker's hybrid design. In this case the bass section is passive, whereas most of the pricier Masterpiece models incorporate Class D amplifiers in fully active bass solutions.
Meanwhile, the standard ElectroMotion ESL has a single front-facing driver while the EM-ESL X we have here has another 200mm unit mounted to the rear. So while you can think of this model's 'X' suffix as signifying 'extra-large' – the panel has 50in2 of extra surface area over the step-down EM-ESL, by virtue of being 16cm taller – it could also stand for extra bass.
However, this second woofer doesn't result in a radical change to the claimed bass extension as the EM-ESL X's 41Hz (-3dB) is just one Hz deeper than the ESL's 42Hz [see PM's Lab Report, p63].
Some speakers are more obliging when it comes to placement than others, and the EM-ESL X fits into your room begrudgingly. It's not only very tall but, as a dipole speaker, boundary wall proximity needs to be managed. The recommendation is a minimum 61cm, as outlined in the in-depth installation manual (where the use of a torch – to reflect off the inner third of the curved panel – is even recommended to help toe-in the cabinets).
MartinLogan suggests that side walls should be less of a concern, thanks to the EM- ESL X's low, phase-cancelled, horizontal output, but the gist is that this is a speaker that benefits from plenty of space. And that includes a distance to the listening position in excess of the width between the pair – and plenty of experimentation.
PRACTICAL HYBRIDS
If the ideal driver is entirely weightless then the electrostatic principle gets the loudspeaker designer fairly close, albeit with a host of technical challenges. MartinLogan has been developing this technology since its inaugural CLS prototype seen at CES in 1982 – employing a 'cling film' thickness (about 12pm) conductive membrane stretched between two highly charged, perforated steel stators. Then, as now, the membrane was positively polarised and pushed and pulled in sympathy with the applied audio signal. Reproducing deep bass remains tricky, however, for as the sound wavelength exceeds the size of the membrane there's a progressive cancelling of rear and front output.

In short, the bass rolls away very swiftly, as audiophiles discovered when Quad launched its seminal 'full range' electrostatic back in 1957. Arthur Janszen was ahead of the game with his smaller Model 65 electrostatic in 1955, as this was often partnered with Acoustic Research's AR1, complete with 12in woofer, to flesh out the lower octaves. MartinLogan's 1983 Monolith was a fused electrostatic/ moving-coil loudspeaker and the brand has continued with this hybrid theme right up to the flagship Neolith [HFN Jul '16] and EM-ESL X of today, the latter with dual 8in woofers. PM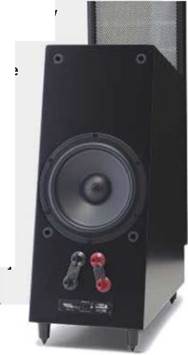 Then, of course, each speaker needs an AC wall socket for the supplied DC PSU that gives the electrostatic panel its get and up go. This socket, and corresponding status light, is mounted on the EM-ESL X's rear [see p63], below dual sets of speaker binding posts that are contoured for an easy grip. Forget to plug it in, and all you'll hear are the woofers…
GRAND ENTRANCE
Having spent considerable time setting up these speakers, I was relieved to sit down and enjoy the show. Thankfully, it proved to be one worth the entry fee. As expected, the sound was noticeably different to much of the cabinet-meets-driver competition, most obviously in terms of imaging and soundstaging nuance. I'd struggle to think of a more 'invisible' model at this price or one that bettered the clarity and openness of its mids and highs. The EM-ESL X's sizable transducer elicited a detailed, transparent listen, and this was joined by a well-defined and up-to-speed bass performance.
But first there's the scale of the performance to applaud. The size of the EM-ESL X's sound outshines the speaker itself, its grand soundscape a feature of other large dipole panels [see HFN Apr ' 18]. Jon Hopkins' instrumental 'Contact Note', from the eponymous 2004 album [Just Music TAO 010; 44.1 kHz/24-bit], provided a perfect demonstration of its room­filling ability. Ominous synths and choral vocals emerged from a deep, wide wall of sound that felt totally independent of the diaphragms. Details were placed so far beyond them left and right I couldn't help but cock my head in bafflement.

This presentation is the EM-ESL X's calling card, but it wouldn't count for much if traded for a shortfall in tonal or timbral accuracy.
Iron Butterfiy's proto prog-rock epic 'In-A-Gadda-Da-Vida' [eponymous; Rhino Records SALVOCD071], found the EM-ESL X bringing superb texture and body to plump bass, overdriven guitar and vibrato organ. Ron Bushy's legendary drum solo also became a barometer of the speaker's handling of stereo movement. As tom-toms danced forward and back, stage right, and then drifted leisurely across to the left channel, this late '60s production trick was easy to appreciate.
Iron Butterfly singer Doug Ingle sounded distant here, almost lurking at the back of the soundstage, but with recordings that put a focus on vocals, this speaker can be ridiculously entertaining. In My Baby's funk-fusion 'Supernatural Aid' [Mounaike – By The Bright Of Night; Prehistoric Rhythm J81 H270020], the distorted and reverbed verses felt close enough to reach out and touch, and when Mark Knopfier started saluting 'these mist-covered mountains' in 'Brothers In Arms' [eponymous; Vertigo 824 499-2], there was a lucidity to his vocal that encouraged me to close my eyes.
SWAGGER STICKS
Even with two bass drivers in play, the EM-ESL X is voiced to ensure the low-end rarely sounds dominant. In fact, it seems more concerned with transitional speed and detail than sheer output. Considering the uncoloured, transparent nature of the loudspeaker's midband, this makes sense, but does mean the sound here is drier rather than warm, and won't suit those who cherish bass weight above all else.
Subsequently, enjoyment levels fluctuate from track to track.
The EM-ESL X finds a groove with lean-sounding rock music – The Cult's 'Love Removal Machine' from their hit record Electric [Beggars Banquet BBL 80 CD] enjoyed real punch, bite and swagger. Yet with The Beach Boys 'Wouldn't It Be Nice' [Pet Sounds; Capitol Records; 96kHz/24-bit] or Jean-Michel Jarre's 'The Time Machine' [ Electronica 1.; Sony Music 88875123472] there was less meat to chew on, less bounce to lower mids and upper bass. And while overall bass extension is suffl cient for most music, on occasion the 200mm drivers and down-flring port were being asked to dig deeper than they could.
CLEAR WINNER
This is more observation than criticism, as I'm wary of expecting too much from a loudspeaker at this price that performs so admirably in other areas. For instance, the EM-ESL X steers clear of HF nasties. Hi-hats and cymbals were always distinct and well separated, avoiding splash or brightness. Metallica's 'Dyer's Eve', which closes an album famed for a treble-heavy 'scooped' guitar tone […And Justice For All; Vertigo 836062-2] was perhaps more listenable than I've ever heard it, helped by the EM-ESL X's speedy transducer keeping its frantic rhythms and riffs astonishing clear.
Lastly, for a simple five-minute demonstration of what this loudspeaker can do, give Elton John's 'Honky Cat' [Honky Chateau; Mercury 528 162-2] a whirl. Huge piano accompaniment, dynamic trombone and saxophone hits, a drum track that sounds almost three­dimensional and Reginald Dwight throwing out rhyming couplets right into your listening room. It sounded… electrifying.
VERDICT
MartinLogan ElectroMotion ESL X Review
Anyone priced out of MartinLogan's Masterpiece series should investigate this near entry-level electrostatic hybrid as the next best thing. This big loudspeaker's sound is transparent but still one of character - sublime clarity, a tight, fast bass, and remarkable imaging. Setup is but a temporary headache (beware your boundary walls!) but the resulting listening experience is the perfect panacea.
Add your review
Best MartinLogan ElectroMotion ESL X prices in the US ?

$

2,249.99
4 new from $2,231.99
in stock

Best MartinLogan ElectroMotion ESL X prices ?
MORE DEALS

See also TOP 10 Subwoofers
LAB REPORT
MARTIN LOGAN EM-ESL X
Measured on its centre axis, the forward response [see Graph 1, below] is necessarily compromised by the multitude of acoustic path lengths reaching the microphone from different positions across the curved surface of the electrostatic panel. The high-Q peaks and notches visible in Graph 1 are integrated out, to a degree, with increased listening distance although the complex low-level resonances [see CSD plot, Graph 2] are more of a fixture. In practice while the response uniformity improves from ±6.2dB at 1 m [blue trace] to ±4.8dB at 2m [black/red traces, and principally from 500Hz-3kHz] this would still be wide of the mark for a conventional moving-coil tower. Nevertheless, the general response trend for the EM-ESL X remains fairly 'flat' from 500Hz-5kHz beyond which the treble output falls away by ~9dB from 5kHz-20kHz. Despite all this 'uncertainty' the pair matching is remarkably fine at 1.7dB (500Hz-20kHz) even if the overall sensitivity is slightly short of MartinLogan's 91dB specif l cation at 88.8dB/1kHz and 89.6dB/500Hz-8kHz.
The front 200mm paper-coned woofer has a 54Hz-320Hz bandwidth, the rear a somewhat narrower 48Hz-190Hz (both re. -6dB) with a 'step' at 155Hz. This, coupled with the downward- firing reflex port with its broad 13Hz-81Hz output, delivers a corrected bass extension of 38Hz [-6dB re. 200Hz, green shaded area Graph 1 ]. This is generous for the limited enclosure volume, albeit achieved with a low 2.9ohm min. load (4ohm nominal) through the moving-coil section at 30Hz and via the panel at 720Hz. In both instances the impedance phase holds to within ±17o, but the load remains sub-6ohm from 13Hz-1.17kHz.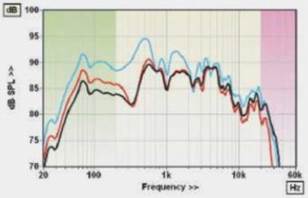 ABOVE: Response inc. nearfield summed driver/port [green], freefield corrected to 2m at 2.83V [yellow], ultrasonic [pink]. Left, black; right, red; at 1m, blue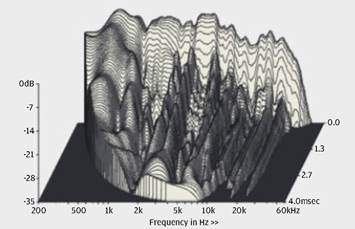 ABOVE: Complex panel modes illustrated here are assoociated with nulls in the response plots [above]
Specifications
| | |
| --- | --- |
| Sensitivity (SPL/1m/2.83V – 1kHz/Mean/IEC) | 88.8dB / 89.6dB / 86.3dB |
| Impedance modulus: minimum & maximum (20Hz-20kHz) | 2.87ohm @ 30Hz 20.5ohm @ 2.5kHz |
| Impedance phase: minimum & maximum (20Hz-20kHz) | -64o @ 6.45kHz +55o @ 1.23kHz |
| Pair matching/Resp. error (200Hz-20kHz) | 1.7dB/ ±4.8dB/±5.9dB |
| LF/HF extension (-6dB ref 200Hz/10kHz) | 38Hz / 31.1kHz/26.7kHz |
| THD 100Hz/1kHz/10kHz (for 90dB SPL/1m) | 0.6% / 0.4% / 3.5% |
| Dimensions (HWD) / Weight (each) | 1503x238x526mm / 24kg |