Marantz's compact AV receiver returns with a new look and boosted features – Jamie Biesemans slips it into his AV rig. Read our MARANTZ CINEMA 70S Review.
Short and sweet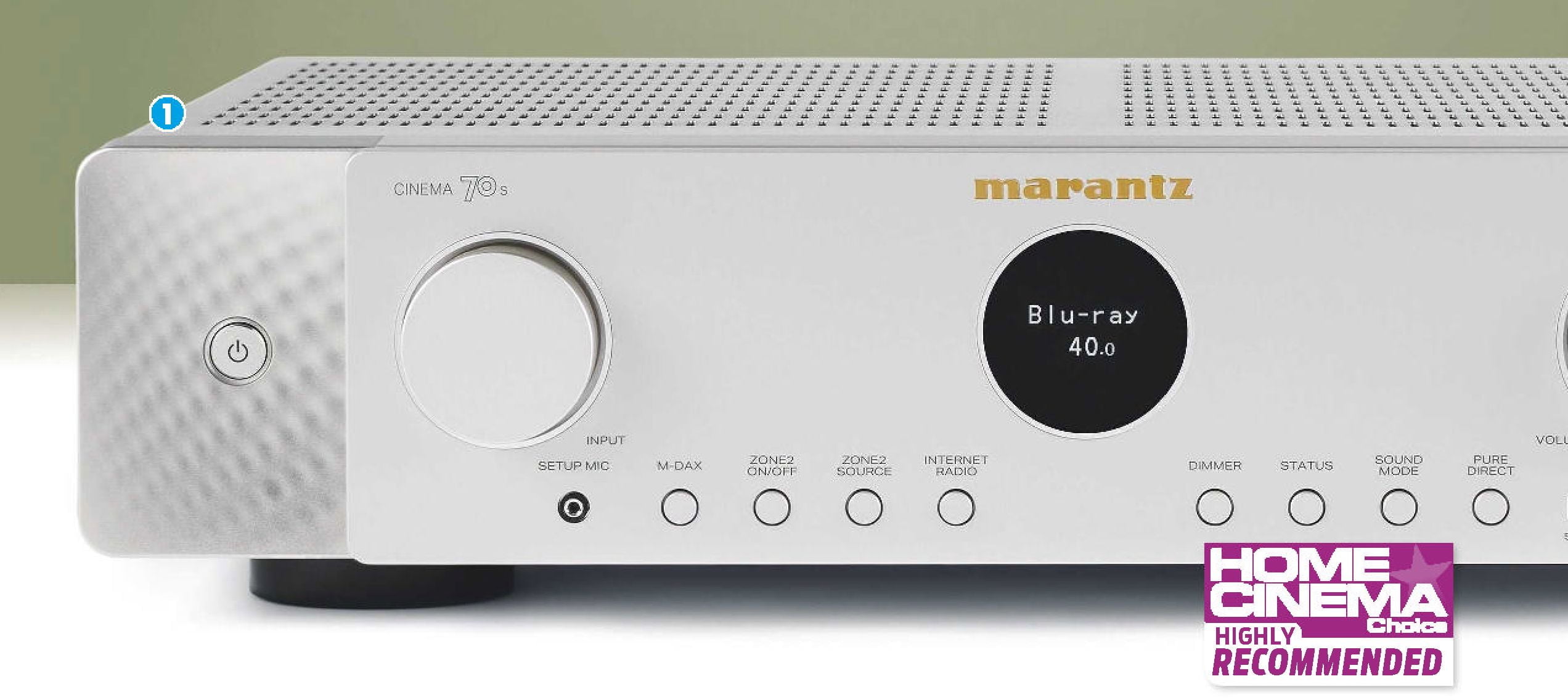 1. The Cinema 70s gets Marantz's new styling, with front-panel info now on a central 'porthole' display
The Cinema 70s is Marantz's entry-level AVR for 2023. But it isn't merely the most affordable model in the range, only here to get you interested in the brand. With its streamlined half-height design, it's one of the few options out there for movie buffs looking for a receiver that both ticks all the boxes and doesn't obliterate your living room's feng shui.
True, this is nothing new for Marantz, as the company has offered a 'slimline' AV receiver for quite a few years now. The Cinema 70s succeeds the NR1711 (see HCC #318) and the NR1200 – a stereo product with HDMI switching that has yet to be replaced. And while some won't see the need for a slender AVR, it earns immediate points for being incredibly gorgeous.
The most notable change is, of course, the new retro-tinged design language, which started kicking around with Marantz's Model 30 integrated hi-fi amp, and SACD 30n disc spinner, in 2020, but has now been applied to all new Marantz models, including the latest batch of AV receivers. This new aesthetic harks back to Marantz's storied past (founded in New York in the 1950s by Saul Marantz, now based in Japan) without overdoing it, and adds a real feel of luxury to the unit. Previous 'NR' series models have looked neat but a bit nondescript; this update is suitably glamorous, especially the silver-gold version (black is also an option). Missing, however, is the integrated illumination of Marantz's two-channel amps, which highlights the textured ends of the front panel. Maybe that's not a bad thing on an AV machine, though, as it would be quite distracting.
Better connected
Naturally, the Cinema 70s arrives with some other improvements, including HDMI 2.1 support on all six inputs and the single HDMI eARC output, as seen on the more conventionally sized Cinema 50 (see HCC #338). Another more low-key enhancement, compared to the previous generation, is the appearance of a full set of pre-outs on the rear panel. For most Cinema 70s owners this won't be a feature they'll ever use, but it does allow you to take the slim Marantz along a future upgrade path: if you ever find you need some more oomph, you could shift this unit over to a surround preamp role and combine it with power amps picked up elsewhere. Admittedly, exchanging the Cinema 70s for a beefier model might be more cost-effective, but it's good to have the option – and it's certainly not something expected at this price point.
Av info
| | |
| --- | --- |
| Product: | Slimline sevenchannel AV receiver |
| Position: | Entry-level in Marantz's new Cinema series |
| Peers: | Denon AVR-X2800H; Yamaha RX-A2A; NAD M10 V2 |
| Website: | www.marantz.com |
Easy EQ
Room calibration is handled by Audyssey's vanilla MultEQ version, whereas the Cinema 50 (and the top-of-the-range 40) give you the option of both Audyssey MultEQ XT32 and Dirac. This is a feature shortfall but easy to understand, as upgrading to Dirac would cost a further £-£ including purchasing another microphone, and it's not as if the Cinema 70s is light on specifications elsewhere. It would have been easy for Marantz to conclude that buyers wanting a slim product don't care about features, but this AVR offers just about everything you would expect on a full-sized design of the same price.
7Review earns Amazon affiliate commissions from qualifying purchases. You can support the site directly via Paypal donations ☕. Thank you!
RECOMMENDED VIDEOS FOR YOU...

2. If silver-gold is too ostentatious, opt for the black finish
Okay, it's a 'mere' 7.2-channel model, with a claimed Class A/B power output of 50W per channel into 8ohm (20Hz-20kHz, 0.08%, two-channel measurement), but it offers the usual Marantz versatility when it comes to speaker setups. Next to 7.2 you can opt for 5.2.2 or other configurations, including bi-amped setups. The palette of choices is quite extensive, including which type of height channel speaker you're using, or selecting middle heights instead of front only. DTS:X and Dolby Atmos decoding includes Virtual:X and Height Virtualization options, respectively.
The excellent Setup Assistant available on all Marantz (and Denon) receivers isn't absent either. You'll probably elect to bypass the multi-step setup procedure if you know your AV onions, but it's great for people new to home cinema, or if your 'hooking up an AVR' skills are a bit rusty. The Assistant is very detailed, covering all aspects of installation, including wiring schemes and networking. And it looks better and clearer than ever, as the Cinema 70s has received the long-awaited update to adapt the whole Marantz user interface to 4K screens. If you have a large TV or use a projector, it's a particularly noticeable visual improvement – and the interface feels snappier too.
The Cinema 70s comes with the usual slew of streaming options you can expect from the Marantz/Denon software platform. There's HEOS multizone/streaming for one, controlled by the HEOS app and offering music service support including Soundcloud, unusually, and internet radio. Playback of music files, via USB or over a network, is first-rate, as is the ability to stream connected sources (in stereo) to other HEOS products. AirPlay 2, Spotify Connect and Bluetooth are handy for streaming services not built into the app. You can also partner the Cinema 70s with Bluetooth headphones, which might be good news for night owls.
Light and warmth
I ran the receiver hooked up to my standard 5.1.2 surround setup, consisting of DALI Rubicon speakers all around and Alteco height speakers, with an ELAC Sub 2050 taking charge of bass performance. After a full Audyssey measurement, sound tuning and balance was satisfactory straight off the bat, the Cinema 70s displaying the light warmth, with a soft high-frequency roll-off, typical of the brand.
Indeed, as per Marantz tradition, the Cinema 70s handles explosions and other powerful sound effects a bit politely in comparison to rival amps, but that doesn't detract from the immersive experience, and there's always leeway to tune the receiver to your tastes. For example, after an episode or two of The Lord of the Rings: The Rings of Power (Prime Video) and a watch of Black Adam (4K Blu-ray), the urge to tweak the rears manifested itself – which was easily done on the fly. Afterwards, the Cinema 70s delivered more convincing placement, even at regular volume levels.
'While some won't see the need for a slender AVR, it earns immediate points for being incredibly gorgeous'
In Black Adam's final battle between Sabbac and the Justice Society – the dullest-sounding superhero group ever – the Marantz receiver exhibited decent control, keeping the positioning of the voices of the many clones of Doctor Fate well-defined around the seating area. And considering its slim lines, the Cinema 70s performs better than expected with action and sci-fi movies like this; it has the poise of a 'true' AV receiver, albeit with the limitations typical of an entry-level/lower-range product. You'll encounter those when turning up the volume really high in hectic, effect-heavy scenes, as dynamic depth starts to feel limited and some SFX fall a bit flat.
Hold your horses
The Cinema 70s will probably end up in living rooms, not dedicated home theatres, and as viewing fare in such environments will not only be tentpole blockbusters, it's good to note its measured, slightly laidback approach is well-suited to less dynamic content. The Dolby Atmos mixes of Apple TV+ series Slow Horses don't have much in the way of huge dynamics to offer, but the rousing musical score was rendered magnificently, and dialogue was delivered clearly. A Dialog Enhancer feature can sharpen it further, but after the Audyssey EQ process I didn't feel it was necessary.
Marantz's receiver is also likely to be used for music sources (and not just because its styling is reminiscent of some heritage hi-fi) and in this regard it has a slight edge over other entry-level receivers, thanks to Marantz's agreeable – and always musical – 'tuning'. Playing some hi-res 96kHz/24-bit FLACs of Gregory Porter's jazzy Liquid Spirit album found the tracks flowing with smoothness and refinement, and with some DSD128 files from specialist label 2L the Cinema 70s showed real talent, going for an engrossing and dense soundstage fronted by brilliantly clear, fluid vocals.
3. HEOS app carries music streaming services (including 'net radio, left) and can select wired and network sources

4. In place of the component video stage of the NR1711 predecessor, the Cinema 70s gets 7.2-channel pre-outs
One of a kind
Although the odd one out in Marantz's four-model AVR family, the Cinema 70s takes much from its bigger brothers, including a smart design, classy UI and generous wired/ wireless connectivity. Performance-wise, this half-height model isn't a powerhouse but nor is it lightweight: strong points are its control, balance and beguiling lightness of touch, but it can still cut loose with an action-packed soundmix. It's one of a kind in today's AVR market, and an essential audition if the form factor appeals
VERDICT
Recommended
MARANTZ CINEMA 70S Review
Despite the bijou form factor, Marantz's Cinema 70s still grabs your attention courtesy of its standout styling and well-balanced, atmospheric performance. A little gem!
Add your review
Best MARANTZ CINEMA 70S prices in the US ?

$

1,195.83
1 used from $926.64
14 new from $1,140.00
in stock

Best MARANTZ CINEMA 70S prices in the UK ?

£

679.00

£709.00
6 new from £679.00
in stock


£

679.00

£709.00
6 new from £679.00
in stock

MORE DEALS

SPECIFICATIONS
| | |
| --- | --- |
| DOLBY ATMOS: | Yes DTS:X: Yes |
| IMAX ENHANCED: | No |
| MULTICHANNEL INPUT: | No |
| MULTICHANNEL PRE-OUT: | Yes. 7.2 |
| MULTICHANNEL OUTPUT (CLAIMED): | 7 x 50W (into 8ohm) |
| MULTIROOM: | Yes. Zone 2 audio, plus HEOS |
| AV INPUTS: | 2 x digital audio (1 x optical and 1 x coaxial); 4 x analogue stereo HDMI: 6 x inputs and 1 x outputs |
| DIMENSIONS: | 442(w) x 109(h) x 372(d)mm |
| WEIGHT: | 8.7kg |
| FEATURES: | Wi-Fi; Ethernet; two-way Bluetooth; HEOS streaming/multiroom; Setup Assistant; Eco Mode; Pure Direct mode; AVR Remote app; Alexa, Google and Apple voice support; Apple AirPlay 2; Spotify Connect; Audyssey MultEQ; hi-res music playback; AM/FM tuner; HDMI 2.1 connectivity |
TESTED WITH
SLOW HORSES: Based on Mick Herron's books about a bunch of bumbling MI5 rejects, this Apple TV+ series (now up to Season Two) demonstrates how Dolby Atmos can be very effective for scene setting, highlighting the chasm between the high-tech surroundings of MI5 HQ and the creaky, rundown Slough House.