Magnepan 30.7 four-panel dipolar planar loudspeaker system – Revisited
In Hi-Fi+ 157 I wrote a favourable preview of Magnepan's new flagship loudspeaker, the model 30.7. Now, as the loudspeaker nears full serial production, I wanted to provide a follow-up review to discuss one important change that has been incorporated into the loudspeaker over the last several months as production was still in the early stages. Over that time Magnepan's head of Sales and Marketing Wendell Diller has been touring many of his firm's North American dealers, doing more than thirty 30.7 demonstration events for dealers and prospective customers across the US. Along the way, Diller has gathered experiences from setups in 31 different rooms and Magnepan was able to incorporate this change into the first production units.
Earlier this week I had an opportunity to do a private audition of the 30.7 at an event held at Magnepan's Austin, Texas dealership: Austin Home Systems (formerly Audio Systems). The results were ear opening, to say the least. Before offering observations on the sound of the 30.7, though, let me provide a quick product recap from my original preview.
Like all Magnepans the 30.7's are tall, wide, thin, and completely 'boxless', dipole panel-type speakers that look much like fabric-covered room divider screens with minimalist perimeter frames. In recent years almost all Magnepan loudspeakers have used a single panel for each channel-even though the panels are typically subdivided internally to house multiple planar drivers. The 30.7, however, takes a different approach in that it uses two physically separate panels per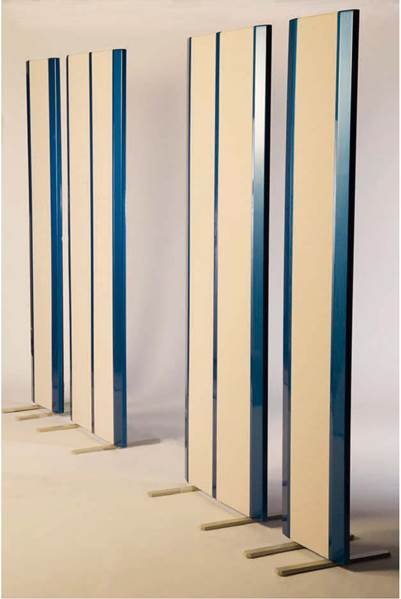 The results were ear-opening, to say the least.
► channel—a wider panel that handles the bass and midbass workload plus a narrower panel that handles midrange and high frequency duties. As you scan the photo accompanying this review, you will see that a stereo pair of 30.7's comprises four panels in total, each standing at 6 % feet tall. That's a shade under 2m in Eurometricals.
The 30.7's large bass/lower-midbass panel measures 79 x 29 x 2.062 inches or 200.7 x 73.7 x 5.2 cm (HxWxD), while the tweeter/midrange panel is the same height and depth, but only 16 inches or 36.8 cm wide. Obviously, this is a big loudspeaker system by any rational standard, though Magnepan's Diller insists that despite its size the 30.7 system can be made to work extremely well in relatively modestly sized rooms.
7Review earns Amazon affiliate commissions from qualifying purchases. You can support the site directly via Paypal donations ☕. Thank you!
See also TOP 10 Subwoofers
Readers of a certain age might notice that the new 30.7 shows a number of conceptual ties to the legendary Tympani IVa; an extremely large multi-panel Magnepan loudspeaker from the 1970's. For those who have never seen the Tympani IVa system in the flesh, let me mention that it was enormous— so big, in fact, that in many rooms it turned out to be a 'wall-to-wall' loudspeaker (and no, that's not hyperbole, but rather a simple fact). Thanks in part to its sheer size the Tympani IVa could reproduce music—and especially orchestral music—with a combination of authority and realistic scale that was and still is as impressive as it is uncommon.
Listeners who heard the Tympani IVa system back in the day often describe the experience as being musically unforgettable, which is why many have urged Magnepan to create a 21st century version of speaker updated with all the latest materials and technologies. Stated simply, the 30.7 is that long wished-for modern day Tympani, but with two important twists. First, the 30.7 system, big though it is, look considerably smaller than the original Tympani IVa system did. Second, despite the apparent size disparity between the old system and the new, the 30.7 provides fully 22% more driver surface area than the
Readers of a certain age might notice that the new 30.7 shows a number of conceptual ties to the legendary Tympani IVa.
original Tympani IVa did. Paradoxically, this means the 30.7 is at once smaller on the outside yet bigger on the inside than its predecessor.
The 30.7 is a four-way speaker whose driver array comprises, from top to bottom, Magnepan's famous pure-ribbon linear tweeter, plus four quasi-ribbon type planar drivers: an extremely low-mass midrange driver (featuring a proprietary ultra-lightweight membrane material), a "transitional line-source midbass coupler", a narrower woofer (that shares a common diaphragm with the mid bass coupler but that has its own separate voice coil), and a wider woofer. The tweeter and midrange drivers are housed in the smaller 30.7 panel, while the mid bass coupler and the two woofers are located in the larger 30.7 panel. All four of the quasi-ribbon drivers use front and rear opposing magnets, just as in Magnepan's critically acclaimed 20.7 loudspeaker—a design feature intended to increase efficiency and dynamic range. Phase coherent first order crossover networks are used throughout. Crossover components are divided into two physical sections—one section in the bottom of each of the two 30.7 panel frames.
In my earlier preview I mentioned that the 30.7 features adjustable high frequency and midrange levels—giving a very wide range of set-up options. These adjustment features are not accomplished via control knobs, but rather through selective installation of high quality resistors on the rear of the speaker panels.
During his recent tour of North American dealers, however, Diller discovered that even more adjustability was needed, especially in terms of matching mid-bass output to the requirements of various listening rooms. The most significant change that was incorporated from the first production units onward is a provision for adjusting mid-bass output levels as needed.
To appreciate this change, it is important to understand that the 30.7 was designed from the outset to have sufficient low- and mid-bass output to be able to sound properly balanced even in very large rooms. This is all to the good for those who have truly large listening spaces, but it can lead to overblown bass in medium-sized or smaller rooms—a problem Diller wryly describes as being like "listening to a trombone in a phone booth." Diller further observes that low bass is usually not the problem when moving the speakers from large to mid-size spaces, but that excess mid-bass very much can be a problem—a problem the newly adjustable mid-bass output levels help solve.
The main Austin Home Systems listening room, though certainly not a small space, is considerably more compact than the Magnepan factory listening room where I first heard the 30.7 several months ago. The space lent itself to an arrangement where Diller installed the 30.7 system along the longer wall of the room (marking the first time that I had heard the speaker in such an orientation). Driving the system was a PS Audio DirectStream Memory Player, and a DAC, preamp, and massive solid-state power amplifier from Bryston. ►
► Accompanying me on my listening visit was Tom Martin, owner of Hi-Fi+, The Absolute Sound, and Ultimate Headphone Guide. Since Tom's time was limited we gave him first crack at the listening chair and very early on he commented on both the speed and uncommon smoothness of the 30.7's midrange and high frequencies. I couldn't agree more; in fact, if I could only point out one of the 30.7's virtues, the one I'd choose would be the speaker's midrange. It's fast, highly transparent, and extremely resolving and yet somehow manages to sound effortless and natural at the same time (it never hammers the listener with the sort of enforced sense of detail that ultimately proves fatiguing over time).
We listened to the 'Et misericordia' movement of Kim Andre Arnesen's Magnificat [2L, SACD] and marvelled at the achingly beautiful purity of both the voices of Lise Granden Berg (soprano) and of the Nidarosdomens jentekor (Nidaros Cathedral Girl's Choir), which conveyed a profound sense of reverence as this haunting piece of sacred music was performed. But what also added to the experience was hearing the deep and powerful, but also very well controlled sound of the pipe organ accompanying the vocalists. It was in that moment, where the delicacy of the multi-layered female voices and the depth of the pipe organ notes merged—yet without treading upon or overpowering one another, that the true musical worth of the 30.7 as an accomplished full- range speaker became apparent.
Tracks with potent low- and mid-bass, such as the low percussion heard in the 'Volcano' movement of the Hovhaness Mount St. Helens Symphony [Schwarz, Royal Liverpool Philharmonic, Telarc, SAC] also showed how effective the 30.7's new mid-bass control can be at taming excess mid-bass output in moderately sized rooms (though truth to tell I could have gone for even a smidgeon less mid-bass than the demo exhibited in Austin). But the key point is that the 30.7 now gives its owners the tools necessary to achieve a well-balanced sound in rooms of varying sizes and shapes. In fact, Diller estimates that the 30.7 could now be used in rooms as small as 14 feet x 17 like the demo he performed at the Madison, Wisconsin dealer's store.
Are there caveats? Well, two would be the speaker's size and price, both of which may prove daunting to would-be owners. Another involves seating positions relative to the speaker array. Because the 30.7 is very wide, you may find that if you sit too close to the speaker you eventually begin to hear the individual driver panels rather than a seamless, cohesive whole, which of course means that imaging and soundstaging won't quite snap into focus as they should. So, bear in mind that set-up is partly about fitting the speaker into your room, but part is also about finding an optimal position for you relative to the speaker array. Finally, it pays to remember that this speaker requires powerful but also extremely high-quality amplification (such as permeates this issue – I'm specifically thinking of the Hegel H590 integrated amplifier tested on page 16) to give of its best.
Setting these constraints aside, though the 30.7 strikes me as a remarkable design achievement; it takes everything we have ever liked about the Magnepan sound to a whole different level—a level where both the richness and realism of recorded music are raised to extraordinary levels, all for the considerable yet oh-so-justifiable.
Magnepan 30.7 Review: TECHNICAL SPECIFICATIONS
Type: Four-way, four-panel, quasi-ribbon/pure-ribbon dipolar planar loudspeaker (each speaker includes a large bass/midbass panel and a smaller midrange/ tweeter panel)
Driver complement (per speaker): two quasi-ribbon bass drivers, one quasi-ribbon 'transitional line source mid-bass coupler', one quasi ribbon midrange driver with ultralow-mass diaphragm, and one pure-ribbon high frequency driver. Frequency response: 24 Hz-40 kHz Impedance: 4 Ohms Sensitivity: Not specified Dimensions (HxWxD): 200.7 x 73.7 x 5.2 cm Weight: Not specified Finishes:
Frame:
Wood: Natural or black solid oak, dark cherry
Aluminium: Silver, Black, Red, or Blue
Fabric: Off-white, black, and dark grey
Manufacturer: Magnepan Incorporated
Tel.: 1 (651) 426-1645
URL: magnepan.com
UK Distributor: Decent Audio Sound Distribution
Tel.: +44(0)5602 054669
URL: decentaudio.co.uk