Taking its cues from the PD-171 turntable, but with a more elegant aesthetic, the PD-151 is Luxman's first new deck in eight years. Does it sound as clean as it looks? Read our Luxman PD-151 Review.
Review: Ken Kessler
Lab: Paul Miller
Belt-driven turntable with electronic speed control Made by: Luxman Corp., Japan Supplied by: IAG (International Audio Group), UK Telephone: 01480 447700 Web: www.iaguk.com; www.luxman.com
How deliciously ironic: two turntables this month from companies with vast experience in vacuum hold-down of the LP, yet neither of them possesses it. Continuum's Obsidian [p40] is a complete departure from its LP-sucking forebears, while Luxman's PD-151 is fundamentally a simplified PD-171 [HFN Dec '13] – the model which revived the brand's turntable line in 2011, but minus the vacuum function of yore [see boxout, p55].
The PD-151 costs £ less than the latest PD-171A, and visual giveaways include a relocating of the controls to the vertical front panel of the plinth and no cover over the pulley. Their tonearms, on the other hand, look identical but are not [see PM's Lab Report, p57], with one other key difference: the arm on the PD-171A can be changed for another make, while the PD-151's is fixed.
ROCK SOLID
Not to worry, for this is a fine example of a 'Japan Inc' S-shaped arm with universal Ortofon headshell mounting system, and the Ortofon 2M Red [HFN Oct '08], Denon DL-103R [HFN Jul '09] and Decca Maroon cartridges I tried caused no incompatibilities. Luxman wisely includes both a detailed owner's manual and a set of Allen keys to allow the user to alter arm and cueing lever height. A doddle.
7Review earns Amazon affiliate commissions from qualifying purchases. You can support the site directly via Paypal donations ☕. Thank you!
See also TOP 15 turntables
Do, however, use a proper, external stylus balance, as the scale on the counterweight was out by a good half-gram.
Other changes between the '151 and '171 include a 4kg platter versus the latter's 5kg, and a reduction of the dimensions to 465x164x322mm (whd) compared to the larger, more robust PD-171A's 492x140x407mm (whd). The biggest change between them, though, is the use of a brushless DC motor instead of
RIGHT: Top-down view highlights the statically- balanced S-shaped tonearm, with detachable magnesium alloy headshell. The DC motor and PSU are mounted, with rubber isolators, on the underside of the 10mm-thick alloy top-plate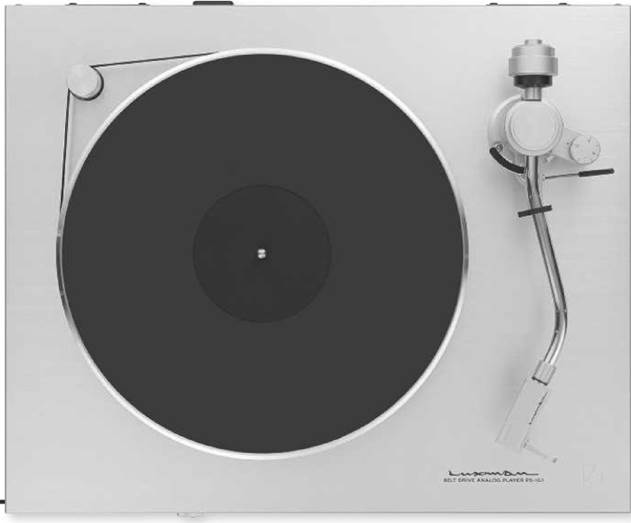 the older deck's AC motor. Personally, I've never detected any superiority/inferiority one way or the other in respect of rival motor types as I am sure there are good and bad applications of both.
One other omission is the built-in strobe, as featured prominently on the front of the PD-171A. But this isn't grounds for whining: the PD- 151's speed was rock solid, and you can pick up a decent strobe disc from Amazon for under a tenner should you need to play with musical pitch. The Luxman PD-151 features adjustment screws for 33.33, 45 and 78rpm on the front, to the right of the power-on and stop/start buttons and the rotary speed selector. Start-up is quick, too.
Beyond the three keys for the arm, Luxman includes everything you could need save for the cartridge. There's a nice, thick rubber mat, a handsome, slotted
'Not half-empty, the PD-151 is vastly better than half-full'
magnesium headshell, two screw-in handles for lowering the platter over the spindle and a sturdy hinged dust cover.
HIGHEST STANDARDS
Few of you will need slavishly to refer to the owner's manual as everything about this deck demands only straightforward, classic, old-school practice – even the OFC tonearm cables are captive. Aside from positioning the cartridge for correct overhang, ever a fiddly task, I had the deck out of the box, the power and tonearm cables connected and the music playing in 13 minutes.
Although Luxman has gone out of its way to eliminate aggravation, it has not simplified features to a point where a purist would be unable to set it up to the highest standards of audio housekeeping. Along with fine-tuning of speed and a fully-adjustable arm, the isolation feet allow a certain amount up/down tweaking, ideal for levelling. The wide, flat belt runs around the pulley and platter, and is a no- brainer to fit, Luxman shunning awkward manoeuvring (and the risk of fingerprint oil on the belt). The only deck simpler, aside from an all-in-one with cartridge, would be something like a Rega or Pro-Ject of the 'rectangular slab' variety.
IN FOR A POUND
My goodness! Does this baby sing! Keeping in mind that I was coming from a deck with an extra zero on its price sticker, I was taken aback by how coherent and confident this turntable sounded. Not least – no, make that 'immediately impressive' – was the sense of lower-octave mass, which I usually assume is the first thing to go when moving from a deck weighing 30kg or so to one tipping the scales at half that.
Armed with a stack of LPs, I dipped into 'Sweet Wine' on Side 3 of Cream's 3LP set Live Royal Albert Hall London [Reprise 49416-1]. And even without resorting to the addition of a clamp or weight, the impact of Baker's pounding percussion exhibited sufficient quantities of that controlled, extended plumbing-of-the- depths to which I was accustomed, spoiled as I was by a TechDAS Air Force III Premium [HFN Jun '19] and the Continuum Obsidian.
What adds to the sensations that only ferociously played live drums can impart, what makes the hairs stand up on the back of your neck or adds to the feeling of pressure on your ribs are the subtle impressions of air moving around the drum kit itself. While not quite as hypnotically convincing nor as room-filling as the TechDAS or Continuum turntables' recreations of Baker's juggernaut-effect, the PD-151 was still wholly satisfying –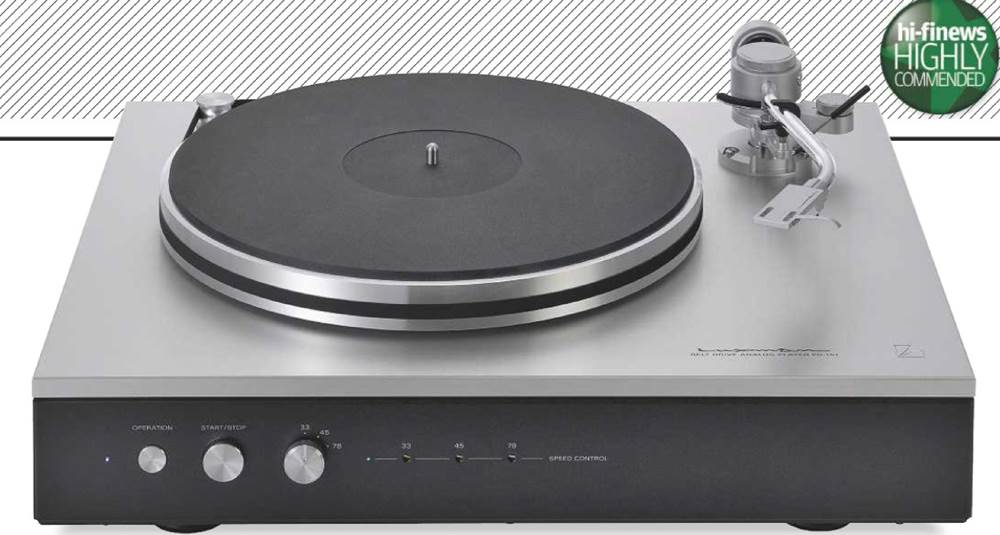 ABOVE: A model of simplicity – start button engages your choice of 33.33, 45 or 78rpm, while fine speed adjustment is offered via a series of through-hole screws
even through the wide-open windows of the ultra-revealing Wilson Sasha DAW loudspeakers [HFN Mar '19].
As anticipated, turning to the new Rogers LS3/5As [HFN Jul '19] felt, as it should, like inserting a high-pass Alter, but that didn't make any difference to the sheer pleasure of listening to the PD-151. And you will understand why if you are willing to acknowledge just how experienced a listener you've become through living with decent gear.
RICH WITH CHARACTER
All of us know what to expect when moving from a massive, full-range system to a small two-way, unlike novices unfamiliar with what a given sound system can or cannot do and who may register disappointment.
Such a move can cause a huge, indeed, gross truncation of the sound, but what remains from large speaker to small, or massive turntable to lighter model, can and should be regarded as wholly satisfying – just on another level. You do not expect the same visual delight from an A5-sized tablet as you would a 55in LCD, but that doesn't stop you from catching up with the latest episode of Legion on the train. And the Luxman PD-151 is to some gargantuan LP spinner what the LS3/5As are to Sasha DAWs. You just have to be mature enough to put them into context.
Another form of trial resided in the grooves of James Taylor's Sweet Baby James in The Warner Brothers Albums 1970-1976 [Rhino R1 587550]. If Cream provided the measure of the PD-151 as far as power and
VACUUM DISC STABILISER
As the PD-171 (now in PD-171A guise) only appeared in 2011, Luxman's earlier turntables may still seem vivid and fresh. But in fact there was a 28-year gap, from 1983 until the PD-171's launch, with no Luxman record decks whatsoever in the CD era. As Luxman's future is now on a secure footing under the same corporate umbrella as Quad, the company has been able to return to turntable manufacture with conventional decks. But devotees are most likely praying for the return of the brand's legendary vacuum hold-down turntables. What is now only found among very costly high-end decks, Luxman did so at more approachable price points, nearly 40 years ago.
Luxman unveiled its PD-555 Vacuum Disc Stabiliser (VDS) turntable in 1980, believed to be the first to employ a vacuum hold-down system to iron-out record warps and suppress resonance, and this was followed by the more affordable PD-300. Luxman's system forced the LP to stick to the platter, with no air gap in between. It immediately inspired a cult following and the deck, which was only available until the mid-1980s, became an immediate collector's item. The original price of the PD-300 converts to £xxxx – £xxxx in 2019 money – exactly the values we've seen for excellent examples on eBay.

ABOVE: The four heavy-duty insulating feet are clearly visible here, each offering some 8mm of level adjustment. The tonearm lead connects via a DIN plug under the deck and is clamped in place for strain relief. An IEC mains inlet completes the picture
mass are concerned, Taylor would show how it dealt with subtlety, lush acoustic instruments and a voice rich with character. Taylor possessed a tone so instantly familiar that it could even cut through a so-so PA system in Bangor, Maine back in 1970, and I can hear him to this day.
Was the Luxman PD-151 as adept at tapping my memory bank as the Continuum Obsidian? Was the veracity as total, as palpable? Even though the debate about whether turntables (and arms) – as opposed to cartridges, which are part of the signal chain – can influence the sound beyond speed stability and resistance to feedback will soon hit its 50th birthday, it is a tough concept to grasp. The deck doesn't appear between the groove and the speaker. And yet it was evident that background quietness, the dynamic contrast and other aspects of the entire sonic experience were affected by degrees.
RED ALERT
Rather than approach the glass as half-empty, I would describe the Luxman PD-151 as vastly better than half-full. With a price less than 40% of just Continuum's Viper tonearm – yes, the entire PD-151 – it demonstrated how the Law of Diminishing Returns is alive and well. It delivered so much of the ambience and anguish of 'Fire And Rain' that I could have been back in my dorm room in Orono in '71, pining over Trisha Knoch.
Silences, contrasts, hints of space – I needed something more specifically 'of the music', but light in spirit, gutsy in sound. So I fired up Bravo Brasso's cover of The Beatles' 'When I'm 64', from Ultimate Stereo Presentation [EMI Studio 2 Stereo STWO 3] and it was like a hit of Red Bull. The sound sparkled – more so with the Decca cartridge in place – and it demonstrated the PD-151's way with crisp transients, fat tuba braaaappps and banjo that was perfectly twangy.
Up-and-down: I wanted the molasses of Gregg Allman's 'Midnight Rider', on a 45rpm 12in single from Analogue Productions [APP 123-45]. In direct contrast to the all-up-front, trebly Bravo Brasso sound, this was a massive whiff of Eau de Swamp Rock, languid and tilted toward the lower registers. Cutting through it is the gravel of Gregg's voice, and all textures and nuances were present and correct. When compared to the wildly more expensive decks, it proved – again – to be a matter of degrees.
Whatever you might glean from the above, the idea is neither to disparage affordable decks, damn with faint praise nor laud unnecessarily those that few can afford. Rather, it is to praise this wonderful LP spinner for both its honesty and integrity. The Luxman PD-151 is neither 'budget' nor bankrupting, but it is a serious purchase whatever your means.
HI-FI NEWS VERDICT
A word that you rarely hear in high-end audio is 'fun'. But that's exactly what the PD-151 offers instead of audiophile angst. It does exactly what it promises, so painlessly that it will make you question the hoops through which most hardware makes us leap. It's like a Pioneer PL-12D for the 21st century: nicely made, a delight to set up and operate, with a coherent, consistent sound – and so easy to recommend.
LAB REPORT
LUXMAN PD-151
There are close parallels between this new PD-151 and the beefier PD-171 [HFN Dec '13] – the platter is fractionally lighter but the main bearing with its brass bushes, PEEK thrust pad and molybdenum oil is very similar. The thick rubber drive belt is shared too, but there's a key difference in the motor: the PD-171 uses an AC synchronous type while the PD-151 has a new, 'high torque' brushless DC design. It's not uncommon to see a sub-1Hz drift with decks that employ a DC motor solution [see p45], but Luxman has nailed the problem here, as evinced by the relative sharpness of the W&F spectrum [see Graph 1 ]. Peak wow is just 0.03% and the absolute speed +0.3% fast, before adjustment.
Measurement with a rumble coupler reveals some low frequency bearing noise not adequately reflected in the -69.5dB (DIN B-wtd) figure. Broad clusters of noise are visible in the unweighted spectrum, not shown here, at ~90Hz and ~160Hz but these are very effectively damped by Luxman's 'old school' heavy rubber mat that reduces through-groove rumble and noise to just -73.5dB – a superb figure up with the best turntables on offer. Meanwhile the resonant modes of the partnering S-shaped tonearm – inspired by Ortofon's TA-110 [HFN Mar '12] – are encouragingly quick to decay. A series of low-Q resonances at 65-110Hz are followed by higher-Q harmonic/torsional modes at 220Hz, 310Hz, 460Hz [see Graph 2]. Note that the 'dial up' counterweight is poorly calibrated, over-reading the expected value. Setting a desired '1g' results in a tracking force of just 0.6g; 2g gives just 1.1g and 2.5g yields 1.3g. An external tracking force gauge is therefore essential if you are to avoid running your pick-up too light in the groove. PM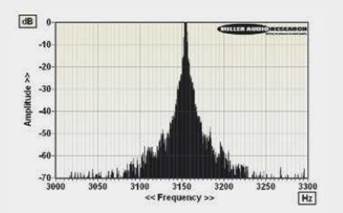 ABOVE: Wow and flutter re. 3150Hz tone at 5cm/sec (plotted ±150Hz, 5Hz per minor division)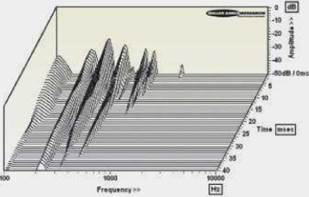 ABOVE: Cumulative tonearm resonant decay spectrum, illustrating various bearing, pillar and 'tube' vibration modes spanning 100Hz-10kHz over 40msec
SPECIFICATIONS