This is the third set of PC speakers with multi-coloured LED lights we've seen recently, even though we'd previously never tested a set of PC speakers and bemoaned its lack of multi-coloured LED lights. Logitech has made the nicest use of the illuminations, with backward-pointing lights that shine on to the wall behind your PC rather than just the desktop. Lightsync can match colours with whatever's on screen, like Philips' Ambilight TVs, but only in supported games. The alternative is to have the lights react to sound. It's attractive, but if you don't sit facing a wall you won't see much until someone approaches your desk and gets lit up like a Christmas tree.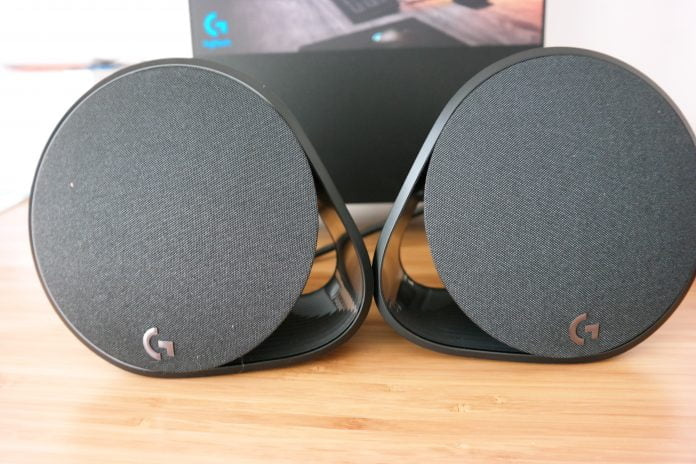 You may also like:
As for the sound, the G560's stereo tweeters and floor-mounted subwoofer pump out 120 watts RMS, which is more than enough to disturb the neighbours.
In fact, we found even a fiftieth of the maximum volume was pushing it.
Bass is definitely a priority, emphasised by the default equaliser setting, which you can change. But it's well handled, giving a rich sound down through the mid bass and a proper rumble at the bottom end. Treble isn't so noteworthy, but topped off by nice crisp highs, and there's a good sense of stereo sound stage.
As with Creative's Sound Blaster Kratos S5, it's the mid-range frequencies that disappoint, letting vocals and speech sink into the background in just the way you don't want.
7Review earns Amazon affiliate commissions from qualifying purchases. You can support the site directly via Paypal donations ☕. Thank you!
Should not buy anything from AudioAffair.
Logitech G560 Lightsync Review: VERDICT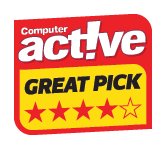 Logitech G560 Lightsync Review
More attractive than the Kratos S5 and beefier than the Razer Nommo Chroma, this is a good Bluetooth LED speaker set.
Add your review

Built-in LIGHTSYNC RGB lighting blasts game driven lighting colors and effects activated by the audio in many popular games
Explosive 240 Watts Peak power and unique driver design deliver a huge soundscape for a heightened gaming experience
& Free shipping
Last update was on: March 26, 2023 4:51 pm
Built-in LIGHTSYNC RGB lighting blasts game driven lighting colors and effects activated by the audio in many popular games
Explosive 240 Watts Peak power and unique driver design deliver a huge soundscape for a heightened gaming experience
Integrated DTS:X Ultra surround sound renders 3D positional audio so you hear your gaming environment from every angle
Easily customize four speaker lighting zones with Logitech Family Software for both front and rear light projection in your choice of 16.8 million colors
Works with Windows based PCs and Bluetooth enabled devices including computers, smartphones and tablets (DTS:X not supported on Mac OS X)
Sound Pressure Level (SPL Max) - 97decibel @426B
Logitech G560 Lightsync Review: ALTERNATIVE
Creative Sound Blaster Kratos S5
Elegant they ain't, but these are adequate speakers with basic LEDs for much less
Logitech G560 Lightsync Review: SPECIFICATIONS
USB input • 3.5mm jack input • Bluetooth 4.1 • Headphone jack • Software requires Windows 7 or higher or macOS X • Satellites 148x166x118mm (HxWxD) • Subwoofer 404x255x207mm
Logitech G560 PC Gaming Speaker System with 7.1 DTS:X Ultra Surround Sound, Game based LIGHTSYNC RGB, Two Speakers and Subwoofer, Immersive Gaming Experience - Black
as of March 26, 2023 10:51 am
Features
RGB Lighting: With built-in LIGHTSYNC, the lighting from your PC speakers can sync to your gaming; customise lighting to your audio with different effects, set a mood with 16.8M colours to choose from
Powerful Sound: Thanks to explosive 240 Watt, your computer speakers deliver a huge soundscape with a distant driver design for a heightened gaming experience
Integrated DTS: X Ultra surround sound renders 3D positional audio so you can hear your gaming environment from every angle
Audio Visualizer: Two satellites and down-firing subwoofer produce detailed sound with clear high volume, rich mid-range and deep thundering bass
With the Logitech G HUB software, the four loudspeaker lighting zones can be easily adjusted for light projections on the front and back in 16.8 million colors