Essentially a slimmed down Orion Spark, the Atlas Dawn is Logitech's latest mechanical keyboard from its vaunted G-series of gaming peripherals. Missing the macro keys and Numpad from its bigger brother, this compact keyboard is basically Logitech's version of Razer's Blackwidow Tournament Edition, aimed at delivering a convenient solution for people who are used to lugging their equipment around.
Should it make your shortlist though?
minimalist design
Like most mechanical keyboards, the Atlas Dawn feels solid, with a good amount of heft. It is 50% lighter than the Orion Spark, but construction feels excellent, with 2 hinges to prop up the keyboard. There has been some criticism towards the unique keycaps Logitech has opted to use on its keyboards, but they feel absolutely fine to me.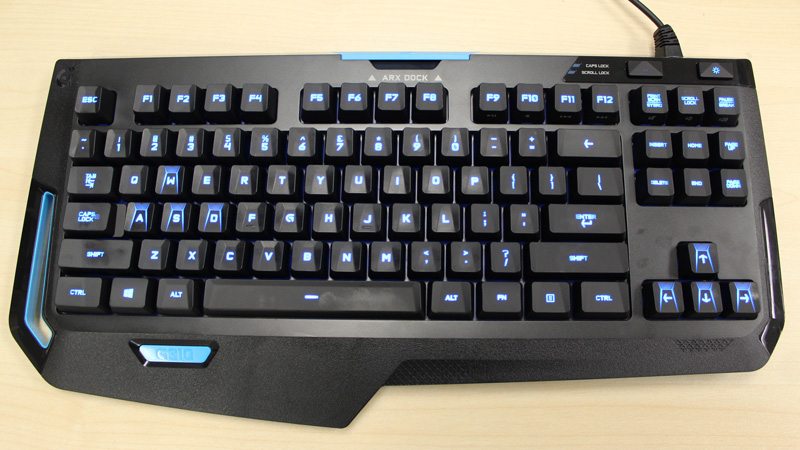 As for Logitech's alternative to the ubiquitous Cherry MX keys, the Romer-G keys feel roughly similar to brown and black Cherry keys with satisfying key travel and a muted click sound. The 4-stage lighting on offer also allows plenty of flexibility with the intensity of the blue LEDs, though there is no RGB option on offer like Razer's Chroma line-up.
The wrist rest on the Atlas Dawn is somewhat interesting, existing only on the left-most side of the keyboard below the WASD buttons. While my relatively average sized hands could barely fit on it, I can imagine people with larger hands might find the miniscule wrist rest somewhat useless. Logitech also offers a 'gaming' key, which basically turns off the windows key so you don't accidently pull yourself out of an intense firefight.
7Review earns Amazon affiliate commissions from qualifying purchases. You can support the site directly via Paypal donations ☕. Thank you!
too many compromises
Despite being positioned as a premium gaming keyboard (with a similarly premium price-tag to boot), the Atlas Dawn unfortunately doesn't offer anything game-worthy. Its construction may be solid, but the features on hand pale in comparison to its rivals. The first thing I noticed was the complete lack of any macro keys whatsoever, which is certainly a strange thing on a gaming-focused product.
Moreover, the 1.8m cable (which is nonremovable) is not braided and there is no USB/audio jack pass-through to be found on the keyboard. One would think for a product that emphasises convenience, these would be no-brainers. Logitech, as usual, includes some software to customize the keyboard, but with a distinct lack of macro keys, there isn't much to configure anyway.
So really, what you're paying for is a stripped down Orion Spark without a corresponding stripped down price. Certainly an eye-catching keyboard, but sadly lacking the chops to back up its price tag.
SPECS
maximum resolution 1280×800
CPu Intel Atom Z3735F GPu Intel HD Graphics storage 32GB WEIGHT 640gms RAM 2 GB
VERDICT
A decent effort from Logitech, but for its asking price, the Atlas Dawn simply falls short.