Gaming headsets are a section of the headphone market that most people probably ignore, precisely because they're called gaming headsets. But if you use headphones to appreciate music, enjoy videos and listen to the radio without disturbing others, and you also use the device they're plugged into (whether a PC, tablet or phone) for audio or video chat or even proper phone calls, this could be exactly what you're looking for.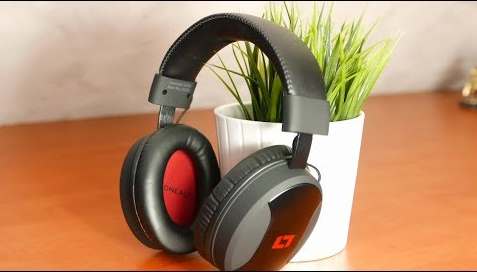 A quality gaming headset that we can all use for Skyping, music and watching films
Many earbuds, and some headphones, have a microphone in their cord for use with smartphones. Gaming headsets go a step further, featuring an adjustable boom mic that you can position right in front of your mouth so that whoever's listening gets the clearest possible sound quality.
While gamers might use this to ensure those who constantly beat them at Fortnite have the best chance of hearing their profanities, the rest of us can simply use it to hold clear conversations on Skype with our dearest but not nearest.
In this case, Lioncast's microphone reproduces voices so well that you could also consider it for podcasting.
In fact, the LX50 performs ridiculously well all round, considering it's under half the price some people pay for gaming headsets, and that's before we even consider what high-end headphones cost. The replaceable cushioned fake-leather ear pads are comfortable and help to block out background noise, while the adjustable headband and sturdy cups promise long service.
7Review earns Amazon affiliate commissions from qualifying purchases. You can support the site directly via Paypal donations ☕. Thank you!
Detachable cables support PC, phone and game-console use – one at a time, of course – with an inline volume control and mute button available. Sound quality in your ears is very good indeed: maybe a bit restrained in the mid-range, but with a wide stereo sound and very clear separation of band members in instrumental music. There's also a nice rumble to the sub-bass, which adds a definite frisson to films.
If you bought these headphones by themselves, you wouldn't be disappointed in what you got for 50 quid. With the excellent microphone (also detachable) included, the LX50 is a versatile piece of audio kit that serves a range of purposes without compromise. And if you get the urge, you could even use it for gaming.
SPECIFICATIONS
Wired stereo headphones with boom mic • 53mm drivers • 20Hz-20kHz • Detachable cables with 4-pole or 2x 2-pole 3.5mm jack plugs • Inline remote with volume and mute • 8.6x220x214mm (HxWxD) • 350g
VERDICT
Highly Recommended
Lioncast LX50 Review
Spending less on a headset you'll use regularly is probably a false economy, and at this price you can't get better than the LX50
Add your review
Best Lioncast LX50 prices ?
MORE DEALS

ALTERNATIVE
HyperX Cloud II
Not dissimilar in style and performance, this respected headset comes with a USB interface for digital quality