LG SL8YG
LG's aiming high
Mark Craven enjoys this soundbar's can-do attitude with Dolby Atmos and DTS:X Blu-ray mixes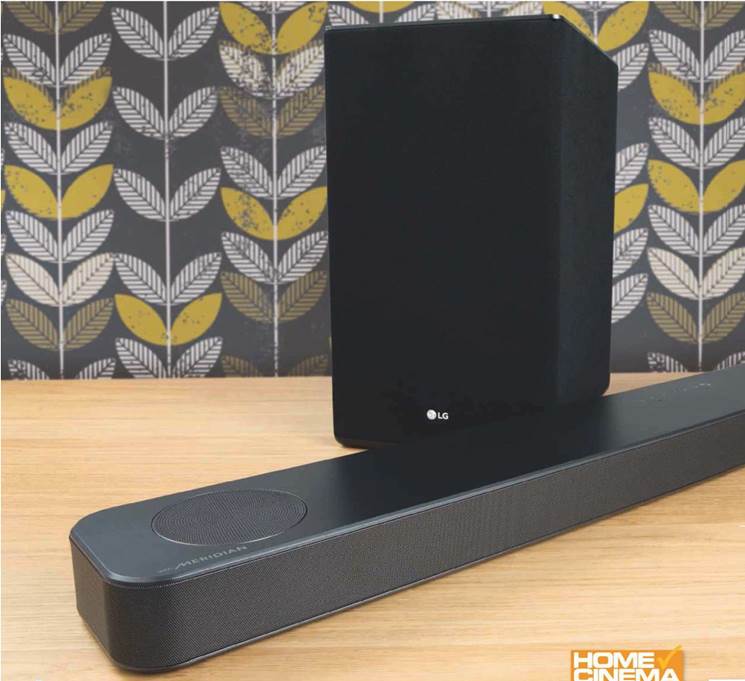 3.1.2-channel Dolby
Atmos/DTS:X soundbar
LG's entry-level 3D audio 'bar, above DTS Vlrtual:X models
Samsung HW-Q70; Sony HT-ZF9
7Review earns Amazon affiliate commissions from qualifying purchases. You can support the site directly via Paypal donations ☕. Thank you!
See also TOP 10 Soundbars & Soundbases
As noted at this year's IFA GPC [see p22], the soundbar market is surging. There's plenty of choice too, from budget models to Dolby Atmos power pushers. LG's SL8YG is one of the latter – a  soundbar/sub combi with cinematic immersion on its mind.
It's mid-range, and not LG's biggest offering In 2019. That would be the SL10YG, a 5.1.2-channel design. This smaller sibling does away with side-firing drivers for a 3.1.2 implementation, and offers a cash saving of up to £. Considering you can still add LG's SPK8 wireless surround speakers as an optional extra for £, and get a native five-channel flatbed, you might consider this 'bar the better option. Sandwiched between is the SL9YG, which doesn't offer a centre channel but retains the surround drivers for a 4.1.2 effect.
Once again this year LG has roped in UK sound brand Meridian Audio for collaboration on Its home cinema products, only we're told the relationship runs deeper than before, beyond mere sound-tuning. New is Meridian Upmixer, designed to tailor stereo music content to the bar's three-channel presentation.
While price will effect what LG soundbar you might plump for, so will size. The SL8YG Is, at Just over a metre wide, targeted at TVs beginning at 49in. That's not to say it doesn't have the attributes to join a larger set.
The 'bar looks much like LGs of yore, with its twin upfiring drivers prominent on the left and right ends of a grey chassis with wraparound mesh grille and round edges. A front LED display sits to the right of centre (because that's where the centre channel driver is).
The front channels each get a tweeter and midbass, while the Atmos units are single full-range 2.5in affairs.
Power is rated at 440W, but this includes the 220W built into the wireless subwoofer. LG's bassmaker features a 7in front-firing woofer (ported to the rear) and looks a little more nondescript, with three sides covered in black cloth and a blank, grey top plate. It feels a little less solid and well put together than the 'bar, too.
The G appending the soundbar's model number denotes it integrates Google Assistant, allowing it to be used to control other Google gadgets in your home. There's also Google Chromecast and Bluetooth provision.
The handset Is mid-sized, with large keys for volume, function (source) and mute. You'll also find a key to cycle through sound modes – Movie, Music, ASC, Standard and Bass, plus channel level control, which Is useful to boost the centre or overhead channels.
Physical hookups are one HDMI input (with 4K HDR passthrough Including Dolby Vision) and an HDMI (ARC) output. There's also an optical input and a USB port.
Familiar feel
It doesn't take long listening to the SL8YG before I'm revisiting my notes on LG's SK10Y [reviewed in HCC #288]. It seems to plough the same furrow, In that It has a big, bold confident sound with plenty in the tank for largescale moments. It's very much a crowd pleaser.
Chapter 6 of Jurassic World: Fallen Kingdom (Blu-ray, DTS:X) begins with army trucks trundling across Isla Nublar before our hero Owen (Chris Pratt) surveys the volcanic rumblings. The noise of the vehicle engines pans across the SL8YG's LCR stage, while the 'quake ruptures pleasantly (if a little subtly) from the woofer.
More distinct details come across well. As the team enters the old complex HQ, the tap of a door keypad has electronic sparkle, while the scratch of cables being plugged In or the whine of old lockers being opened are clean and well-projected.
And there's a nice scale to its native DTS:X presentation. The sound Is deep and vertical to a point. Later In the
Front-firing L/C/R drivers are Joined by twin upfirers
2. The small, plastic remote offers Sound Effect and EQ keys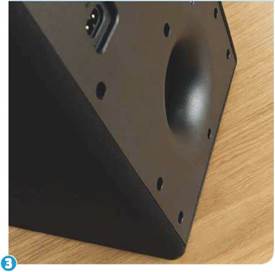 chapter, when Owen enters the jungle in search of Blue, he pauses as a flock of dinobirds pass overheard.
The effect Is clearly that of height, albeit ahead of me.
Later still the Isla Nublar volcano erupts and havoc ensues. Claire and Franklin are trapped as dust falls from the control room celling – a distant voice shouts 'let's get out of here!'. Michael Giacchino's score rises in tension with brassy stabs. It's a nice smorgasbord of sound that the LG serves up with panache and a pleasingly warm tone.
Dialogue is always clear, whether it's the deliberately gruff ramblings of Ben Affleck's Batman (…Dawn of Justice, Blu-ray) or the more dulcet tones of …Fallen Kingdom's Bryce Dallas Howard.
Fallen Kingdom's Indiana Jones-inspired volcano fleeing scene (Chapter 8) gives the 'bar more chance to show off its height presentation and LFE handling, as lumps of molten lava plummet to the ground and towering dinosaurs romp past. One crashes through a fallen tree with an almighty thwack; LG's wireless sub brings the required depth.
Something different
Reflected sound Is a tricky business. It's not only about the 'bar, but where you place it and the attributes of your room. As I'd expected, a run through of Dolby's Atmos demo clips from a test disc finds the SL8YG falling to fully envelop when used in my living room (which has standard height ceilings). I'd expect the trick to be better with additional rears, of course. The falling rain of the Amaze trailer is better delivered than the more precise bird-flapping-its-wings flypast. Yet it's still able to pan and steer effects with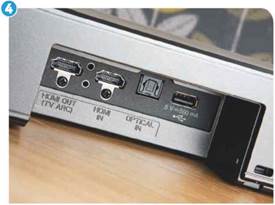 distinction, and has an immersive feel that eludes two- channel products. It's not the 5.1 discrete home theatre of old, but something different.
The soundbar offers much more user control when a non object-based track Is In play. With such sources, my advice would be perhaps to skip the ASC (Adaptive Sound Control) and Standard presets and switch to Movie or Bass Blast. Movie increases the projection and scale of the soundstage, while the latter largely does as advertised.
All of the presets can be played with a Surround mode on or off (although activating this is convoluted, as it Involves a three-second press on the remote's EQ key – a dedicated button would have been more sensible). This brings the upfirers into play with stereo signals on all presets. If you want native two-channel playback (without the centre channel or upfirers), use the Music, Standard or ASC modes with Surround off.
Edge of Tomorrow's DTS-HD MA mix sounds undernourished in Standard Mode; a bit congested and unexpansive. As the troops banter on the dropship and then plummet Into the beach battle chaos, there's strong dialogue and effects, but it lacks verve and body. Introducing Bass Blast or Movie is like (to borrow an audiophile phrase) lifting a veil. Only in this case it's more like lifting a heavy curtain.
A friend of 4K BD
Juggling the SL8YG's sound modes and finding its best position make It not quite plug-n-play, but that shouldn't detract from an overall enjoyable performance, while DTS:X and Dolby Atmos playout, plus 4K HDR passthrough, make this a solid partner for a UHD disc collection. There's strong competition from Samsung, Sony and others at this price, but LG's system does enough to be worth an audition
HCC VERDICT
4.5/5
This system's 3.1.2 presentation doesn't fully envelope, but still appeals. Sound delivery is energetic and full-range. Make sure to experiment with the sound presets.
Best LG SL8YG prices ?
MORE DEALS

See also TOP 10 Soundbars & Soundbases
SPECIFICATIONS
DRIVE UNITS: 3 x 0.75in soft dome tweeters; 3 x 1.5in x 4in mid bass drivers; 2 x 2.5in upfiring units 0NBOARD POWER (CLAIMED); 440W total CONNECTIONS:
1 x HDMI input; 1 x HDMI output (ARC); optical digital audio input; USB DOLBY ATMOS/DTS:X: Yes/Yes SEPARATE SUBWOOFER: Yes 7in driver, ported REMOTE CONTROL Yes. DIMENSIONS (SOUNDBAR): 1,060(w) x 57(h) x 119(d)mm WEIGHT (SOUNDBAR): 4.4kg
FEATURES: Dual-band Wi-Fi; Meridian technology; 24-bit/96kHz upsampling; Standard, Movie, Music, Bass Blast, ASC sound presets; Google Assistant built-in; AV sync; channel level control; wireless rear speakers (optional)
PARTNER WITH
PANASONIC DP-UB450:
With this new-for-2019 Ultra HD deck, Panasonic has lowered the entry price of Dolby Vision and HDR10+ disc playback to a tempting £. The compact design makes it easy to accommodate too.
3. When siting the sub, gives Its rear port space to breathe
Use the bar's HDMI Input, or route sources through your TV and ARC