John Archer has seen things you people wouldn't believe. An 88in 8K OLED, to be exact. Read our LG OLED88Z9 review.
AV INFO
PRODUCT: 88in 8K OLED TV with Dolby Vision HDR
POSITION: LG's flagship TV, by some distance
PEERS: Samsung QE82Q950R; Sony KD-85ZG9
While there are now a number of 8K LCD TVs out there, 8K OLED displays are few and far between. In fact, at the time of writing there's only one. Yet while its status as the first 8K OLED makes LG's 88Z9 a subject of great excitement for fans of cutting-edge AV tech, actually owning one is… a challenge.
Its screen is a massive, room-threatening 88 inches across.
7Review earns Amazon affiliate commissions from qualifying purchases. You can support the site directly via Paypal donations ☕. Thank you!
See also TOP Televisions
and The best OLED TV deals 2022: get an awesome OLED at the lowest price
1. The Z9 uses an 8K-optimised version of LG's Alpha 9 Gen 2 processor
Ouch. I haven't accidentally added an extra '0' to that figure. By comparison, Samsung's 82in QE82Q950R 8K LCD TV [see HCC #300] sells for a meagre £. So to tempt early adopters (the 8K market can still be considered to be in its infancy) LG's 8K OLED debut needs to be very special.
Perhaps acknowledging that fact, the Z9 features an extraordinary, stop-and-stare design. Despite its enormity, the screen is dazzlingly slim in that way only OLED can be, and its appeal is emphasised by the way the screen appears to simply rest on top of LG's cabinet-style floor stand. This is flatscreen and furniture combined, but also gives the company more scope to get smart with sound system integration, tucking two bass drivers into its base.
Another box to tick
The TV's design makes a good impression, but the spec sheet might cause some headscratching. It carries four HDMIs, all built to the v2.1 standard enabling 8K playback at up to 60Hz (or 4K at up to 120Hz); eARC passthrough of lossless multichannel audio; automatic game mode switching; and variable refresh rate gaming. Yet, with physical 8K sources in short supply, the set is also supplied with an external 8K 'upgrade' box. This attaches to one of the TV's HDMI ports (and draws power from a USB socket), and handles playback of 8K content from USB. It adds clutter to an otherwise sleek system, but will enable the TV to support the AV1 compression format expected to be key to getting 8K into homes in the years to come. And, says LG, whatever other codecs gain traction.
The OLED88Z9's pictures are powered by an 8K-optimised version of LG's Alpha 9 Gen 2 processor. This delivers all the dynamic tone mapping, colour and contrast benefits we've seen with LG's 4K TVs, plus enhanced upscaling to calculate the vast amount of extra pixels needed to remap 4K, HD and even SD footage to the screen's native 7,680 x 4,320 resolution.
The set gets a full implementation of LG's WebOS smart system, as you would expect. This covers Freeview Play, Netflix, Amazon Prime Video, Now TV, YouTube, Rakuten and so on, as well as (following a recent update) Apple TV.
HDR support comprises Dolby Vision, HDR10 and HLG. There is no support for the HDR10+ format, an LG strategy that's beginning to be annoying.
You can control the OLED88Z9 using your voice via LG's own ThinQ AI system, Google Assistant or Amazon Alexa, all without needing any external hardware.
Big and beautiful
Image quality from this 8K monster screen is stellar. Unprecedented, even. The benefits of the pixel-pushed format are revealed emphatically. The combination of screen size and OLED technology's ability to have each pixel produce its own light and colour brings out luminance, colour and fine detail nuance in a way that LCD TVs
– which have to use external backlights to address tens, even hundreds of thousands of pixels – cannot.
My native 8K showreel (comprising various demonstration clips and an HDR compilation of nature scenes authored by Spears & Munsil) looks breathtaking. Largescale vistas enjoy an astonishing sense of depth, realism and three-dimensionality, while close-ups of butterflies and lizards are so detailed and pristine that actually the whole notion of detail arguably becomes irrelevant. You have to remind yourself you're looking at pictures on a screen.
This feeling of watching reality is an established 8K effect, but the subtlety of light and colour control the OLED tech introduces takes it one step further. And issues such as visible pixel structure and stepped object edges
'Close-ups are so detailed and pristine you have to remind yourself you're looking at pictures on a screen'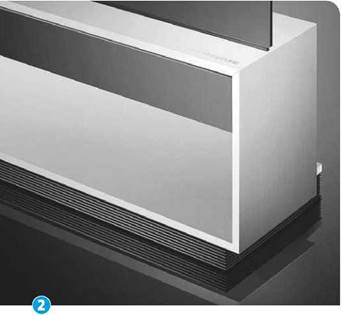 that would be obvious on any lower-res 88in panel aren't a concern.
Given how little native 8K content there is available, the OLED88Z9's 4K upscaling engine is required to do a lot of heavy lifting. In side-by-side tests, using the beautifully refined images of the Blade Runner 2049 4K Blu-ray and one of Samsung's latest 8K TVs, LG's upscaling came up trumps, resulting in pictures that even from normal viewing distances felt sharper and more detailed.
The shot outside Sapper Morton's farm, as K arrives to 'investigate' him, has markedly more texture in areas such as the sandy ground. The background machinery and the
'There's a level of intensity to its HDR playback… it feels like the Z9 is producing more brightness than it actually is'
yellow door frame of Morton's home look cleaner and more three-dimensional.
Making 4K look so enticing on its debut 8K OLED TV is an impressive achievement for LG, and a critically important one for any 8K model. Upscaled HD and SD material, however, can look really quite soft, proof that there's currently only so much that can be achieved with low-res content.
The Z9 is peerless with black level and local contrast, as you'd hope given its OLED foundation. Highlights and deep blacks can exist side-by-side with neither compromising the other. Colours, meanwhile, look beautifully refined, even more so if you're viewing a Dolby Vision source, which gets the most from the screen's contrast and 10-bit colour capabilities.
And as usual with OLED, the 88Z9 has an exceptional viewing angle, with no compromise to its immense detail during off-axis viewing.
Nit-picking
An area where the OLED88Z9 loses out to rival 8K TVs from Samsung and Sony is its native brightness. LG's set peaks at around 800 nits, whereas Samsung's 8K sets comfortably hit between 1,500 and 4,000 nits, depending on model, and Sony's ZG9 [see HCC #301] reaches 3,000 nits. This means the OLED88Z9 can't reveal the same exceptionally bright light peaks in aggressive HDR content, or render boldly mastered HDR content with so much baseline brightness. Nor can it deliver as much colour volume.
Balanced against this, though, is the subjective impact of its pixel-level illumination. There's a degree of intensity to its HDR playback that feels like the OLED88Z9 is producing more brightness than it actually is.
There are a few other chinks in its performance armour. The screen itself is quite reflective, meaning consideration of ambient light sources will be required to get an optimum viewing experience. I also felt the Z9 exaggerated compression noise in dark image areas, and occasionally suffered a little from detail crushing in those areas too. This latter issue isn't severe enough to give pictures a flat or hollow vibe, and I'd argue isn't typically something you'd notice except during side-by-side comparisons with other screens.
The speaker system – a 4.2 config – is adequate but lacks the scale and power to do justice to the Z9's premium largescale visuals. Sound via its Dolby Atmos setting is surprisingly underwhelming, too; I enjoyed a better performance by switching to the AI Sound mode. Buyers should retain some cash for an external solution.
8K all-rounder
The Z9 shows room for improvement, but still manages to be the all-round best-performing TV I've ever had the pleasure to view.
Of course, while LG is first out of the gate with an 8K OLED, other brands will follow suit. I can't wait for the competition to begin
VERDICT
LG OLED88Z9 review
Even without Hollywood 8K content to unlock its full charms, the OLED88Z9 is the finest TV I've tested. Unfortunately it's also the most expensive.
Add your review
Best LG OLED88Z9 prices ?
MORE DEALS

See also TOP Televisions
and The best OLED TV deals 2022: get an awesome OLED at the lowest price
2. The TV's stand integrates the 4.2-channel sound system – and provides space for source gear
SPECIFICATIONS
4K: Yes. Actually 8K, 7,680 x 4,320 resolution HDR: Yes. HDR10; HLG; Dolby Vision TUNER: Yes. Freeview HD; Freesat HD CONNECTIONS: 4 x v2.1 HDMI inputs; 3 x USBs; RF input; Ethernet; digital optical audio output; headphone output SOUND (CLAIMED): 80W, 4.2-channel BRIGHTNESS (CLAIMED): N/A CONTRAST RATIO (CLAIMED): N/A DIMENSIONS (ON STAND): 1,961(w) x 1,456(h) x 281(d)mm WEIGHT (ON STAND): 102kg
FEATURES: Alpha 9 Gen 2 8K processor; Bluetooth (v5.0); Wi-Fi; WebOS smart platform; Alexa/Google Assistant/LG ThinQ AI voice control support; OLED panel technology; ALLM and VRR gaming support; eARC; One Touch Sound Tuning
PARTNER WITH
PARADIGM PERSONA 5.1: Why not add a speaker package to LG's premium display? This 5.1 setup deliver's bruising bass from its six-driver sub, and a largescale performance with exceptional resolution and nuance.