50 LG OLED65G7
AV INFO
PRODUCT:
65in 4K OLED TV with integrated soundbar
POSITION:
Below LG's W7 'wallpaper' model
PEERS:
7Review earns Amazon affiliate commissions from qualifying purchases. You can support the site directly via Paypal donations ☕. Thank you!
See also TOP Televisions
and The best OLED TV deals 2022: get an awesome OLED at the lowest price
Sony KD-65A1; Samsung QE65Q9F
The high-end Signature G7 sees LG pimping out its 4K OLED Line. Steve May wonders if he's worthy
OLED without compromise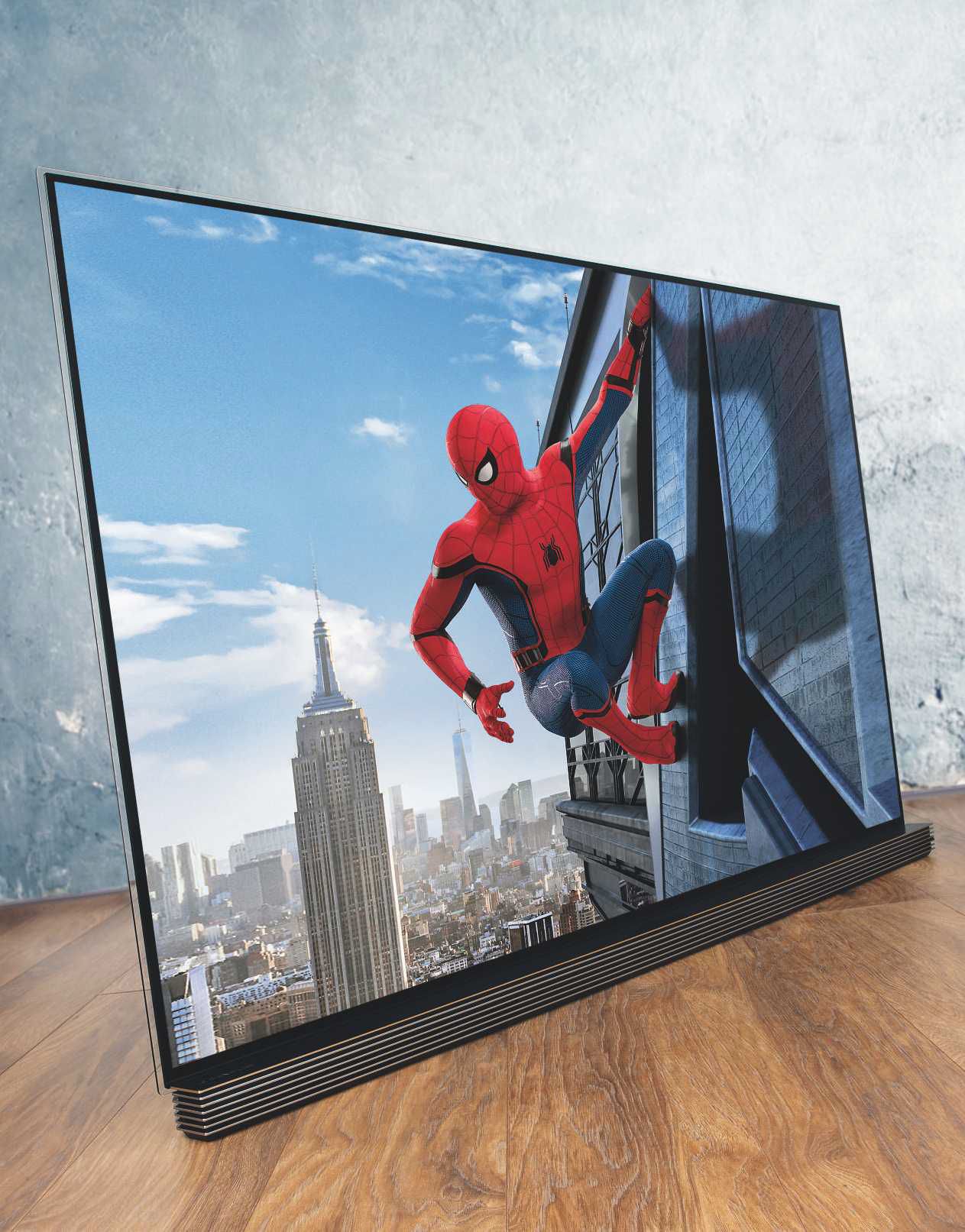 LG's waLLpaper W7 may have been hogging the OLED TV Limelight this year, but the real hero in LG's current Line-up is perhaps the Signature G7. It combines the picture prowess of the brand's Latest OLED paneL technoLogy with a quaLity of finish that wouLdn't Look out of pLace in a Dubai cocktaiL bar. For many, this supermodeL will be a more LikeLy purchase than its step-up stablemate.
It's undeniabLy flamboyant and flashy, but if you're prepared to make a premium investment in TV tech, you'LL be hard pressed to find something more deserving
okay, there's B&O's EcLipse (p68), but that's even more premium.
The G7 is avaiLabLe in 65in and 77in screen sizes (the Latter being prohibitiveLy expensive – if you must ask), and ranks above the brand's B7, E7 and C7 modeLs.
The buiLd of the G7 is designated as 'picture on gLass,' and it's a worthwhiLe description. The paneL is joined to a gLass backing, which is iLLustrated with a pseudo carbon fibre pattern. This at Least gives the impression of rigidity
I aLways fret when Lugging OLED TVs about, as they tend to feeL quite fragiLe.
The paneL is wafer-thin, with tuner and eLectronics Located on the back and in the pedestaL pLinth, rather than in a chunky backpLate buLge. This base, which can be repositioned through 90 degrees to aLLow the G7 to be waLL-mounted, houses four HDCP 2.2-equipped HDMI inputs, pLus three USB inputs (one v3.0), an opticaL digitaL audio output and Ethernet.
BuiLd quaLity is soLidLy impressive. Weighing in at cLose to 32kg, this is a hefty modeL. And the screen makes a design feature of its in-buiLt soundbar with a griLLe that wouLdn't Look out of pLace on a supercar.
HDR as far as the eye can see
This 4K TV is ULtra HD Premium certified, and is HDR10 and DoLby Vision compatibLe, with HLG broadcast support Lined up for whenever Sky/BBC get their act together. TechnicoLor HDR is another promised format addition, deLivered by a firmware update at some point.
Somewhere amidst aLL this is LG's own Active HDR management, a tooL tied into its Dynamic Contrast setting in the Expert Picture menus. This aims to insert dynamic metadata into incoming HDR materiaL – on the fly – on a frame-by-frame basis. Be aware that, if you're the kind who switches off aLL processing modes out of habit, deactivating Dynamic Contrast wiLL disabLe Active HDR.
UnfortunateLy, as with the rest of LG's current range, there's no 3D support. And whiLe the provision of a DoLby Atmos decoder is intriguing, this was Limited to content deLivered in a DoLby DigitaL PLus container (which is to say from Sky, BT TV and Netflix) during my review, with TrueHD-based streams from BLu-ray unsupported.
LG had said previousLy it wouLd address this shortcoming with a firmware update, and – after my sampLe was returned – did indeed make this avaiLabLe. However, the firmware roLLout was then suspended due to a technicaL 'issue', with LG confirming to me that it wiLL be reLeased again soon.
The set is as connected as its LG brethren, meaning you get the WebOS pLatform (v3.5), with its Launch Bar offering icons for apps and inputs, pLus customisation.
LG's menu navigation is reasonabLy fast, aLthough there often seems a surfeit of sub menus to navigate.
Freeview PLay support means you get a fuLL coLLection of catch-up TV pLayers, as weLL as Netflix, Amazon Video and YouTube. The Latter stream in 4K. There's aLso Now TV, and a host of Less famiLiar services.
It's a knockout
When it comes to picture performance, the G7 doesn't disappoint. Image quaLity is a knockout, with both HD and UHD sources. It's the same story as with the brand's other 2017 OLED modeLs, reaLLy.
And, as with LG's other OLEDs, there are menu tweaks to make before settLing down to view: ensure that Just Scan is 'On' rather than set to 'Auto' in the aspect ratio menu, to heLp eLiminate artefacts over fine 4K detaiL;
1. The TV's base doubles up as its soundbar system
2. Both zappers are colour-matched to the G7's metallic hue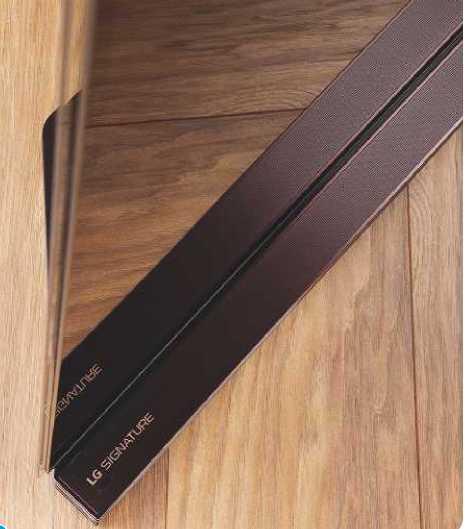 SPECIFICATIONS
3D: No 4K: Yes. 3,840 x 2,160 HDR: Yes. HDR10; HLG; Dolby Vision; Technicolor HDR (firmware); Active HDR TUNER: Yes. Freeview (Freeview Play); satellite CONNECTIONS: 4 x HDMI inputs; 3 x USB; digital optical audio output; Ethernet SOUND (CLAIMED): 60W, 4.2-channel BRIGHTNESS (CLAIMED): 'Ultra luminance' CONTRAST RATIO (CLAIMED): N/A DIMENSIONS (OFFSTAND): 1,461(w) x 883(h) x 243(d)mm WEIGHT (OFFSTAND): 31.7g
FEATURES: Built-in Wi-Fi; MiraCast; Bluetooth; USB multimedia playback; WebOS 3.5 connected platform with Magic Remote; Dolby Atmos over IP audio decoder; Netflix 4K; Amazon Video 4K; YouTube 4K
PARTNER WITH
MARANTZ NR1608: This slim-line AVR has the style chops to do LG's G7 justice, plus seven-channel Atmos and DTS:X playback (for 5.1.2 setups). Movie performance is lithe and immersive, while hi-res audio support and HEOS cap off the spec sheet.
avoid the Sports mode as it over-eggs colour response; and, most of the time, set TruMotion to 'Off'.
The latter, actually, is where the LG really does blot its copybook. Motion handling is average, and the TruMotion processing is a heavy-handed solution to motion judder and loss of moving detail. Both the Clear and Smooth options conjure obvious artefacts around moving objects. It's an area where the brand should make improvements next year. My advice is to tweak the User setting; for instance, I found sports material benefiting from Dejudder set to '4' and Deblur to '10'.
The G7 is monstrously impressive – HDR dynamics are profound and the in-built sound system rocks
Still, LG's image presets (apart from Sports) are well-judged, with Standard a good choice for watching in environments with ambient light, and Cinema an option for lights-out viewing. When fed an HDR source, the presets are automatically adjusted to suit.
OLED's traditional deep blacks ensure dynamism, and guarantee that films look like films. Any CinemaScope ratio Blu-ray makes an immediate impression with the unsullied blackness of its top-and-bottom bars, where other displays can render these as splotchy and uneven.
Black crushing caused by tone-mapping UHD Blu-ray content is negligible, and the screen has enough brightness to contrast well. A 5 percent window peak luminance measurement, using the Standard image preset, exceeded 700 nits. This translates to a powerful, yet comfortable, HDR viewing experience.
There continues to be a good deal of hype around Dolby Vision. It uses dynamic metadata to optimise HDR content on a frame-by-frame basis, but its implementation can be a bit unpredictable. Here, though, Marvel's Jessica Jones (Netflix) benefits from subtle use of the tech, optimising light sources to give a natural look.
The TV also has a superb colour performance, with the costumes and set design of Star Trek Discovery (Netflix) providing plenty of opportunities for its expansive palette to dazzle the eye.
This 10-bit panel upscales HD to 4K with assurance.
If you have a significant collection of Blu-ray discs, expect this screen to give them a new lease of life. It's SDR presentation has cinematic sparkle. When Deckard first meets Rachel ('Do you like our owl?'), in Blade Runner:
The Final Cut (Blu-ray), the room is heavily shadowed, yet it remains beautifully lit. Jordan Cronenweth's celebrated cinematography is fittingly handled.
Sound is often a thin-screen's downfall, but not here. The integrated soundbar is very effective. It's has a warm delivery and there's plenty of volume to abuse (power is rated at 60W). Yet while LG optimistically describes it as 4.2-channel, the output doesn't come close to surround sound, even with that previously mentioned Dolby Atmos decoder onboard. The form factor here simply can't offer an Atmos listening experience.
Partnering the TV with an Atmos-equipped AVR, routing Atmos bitstreams over HDMI ARC, is the obvious solution. A soundbar upgrade, on the other hand, wouldn't offer significantly more than the TV's own speakers with most content.
Class swot
Firmware delays notwithstanding, the G7 is monstrously impressive. As part of LG's Signature portfolio, it's convincingly best-in-class. HDR dynamics are profound, the WebOS smart platform sophisticated and that integrated sound system rocks.
There are, of course, serious challengers on the OLED front. Panasonic, Sony and Philips all offer high- performing, better-value rivals. Yet the G7 is never outmanoeuvred, and offers enough differentiation (Atmos decoding, swivel-base stand…) to warrant its place
VERDICT
WESAY: The Signature G7 can be considered a glorious OLED indulgence. Frighteningly expensive, but it's a beautiful screen with a sublime AV performance.
3. The 'picture-on- glass' design is, says LG, 'future-oriented'…
LG OLED65G7 Review
The Signature G7 can be considered a glorious OLED indulgence. Frighteningly expensive, but it's a beautiful screen with a sublime AV performance.
Add your review