LG has released a 4K HDR OLED TV for the masses – John Archer discovers if a less-powerful processor leads to a less impressive picture performance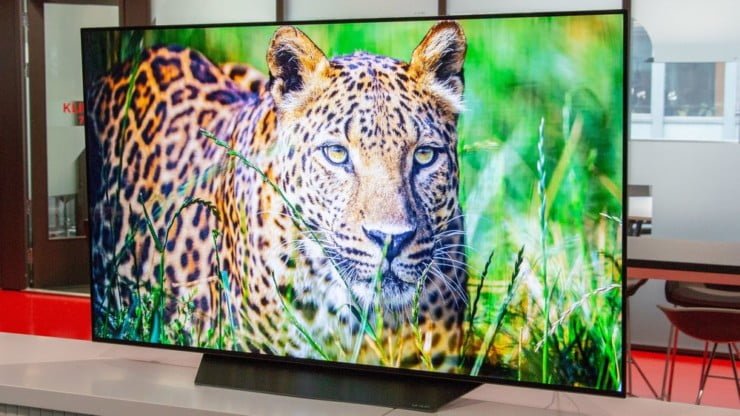 AV Info
55in 4K HDR OLED TV
LG's entry-level OLED TV for 2018
Peers: LG OLED55C8; Samsung 55Q8DN; Sony 55XF9005
FOR THE PAST few years. LG has pursued a policy of giving every OLED TV series in any given year's range more or less the same picture quality. For 2018, though, it's trying something different. Its entry-level B8 TVs use a less powerful processor than C8.
This £ saving could make the OLED55B8 a genuine game-changer. Provided its cost-saving measures haven't seriously impacted its performance.
The TV doesn't look cheap. It boasts OLED's extreme slimness around its top edges, and its 'single layer' front is gorgeous. The set widens towards its bottom edge to accommodate speakers, tuners and processors, but it still looks ridiculously opulent for a mid-price model. There are two OLED55B8 design iterations. The B8PLA I'm auditioning is sold at Currys, and uses an angled-down, neckless metal-plate stand. The more widely available B8SLC option uses a small neck attached to a boomerang- style stand.
Tuner inputs for both Freeview HD and Freesat HD join the TV's quartet of HDMIs (all v2.0) and trio of USB ports.
Use Ethernet or Wifi to sample the set's network features, accessed through LG's slick, attractive and straightforward webOS platform. Streaming video services support 4K and HDR where available. Smart features engage nicely with LG's new voice recognition system, too.
back to menu ↑
B for B grade?
The OLED55B8's pictures, it turns out. aren't as good as those of the C8 series.
The star of the show, as usual with OLED. is black level. There's no hint of general greyness, and bright objects that stand out against darkness appear without seemingly a pixel of light 'leakage'.
What's more, the intensity of such standout HDR image elements is phenomenal since, unlike LCD technology, there's no need for the OLED55B8 to dim bright highlights to preserve black level uniformity.
Colours look rich and pure, but also balanced and natural. There's a decent amount of tonal subtlety on show in gorgeously lush Darkest Hour (Ultra HD Blu-ray) sequences such as those in Buckingham Palace. But there's also more consistency than LCD TVs can muster with trickily-lit environments such as Churchill's war committee meetings.
back to menu ↑
SPECIFICATIONS
3D: No 4K: Yes. 3,840 x 2,160 HDR: Yes. HDR10; Dolby Vision; HLG TUNER: Yes. Freeview HD; Freesat HD CONNECTIONS: 4 x HDMI inputs; 3 x USBs; Ethernet SOUND (CLAIMED): 40 W (2.2 configuration) BRIGHTNESS (CLAIMED): N/A CONTRAST RATIO (CLAIMED): N/A DIMENSIONS (OFF STAND): 1,228(w) x 707(h) x 47(d)mm WEIGHT (OFF STAND): 16.3kg
FEATURES: Built-in Wi-Fi; USB multimedia playback; Alpha 7 processor; ThinQ AI smart system; voice control; webOS smart system, Dolby Atmos sound decoding; Bluetooth
Note the B8 is available with two stand options
The OLED55B8 handles standard dynamic range content beautifully too, and video gamers will love that it only takes around 20ms to render its pictures.
So where do the B8's pictures fall short of the C8? It's not as good at upscaling sub-4K sources, for starters. Results look softer and less detailed. Its motion handling is marginally less natural too, and its colour handling isn't as precise or consistent.
Finally, very dark areas can look slightly noisier on the B8, and its pictures aren't as bright. A measured figure of 680 nits on a 10 per cent white HDR window is a substantial 120 nits or so down from the C8 range. This is arguably the single most compelling reason to find that £ more. Punchier OLED displays have hit the market this year, and the B8 feels like a bit of a step back.
The TV's audio is unexpectedly good.
The mid-range is open, dynamic and clean, and the soundstage is detailed and spreads way beyond the screen, both vertically and horizontally, particularly if you're playing something that takes advantage of the B8's integrated Dolby Atmos decoding.
The only catch is that the sound tends to compress rather than swell when meaty action scenes kick in.
back to menu ↑
Hard to resist
The OLED55B8 is a great – and arguably overdue – idea by LG, introducing its premium display technology to a wider audience.
Yes, there are reasons to spend £ more on the C8 55-incher, but any TV that still delivers as many of OLED's picture strengths while costing so little (relatively speaking…) is hard to resist
back to menu ↑
HCC VERDICT
LG OLED55B8 Review
Although not as good as LG's step-up range, the B8 remains a fantastic way for more people to embrace the joys of 4K OLED.
Add your review
LG OLED TV with AI (Artificial Intelligence) ThinQ has the Google Assistant built in, so you can control compatible smart home devices using just your voice through the LG Magic Remote. Create a center for your smart home and beyond. Plus it works with Amazon Alexa devices (sold separately).
Usually ships in 24 hours
& Free shipping
Last update was on: February 24, 2020 3:45 am
LG OLED TV with AI (Artificial Intelligence) ThinQ has the Google Assistant built in, so you can control compatible smart home devices using just your voice through the LG Magic Remote. Create a center for your smart home and beyond. Plus it works with Amazon Alexa devices (sold separately).
The α7 Intelligent Processor inside the OLED B8 enhances 4K HDR content for a truly cinematic experience. Enjoy a more lifelike picture with superior depth, sharpness, and remarkably accurate color
Pixel Level Dimming enables each of the 8.3 million individually lit pixels of the LG OLED TV with AI ThinQ to brighten, dim or power off completely, achieving perfect black and displaying a level of picture detail impossible with any other television technology.
4K Cinema HDR on LG OLED TV with AI ThinQ features comprehensive support of major high dynamic range formats including Dolby Vision, as well as HDR10 and HLG, both with LG's advanced tone-mapping technology that provides scene-by-scene optimization.
Dolby Atmos is the same audio technology developed for state-of-the-art cinemas, with immersive sound that appears to come from everywhere, putting you in the middle of all the excitement.
LG OLED Display uses the latest panels, with brighter, self-illuminating pixels that deliver perfect black and intense color. LG OLED TV with AI ThinQ brings movies, sports, games and more to thrilling new life.
Inputs: 4 HDMI, 3 USB, 1 RF, 1 Composite in, 1 Ethernet, 1 Optical, 1 RS232C (Mini Jack) and Audio Return Channel Support via HDMI.