Has LG's smallest ever OLED TV arrived just at the right time? John Archer swaps his 4K Blu-ray player remote for his Xbox joypad. Read our LG OLED48CX Review.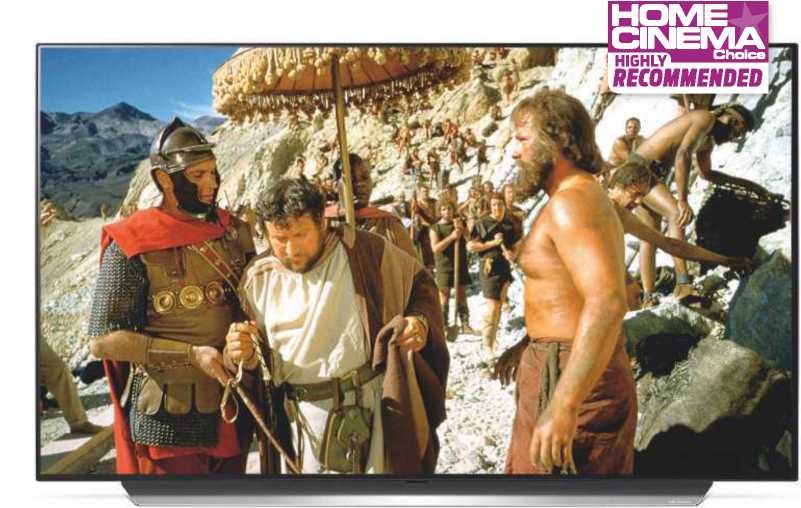 Av Info
PRODUCT: 48in 4K OLED TV with Dolby Vision and HDMI 2.1
Position: The CX series sits in the middle of LG's 2020 OLED range
DEERS: Sony KD-48A9; Philips 55OLED805
TYPICALLY AT HCC we celebrate the larger things in TV life. But we're happy to make an exception today for LG's OLED48CX: the world's first 48in OLED TV.
This finally provides an OLED option for people who just can't handle a 55in display in their living room. Its price also undercuts the larger 55in CX model by around £ – but while a saving is always welcome, I'd argue it isn't quite enough of a price cut to stop the OLED55CX looking the better value of the two models. So get your tape measure out before you buy.
The relatively petite size of the OLED48CX also feels tailor-made for 2020's hot demographic: gamers. Its 48in panel should fit nicely into studies or dedicated gaming dens, and makes it easier for gamers to take in the whole screen at once rather than having to 'waste time' flitting their eyes around it.
And its from this angle I initially approached the OLED48CX, as I have both the new Xbox and PlayStation consoles pre-ordered for a November arrival…
7Review earns Amazon affiliate commissions from qualifying purchases. You can support the site directly via Paypal donations ☕. Thank you!
See also TOP Televisions
and The best OLED TV deals 2022: get an awesome OLED at the lowest price
Those machines will carry features such as 4K/120fps graphics, variable refresh rates, and low latency mode switching. All of which are supported across all four of the CX's HDMI ports. This would enable you to simultaneously attach a PS5, an Xbox Series X and a PC with an Nvidia RTX 30 4K-capable graphics card, if you were so inclined.
No other TV range in 2020 offers such extensive compatibility.
Support for Dolby Vision (but not HDR10+) also gives this TV a gaming edge over some rivals, given Microsoft's announcement that it will be supporting Dolby's premium HDR format for gaming and streaming.
Metro-sensual
The OLED48CX's performance backs up its gaming credentials, not least its super-fast 13ms response time in Game mode. What's more, unlike some LCD TVs, this LG barely seems to compromise its picture quality at all to deliver such a low input lag. With the dynamic and complex graphics of Metro: Exodus (Xbox One) black levels stay deep and consistent, colours are rich, and motion remains clean even without LG's motion processing in play.
Off-axis viewing is good, too, thanks to the backlight-free nature of OLED. Handy if you've invited a few friends around for a multiplayer gaming session.
SPECIFICATIONS
4K: Yes HDR: Yes. HDR10; HLG; Dolby Vision TUNER: Yes. Freeview HD; satellite HD CONNECTIONS: 4 x HDMI inputs (v2.1); 3 x USB; Ethernet; optical digital audio output; headphone output SOUND (CLAIMED): 40W BRIGHTNESS (CLAIMED): N/A CONTRAST RATIO (CLAIMED): N/A DIMENSIONS (OFF STAND): 1,071(w) x 618(h) x 46.9(d)mm WEIGHT (OFF STAND): 14.9kg
FEATURES: Built-in Wi-Fi and Bluetooth;
USB multimedia playback; Alpha9 Gen 3 processing engine; HGiG HDR gaming mode; 4K/120 support; Nvidia G-Sync and AMD Freesync VRR support; WebOS smart system; Dolby Atmos
AH four of the TV's HDMI inputs are v2.1
Do bear in mind that permanent screen burn is possible on OLED TVs if you view a source with a static image element (such as a game with an info bar) for very extended periods of time. So maybe don't plan too many three-day binge sessions of the same title.
While the OLED48CX is perfectly timed for the next generation of gaming, it certainly isn't only good for hooking up a console.
It retains all the film and TV picture strengths of its bigger siblings, such as peerless black levels, refined colours, extremely intense local contrast, and beautiful sharpness and detail in both dark and bright areas. It can't reach the levels of pure brightness that high-end LCD TVs can, but this doesn't equate to a lack of dynamics.
The onboard sound system is surprisingly powerful and expressive considering its tucked into such a compact (and glamorously thin) TV. There's even built-in Dolby Atmos decoding, although I think most users will prefer LG's own, more forceful- sounding AI Sound option.
Access to features comes via LG's easy to use WebOS system. There is one unexpected hiccup here, in that for some reason LG hasn't got the Freeview Play platform onboard for 2020, meaning it lacks some obvious catch-up apps.
If you can live with this issue, and aren't in need of the more immersive experience a 55in and above TV can bring, the OLED48CX's combination of blistering performance and lovely, futuristic design make it simply the most all-round gorgeous sub 50in TV I've yet seen.
Verdict
Recommended
LG OLED48CX Review
LG's 55in CX is better value, but this 48in upstart is a peerless option for small theatres and gaming dens.
Add your review
Best LG OLED48CX prices ?
MORE DEALS

See also TOP Televisions
and The best OLED TV deals 2022: get an awesome OLED at the lowest price