KLH's floorstander is an awful lot of speaker for the money, but does it have the sound to match its size? David Vivian decides. Read our KLH KENDALL Review.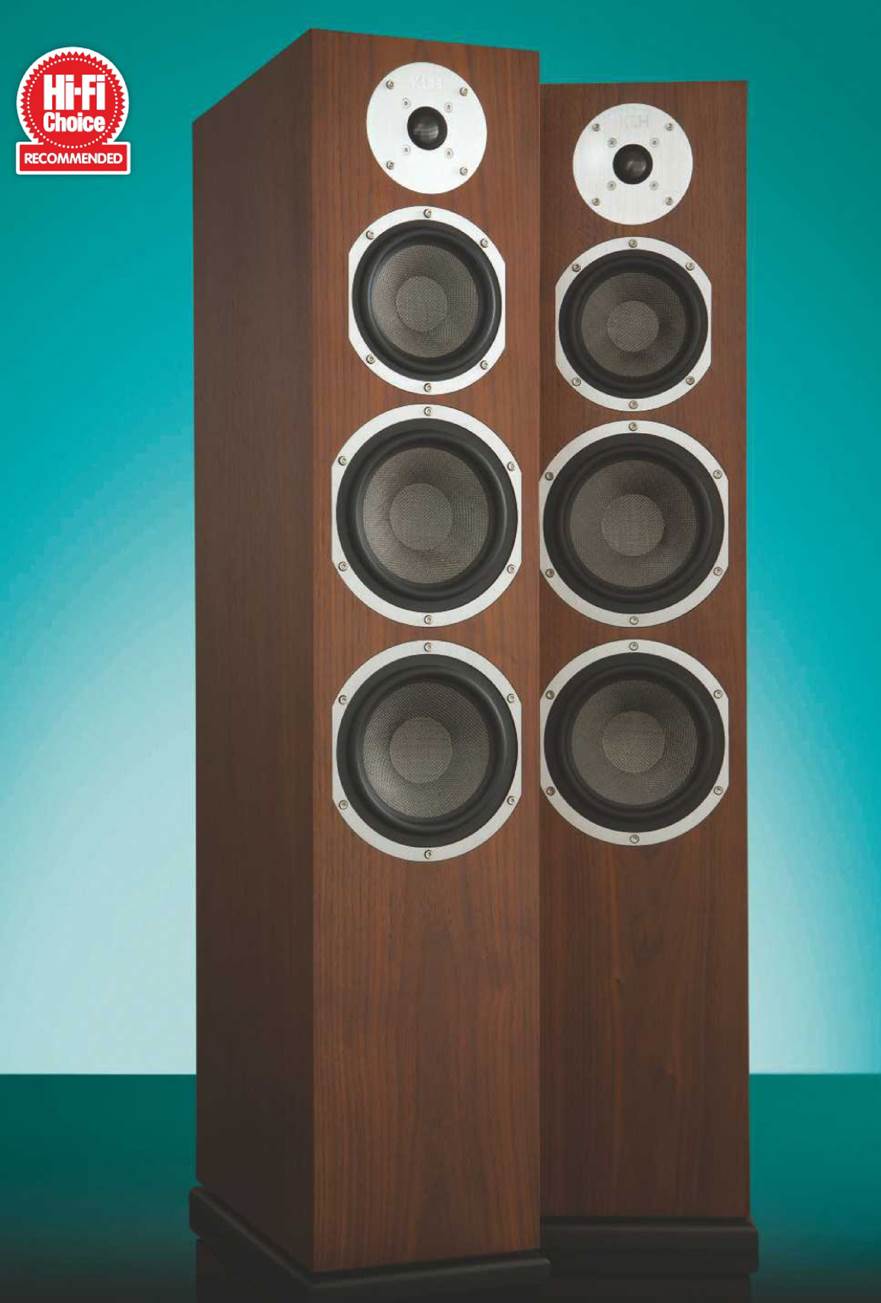 DETAILS
PRODUCT KLH Kendall
ORIGIN USA/China
TYPE 3-way floorstanding loudspeaker
WEIGHT 22kg
DIMENSIONS (WxHxD) 197 x 1,016 x 375mm
7Review earns Amazon affiliate commissions from qualifying purchases. You can support the site directly via Paypal donations ☕. Thank you!
See also TOP 10 Subwoofers
FEATURES
•  1x 25mm anodised aluminium dome tweeter
• 1x 133mm Kevlar midrange driver
• 2x 165mm Kevlar weave bass drivers
• Quoted sensitivity: 96dB/1W/1m (8ohm)
DISTRIBUTOR TBM Solution
TELEPHONE +35 319010491
WEBSITE klhaudio.eu
Our hi-fi journeys might mirror McCartney's long and winding road, but a short time after setting off some travellers will encounter a challenging curve. Let's call it buying speakers and the circa £ price point dilemma. Once, the best advice would have been to go for a monitor- class standmount, prioritising quality over quantity, but things aren't quite as clear cut any more.
Comparably priced big floorstanders have undergone a fairly radical repertoire reset in recent years,
There's a likeable sense of assurance and authority that's smooth and tuneful
offering a real (if value-orientated) taste of that high-end holy grail: fusing a wide power bandwidth with speed, resolution and refinement.
For me, the switch-up game changer has been Bowers & Wilkins' 603 (HFC 448), a beefy, well-built, three-way Brit tower dripping with trickle-down tech from its more expensive model lines that does so many things so well. My only regret is that it wasn't immediately followed up by the speaker you see here: reinvigorated American brand KLH's virtually identical take on a high- performance, three-way floorstander that's nigh on the same size and weight, shooting for the same lofty sonic goals and costing only slightly more. It's named after Kendall Square in Cambridge, Massachusetts, the town of its (original) maker's birth.
Regular readers will have already seen the KLH Albany two-way standmount last month and know that the company relaunched last year in the US with former president of global sales and Klipsch board member David P Kelly in the driving seat and now the venerable brand is selling its rebooted lineup worldwide, distributed in the UK by Dublin-based TBM Solution.
For now, the Kendall is the flagship dynamic driver floorstanding model. It's big and heavy enough to require careful and methodical extraction from its sturdy packaging but at least the process showcases the speaker's solid build and tidy real-wood veneer finish, which is a little more deluxe than the aforementioned B&W's. When it comes to finishes you get to choose between black oak or American walnut as reviewed here.
Setup is speedy as there's just a nicely engineered set of pointy-cone style spikes (or rubber feet, if you prefer) to wind into the base and links to remove from the two sets of binding posts if you're going to bi-wire or bi-amp. As for positioning, my initial set up allows just under a metre of free space from back and side walls with mild toe-in towards the listening position. If close boundary proximity is unavoidable, foam bungs for the reflex ports come supplied.
The Kendall is a three-way, bass reflex design (two rear-firing ports) toting two 165mm bass drivers, a 133mm midrange driver and a 25mm anodised aluminium dome tweeter with a brushed aluminium 'linear response' faceplate. The main drivers use woven Kevlar cones and butyl rubber surrounds in a power-coated diecast aluminium chassis, the motor systems featuring oversized magnets. KLH mentions the 'braided tinsel' internal cabling, custom-made, multi-element crossovers and high-quality components.
A couple of things leap out from the spec sheet. One is the claimed frequency response. A top-end of 23kHz is about par for the tweeter type, but bass that reaches down to 25Hz (-3dB) is very impressive – even for a strapping tower like this. The other is the quoted 96dB sensitivity, which means driving the Kendall with low-powered tube amps should be entirely feasible if you're so inclined.
Sound quality
Just like the B&W 603 that set the bar in my listening room a few months ago, here is a big speaker born to deliver an expansive, full-range sound that, as already discussed, doesn't require the services of a powerful amp to get it done. This is probably just as well as the Hegel H90 integrated amplifier (HFC 427)
I'm using has a modest 60 solid-state Watts per channel. The upsides are pretty fab low-frequency grip arising from the amp's very high damping factor, a lovely, natural tonal palette, great transparency, locked down timing and the ability to resolve as much low-level detail as the Audiolab 6000CDT CD transport (HFC 447) and Chord Electronics Hugo 2 DAC (HFC 428) front end can serve up.
Don't pay any attention to the Hegel's meagre on-paper power rating, this is a potent, talented and dynamic way to drive the Kendall and it laps it up.
Rather aptly, I think, first up is American soul legend PP Arnold's return to recording studio after a 50-year hiatus with only her second album, The New Adventures Of PP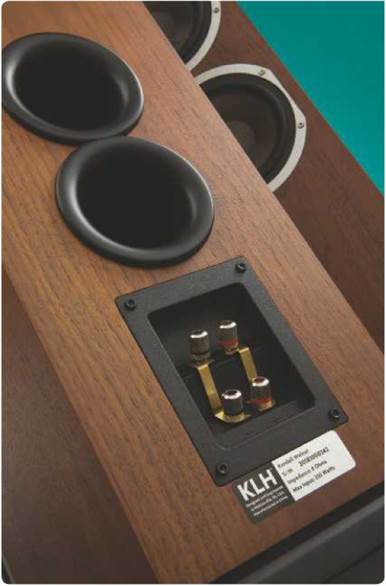 Foam bungs are provided for placement close to walls
Arnold. Stylistically, it's as if the half-century gap never happened and even the production is careful not to sound too slick and modern. Straight away, musical connection is strong with a lively, open midband and smooth, well-extended and, when required, weighty and propulsive bass. The big KLH is an impressively articulate speaker, too, easily
Driving the Kendall with low-powered tube amps should be entirely feasible
resolving nuances of phrasing and tempo tweaks that give Arnold's performance believability The brilliant opener, Baby Blue, has a sonorous period swagger that the Kendall captures beautifully, preserving the deftly struck balance between PP's golden pipes and the irrepressible verve of the brass section. Free from grain and coarseness, detail isn't presented in flashing, neon-lit capitals but as integral – the lubricant that makes the music mesh and flow without sounding artfully hyped, the way hi-fi sometimes can. There's a likeable sense of assurance and authority that's smooth and tuneful and involves you with the music in a physical way.
Among the handful of covers, the treatment of Sandy Denny's simply sung I'm A Dreamer infuses a weighty, dark, soulful angst and dense orchestral backdrop that works amazingly well. Again, the Kendall is particularly adept at marshalling the competing strands into a cohesive whole in which the emotional dynamic ebbs and flows unhindered and with its fair share of gloriously scalp-tingling moments.
Denied a direct A-B comparison, I can't be sure – but from what I remember – the B&W 603 will have sounded a touch more explicit and animated with this material, giving a greater sense of transparency through the midband and treble. The Kendall, on the other hand, has a richer balance and bass that, while sounding a little less obvious, is deliciously smooth, even, agile and extended. Marcus Miller's electric bass guitar on the title track of The Sun Don't Shine is simply stunning through the Kendall, not just for the remarkable leading-edge definition but the way it conveys the persuasive, percussive weight and expressive note shaping.
Conclusion
If the plan is to enter a market ignored for decades and take on a host of well-loved, dug-in brands, this is the way to do it. The Kendall is another exciting example of a floorstander with impressive bandwidth capability that offers outstanding sound quality for the money in a package that looks smart and is well made. There are gifted British rivals, some of which are a little prettier, but the tall and talented KLH has an awful lot going for it and is very easy to recommend
Recommended
KLH KENDALL Review
Welcome back KLH, the Kendall is a fine floorstander that does you proud
PROS
Great balance of sonic virtues;
musical to the core
CONS
Not exactly a cutting-edge aesthetic
Add your review
Best KLH KENDALL prices in the US ?
Best KLH KENDALL prices in the UK ?

£

1,891.04
1 new from £1,891.04
in stock

MORE DEALS

See also TOP 10 Subwoofers
IN SIGHT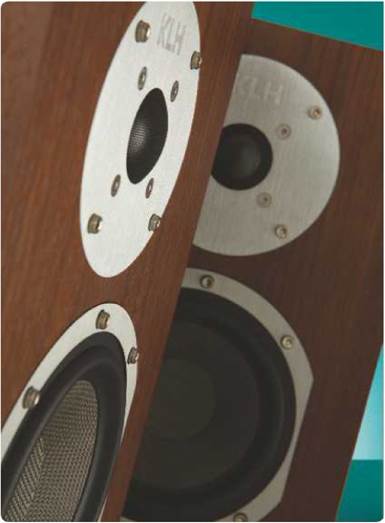 1 25mm aluminium dome tweeter
2 Twin reflex bass ports
3 Bi-wireable binding posts
4 2x 165mm Kevlar bass drivers
5 133mm Kevlar midrange driver
HOW IT COMPARES
How it compares
Bowers & Wilkins' 603 (HFC 448) brings similar scale and power to the party but exhibits a little more definition, air and sparkle. The KLH has a slightly darker and richer tonal balance, but bass that integrates more seamlessly and, although seeming somewhat leaner, goes a little lower. Any shortlist should also include Fyne Audio's F501 at £ and Monitor Audio's Silver 300.