THERE'S NOTHING MORE annoying than buying a brand-new projector, only for it to be replaced by something slightly better the following year. JVC has been guilty of this in the past – releasing generational iterations with small incremental improvements. But based on my experience with the N7 over the last two years, this policy appears to have changed.
Details
TIME ON TEST:
 2 years, 1 month 
REVIEWER:
 Steve Withers
4K HDR D-ILA home cinema projector
Mid-point in JVC's range between DLA-N5 and DLA-NX9
Peers:
Sony VPL- VW590ES
;
Samsung LSP9T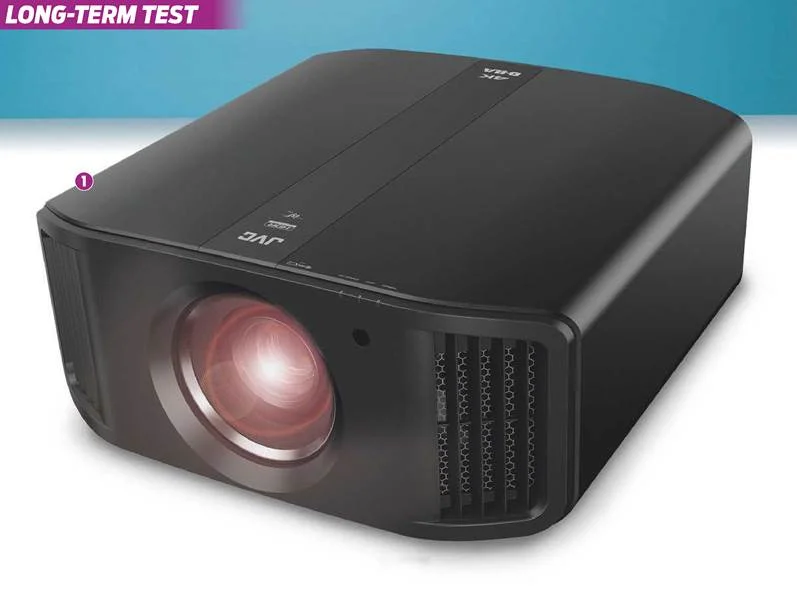 The entry-level N5, the mid-range N7 and high-end NX9 were all released at the back-end of 2018, but remain JVC's current lineup of 4K HDR projectors. Rather than launch new models each year, the company has opted to provide free firmware updates in 2019 and 2020. Each added significant new features, keeping the range cutting-edge and existing owners delighted.
What's good about it?
The N7 is an impressively specified beamer, with a native 4K (4,096 x 2,160) D-ILA chipset, 100% DCI-P3 coverage and support for HDR10. Naturally it benefits from JVC's legendary black levels, plus a host of useful features like a pair of full-fat HDMI inputs, lens memories, and calibration controls – although mine was very accurate out of the box, and perfect after some tweaking.
JVC knows what it's doing when it comes to building a projector, and the N7 is a fantastically engineered and solidly constructed light-cannon. It's capable of delivering 1,900 Lumens, but is also remarkably quiet in operation. There's quality glass in the lens as well, ensuring all those pixels are sharp and perfectly defined, while the image uniformity is excellent.
The N7 is simple to setup, in part thanks to a comprehensive but easy to navigate menu, and a zapper that's intuitively laid-out, comfortable to hold, and backlit. In two years of extensive use it has performed admirably, and remained problem-free. As the owner of a 2.35:1 screen I was also pleased to discover the lens memories are consistently precise.
From the very beginning this projector delivered a performance that's undeniably superb. The SDR and HDR pictures it projects have that hard-to-define film-like quality that sets JVCs apart from the competition. Some might prefer the sharper images of a Sony 4K beamer (such as the VPL-VW590ES), but to me they've always appeared overtly digital when compared to the more analogue JVC experience.
7Review earns Amazon affiliate commissions from qualifying purchases. You can support the site directly via Paypal donations ☕. Thank you!
See also TOP 15 projectors
The contrast ratios, colour accuracy, upscaling, and motion handling are all impressive, ensuring whatever you're watching will look awesome. The 3D performance is also top-drawer, with bright and detailed dimensionality that's free of crosstalk. A sole niggle is the lack of the dedicated 3D mode found on previous generations, but you can always customise one.
However, where the N7 really stands out is in terms of high dynamic range, producing gorgeous images with deep blacks, well-defined shadows and saturated colours. HDR is always a struggle for projectors because of their limited brightness, but the tone-mapping applied by the JVC N7 renders the highlights with precision and skill.
Initially the only issue with HDR on the N7 was the need to occasionally adjust the settings manually to produce the best results. But in late 2019 JVC released its first major firmware update, adding a new feature called Frame Adapt HDR. This analysed the HDR signal and dynamically adjusted the tone mapping on the fly.
The resulting images are a revelation, taking the N7's performance to another level and giving this award­winning beamer a new lease of life. The fact the firmware release was free and ensured my N7 remained the current mid-range model pleased me even more.
Another big firmware update dropped towards the end of 2020. This added a new Theatre Optimiser, which allows you to include info on your screen's size, gain and material. When combined with the throw ratio and age of the lamp, the projector can fine tune its HDR tone-mapping based on your specific system.
The latest firmware also updates the menu system, allowing for greater flexibility in terms of installation and setup. There's also a new feature allowing you to specify which picture mode the projector defaults to when it receives SDR, 3D, HLG and HDR10 signals. The result is a model that after two years remains state-of-the-art.
What's not so good about it?
This will be a short section, because the N7 is so accomplished that it's hard to fault. Obviously it's not cheap, but this kind of performance never is. It's also a bit of a beast, even compared to Sony's 4K projectors, so bear that in mind when considering placement and installation.
JVC has dropped the motorised lens cover that graced previous generations, and the provided hard plastic cap is best avoided for fear of damaging the precise optics. Otherwise, my only other complaint is the lack of a dedicated 3D mode – although, as mentioned, you can create your own.
Should I buy it?
If you're in the market for a native 4K projector and you've got the necessary wonga, I'd definitely recommend the JVC N7. It's a supremely capable model that remains up-to- date, delivering a feature-set and level of performance commensurate with the price.
If you're on a tighter budget you could also consider the cheaper N5, which is virtually the same aside from the colour filter that gives the N7 its wider gamut. In addition, it also benefits from dynamic tone-mapping.
JVC's continued software support and development is another bonus, and even after over two years I'm constantly impressed and delighted with the images produced here. Given I review projectors for a living, I really can't imagine higher praise than that
Verdict
www.jvc.co.uk
Recommended
JVC DLA-N7 Review
Arguably the best native 4K HDR projector you can buy for under ten grand, and thanks to some major firmware updates it just keeps getting better.
Add your review
Best JVC DLA-N7 prices ?
MORE DEALS

See also TOP 15 projectors
Specifications
| | |
| --- | --- |
| Product Name | JVC DLA-NX7 4K Projector |
| Manufacturer Part Number | DLA-NX7BK |
| Product Model | DLA-NX7 |
| Product Name | Home Projector |
| Product Type | D-ILA Projector |
| Projection Method | Front |
| 3D Type | 3D |
| Maximum Diagonal Image Size | 16.67 ft |
| Number of Lamps | 1 |
| Lamp Type | NSH |
| Lamp Power | 265 W |
| Normal Mode Lamp Life | 3500 Hour |
| Economy Mode Lamp Life | 4500 Hour |
| Standard Mode Brightness | 1900 lm |
| Native Resolution | 4096 x 2160 |
| Graphic Mode | 4K |
| Native Aspect Ratio | 1.85:1 |
| Contrast Ratio | 80,000:1 |
| Video Signal Standard | HDTV |
| Output Scan Format | 2160p |
| HDMI | Yes |
| USB | Yes |
| Height | 9.2" |
| Width | 19.7" |
| Depth | 19.5" |
| Weight (Approximate) | 43.65 lb |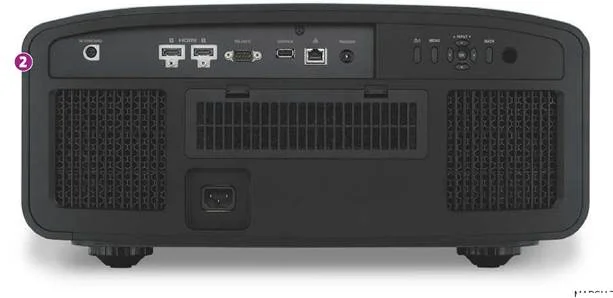 SPECIFICATIONS
3D: Yes. Active shutter 4K: Yes. 4,096 x 2,160 HDR: Yes. HDR10; HLG CONNECTIONS: 2 x HDMI inputs; RS-232; USB; 12V trigger; Ethernet; 3D Synchro BRIGHTNESS (CLAIMED): 1,900 Lumens CONTRAST (CLAIMED): 80,000:1 (native); 800,000:1 (dynamic) ZOOM: 2x DIMENSIONS: 500(w) x 234(h) x 495(d)mm WEIGHT: 19.8kg
FEATURES: D-ILA device; 265W ultra-high pressure mercury lamp; claimed average lamp life of 4,500 hours in Low mode; Natural, Cinema and Animation picture presets; Clear Motion Drive; Motion Enhance; 1.4-2.8:1 throw ratio; motorized zoom and focus; Multiple Pixel Control (MPC) image processor/analyser; Frame Adapt HDR (via firmware update); Theatre Optimiser (via firmware update)