JBL enters the Dolby Atmos soundbar market with a flexible 5.1.4 model. Mark Craven listens up. Read our JBL BAR 9.1 Review.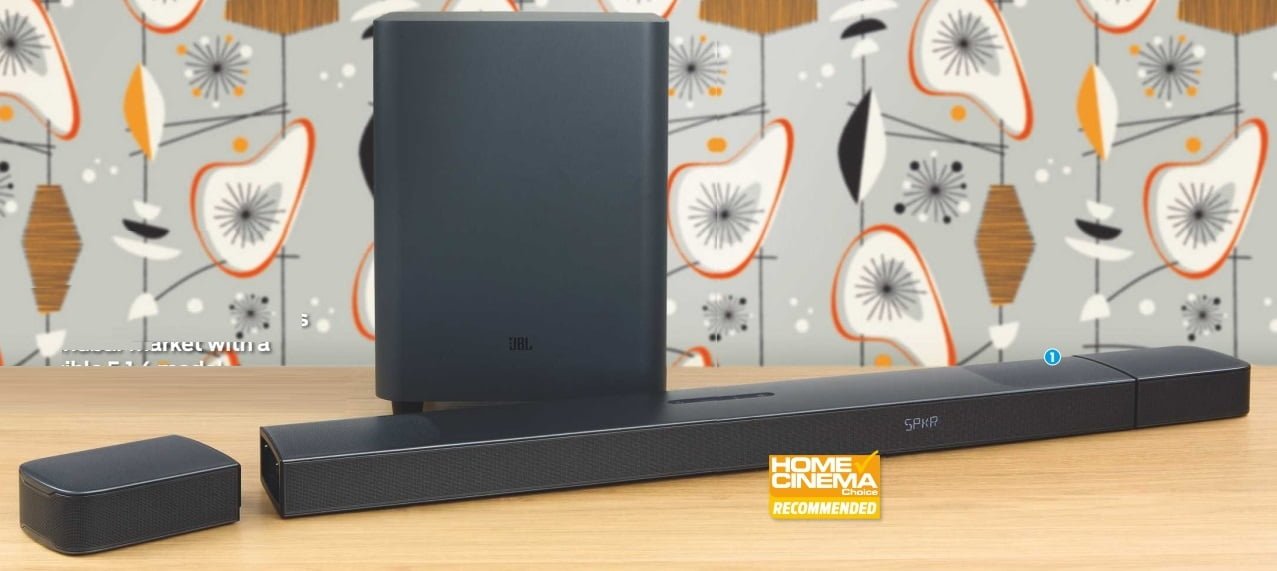 When is a soundbar not a soundbar? When it's JBL's Bar 9.1. On the face of it, this is a premium soundbar/ subwoofer system with Dolby Atmos capability, but with its front left/right enclosures able to be removed and used as discrete surrounds/Atmos units, you get a 5.1.4 setup with minimal fuss. Which is how we like it.
It's not a new idea, of course. JBL has previously offered multichannel soundbar systems with battery-powered surrounds (such as the still-on-sale Bar 5.1). But this is its first such Dolby Atmos model (and first Dolby Atmos model at all, in fact) with the promise of an audio performance dramatically more immersive than a regular stereo or 5.1 system.
There's a premium price attached. The Bar 9.1 is far from an impulse buy, and more expensive than the flagship models of some rivals. But in the small market of seven-/nine-channel systems, it's probably the most affordable around, undercutting the likes of LG's SN11RG, Sony's HT-ST5000 and Sennheiser's Ambeo.
Ready to race
The main soundbar spreads racetrack drivers (size unspecified) and 0.75in tweeters across its L/C/R channels, plus two full-range upfiring units. Each surround enclosure also gets a side-firing tweeter and full-range upfirer.
Build quality appears rock solid and the design is straight from the JBL soundbar playbook, which means
7Review earns Amazon affiliate commissions from qualifying purchases. You can support the site directly via Paypal donations ☕. Thank you!
See also TOP 10 Soundbars & Soundbases
AV INFO
Product: 5.1.4-channel soundbar system with wireless surrounds
Position: JBL's priciest soundbar in its current range
Peers: LG SN9YG; Sony HT-ST5000; Sonos ARC
it's neat and tidy with curved corners on its dark grey chassis; mesh grilles across its front and sides; and a few control buttons on the top plate. There's no colour touchscreen display, though – a feature of sister company Harman Kardon's Citation MultiBeam soundbars that I'd love to see ported across to JBL's premium models.
The Bar 9.1 comes with a slimline remote control that's generally easy to use, with handy keys to adjust the level of the system's rear, Atmos and bass levels. Yet, as seen on other soundbars recently, accessing more in-depth features requires some button combination presses, which you'll only discover if you read through the full online manual. These include instigating JBL's auto calibration system, adjusting lip sync, and switching the Smart Mode – which applies EQ and surround processing to sources – off. Note that Smart Mode is on by default, so if you switch the soundbar off, you'll have to go through this process again if you want to listen to content in Standard.
Connections are a single HDMI input (supporting 4K HDR) and HDMI eARC output, plus optical digital audio input, Ethernet, and a USB port for service updates.
1. The Bar 9.1's end units can be docked for a wider front soundstage or used as discrete surrounds
2. The slim remote offers bass/Atmos/ rear level adjustment
There's no 3.5mm aux input, but smartphones can be connected via Bluetooth, Chromecast or Apple AirPlay for music streaming. Wi-Fi setup is handled by Google's Home app, making it quick and stress-free – the app also enables multiroom playback to supported hardware.
Leave the surround enclosures docked to the main bar (which you will have to at times to recharge their batteries – a flashing red light signals when they're running out of juice) and the chassis width is approximately 1.2m wide, a good fit for a 55in TV. Remove them and the soundbar might seem somewhat dwarfed by a 65in set.
Engineered to excite
The Bar 9.1 has a pleasingly bass-rich, dynamic and attacking sound that means it's at its most exciting with Dolby Atmos and DTS:X mixes. In terms of offering cinematic audio, this nails the brief.
Going straight to the jugular with the insanely frenetic hotel lobby shootout sequence in Bad Boys For Life (4K), the Bar 9.1 impresses with its sheer verve and sense of fun. There's a real meaty feel to the track's low-end
elements, thanks to JBL's potent 10in (wireless) subwoofer, and with upfiring speakers fore and aft, you're nicely cocooned in the OTT action. It's a nimble presentation, too, with plenty of zip to effects.
While bass and mid-range has real heft, and high- frequency details are impactful, the latter did sound almost too attacking when the bullets started to fly in Bad Boys For Life, meaning I felt it necessary to nudge the volume down from a (high) level that until that point I'd felt was
'The Bar 9.1 effectively uses its nine speaker channels to create a soundfield that expands in all directions'
spot on. And it transpires that, even after calibration has set speaker distances, managing the levels of this system is something you'll need to do every now and then. For instance, the bass tool has only five settings, of which the maximum is too aggressive. With the Bad Boys movie's dynamic DTS:X mix, I found a setting of 1 or 2 about right. Yet other content benefitted from a subwoofer boost.
As for the system's immersive sound talents, the two discrete surround/Atmos enclosures are easy to place (you can wall-mount them with provided brackets, but I can't imagine anyone would) and, with the help of the level adjustment, easy to dial in.
Effects are nicely located within the JBL Bar 9.1's sonic bubble. With the road tunnel chase in Episode 1 of Bulletproof (Sky One, Dolby Atmos), car horns honk and tires squeal front and back; with the fine-touch sound design of Roma (Netflix), it shows it can do delicate too, creating a soundfield that's peppered with detail.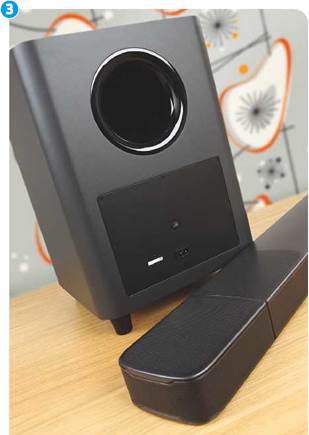 It's not a system designed for cavernous rooms, though: you'll want to keep front and surround channels near to each other to give panned effects a leg up. It's not quite a seamless soundstage, as evidenced by Dolby's Atmos trailers. When the bird circled the room in Amaze, its trajectory skewed a little as it reached the LCR stage.
As with the majority of Atmos soundbars, the sense of height achieved here is exactly that: a sense rather than an overt experience. What the Bar 9.1 does effectively is use its nine speaker channels to create a soundfield that expands in all directions. The rainstorm that closes the aforementioned Amaze short is a case in point. The intent of the sound design is apparent, even if the droplets don't seem to be bouncing of your noggin.
Dialogue delivery is generally perfectly fine for everyday TV material, but with premium content I wanted a bit more richness and body to the centre channel. It was always intelligible, but voices on occasion sounded thin compared to the bombast in the soundfield elsewhere – and there's no option to tweak the centre channel level. The surround speakers, if not connected to the 'bar, can be completely muted, and doing this sometimes proved beneficial with stereo content, such as sports broadcasts.
'This is thriller, thriller night'
JBL's Bar 9.1 offers a cinematic mix of aggressive bass, strong dynamics and wraparound immersion, but isn't without some operational and performance foibles.
Some might expect a few more feature tricks from a system (another HDMI input, USB audio playback, voice control), or prefer a more measured, nuanced performance, and the decision to almost hide its Smart Mode and Auto Calibration features is baffling. Countering that is this 'bar's passion for energetic audio, and cost-effective 5.1.4 experience. Recommended for being routinely thrilling
Verdict
Best JBL BAR 9.1 prices in the US ?
Best JBL BAR 9.1 prices ?
MORE DEALS

See also TOP 10 Soundbars & Soundbases
3. JBL's sub tunes the output of its 10in downfiring driver via a rear port
SPECIFICATIONS
DRIVERS: 4 x race-track drivers; 3 x 0.75in tweeters; 2 x full-range upfirers; 2 x full-range upfirers (surrounds); 2 x 0.75in tweeters (surrounds) ONBOARD POWER (CLAIMED): 820W (total, inc. subwoofer) CONNECTIONS: 1 x HDMI input; 1 x HDMI eARC output; optical digital audio input; USB (service); Ethernet DOLBYATMOS/ DTS:X: Yes/Yes SEPARATE SUB: Yes. 10in woofer REMOTE CONTROL: Yes DIMENSIONS (SOUNDBAR): 884(w) x 62(h) x 120(d)mm WEIGHT (SOUNDBAR): 3.64kg
FEATURES: Wi-Fi; Chromecast; Bluetooth; Auto Calibration; Smart Mode EQ/ processing; bass/rear/Atmos level adjustment; 5.1.4 soundstage; (rechargeable) wireless battery-powered surrounds; wall-mounting kit; wireless subwoofer
PARTNER WITH
PHILIPS 55OLED805:
Well-priced, multi-HDR 4K OLED that dazzles with its contrasted, pin-sharp visuals. Use its onboard Dolby Atmos support to output audio to the JBL bar via eARC, and settle in for a fun ride.