JBL understands that many soundbar buyers simply seek an easy-to-use boost to their TV's audio. Its Bar 2.0 All-In-One is a poster boy for plug-and-play, says Mark Craven. Read our JBL BAR 2.0 ALL-IN-ONE Review.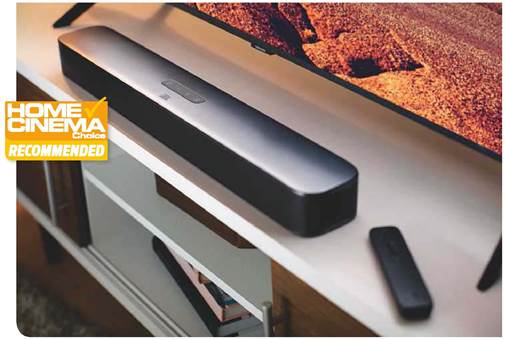 AV INFO
PRODUCT: Affordable stereo soundbar with HDMI ARC
POSITION: Below JBL's 2.1 and 5.1-channel models
PEERS: Panasonic SC-SB1; Q Acoustics M3; Samsung HW-N400
WITH THE BAR 2.0 All-In-One, JBL takes the concept of plug-and-play to extremes. This is a soundbar that's focused on ease-of-use, and one that eschews functionality that might make the owner experience complex.
For example, JBL's previous entry-level soundbar – the Bar Studio, reviewed HCC #283 – offered a choice of five preset EQ modes (Standard, Movie, Music, Voice and Sport), plus user adjustment of bass output, and the option of instigating a virtual surround mode. Its replacement model throws all that away. The result is a supplied handset that's comically uncluttered, with just power, volume, mute and TV/Bluetooth source buttons.
7Review earns Amazon affiliate commissions from qualifying purchases. You can support the site directly via Paypal donations ☕. Thank you!
See also TOP 10 Soundbars & Soundbases
Setup is therefore blissfully simple. To connect to a TV, use either the HDMI ARC connection (there's no additional hookup for source switching) or digital optical audio input, and you're up and running. For other devices, there's the aforementioned Bluetooth provision (v4.2) …and nothing else. Even the 3.5mm input of the Bar Studio has been left off the spec sheet.
The soundbar itself is compact – just 61cm wide and 6cm tall – and neatly styled, with rounded cabinet edges, a full-length grille on its front fascia, and control buttons on top.
An LED status light denotes volume changes. Raise the level and it expands horizontally, vaguely reminiscent of a Cylon's visor (original series, not the remake…).
Power pushed
Given the stripped-down spec, the Bar 2.0 All-In-One lives or dies on its performance. Thankfully, it proves highly accomplished, and reaps the rewards of an increase in onboard power over its forebear (now a claimed 80W rather than 30W), and, says JBL, improved driver design.
The low-end reach is a suggested 70 Hz (aided by a rear-firing bass port), which equates to enough depth to impart some of the scale of cinematic effects without ever flapping your trouser leg. But while it's by no means a bass monster, its LF output integrates well with midrange details, for a smooth, even balance. This is an important trait, as there are no user EQ options.
For everyday TV viewing, the soundbar's strengths are its solid handling of dialogue, noticeable bass delivery and crisp, clean presentation of higher-frequency effects.
With a live football broadcast, the latter helps
The 'bar ships with a slim, button-lite remote
convey the crowd claps and whistles, and the scale of the stadium. Advertising jingles and TV theme tunes enjoy the extra bass weight so often missing from a flatscreen's speakers.
Dialogue-heavy material can sound more lacking in soundstage width; JBL's twin racetrack driver array gets more mileage out of layered movie soundtracks.
During the opening chapters of WW2 action/horror Overlord (Sky Cinema), I was impressed by the soundbar's ability to mirror the onscreen mayhem within in its stereo soundfield. As our hero is thrown from the burning aircraft and begins to tumble through the air, the soundmix is awash with details: anti-aircraft gun hammering away, droning plane engines and terrified screams. These swirl and shift within the (always in front of you) soundstage. JBL's processing contents itself with delineating straight stereo, but that's not necessarily a drawback.
Meanwhile, Hans Zimmer's lush string themes in the soundtrack for Widows (Blu-ray) are a good barometer of the bar's tonality and subtlety, and its ability to sound bigger than you'd expect.
A slight criticism is the sheer number of volume steps – you can hammer away at the remote's key for quite a while before reaching the level you want. The soundbar doesn't mind being driven loud, although it's obviously not suited to a large room. Another gripe is that for UK buyers the bar's USB port is service only, but in the US it doubles as a media player (MP3, WAV).
Just the ticket
Overall, this is a strong example of a product that focuses on the main job in hand, and does it well. Supremely simple operation, punchy, authoritative sonics, and a ticket make it easy to recommend
SPECIFICATIONS
DRIVERS: 2 x racetrack drivers (size unspecified) ONBOARD POWER (CLAIMED):
2 x 40W CONNECTIONS: 1 x HDMI ARC; optical digital audio input DOLBY ATMOS/DTS:X: No/No SEPARATE SUB: No REMOTE CONTROL: Yes DIMENSIONS: 614(w) x 58(h) x 90(d)mm WEIGHT: 1.61kg
FEATURES: Bluetooth (v4.2); rear bass port; supplied HDMI cable; 70Hz-20kHz claimed frequency response
HCC VERDICT JBL Bar 2.0 All-In-One
Recommended
JBL BAR 2.0 ALL-IN-ONE Review
Despite losing out on EQ and virtual surround features, this 2.0-channel TV add-on is a fine mix of performance and ease-of-use.
Add your review
|
Read reviews and comments
Best JBL BAR 2.0 ALL-IN-ONE prices in the US ?

Powerful sound. Compact design.Immerse yourself in your favorite film, feel the energy of the crowd at the big game or rock out in your living room. With the compact, powerful, and easy-to-use JBL Bar 2.0 All-in-One soundbar, JBL Pro sound is just a single HDMI ARC or optical cable connection...

Best JBL BAR 2.0 ALL-IN-ONE prices ?
MORE DEALS

See also TOP 10 Soundbars & Soundbases