Designed for both home and studio use, Neville Roberts finds out if this ambitious component offers something for everyone
As the flagship DAC and headphone amplifier from iFi Audio, the Pro iDSD boasts an impressive range of features to suit both studio users and more domestic setups. In the world of digital audio, a DAC/ headphone amplifier may seem a bit steep but rest assured, it's one of the most comprehensive models we've seen with support for a wide range of options that justify the price tag.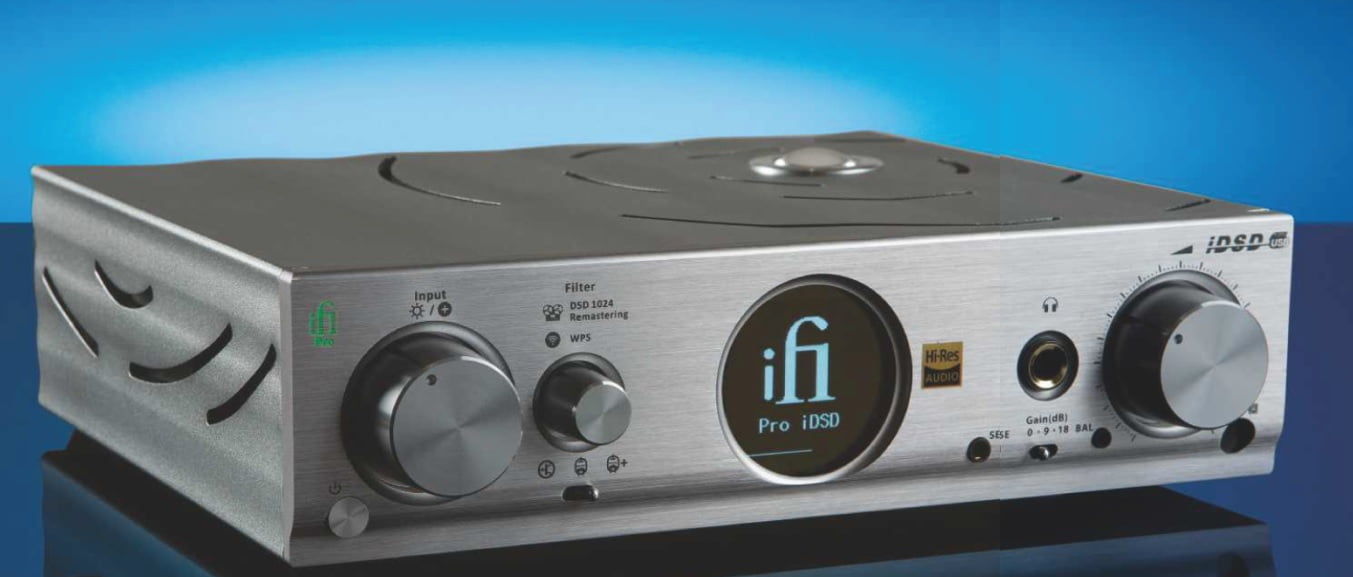 First of all, for the studio user, the Pro iDSD supports external clock synchronisation using AES3id-based DARS (Digital Audio Reference Signal). Essentially an S/PDIF signal without any actual audio data, a 10MHz external clock can also be connected to the BNC Sync input in order to synchronise with the rest of the system. It is also possible to connect an external atomic reference clock and the clock synchronisation mode can then be selected via a switch on the rear panel.
Making the most of its fully balanced design, it's fitted with XLR analogue line outputs – along with
DETAILS
PRODUCT iFi Audio Pro iDSD
ORIGIN UK
7Review earns Amazon affiliate commissions from qualifying purchases. You can support the site directly via Paypal donations ☕. Thank you!
TYPE Headphone amp/ DAC/network player
WEIGHT 2kg
DIMENSIONS (WxHxD) 220 x 63 x 213mm
FEATURES
32-bit/768kHz and DSD1024- capable DAC
Outputs: 6.35mm jack; 3.5mm jack; 2.5mm jack; 1x balanced XLRs; 1x RCAs
Digital inputs: 1x combined coaxial/ optical; 1x XLR; 1x BNC; 1x USB-A; 1xUSB-B; 1x MicroSDHC sIot
Ethernet, wi-fi and AirPlay
DISTRIBUTOR Select Audio
TELEPHONE 01900601954
WEBSITE ifi-audio.com
single-ended RCA phono outputs – and an XLR balanced digital input. Both standard unbalanced and balanced dynamic headphone sockets are provided – 6.35mm and 3.5mm sockets for unbalanced headphones and a 2.5mm socket for TRRS balanced headphones. There is no provision for an analogue input, which would have been a nice addition when using the unit as a headphone amplifier.
The DC-coupled audio circuit is a fully discrete, balanced design with either a valve or J-FET front end, a bipolar second stage and a MOSFET- buffered bipolar power stage operating in Class A. This circuit can also operate in Class AB to enable the Pro iDSD to support low impedance headphones operating at high output levels if required.
The Pro iDSD offers three different output modes – Solid-State employs a purely solid-state J-FET-based circuit of fully discrete Class A topology,
Tube mode uses an all-valve Class A output and the Tube+ mode reduces available negative feedback to a minimum. The valves chosen are NOS General Electric 5670 double triodes – a special quality valve that
was originally designed for critical industrial and military applications.
The DAC uses a quad-core Burr- Brown MultiBit/DSD hybrid chip supporting PCM 768kHz and studio-grade DSD1024 remastering. The latter means that the incoming audio stream is converted to either DSD512 or DSD1024 by using the filter selector switch on the front panel. In PCM Upsampling mode, files are up-converted to 768kHz using a
choice of digital filters and Bit-Perfect mode where no filtering is applied.
Connection to a local network is via Ethernet port or the bundled wi-fi antenna and enables playback of files stored on a Network Attached Storage (NAS) or USB hard-disk drive, USB stick or SDHC memory card. It is also possible to use AirPlay audio playback from an iPhone, iPad and Mac computer. Support for the MQA codec is onboard for Tidal streams or MQA media, and music streaming services such as Spotify, Tidal, Napster and QQ Music are accessed using the Muzo app downloadable from Google Play and supports virtually all music formats up to 32-bit/192kHz, including FLAC and DSD.
Out of the box, I am immediately impressed by the obvious high build quality and solid feel of the unit. On powering up, it is a little disappointing to see that there are orange LEDs fitted inside to simulate the glow from the valve heaters, making it look a bit too blingy for my taste – something that distracts from the sophisticated piece of audio equipment that it clearly is. The monochrome OLED display on the front panel normally shows the input data stream PCM sampling frequency or the DSD bit-rate. When the input selector or the filter knobs are turned, the display briefly shows the selected input or filter respectively, before returning to the input data stream display.
The remote control that comes supplied is dual-purpose and has two volume controls – one to adjust the volume of the iFi Audio's Pro iCAN headphone amplifier (HFC 428) and one for the Pro iDSD. The remote control requires a CR2025 lithium battery that is not supplied with the
The different filters allow for some user- customisation to suit your headphones device, which seems something of an oversight for a DAC/headphone amplifier at this price point.
The enclosed user manual is more of a list of features rather than a helpful guide. However, the controls on the Pro iDSD are quite intuitive and connecting it to a wi-fi network, the manual simply advises that users: "simultaneously use the WPS button on the Pro iDSD and the router to complete the handshake to pair up".
Connections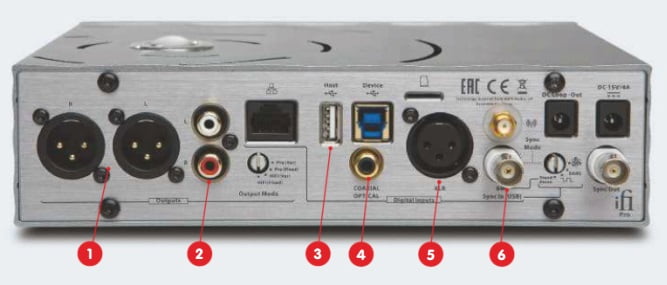 1 Balanced XLR stereo output
2 RCA stereo output
3 USB-A port (host)
4 Coaxial/optical digital input
5 XLR digital input
6 BNC digital input
This should work well for a simple single-channel home network, but there is no facility to manually select the network SSID and enter a password that may be required in a studio environment. Of course, there's always a wired connection using the Ethernet port, which provides a far better connection for high-resolution files, and is my chosen solution for connecting the Pro iDSD to my router.
With everything set up and the Muzo app installed on my Samsung S7 phone, it immediately finds the DAC as a device named: "iFi_Hi-Res_ Audio_D7FC" on my network. I plug in Sennheiser's HD 800 dynamic headphone fitted with a Nordost Heimdall 2 balanced cable (HFC 440) and I am good to start assessing the performance of the headphone amp.
Sound quality
I kick off with a 24/192 FLAC recording of Beethoven's Piano Concerto No.5 – The Emperor by the Scottish Chamber Orchestra. The clarity of the piece is outstanding and the orchestra is superbly balanced with excellent spatial imaging. The top end is very clear and open, and the piano has a very real presence in the soundstage, even though I am listening on headphones.
With the output mode set to Solid-State, it produces an extremely clear and bright sound through the Sennheiser headphones, while selecting Tube rounds off the corners of this very bright rendition and produces a sound that is far more realistic and refined, without any loss of clarity or openness. Switching the selector all the way to the right to the Tube+ setting produces a sound that is similar in many respects to Tube, except that I have a greater awareness of the placement of the instruments in the soundstage. In fact, the Tube+ output mode is so convincing that the orchestra almost seems like it's a holographic projection in front of me. The switch remains in this position for the remainder of the test.
With a 24/96 recording of James Vincent McMorrow singing Cavalier, I am treated to a performance that is crystal clear and captivating, with the
A great match for high-end headphone designs with plenty of power in reserve
Pro DSD handling the solo vocals particularly well. Exploring the five filtering options available: Bit-Perfect – where no digital filtering is applied; Bit-Perfect + – also with no digital filtering, but where SINC roll-off is corrected (sampling function or sine cardinal correction); Gibbs Transient Optimised (GTO) – which has minimum filtering; Apodising – with a modest amount of filtering; and Transient Aligned – with a maximum amount of filtering applied. The differences between each filter are subde but allow for some user- customisation to suit your choice of headphone and personal taste, but the last two settings (Apodising and
Transient Aligned) tend to detract from the overall reality of the music slightly too much for my taste. There are no hard and fast rules here, but my favourite setting with the majority of the review material is Bit-Perfect+ – although I do find myself moving the selector to GTO for the James Vincent McMorrow piece, which improves the overall timbre of the voice and is also iFi Audio's recommended setting.
Using the Pro iDSD as an external DAC through my main speaker system, I feed the coaxial S/PDIF output from a PrimaLuna ProLogue Eight Mk.2 CD player into the DAC and opt to play Mozart's Clarinet Concerto in A major performed by The Vienna Philharmonic Orchestra. The CD player has its own good-quality DAC and valve clock built-in, and I am able to easily switch between the player and the Pro iDSD outputs to compare performance. The Pro iDSD is the easy winner, though, offering greater clarity and overall realism when compared with the CD player's internal DAC, and after serval comparisons flicking between filter options, I opt for the GTO setting for its better rendition of the clarinet.
Conclusion
The Pro iDSD is a phenomenally flexible component that delivers authoritative performances. As a headphone amplifier it's a great partnership for high-end designs and has plenty of power in reserve no matter what type of headphones you're using. Its complexity as well as a few minor niggles means there's a bit of a steep learning curve when it comes to getting to grips with its functionality, but this is a high-quality component that's equipped to handle a digital life at home or in the studio. I've rarely heard a better sounding multi-functional component with all kinds of digital sources, which after all is what really matters here
OUR VERDICT
Recommended
iFi Audio Pro iDSD Review
Versatile headphone amp/DAC/ streamer that delivers outstanding sound quality at home or in the studio
PROS
Superior sound quality throughout flexible DAC facilities
CONS
No analogue input blingy styling
Add your review
Best iFi Audio Pro iDSD prices in the US ?
Best iFi Audio Pro iDSD prices in the UK ?

£

2,749.00
1 new from £2,749.00
in stock


£

3,249.00
1 new from £3,249.00
in stock

MORE DEALS

Sennheiser's HDV 820 headphone amplifier (HFC 429) has a built-in DAC, but is around £ cheaper. The HDV 820 is solid-state only, while the Pro iDSD offers a choice of solid-state or valve amplification and has additional facilities that will appeal to the studio user. It has a 2.5mm TRRS socket for balanced headphones and supports digital inputs only, while the HDV 820 has an XLR-4 connector and 4.4mm Pentaconn sockets and supports both analogue and digital inputs.