Noel Keywood goes out and about with a sturdy and advanced portable digital player from iBasso, the DX220.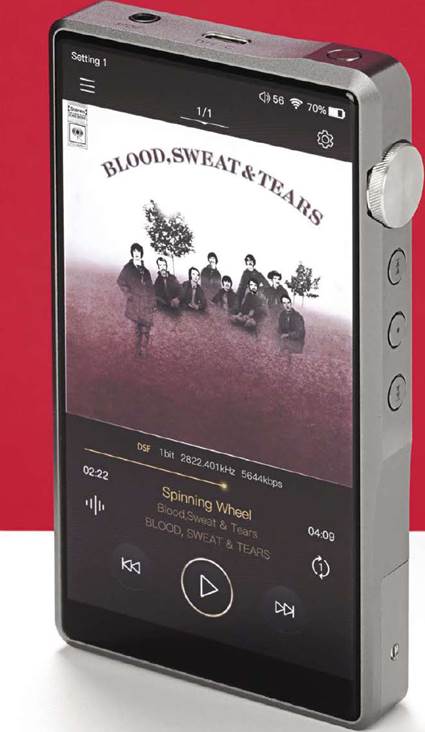 The new DX220 portable digital audio player (DAP) from iBasso is a heavyweight in many senses of the word. Weighing in at a solid 240gms on our scales and built in a solid CNC machined case it's pocketable but demands a strong pocket, being heavier than an iPhone's 190gms. Inside it has two top quality ESS 9028Pro reference digital convertors (DACs), one per channel, iBasso saying it's "able to compete with any Hi-End DAC". And that's why the price is expensive. This is a large hi-end player that borders on being a hi-fi component.
As you might expect the DX220 is a massively capable player, using an Android 8.1 operating system to manage all its many functions that go far beyond simple music replay. There's wi-fi for music streaming, Google Chrome web browser, music and games apps (Chinese!), Spotify, calculator and clock. The full-size high resolution I080P screen has plenty more space for other apps if you so wish. But on to the music side of things.
To play music there's a Mango player app., responsible for putting up the various play screens, menus and cover artworks. The menu arrangement wasn't the simplest I have come across, with two track listings styled differently, and multiple screen choices with no fewer than three swipe down screens available whist playing a track, one being the alternatively styled track list. Tracks could also be skipped by swiping sideways

digital filters but they have little affect measurement and listening showed. For more on all this see Measured Performance.
7Review earns Amazon affiliate commissions from qualifying purchases. You can support the site directly via Paypal donations ☕. Thank you!
iBASSO DX220 Review: SOUND QUALITY
The large volume control at right has high resolution. To its left sit track skip and pause/play buttons.
or alternatively a Settings menu could be coaxed out with a sideways swipe. Trying to select the three swipe downs was always difficult I found. Even difficult-to-impossible was return from Play mode to initial track listing, since the small icon for this at top right of the screen was unresponsive.
Start up time was a reasonable 27 seconds. There's a claimed 8 hours playing time from the 4400mAh internal battery re-chargeable battery (not removable) but I got around 6 hours with constant play but screen off.
It can be run from an external 'phone charger (not supplied) with a USB lead (supplied) and as is common the lead can also be used to load music files to 64GB of internal memory. However, USB defaults to charge mode and must be manually set for file transfer.
Also, once loaded the files don't appear immediately, and must be manually scanned via a Scanner submenu in Advanced music play settings –   awkward. Most players nowadays do all this automatically.
There's an SD card slot that can address cards up to 2TB – vast capacity. However, DSD files are huge, often 100s of MB, and the DX220 can play up to DSD5I2 (quad DSD), so DSD lovers may have need – but I have yet to see music above DSDI28. I had no trouble getting DSD onto the player from both a Mac and a PC, although the high date rate of the USB C terminated cable forced connection direct to my Mac, to avoid a USB 2.0 hub. Android interfaces with Windows 10 better,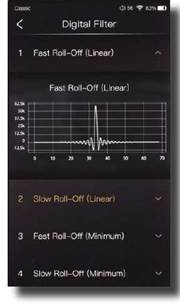 The digital filter interface even gives a time domain graphic.
not needing the Android loader used by Mac. The player handles most file types, being able to process up to 32/384kHz PCM which includes WAV and FLAC of course, plus Apple file types – and DSD with both file headers. It will also handle MQA files from Tidal Masters.
Importantly for use as a multi-purpose hi-fi player there is an S/PDIF digital output in electrical and optical form, an analogue Line output –  surprisingly with variable volume –  and two headphone outputs: 3.5mm stereo 3pole jack and 2.5mm stereo 4pole jack (balanced) – both at the bottom of the player. The top face carries USB C socket and the digital S/PDIF output. The player can be used as a headphone amplifier for a computer or as an external USB connected DAC to send computer audio to the hi-fi from the Line output.
And there is twoway Bluetooth wireless linking to send music to the hi-fi or receive music from a transmitting source like Cambridge Audio's Alva turntable (see July 2019 issue).
There are three maximum output levels and no less than seven
The iBasso had ESS sound in spades. With the Minnesota Orchestra playing Rimsky-Korsakov's Dance of the Tumblers, from Snow Maiden (24/96), there was both power and orchestral majesty. Horns were rich and fruity centre stage, the string sections stretching out broadly behind them, with strong presence at left and right. The DX220 had the

An analogue Line output to feed the hi-fi sits at left. Phone is a standard 3.5mm stereo jack and BAL is a 2.5mm balanced output, for balanced 'phones.
feeling of easy but expansive strength here – it lazed along with slick ability, creamy smooth, lusciously revealing and muscular.
Similar presentation with Diana Krall's Narrow Daylight (24/96) where she sang in an atmospheric space, piano having body and strength. ESS DACs have the ability to tease out subtle inner detail and I could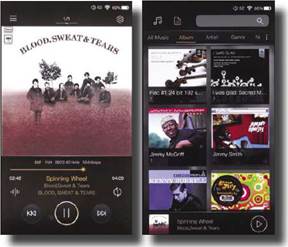 The DX220's large high resolution screen displays cover artwork in rich detail, graphics being delivered by the Mango software player.

The microSD card slot can address up to 2TB, so there's plenty of storage capacity – needed for DSD.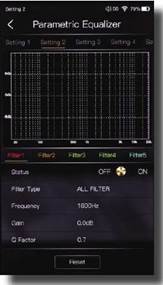 One of the player's advanced audio facilities, a parametric equaliser.
hear this in her fine vocal inflections. They are also creamy smooth and this quality was conveyed whatever filter was selected, the filters making little difference although I alighted on 2 as slightly the best composed
Playing my scuzzy Rock demo, The Eagles Somebody (CD) from Journey Out of Eden, a track that is heavily compressed to sound loud, the DX220 handled it well, getting the pace and power, minimising the harshness. The swirling Hammond organ had menace and the bass line rolled along unperturbed behind: pure Rock thunder.
With DSD the DX220 again showed its stage strength with Santana's Black Magic Woman (DSD64) where rim shots and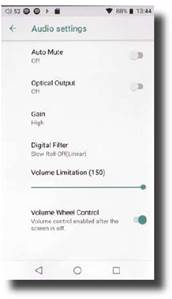 One of the Audio settings sub-screens.

The top face carries a digital S/PDIF output for connection to an external hi-fi DAC or digital amplifier, plus a USB C socket for computer connection.
cow bell at stage-right and hand drums at stage-left had a nice sense of independent power as Santana cruised smoothly centre stage, classic feedback guitar cutting out of the mix. A player like this more shows the quality (or lack of) of old recordings, no matter how well they are transcribed into modern digital format. The crisp sound of Blood Sweat and Tears Spinning Wheel (DSD64) – again with more cow bell! – showed how well this player could differentiate between recordings.
iBASSO DX220 Review: CONCLUSION
The DX220 is an ambitious player, able to stream music from the 'net, send and receive via Bluetooth, handle all file types and much else. With a top quality ESS DAC on each channel it delivers a powerful and expansive sound. All this comes at a price however. It's user interface is at iPhone level and even when in the Mango player the swipe options are challenging – and moving from internal memory to card difficult. It also runs warm after a few hours of play since there's so much inside consuming power. A fine player in sound quality terms and one for those wanting to play/stream music at the highest quality, but it demands involvement.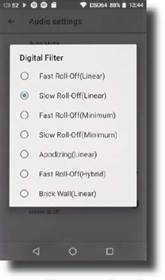 Seven filters – but they little affected sound from CD or hi-res.
iBASSO DX220 Review: MEASURED PERFORMANCE
Frequency response (192kHz sample rate) measured flat from 5Hz to 91kHz with the Fast filters and just slightly less with the Slow filters; there was little difference between them. With CD (44.1 kHz sample rate) there was also little change in the amplitude response whatever filter was selected.
Output (High Gain) measured 3V from the 3.5mm unbalanced headphone jack and 6V from the 2.5mm balanced headphone jack – enough to go very loud with all headphones. The Line output delivered 2.9V maximum; this is not a fixed level output, the volume control alters level.
Distortion at peak level (0dB F.S.) measured 0.001% and at -60dB a low 0.01%, with EIAJ Dynamic Range a very high 123dB via the unbalanced balanced and Line outputs.
The DX220 measured very well in all areas.
Frequency response (-1dB)
5Hz-91kHz
Distortion (-60dB)                 0.01%
Dynamic range                     123dB
Output (unbalanced/bal) 3V / 6V
FREQUENCY RESPONSE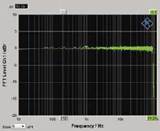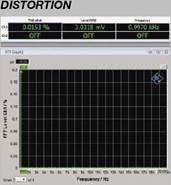 iBASSO DX220
OUTSTANDING – amongst the best.
iBASSO DX220 Review: VERDICT
iBASSO DX220 Review
Fine sounding player with massive ability, if with complex swipe-screen laden user interface.
PROS
Powerful sound
Bluetooth
Streaming with MQA
CONS
Large and heavy
Can get hot
Awkward interface
Add your review
|
Read reviews and comments
Best iBASSO DX220 prices in the US ?

$

124.99
1 new from $124.99
in stock

Best iBASSO DX220 prices ?
MORE DEALS

Advanced MP3 players +44 (0)343 289 6880 www.advancedmp3players.co.uk