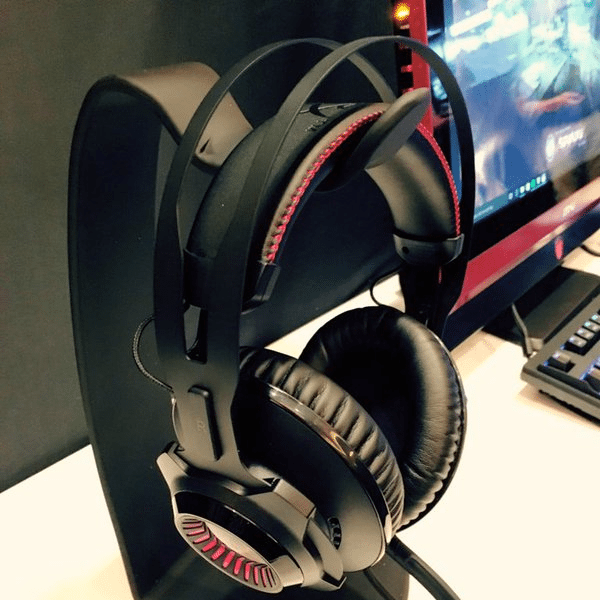 This frame can stretch at the ends, depending on the size of your head, which means you can pop on the headset and, within a few seconds, you're all set up comfort-wise. The downside is that this stretching can impact on the position of the earcups, which can sag down a little. Thankfully, the earcups are otherwise very comfortable on your ears, with wellpadded faux leather, although there are no replacements in the box. The earcups can also swivel slightly to adjust to your head's shape, while the ear cushions are circumaural and have large recesses for your ears.
Placing the Revolver on your head reveals one significant issue though – the steel headband is highly sensitive to knocks and vibrations, and the earcups pick up these knocks in a big way. The result is that you end up hearing a lot of unwanted sound, even with the slightest knock. This sensitivity shouldn't be a problem if there's nothing on your head to knock it, but it could be an issue if you're wearing glasses, or anything that might rub against it, such as a hoodie.
The Cloud Revolver lacks any USB connections and instead uses a fixed 1m detachable, braided cable with a 3.5mm mini-jack to link up to an inline remote. The latter adds a further 2m of cable that splits into respective microphone and headphone mini-jacks to plug into your PC. There's obviously no surround-sound support either,  so the hefty price tag is a little questionable when the specification is otherwise similar to HyperX's previous headsets.
Overall, sound quality is very good, with excellent high-end and detailed bass, although the latter lacked the powerful kick we've come to expect from gaming headsets. Some of the mid-range was a little lifeless too, occasionally lacking detail, but this issue wasn't too noticeable. The fantastic high end was evident in vocals and gunfire, and we found it was possible to boost the bass a little using a software equaliser to reduce the rather flat response from drums or explosions. The microphone wasn't  quite as highperforming though; its repositionable arm has to be no more than 2-3cm away from your mouth, otherwise the volume falls away sharply. You'll need to speak gently too, as it's susceptible to plosives if your voice gets too excited and blowy.
The Cloud Revolver is a disappointment given HyperX's previously excellent offerings. The sensitive headband and average microphone are two annoying hitches, but  the main issue is the price. It's simply too expensive, and we doubt the price will have fallen much by the time it hits the shelves. The Cloud and Cloud II are still available for much less money, and offer superior quality to boot.
VERDICTA couple of design issues and a very high price tag means HyperX's new headset isn't what we anticipated.
SPECIFICATIONSCup type CircumauralConnection Mini-jackDriver(s) 50mmFrequency response 12Hz – 28 kHzImpedance 30k Ohms.