HUAWEI'S SECOND CRACK at a smartwatch comes in a fitness-orientated Sport version and a more stylish Classic model. The Classic has a stainless-steel body and comes with a leather strap, while the Sport has a plastic body and strap with a ceramic bezel and stainless rear – plus the option of 4G connectivity.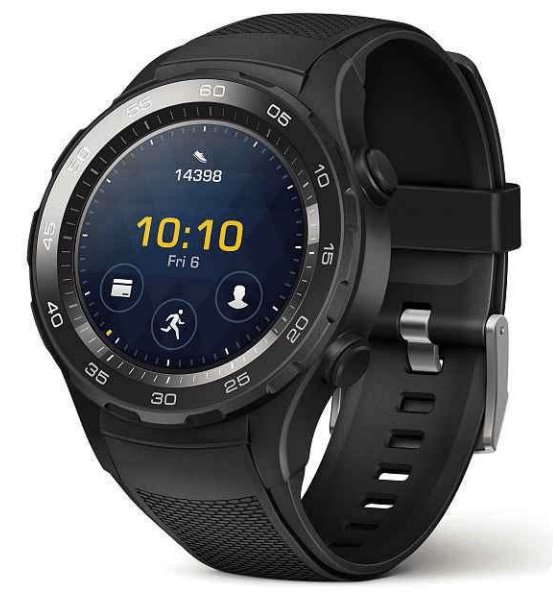 The Watch 2 Sport's headline feature is very much the ability to work independently, without the need for a phone. Both versions have GPS so you can go on a run and have it track your pace and location accurately, but 4G allows you to answer phone calls and reply to text messages, too. Simply install a nano-SIM beneath the bottom strap attachment, and the built-in microphone and speaker can be used to dial out and answer calls, while Android Wear 2's new smart replies, dictation and onscreen keyboard let you answer and send texts directly from the watch face.
If you'd prefer to exercise in peace, the non-4G version is cheaper and offers everything else you need for fitness tracking, with built-in GPS and a heart-rate monitor.
Simply install a nano-SIM and the built-in microphone and speaker can be used to dial out and answer calls
Both variants have a circular 1.2in, 390×390 AMOLED display with an ambient light sensor – it's sharp and colorful, although Huawei's stock faces look unsophisticated.
WEAR NECESSITIES
The Watch 2 is powered by the 1.1GHz Snapdragon Wear 2100 processor, Qualcomm's first dedicated wearables chip, and its 768MB is plenty for a smartwatch.
7Review earns Amazon affiliate commissions from qualifying purchases. You can support the site directly via Paypal donations ☕. Thank you!
Swiping around feels responsive, other than a few brief pauses here and there. We're hoping these will be fixed with firmware updates.
Battery life is fine: by disabling Wi-Fi and sticking to Bluetooth, we got nearly two days out of the 420mAh battery, and ultra-saving mode helps draw it out in emergencies.
However, it's not quite as good in this department as the Samsung Gear S3, which lasts for two to three days in normal use.
While both the Classic and Sport models are attractive, they are quite bulky, both measuring 12.6mm thick. We also wish Huawei had gone for a Gear S3-style rotating bezel control scheme; instead, there are just two push buttons on the right edge, which is an odd choice considering the Android Wear 2 OS has been designed with spinning bezels in mind.
Screen size is also down, from 1.4in on the original Huawei Watch to 1.2in. The makes it harder to use one of Android Wear 2's best features, its onscreen keyboard.
Nonetheless, the operating system remains a big improvement. It's more intuitive, accessible and user-friendly than previous versions, and the newfound ability to install standalone apps solely on the watch – so you don't need a paired smartphone to use them – is very handy when you don't have your phone on you.
This could do with some additional support; Huawei's fitness app and Google Maps both work fine, but Gmail and Spotify still need a handset present. Still, it's a useful inclusion, as is Android Pay support and Google Assistant implementation. The former doesn't seem to work as fast as, say, Apple Pay on an Apple Watch, but the latter is beautifully responsive when dictating texts.
NOT WORKING OUT
However, we're not entirely convinced by the Watch 2 as a fitness aid – even the Sport model. Huawei's fitness app delivers everything from training plans to guided workouts, and the watch itself tracks all sorts of metrics (from heart rate to estimated VO2 capacity) in conjunction with the heart-rate monitor and GPS sensor. And yet it falls short for two key reasons.
First, in our two weeks of using it, we never got the watch to sync successfully with the Huawei Fit smartwatch app; hopefully this was related to the fact that we were testing it pre-release. Second, for all its fancy features, the app misses out one key thing: it doesn't make any attempt to auto-detect fitness activities. That's not so much of an issue for distinct, easily defined activities such as going for a run, but you also want activities like brisk walks to be detected without intervention, as you never know when a light stroll will turn into something more demanding. We often found that after starting a walking activity in Huawei Fit, it wouldn't automatically terminate after we'd finished, and would continue to track for hours until we ended it manually. That's bad news for both accuracy and battery life.
Also, while the Watch 2 handles continuous heart-rate tracking, which it displays in a nice-looking 'last six hours' graph onscreen, it doesn't show you your average heart rate, just your maximum, minimum and most recent readings.
SECOND LIFE
There are some irritations, then, but on the whole we like the Huawei Watch 2. It's no Gear S3, but the battery life is good, both variants are stylish (if a tad chunky), and it's packed with all the sensors you could want – even if it doesn't always put them to the best use.
Special mention goes to Android Wear 2, which makes it simple to use and adds the ability to use Android Pay, and despite the weaknesses of the Huawei Wear app, it is undoubtedly a boon to be able to go for a run leaving your smartphone at home.
Jonathan Bray
Verdict
This 4G-ready smartwatch overcomes some fitness foibles with the aid of a brilliant OS