The cheapest 4G tablet available.
If you want a tablet with built-in 4G, then you almost always have to pay a large premium over a Wi-Fl-only model. The cheapest 4G iPad Mini 2, for example, more than the equivalent Wi Fi-only Mini. This makes the Huawei MediaPad M1 8.0 all the more remarkable an Android 4G tablet that costs just without a contract.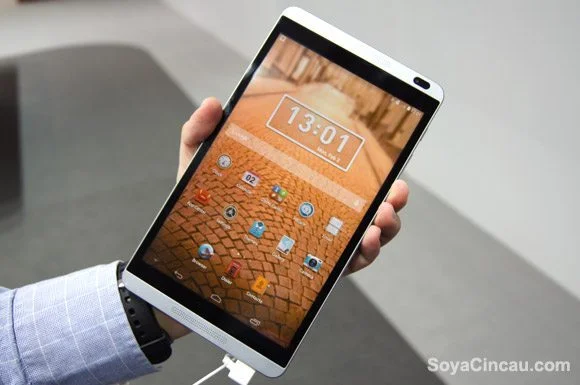 The Ml can be bought on pay as you go or on contract from 02. It's also available on contract from EE, which sells it as the Eagle.
Although the Ml's metal and white plastic isn't quite as sturdy as it first appears bending a little too easily under pressure – it still feels reasonably well-made. The only truly flimsy part of this tablet is the plastic rear panel which you need to remove to access the SIM and SD card slots.
The Huawei MediaPad M1 is merely OK at best.
Annoyingly, Huawei has aped the design of the iPad Mini with very' thin borders on the left- and right-hand sides of the screen (when held vertically). Unlike Apple's mini tablet, the eight inch screen isn't smart enough to recognize when you're resting your thumb on the screen and when you're actively pressing it. This means it's far too easy to accidentally press an onscreen control or scroll unintentionally.
The screen's image quality is merely okay at best. Its 1280×800 pixel resolution makes text look fuzzy. It's much worse than the sharper, higher resolution screens of the Asus Nexus 7 and iPad Mini 2. It's reasonably bright, but colors look washed out.
Unusually for a 4G tablet, the Ml has both a microphone at the top of the screen and a phone app installed so you could make phone calls, although we felt very conspicuous doing so on such a large device.
We would also avoid using the Ml's camera unless it's the only camera to hand. Photos, even those taken in bright daylight, weren't very sharp and had lots of noise.


Huawei has used one of its own processors in the Ml, the 1.6GHz quad-core HiSilicon Kirin 910, instead of the more common Qualcomm Snapdragon or Nvidia Tegra processors. It's not very impressive, though, lagging far behind other mini tablets in our benchmark tests. The Ml sometimes stuttered when scrolling through long, complex websites or even when just using the Android 4.2 Jelly Bean interface. At least battery life is lengthy – it lasted 12 hours and 37 minutes when playing videos on a loop.
7Review earns Amazon affiliate commissions from qualifying purchases. You can support the site directly via Paypal donations ☕. Thank you!
Huawei has modified the Android interface by removing the app drawer, so all your installed apps end up on your homescreens which means lots of clutter. It's not all bad though. You can use the 'do not disturb' feature to block all notifications, apart from calls and messages from your most important friends and family members, when you want some peace and quiet.
There are also some useful apps pre-installed – Kingsoft Office for editing Office files and an app for wirelessly streaming media files stored on the Ml to a network media player or smart TV.
The Huawei MediaPad M1 is a merely OK tablet at best. Far too many compromises have been made to keep the price low while still including 4G. Unless you're on a tight budget, it's worth spending more for the 4G version of the Asus Nexus 7. Although its battery life isn't as long, its screen and performance are much better.