Hisense is out to prove that it's much more than just a 'budget brand' with this super-bright 75in LED TV flagship. John Archer prepares to be dazzled. Read our HISENSE H75U9A Review.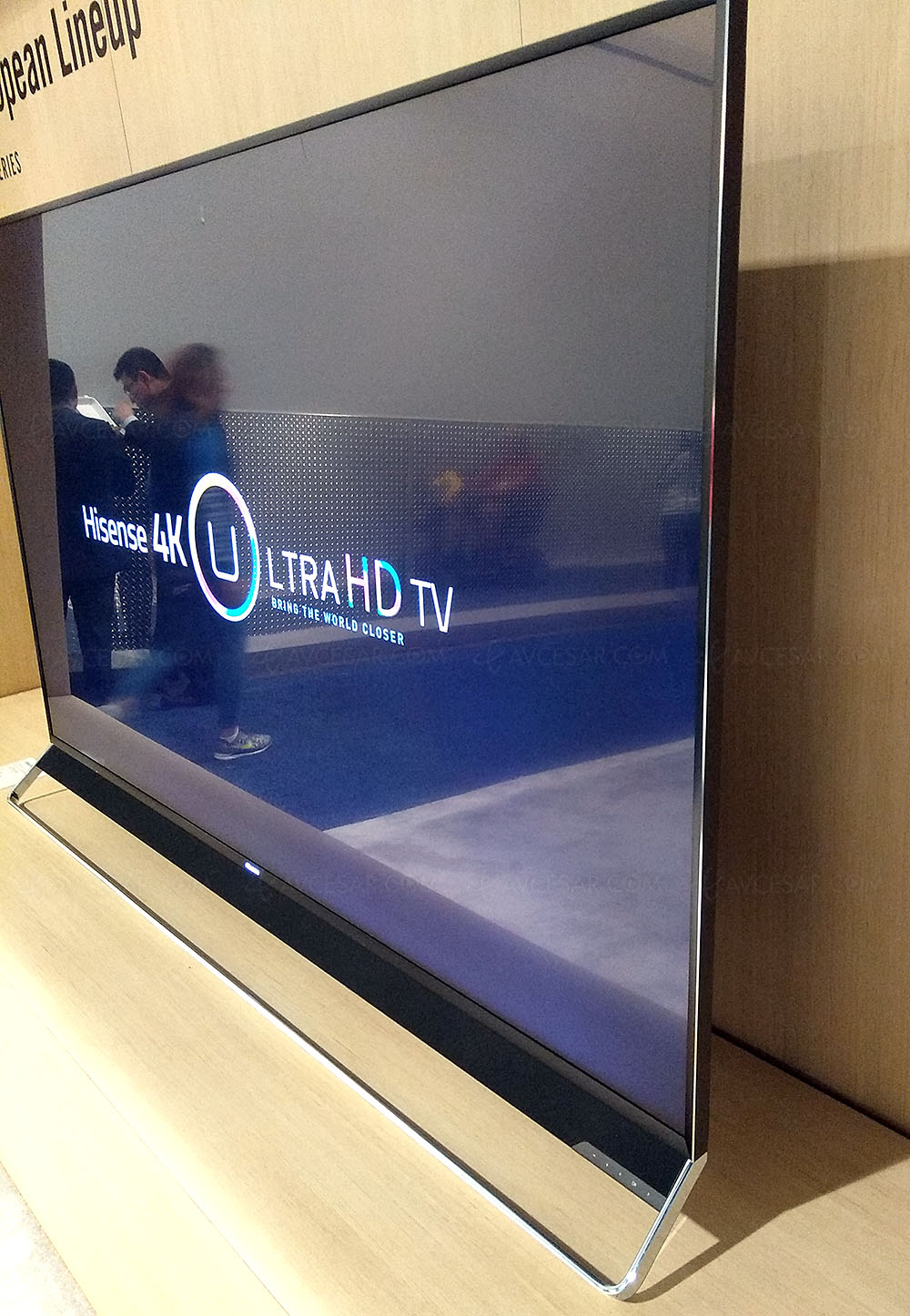 Rating 4/5
AV Info
PRODUCT: A 75in 4K TV with HLG and HDR10 support
Position: This is Hisense's flagship TV for the UK market
Sony KD-75XE9405; Samsung QE65Q9FN; LG OLED65C8
7Review earns Amazon affiliate commissions from qualifying purchases. You can support the site directly via Paypal donations ☕. Thank you!
THANKS TO A combination of high-profile sponsorship deals and a procession of strikingly affordable TVs, Chinese brand Hisense has already made its mark on the mainstream UK TV scene. Now, with the H75U9A, it's mounting a serious assault on the higher end of the market too. A 75in,  LCD model, it may well catch the eye of those looking at smaller OLED screens around the same price point.
Its wall-filling size isn't its only attraction. In fact, the H75U9A boasts not one but two groundbreaking features.
First, its direct LED lighting engine is driven by 1,056 individually controlled dimming zones. To put this in perspective, even Samsung's mighty QE65Q9FN TV offers around 450 zones.
This flatscreen's other standout feature is its brightness. Hisense's own claim is that it can reach 2,500 nits – although actually I measured closer to 2,700. This was on a 10 percent white HDR window, too; not a tiny 2 per cent or 5 percent window.
This makes the H75U9A the brightest consumer TV I've ever tested, which is surprising given that Hisense TVs have generally struggled to be bright enough to do justice to HDR content. This flagship TV, by comparison, should make HDR fly, especially as it backs up its high brightness with a Quantum Dot wide colour system.
HISENSE H75U9A Review: Lean, mean, 4K machine
Joining the Hisense's unusual spec sheet is an unusual design. This 4K megascreen straddles your AV furniture via a combination of a see-through 'lean-on' back support and a metallic bar that angles forward and down from the TV's bottom edge. Overall, it looks pretty nice; the main screen frame is opulently finished in a gleaming metallic bezel.
But the screen does lean back slightly, which isn't something that will appeal to everyone.
Also jutting out from the H75U9A's bottom edge is a neat, full-width stereo (2 x 15W) soundbar that makes a good attempt at giving the TV's large scale visuals some equally big sonics. It handles the huge scale and detail of the Mad Max: Fury Road soundtrack with startling power and dynamism. Big action set-pieces are well projected, Max's gravelly voice is delivered with real authority, and the presentation is always full-bodied rather than harsh or thin. Impressive.
Connectivity is fair. The TV packs four HDMI inputs, two USB ports and wired and wireless network options. Yet only the two side-mounted HDMIs support 4K HDR signals up to 60Hz. The other two top out at 30Hz.
Smart features initially look basic. There aren't many apps to be found within Hisense's online hub, and the onscreen interface is a bit old school. However, Amazon
The visual impact of the TV's super-size panel and its class-leading brightness is certainly a head-turner
Video, Netflix, YouTube, Rakuten, Plex and Freeview Play are all present – and these are all most people will want, truth be told. The Amazon, Netflix and YouTube apps support 4K HDR.
My Mad Max: Fury Road 4K Blu-ray quickly reveals the picture benefits of the H75U9A's extreme high brightness. The film's desert locations look phenomenally intense; almost like you're looking through a window at a real sun-blasted dystopia.
This luminance hit is retained across the whole image, too; the TV's brightness capabilities aren't just restricted to the peaks of an (HLG or HDR10) HDR picture. Therefore there's no hint of the silhouetting effect you can experience with lower-luminance TVs when a dark HDR object stands against a bright backdrop. So, for instance, as Max looks down on a desert plain below, his form is much brighter and more detailed than it is it on, say, LG's OLED77C8. The reach of the H75U9A's brightness also means it can deliver highlights, such as sun gleaming on chrome or direct shots of sunsets, without clipping tones or details.
Hisense's LED backlight setup helps it do a mostly decent job with black levels despite its potent illumination. It's capable of hitting near black colours during very dark sequences, and suffers less obvious 'blooming' and clouding when showing high-contrast content.
That's not to say that its backlight is as effective as I'd hoped. For instance, there's more dark scene greyness than you get with Samsung's Q9FN sets, and this is exacerbated if you don't set the Hisense's backlight to its highest local dimming setting. And during the scene where Max is tattooed in a cave, I did witness backlight 'blooming' spreading a good few inches away from bright objects.
I was also fairly often distracted by the LED dimming system's adjustments during dark scenes, and for all the huge number of dimming zones, sometimes quite large sections of the picture clearly exhibit a pronounced light shift. Samsung's QE65Q9FN, by comparison, suffers practically no blooming, and the workings of its backlight technology are much less visible.
HISENSE H75U9A Review: Mostly impressive
While the H75U9A's dark scene performance doesn't quite live up to the promise of its huge number of dimming zones, it's still mostly impressive in the context of the TV world at large. But there are a couple of other problems to report.
Colours during HDR playback sometimes look strangely faded. The blues of Fury Road's skies and the richness of the flames spewing from the modified vehicle engines all look bleached, while skin tones sometimes appear a little jaundiced. This is particularly true using the TV's HDR Day and HDR Night presets, but even the Dynamic mode doesn't look quite right. It's almost as if the screen's brightness is too much for the colour range of the Quantum Dot system to keep up with.
Another problem is that the H75U9A's pictures look strangely soft. During that opening shot where Max looks down across the desert, for instance, the foreground rocks look less crisply defined than they do on most 4K TVs. The desert in the distance looks overly smooth and unrefined, too, reducing the image's sense of depth. This lack of absolute, pristine sharpness is perhaps my biggest frustration, because the Hisense's motion handling, via its Film setting, is actually nicely clean and crisp.
HISENSE H75U9A Review: Ready for its rivals?
These colour and sharpness weaknesses, plus some aggressive pricing on rivals such as Sony's 75in 75XE9405, Samsung's 65in 65Q9FN and LG's 65in C8 OLED mean I can only give Hisense's H75U9A a cautious rather than emphatic recommendation. At the same time, the visual impact of its super-size panel and class-leading brightness is certainly a head-turner
HISENSE H75U9A Review: Verdict 4/5
There's still room for improvement with the H75U9A, but this 4K big screen crushes any notions that Hisense is only a budget TV brand.
HISENSE H75U9A Review
There's still room for improvement with the H75U9A, but this 4K big screen crushes any notions that Hisense is only a budget TV brand.
Add your review
HISENSE H75U9A Review: SPECIFICATIONS
3D: No 4K: Yes. 3,840 x 2,160 HDR: Yes. HDR10; HLG TUNER: Yes. Freeview HD; satellite CONNECTIONS: 4 x HDMI inputs; 2 x USB ports; RF input; headphone output; composite AV input; Ethernet; digital optical audio output SOUND (CLAIMED): 2 x 15W BRIGHTNESS (CLAIMED): 2,500 nits CONTRAST RATIO (CLAIMED): N/A DIMENSIONS (OFFSTAND): 1,677(w) x 1,005(h) x 114(d)mm WEIGHT (OFF STAND): 44.5kg
FEATURES: Built-in Wi-Fi; USB/network multimedia playback; 1,056 individual dimming zones; HDCP 2.2 on all HDMI inputs; wide colour gamut; Quantum Dot technology; VIDAA smart portal includes Netflix, Amazon and Rakuten, plus Freeview Play; HDR Supreme; ULED backlight
HISENSE H75U9A Review: PARTNER WITH
LG SK10Y: Although the Hisense's audio performance is solid, this soundbar brings Dolby Atmos, optional expansion to 7.1 and a wireless subwoofer to the table. It measures over 1.4m wide, making it ideally suited to large screen displays
1. This flagship set is only available at 75in
2. A smaller, see-thru rear mount gives the H75U9A its 'floating' aesthetic