A 55in 4K flatscreen with Dolby Vision HDR playback for less than £ ? Steve May looks for the catch with Hisense's B7500. Read our HISENSE H55B7500UK Review.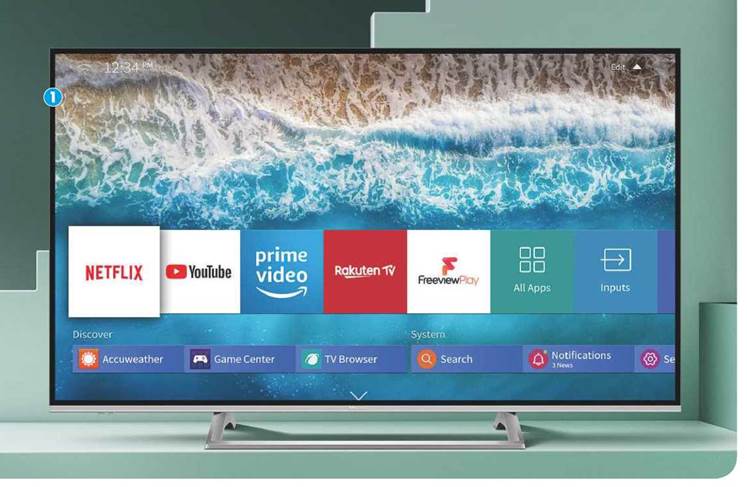 AV INFO
PRODUCT: 55in LED LCD 4K TV with Dolby Vision HDR
POSITION: Mid-range – not one of Hisense's ULED models
Philips 55PUS6814; Samsung 55RU7470
WITH DOLBY VISION now firmly established as a mid-range attraction, we probably shouldn't be too surprised to see it cropping up on this budget offering from Hisense.
The top model in Hisense's pre-ULED line-up, the H55B7500 can be picked for chump change. But if you look at the specification rather than price, you might well be forgiven for thinking this set is more premium than the price tag implies. 4K HDR, wide colour gamut, a well- appointed smart platform – it probably ticks most of your upgrade needs.
7Review earns Amazon affiliate commissions from qualifying purchases. You can support the site directly via Paypal donations ☕. Thank you!
See also TOP Televisions
and The best OLED TV deals 2022: get an awesome OLED at the lowest price
Of course, there's always devil in the discount detail…
On the catwalk
When it comes to design and finish, the B7500 makes a fair first impression, and elevates the finish above previous 7 Series Hisense models we've seen. A Unibody design means there are no obvious joins spoiling the line of the bezel. The centre stand looks metallic, but is lightweight plastic.
HDMI connectivity is restricted to just three inputs. One of them is ARC enabled; all are v2.0 and support 4K at 60Hz. Additional ports include an optical digital audio output, two USBs, phono AV, and wired Ethernet. Bluetooth and Wi-Fi cover off the wireless bases.
The B7500 doesn't skimp on streaming services and catch-up TV. Hisense's own-brand Vidaa U smart system adds Netflix, YouTube and Amazon Prime Video, all 4K enabled, to the roster of apps brought by Freeview Play. The large remote control, which is quite a handful, is crowded out with dedicated buttons for some of these services. It's ugly but functional.
The TV even supports Amazon Alexa voice commands, via a connected Echo device. You can use it to turn on and change volume. However, you'll need to download the Hisense RemoteNow mobile app if you want to control smart home devices.
Operationally, the set warrants a thumbs up. One of the things I like about Vidaa U is that it keeps things simple. A familiar-looking two-tier deck spreads inputs and apps across the top, with system settings and more relegated below. It doesn't take long to navigate to what you want.
The B7500 also proves to be a good network neighbour, particularly when it comes to accessing stuff you might have on network drives. The set's native media player immediately recognised my Twonky Media server and NAS boxes, with everyday file formats supported.
And if you want a big telly to game on, it doesn't fall short. I measured input lag at an acceptable 27.4ms (1080/60p), with Game Mode engaged.
Features and functionality are pretty solid, then. So how does the screen hold up when it comes to performance? Here things get sticky.
Non-uniform day Predictably edge-lit, you can expect compromises when it comes to image quality. Backlight uniformity is an obvious issue. You don't have to look hard to spot uneven splotches, particularly when watching letterbox movies; with bright, fullscreen content, this trait is less obvious. Off-angle viewing suffers from loss of contrast and colour, so try and sit central to the image.
This isn't the kind of TV that rewards going off-piste when it comes to picture settings, but there are some tweaks worth making. Consider gamma: for average living room viewing, a setting of 2.2 or 2.4 will work fine. In a brighter viewing area, you might want to opt for 2.0.
Black level performance is limited, so if you hope to prevent blacks greying out, watch in an environment with some low-level ambient light. An Adaptive Contrast mode aims to enhance contrast scene-by-scene; either switch this off, or keep it at a low setting.
To combat judder, the set offers motion interpolation known as Ultra Smooth Motion (USM). It comes in Standard, Smooth, Clear and Custom strengths, the latter offering adjustable judder and blur reduction. It's not particularly skilful – Standard USM suffers from obvious motion artefacts, as well as a very evident soap opera sheen. For sports or news channel content it's just about acceptable, but for movies we would humbly suggest turning USM off.
One area where Hisense rather obviously lags behind rivals is low-resolution picture upscaling and picture processing. Standard-def Freeview channels on this panel look extremely rough. You'll want to stick to HD and UHD sources as much as possible.
Blu-ray discs exhibit appreciable detail and texture while native 4K, be it from disc or streaming services, has tangible depth. The set, which uses an 8-bit FRC panel, isn't immune to colour banding effects, though.
Its HDR performance is determined by a relative lack of brightness, although this isn't out of keeping with other TVs at the same price point. The B7500 should be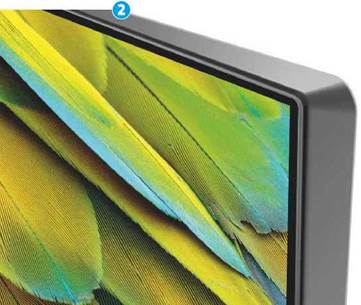 considered more HDR ready than HDR capable. Using a 10 per cent white window, I measured peak output at just under 370 nits. This was with the Dynamic picture preset engaged; your preset choice will have a big influence on the B7500's HDR performance. Opt for the HDR Day setting, for instance, and the set peaks at just 300 nits.
To deliver something approaching an HDR performance, its apparent that the overall panel brightness dims. This leaves HDR Dynamic as the only real option if you want maximum visual pop.
Dolby Vision is generally your friend on less-bright HDR TVs like this, and it does a reasonably good job maintaining detail while adding some specular highlights. When the city burns at the climax of The Witcher (Netflix, Dolby Vision), there's a roasty intensity to the flames, and while the TV struggles to hold detail in the catacombs, lanterns lick with suitably bright white light.
The TV's sound performance is constrained by the physical space available. The B7500 employs downward­firing stereo drivers, with DTS post-processing to enhance width. There's no Dolby Atmos support.
Of all Hisense's sound presets, Standard, with its flat frequency response, is the easiest listening option. However, if you really want to improve TV audio, invest in a soundbar.
Value added
Offering a strong mix of smart functionality and value, Hisense's 7 Series mainstay has clear kerb appeal. You just can't argue with the price.
I wouldn't advocate this as a home cinema panel for demanding viewing, but the build is decent, and provided you give low-res TV channels and sources the swerve, it has appeal. For a second set for bedroom, kitchen or kid's room, it's less a steal and more a heist
Verdict
HISENSE H55B7500UK Review
This well-specified upper-budget panel isn't short on features, although it's not for picture purists. A class leader in value, if not AV performance.
Add your review
Best HISENSE H55B7500UK prices ?
MORE DEALS

See also TOP Televisions
and The best OLED TV deals 2022: get an awesome OLED at the lowest price
www.hisense.co.uk
1. The Vidaa U interface is uncluttered and easy to use
2. Hisense dubs its seamless bezel design 'Unibody'
SPECIFICATIONS
4K: Yes. 3,840 x 2,160 resolution HDR: Yes. HDR10; Dolby Vision; HLG TUNER: Yes. Freeview Play; satellite CONNECTIONS: 3 x HDMI inputs; composite AV; Ethernet; optical digital audio output SOUND (CLAIMED): 2 x 7W BRIGHTNESS (CLAIMED): N/A CONTRAST RATIO (CLAIMED): N/A DIMENSIONS (OFF STAND): 1,230(w) x 713(h) x 70(d)mm WEIGHT (OFF STAND): 13kg
FEATURES: Built-in Wi-Fi; Vidaa U smart portal v3.0; Ultra Smooth Motion image processing; network media player; Amazon Alexa compatible; edge LED illumination; Game Mode; Adaptive Contrast; quad-core processor; Bluetooth; 8-bit+FRC panel
PARTNER WITH
YAMAHA YAS-109: Kill two birds with one stone with Yamaha's base YAS model, one part soundbar, one part Amazon Alexa smart speaker. It also packs DTS Virtual:X processing for elevated sonics.