Smart-looking, bargain-priced and, erm, FIFA-branded, this 4K HDR set from Hisense confounds expectations, says Steve May. Read our HISENSE 55U7A Review.
AV INFO
PRODUCT: 55in Ultra HD/HDR LED TV
POSITION: Mid-range soccer-centric flatscreen
PEERS: Sony KD-55XF8096; Panasonic TX-FX740B
HISENSE KICKS OFF its 2018 TV season with this footy-themed 55in flat screen. Not that it's dressed for the lower-league terraces – the U7A has a high level of finish, with an appealing trim bezel around its wafer-thin (for an LCD TV) panel.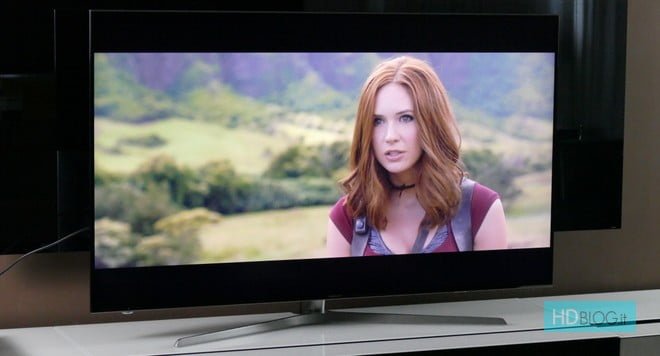 HISENSE 55U7A Review: VERDICT
You may also like:
Once you get past the FIFA World Cup boot screen (no, seriously, that's what you get), the user interface design is crisp and clean, making a virtue of simplicity. The home screen overlays live footage with a central tile bar, giving access to Freeview Play, Apps, Inputs, Media and Settings. Of the offered apps, Netflix, Amazon Prime Video and YouTube all support 4K streaming. Both Netflix and Amazon Prime handle HDR, too.
Picture quality varies considerably depending on the image preset chosen. When viewing Standard Dynamic Range content, the available modes are Standard, Cinema Day, Cinema Night, Dynamic and Sports. The Cinema modes aren't particularly flattering, as skin tones take on a greyish hue and the image flattens. Standard offers a better, brighter balance, although at times I felt Dynamic delivered the most satisfying image. With HDR content, the settings default to HDR Dynamic, HDR Day and HDR Night.
The U7A delivers a full-range 4K image, with no compromise on detail. And with 4K Blu-ray and OTT services, the HDR Dynamic mode gives a further subjective boost to pixel finery.
That said, this set isn't a bright HDR performer. I measured peak luminance at 280 nits in HDR Dynamic mode, using a 5 percent window. However, while the set's HDR chops may be limited, images still have naturalistic balance. With gamma on 2.2, adaptive backlight on medium, and the Dynamic picture mode selected, you have an impactful display that looks great with both 1080p and native 4K.
HISENSE 55U7A Review: Into the void
The TV's ability to cope with near black is ably demonstrated by Ozzy Osbourne. In the rockumentary Black Sabbath: The End (Sky Arts, Ultra HD), the singer's stage outfit offers layers of black, while his bedazzled costume jewellery catches the light. This Hisense rocks it all.
The U7A has a powerful suite of motion handling options. Hisense's Ultra Smooth Motion processing is variable between Standard, Smooth, Film, and Clear. Both Clear
Even affordable sets have designer looks these days…
and Standard modes keep detail crisp and panning shots slick. Inevitably there are motion artefacts around some moving objects, but these are not too intrusive. And you can switch the processing off if you want.
It's also worth hunting the Game mode down. Image lag measures moderately high at 47.6ms (in Standard), but with Game in play this drops to a more acceptable 30.9ms.
The set has an additional surprise dubbed Sports Mode Auto detection. When it identifies sports footage, it automatically offers to swap to Sports video and audio settings. I'm not entirely convinced that's a good thing, but in terms of functionality it's a step up on the football modes we've seen from other TV brands in the past.
Also, this clever detection only works with tuner footage and not HDMI sources, so while it prompts if you're watching Formula 1 on C4, it'll do nothing if you're watching Sky Sports F1 via a Sky Q box.
Either way, you're in luck if you want to hear those engines rev. The speaker system may be rated at a typical 2 x 10W, but there's absolutely no shortage of welly and the mid-range makes a decent fist of adding weight to proceedings.
HISENSE 55U7A Review: The price is right
This is a superior low-cost 4K UHD flatscreen, which over-delivers on its ticket price. The design is fashionably minimalist, and the Vidaa U smart platform is exceptionally easy to live with, covering off key streaming services and offering copious catch-up courtesy of its Freeview Play tuner. It's only really the low peak brightness that stops this Hisense scoring a winner.
HISENSE 55U7A Review: SPECIFICATIONS
3D: No 4K: Yes. 3,840 x 2,160 HDR: Yes. HDR10; HLG TUNER: Yes. Freeview; satellite CONNECTIONS: 4 x HDMI inputs; 3 x USB; composite AV; Ethernet; optical digital audio output; headphone output SOUND (CLAIMED): 2 x 10W BRIGHTNESS (CLAIMED): N/A CONTRAST RATIO (CLAIMED): N/A DIMENSIONS (OFF STAND): 1,119(w) x 647(h) x 58(d)mm WEIGHT (OFF STAND): 16.8kg
FEATURES: Built-in Wi-Fi; Vidaa U smart portal; Auto Sports mode; Ultra Motion image processing; USB/network media player; USB time-shifting; quad-core processor; 2 x HDMI 2.0 inputs